Apple iPhone 14 review: Ctrl+C, Ctrl+V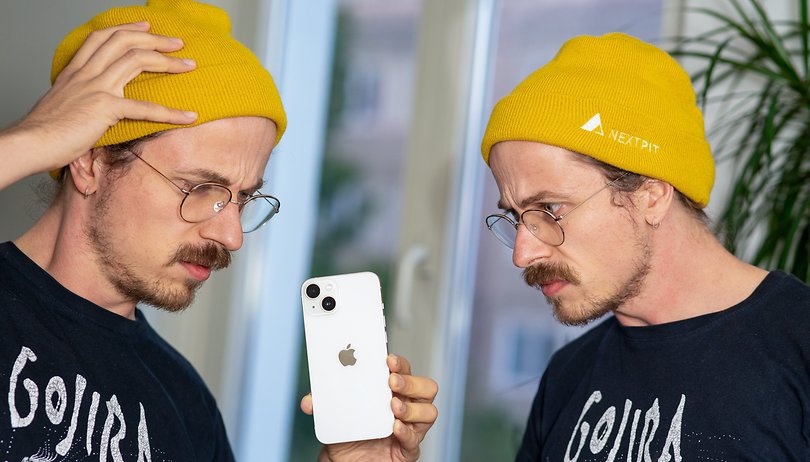 The iPhone 14 comes to market with the same launch price as the previous generation. At the same time, iPhone connoisseurs were more than disillusioned after the presentation of the new smartphone. Apple leaves large parts of the hardware unchanged and does not dare to change the design. Is it still worth buying the Apple iPhone 13—and if so, for whom? Find out in our iPhone 14 review.
Good
Top performance level despite last year's chip

Very high quality workmanship

Improved image and video quality

Excellent battery life
Bad
Hardly any innovations

Charging takes too long for 2022
Apple iPhone 14 in a nutshell
It has rarely been so difficult to recommend buying a new iPhone. Because with a bit more picture quality, a bit more battery life, and one more GPU core, we already cover almost all innovations of the latest iPhone in the basic version.
The iPhone 14 looks like the predecessor model, it feels the same in everyday use and even on the suburban train nobody sees that you are using the latest iPhone. So even though the latest iPhone 14 is an excellent phone, it is outclassed by the previous models and the much more exciting Pro models. Apple disciples can safely skip this iteration—or wait for the new Plus variant with a larger display.
If you still want to buy the iPhone 14, you will pay exactly $799 for the basic variant with 128 gigabytes of storage. The colors Blue, Purple, Midnight, Polaris and "(Product) Red" are already available online at Apple, at the Apple Store of your choice or at retailers.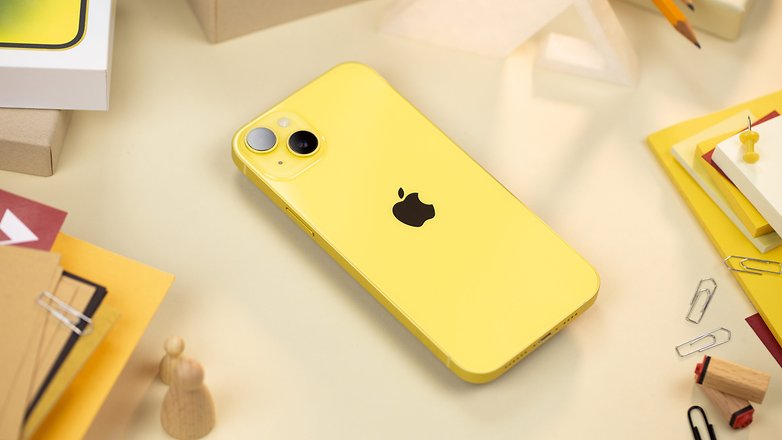 Recently, Apple unveiled a new color variant—the yellow iPhone 14, available since March 14 at the Apple Store and partner retailers. This new model maintains the premium design and build-quality of other color options. The aluminum frame and buttons feature a subtle tanned-yellow hue, while the glass back panel boasts a vibrant yellow. This unique finish sets the standard duo apart, and here at NextPit, we've dubbed it "The Pikachu iPhone" (credit to Antoine Engels).
Design & display: It's getting old this way
A slanted dual camera on the back, a deep forehead crease on the front—the iPhone 14 can hardly be distinguished from the predecessor. The 6.1-inch "Super Retina XDR OLED" display and all buttons and ports have also remained the same. Only in the U.S. can you tell if you are holding an iPhone 14 or an iPhone 13.
---
What I liked:
High build quality.
Accessories downward compatible.
6.1-inch format still handy.
Better repairability.
What I disliked:
0 Novelty factor.
0 Prestige factor.

Design and technology outdated.
---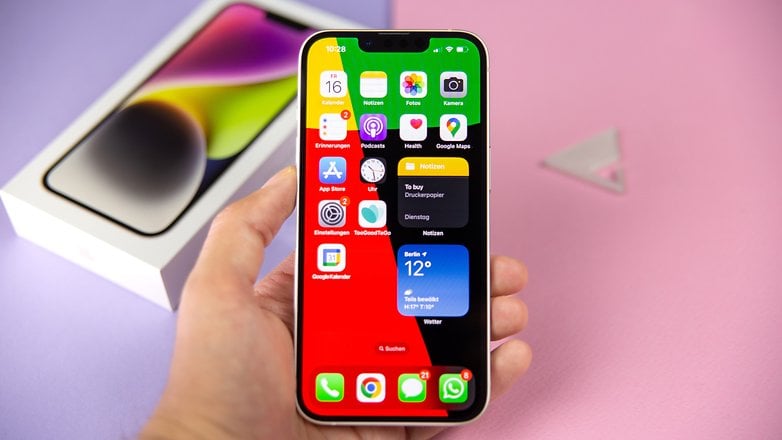 Apple follows the strategy of its SE series in the iPhone 14 and leaves the smartphone's design unchanged. Those who like a new phone to feel new will be disappointed. Just like the certainly not small percentage of the population who flaunt their smartphone on cell phone chains or on the train. Because unlike when you upgraded from iPhone 12 to iPhone 13, no one will know you're using the latest iPhone.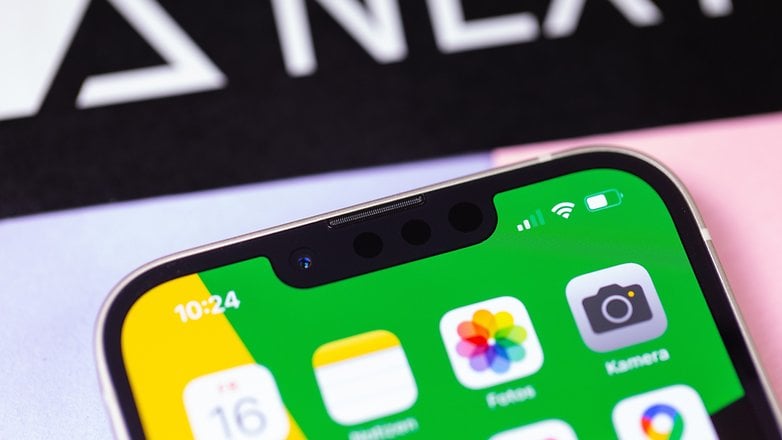 In practice, however, the compact format is still convincing thanks to the 6.1-inch display. The display quality is still top thanks to the colorful OLED panel, and the same applies to the sharpness thanks to the Retina resolution, which works with 1,170 x 2,532 pixels. However, it is no longer up-to-date that Apple still relies on 60 hertz for the base model and the new Plus breaker with a 6.68-inch screen.
Apple's iOS 16 does not run as smoothly as in the current Pro models. Apple also revolutionizes the notorious notch in the Pro range, which becomes the intelligent information center as the new "Dynamic Island". While taste is debatable, Apple itself admits that the notch is outdated—and should be abolished in 2022, just like the Lightning connector.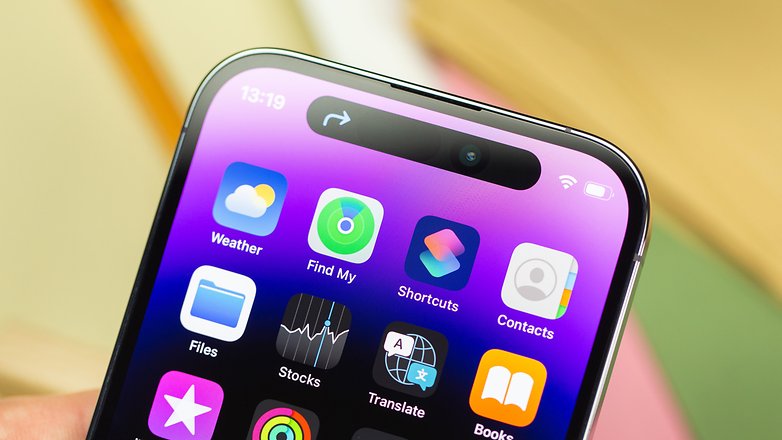 Apple courageously removed the SIM card tray in the U.S. models. And speaking of bold moves, Apple has improved the design of its basic iPhone. The back can now be replaced more easily and, above all, more cheaply. With the iPhone 14, repairing the back costs $149—with the predecessor, the repairing service can cost around $500-$600. Welcome!
Interface/OS
The iPhone 14 runs iOS 16.0.1, and we have already reported a lot about Apple's new mobile operating system. So be sure to read our overview of iOS 16 and also the post about 10 of the most important iOS features you should know about.
Most of the features that Apple offers in its Pro series can also be found on the iPhone 14. Except for the fancy Always-On Display, which is reserved for the Pro and Pro Max models.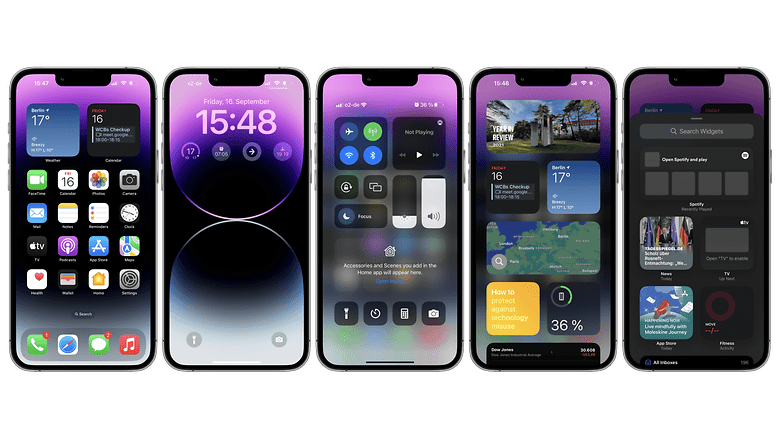 You will still benefit from the new options to personalize the lock screen. The new iOS lock screens including widgets as well as the depth effect applied to the screen background are pretty cool. Even if the latter feature is very whimsical and complicated to use.
There is also a new protection feature for the iPhone 14 and Apple Watch 8. This detects car accidents via a series of improved sensors, including barometer, accelerometer, and microphones, to detect if you've been involved in a car accident. The iPhone will then make an emergency call if you do not cancel it in time.
Performance: A core divides the Apple community
Apple's latest iPhone 14 runs with last year's SoC, the A15 Bionic. Unlike the basic iPhone 13 variant, however, the 14 model has an additional graphics core. Thus, it is on par with the iPhone 13 Pro, but falls behind this year's Pro model with A16 Bionic. You can see again: it was hardly that worthwhile to invest in the Pro models.
---
What I liked:
Larger working memory than in the predecessor.
Performance level very high despite last year's SoC.
New wireless standards on board.
What I disliked:
Hardly any advantages over iPhone 13.
---
For several generations, Apple has launched its new smartphones with a considerable advance in processor performance. This means that there are hardly any applications that utilize the computing power at launch.
For this reason, you won't even notice that Apple installs the same SoC in the iPhone 14 as in the iPhone 13 Pro and iPhone 13 Pro Max in everyday use. The chip from the previous year was already powerful enough that you should not have any problems with the system stability for the next few years.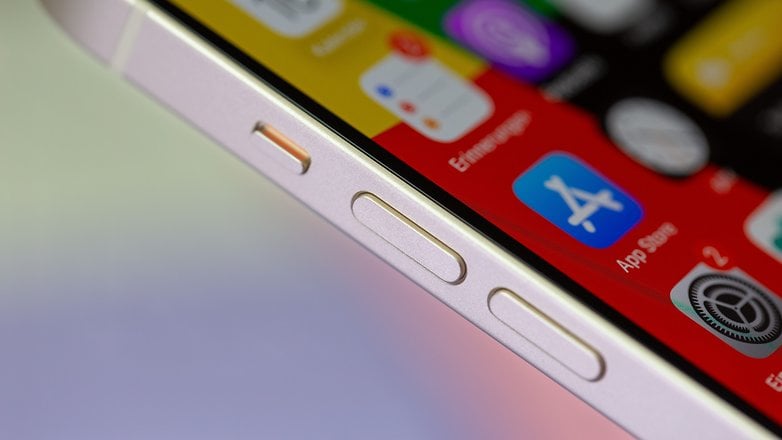 I would have welcomed this decision by Apple, if it would also reduce the cost of a new iPhone. But the iPhone 14 has the same price as previous generation—and the missing processor upgrade gets a bland aftertaste. However, the benchmark at least shows that Apple's A15 Bionic is not much weaker than its successor.
Furthermore, Apple gives its old chip a new wireless standard. Thus, Bluetooth 5.3 finds its way into the iPhone and the option of connecting to emergency call centers via satellite in emergencies has been added. In the U.S. and Canada, the satellite emergency call will be free of charge for two years.
Apple iPhone 14
Apple iPhone 14 Pro Max
Asus Zenfone 9
Samsung Galaxy Z Fold 4
Samsung Galaxy Z Fold 3
3D Mark Wild Life
Too powerful
Too powerful
Too powerful
8611
5683
3D Mark Wild Life Extreme
2431
3362
-
-
-
3D Mark Wild Life Stress Test
Best Loop: 9,761
Worst Loop: 8,321
Best Loop: 9,599
Worst Loop: 8,121
Best Loop: 10,524
Worst Loop: 5,617
Best Loop: 10,332
Worst Loop: 5,606
Best loop: 5,579
Worst Loop: 3,435
Geekbench 5
Single: 1699
Multiple: 4817
Simple: 1885
Multiple: 5406
Single: 1263
Several: 3899
Single: 1332
Several: 3947
Single: 1095
Multiple: 3239
Taking off my gripe hat, however, I have to rave about the performance of the new iPhone. Like my iPhone 13 mini, which I usually use as an everyday phone, there is hardly any loading time or jerkiness with the iPhone 14. Mobile games run par excellence, and using apps in parallel runs flawlessly thanks to a RAM upgrade to 6 instead of 4 gigabytes.
Camera: The most important argument
The biggest changes are in the iPhone 14's camera. Apple improves the light intensity of the main cameras with larger sensors and better lenses. At the same time, the giant from Cupertino rearranges its image processing. Selfies are also sharper thanks to the front-facing camera with autofocus, and videos become even more "cinematic" and smooth.
---
What I liked:
New Photonic Engine makes for better night photos.
Action mode and cinema mode in 4K are a blast.

Sensible update for front camera.
What I disliked:
Large gap to the Pro models again.
---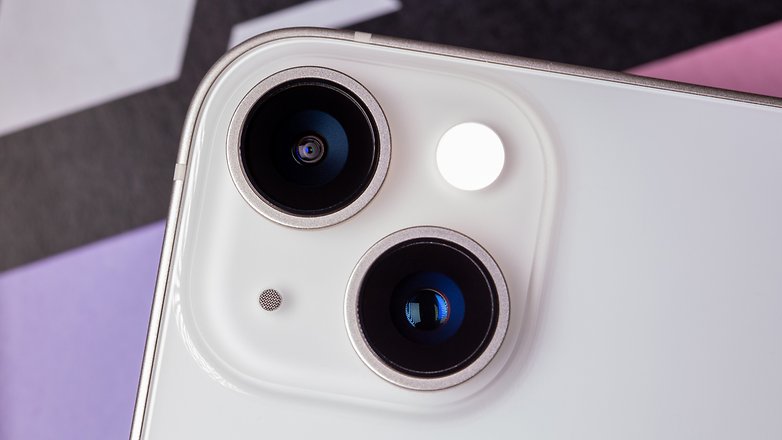 Apple once again manages to include larger sensors and faster lenses in the iPhone 14. However, the changes are marginal with a sensor size upgrade from 1.7 to 1.9 µm in the main camera and an improved light intensity from f/1.6 to f/1.5, also main camera. The ultra-wide-angle module remains the same, but selfie fans will be happy about an autofocus and a faster lens with f/1.9.
However, buyers of the iPhone 14 still look enviously at the bourgeoisie with their fancy Pro models. This is because Apple has integrated a new 48-megapixel main sensor here this year, which, in addition to pixel binning, also brings a 2x zoom level to the iPhone without quality loss. Still, it's pleasing to see Apple bring four key features across the board to all 14 models.
The first is the new arrangement in image processing, called Photonic Engine. Apple processes the raw data from the camera sensors differently, which should result in better pictures. In practice, this is especially noticeable in night shots, which shine with better details and richer colors in dark areas. Shots in the dark appear to be of higher quality than on my iPhone 13 mini.
The iPhone 13 series also came with a crude limitation in the actually technically so impressive cinema mode. What only worked in Full HD and 60 frames per second last year, now succeeds in "glorious 4K" at either 30 or 24 frames per second. Advantages arise especially in mixed use, since recordings with and without cinema mode no longer differ in resolution. You can read how well the digital Bokeh does compared to other models in the linked review.
Apple introduces an action mode with its 14 models. No matter if you use the main camera that is stabilized via sensor shift or the destabilized ultra-wide-angle camera, you can digitally stabilize the pictures—and that works on about the same level as GoPro. This is very good if you use your iPhone for mountain biking or skating. Convenient: The cropping that Apple needs for stabilization is only minimal. The Zenfone 9, for example, cuts your recordings quite tightly for this.
Last but not least, two or three words about selfies: The front cameras of the new iPhone 14 models are all equipped with autofocus. Although the hyperfocal distance, i.e. the distance between the subject and the lens at which everything is sharp, is quite short anyway with a focal length of 23 millimeters and a tiny 1/3.6-inch sensor, the pictures are a bit sharper, especially at close range. Pleasing: The cinematic mode works in 4K here as well!
Let's summarize: The image quality of the main cameras has only marginally improved when taking pictures, videographers will be happy about two new features. Selfie-takers are now automatically focused and a question arises in my mind: If Apple uses the same chip along with the same ISP, why aren't the new features also available on the iPhone 13? Do they want to artificially keep software innovations exclusive? Perhaps all this would not be possible with smaller sensors and a comma step in light intensity. Who believes it!
Battery & Charging: Amazingly enduring
With 3,279 milliampere hours, the iPhone 14's battery is exactly 39 mAh larger than in the predecessor. However, the battery life was beyond reproach with an average of two days in the test. However, it is regrettable that Apple keeps the outdated Quick-Charging.
---
What I liked:
Very good battery life.

Wireless charging and reverse wireless charging on board.
What I disliked:
Slow quick charging.
Lightning connector.
---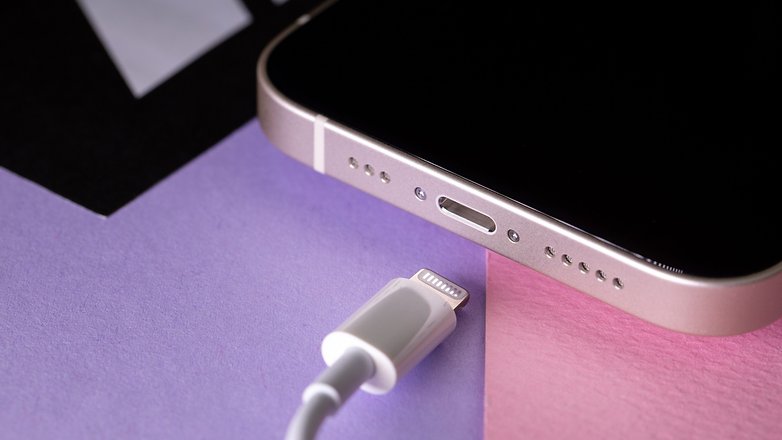 Apple once again conjures up an excellent battery life in the iPhone with energy-efficient hardware and comparatively small batteries. In the test period, the smartphone could usually be used for two days without recharging. Users who need more runtime should take a closer look at the Plus model with a bigger battery.
The same points as in the test of the iPhone 13 are criticized: Apple still charges its smartphones too slowly. At the same time, the manufacturer uses Lightning—a connector that will be banned in Europe in 2024. In 2022, it is particularly annoying for the reason that most technology—even iPads and MacBooks from Apple itself—already rely on USB-C. So you're always looking for two cables instead of one.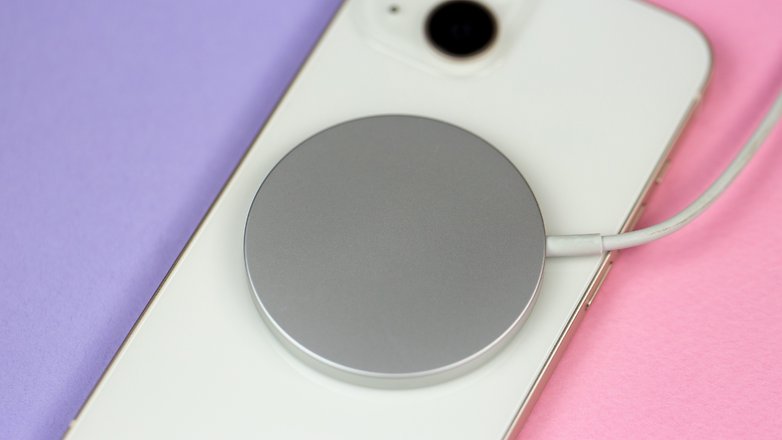 Wireless charging works like in the predecessor: Either via MagSafe including the option for MagSafe accessories—or via any Qi charger you can find in the environment.
Technical specifications
Apple iPhone 14 range
Product
Apple iPhone 14 Plus
Colors

Yellow, Blue, Purple, Midnight, Starlight (white) and (PRODUCT)RED

Screen

6.1 inch Super Retina XDR OLED
1200 nits peak
True Tone
Notch

6.7 inch Super Retina XDR OLED
1200 nits peak
True Tone
Notch

SoC

Apple A15 Bionic (5 nm)
6-core CPU
5-core GPU
16-core Neural Engine

Memory

128 GB, 256 GB and 512 GB

Micro SD
Main Camera

12 MP | f1.5 aperture | 1.9 µm size | Sensor-Shift OIS

Ultra wide-angle

12 MP | f/2.4 aperture | 13 mm | 120° FOV

Telephoto lens
Video

4K at 24/30/60 FPS (rear)
1080p at 30/60/120/240 FPS (selfie)
Action mode

Selfie

12 MP | f/1.9 aperture | Autofocus
Photonic Engine

Audio
Battery life

Video playback: 20 hours
Video (streaming): 16 hours
Audio playback: 80 hours

Video playback: 26 hours
Video (streaming): 20 hours
Audio playback: 100 hours

Fast charging

20 W (wired)
15 W (MagSafe)
7.5 W (Qi)

Durability

IP68 RATING
Ceramic Shield, aluminum frame

Connectivity

eSIM, 5G, Wi-Fi 6, NFC, Bluetooth 5.3, UWB, Satellite

Price
$799
$899
Conclusion
Even though Apple's decisions are always debatable, as a rule the company's decisions are understandable. In 2022, however, I have to scratch my head when I look over my notes about the iPhone 14. For $799, the company introduces a new model that only differs in details from the predecessor model, which now costs just under $800. There are not even any optical changes, which could be used to justify the purchase out of a kind of cult feeling.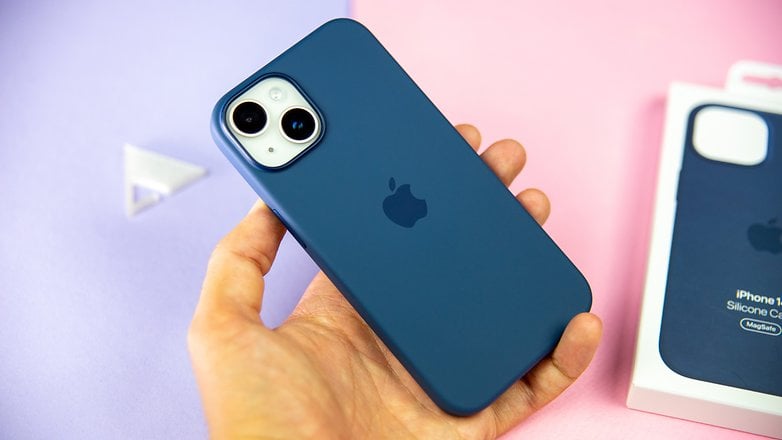 Apple's iPhone 14 is a statement towards the Pro series, which, however, costs another $200 more. Thus, Apple's most loyal customers are faced with a difficult decision, which I can only help with as a technology journalist:
If you use an iPhone 13, you can skip this iPhone generation—or buy the Pro model. If you are using an older iPhone, you should wait for the iPhone 15—or buy the Pro model. If you want to buy an iPhone for the first time... you should buy the iPhone 13—or the iPhone 14 Pro.
It seems as if Apple sacrifices its most popular iPhone model in order to focus more on the Pro models. Because this is where the real innovations are, and this was already apparent last year. With the attention to detail and sophistication because of which most people buy an iPhone in the first place.
So Apple is premium again—and the iPhone 14 is a non-premium phone at a premium price. Even though there are no "technical flaws", as our test chart states, the iPhone does not make it past 3.5 stars in my eyes.
---
The iPhone 14 review was updated on March 17 to include the newly introduced yellow color variant.