[UPDATE] Samsung And LG Unsure On Gingerbread Updates When asked about the future of an Android Gingerbread update for their recently released Android devices, LG and Samsung made statements in the last few days which indicate an apprehensiveness to commit to, or do the work necessary to get the latest version of Android on their devices, the Optimus and Galaxy S, respectively.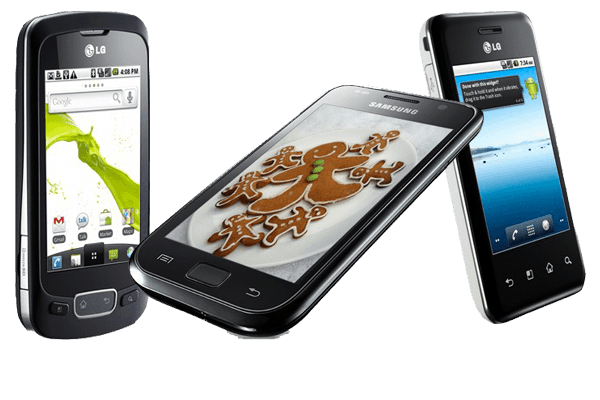 Earlier, an LG employee replied to a question regarding Gingerbread updates for their Optimus line, saying that the processors in some of the phones are not powerful enough to run Gingerbread, as Gingerbread requires a minimum of a 1GHz CPU. However, a member of the Android development team commented by saying that there is no set CPU clock frequency requirement for Gingerbread.
Yesterday LG changed their tune, saying that there was a misunderstanding regarding Gingerbread requirements because the OS was just announced. Once they know more about Gingerbread, they will evaluate the feasibility of an update for the Optimus line of phones and inform consumers of their decision.
Engadget also reports that a Samsung UK employee was not sure about the future of a Android Gingerbread update for their Galaxy S line of phones. The statement indicates that Samsung will be evaluating the feasibility of pushing out a Gingerbread update and whether the hardware requirements can be met with the current devices Samsung has on the market.
In a similar response to the LG comment, a Google employee working on Android commented that the hardware needs of Gingerbread "are similar to" FroYo. Seeing as how some Galaxy S handsets already have the Android 2.2 update, I would hope Samsung comes to the conclusion that Gingerbread on the Galaxy S devices is indeed feasible. After all, the Nexus S, the flagship Gingerbread handset is, at it's core, a Galaxy S variant.
Finally, a statement from Samsung India indicates that there will be an Android Gingerbread update to the Galaxy S series of phones.
[UPDATE]
LG has now issued a statement saying that all Optimus handsets will receive the Android Gingerbread update. No exact details on when updates are heading out however.