Sony Xperia X10 Android 2.1 Update This September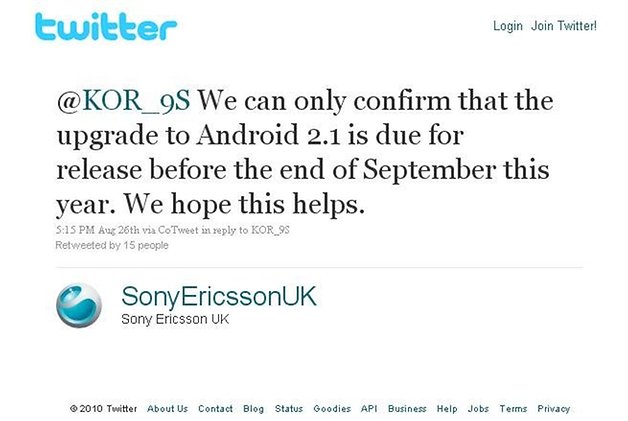 That isn't the only bad news, as the announcement came from SonyEricssonUK, which may or may not be relevant to other markets and X10 series devices. AndroidandMe summarizes it best:
SE did not specify which XPERIA X10 handsets would get the Android 2.1 upgrade before the end of September and since the announcement came from one of their UK twitter accounts, we don't want to assume that the Android 2.1 rollout will be hitting the XPERIA X10 that launched on AT&T just a few weeks back.
EuroDroid tries to put a comical spin on Sony Ericsson's statement:
Cue numerous arguments about what day of the month the end of the month technically begins. We'd say about the 25th.
Phandroid tries to hang on to the hope for a world-wide update, saying that they "see why they'd elect to leave anyone out if they didn't absolutely have to." Let's hope Phandroid is right.
Engadget adds that they have contacted "a stateside rep and will let you know what we hear." I'll do my best to keep you guys informed if Engadget gets some clarification. In the mean time, try and take comfort in the likelihood that at least some X10 users will be receiving the update in September.
Other Sources: AndroidandMe, Android Central, Engadget, EuroDroid, Phandroid