Buyer Beware: Is the MyLife App a $35 Million Scam?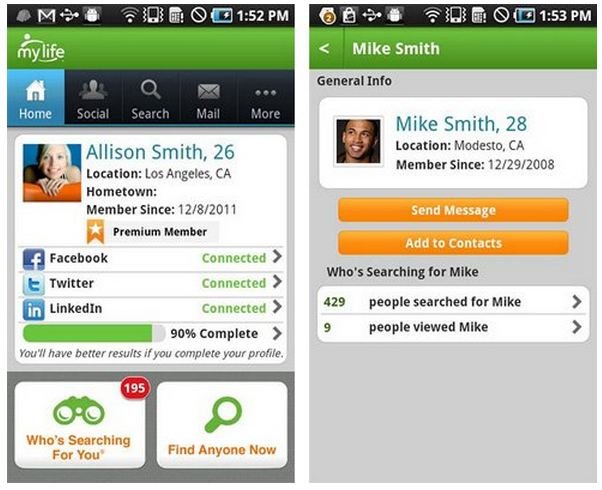 NEXTPITTV
With so many social networking sites clamouring for our attention these days, MyLife claims it wants to help us consolidate them all into one app. The company is apparantly spending $35 million to promote an app called a "Personal Relationship Manager" that allows you to manage your app launched a little more than a week ago.
But MyLife has a shady history: better known as Reunion.com, the company was sued as a scam last year for charging customers for fake information. Worse yet, it's alleged that the company sells your e-mail address upon registration. Is the MyLife app a spam robot in disguise?
Reunion.com was started way back in 2002, which is practically the pleistocene era in tech time. Since its founding, the company has raised about $27 million in venture capitol and claims to have 60 million users, 700,000 of whom pay for a service that allows them to see who is searching for them. But after receiving so many complaints for its shady business practices, the company has now changed its name to MyLife.com
According to ABC News, MyLife.com was sued just last August by customers who claim they were tricked into buying a yearly subscription and that the company sent spammy e-mails to their friends telling them "someone" was looking for them. Seems like the company requires you to surrender your e-mail contacts in order to use the service, and then sends aggressive ads to your contacts.
The company has received an "F" from the Better Business Bureau for its predatory practices. According to the BBB, 1185 complaints have been filed against the company since its inception. The company is also known for charging yearly rates up-front when users think they're only about to pay the monthly rate.
With that in mind, I was still interested in downloading the app just to see its evil ways. Unfortunately, the app is not available yet in Germany. The app has actually received 20 high ratings on Android Market, although they might have been paid for by the company (you never know).
But for now, I will warn you: buyer beware. Even if the app works well, I would never trust this company with my personal information. You may be seeing many ads for this app but for your own sake, I hope you stay far, far away. Hopefully someone will come up with a far better app for managing your social networks in the near future.