Pricing And Availability Announced For Samsung Galaxy Tab 2 Series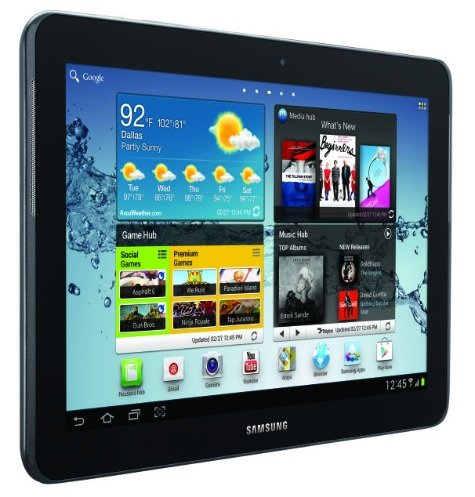 Samsung has announced pricing for its new Galaxy Tab 2 series, and fortunately the pricing structure for the 7 inch and 10.1 inch tablets seems to be a lot more competitive. Considering how many impressive Android tablets will be hitting the market this year, it seems Samsung is aiming to compete directly with Amazon's Kindle Fire and Barnes and Noble's Nook tablet (both 7 inch devices), while also dropping the price on their new 10.1 inch tablet as well. Mobile World Congress didn't bring too many details for the new Galaxy Tab series, as the Note 10.1 was Samsungs biggest announcement. But today it seems that the new series is directly in the spotlight, and that Samsung is proving even more that they are a serious contender in the tablet game. So how much moolah are we talking here?
Well for starters, the 7 inch version of the Galaxy Tab 2 has beein priced at 250 US dollars, and will go on preorder April 12th. The tablet is packing a dual core 1GHz processor, although there has been no comment from Samsung if it's the same Tegra 2 processor that shipped with the Galaxy Tab 10.1.The Galaxy Tab 2 10.1 inch model has also seen a price drop when compared to the previous 10 inch device from Samsung (Tab 10.1), and will sell for 400 US dollars (available for preorder on May 4th). For both devices, they should ship around 10 days after preorder purchase, meaning you won't have to wait long to get your hands on one. (I seriously they do something about the names of all these tablets, as it's getting really confusing!)
In terms of design change or features, there are a few changes. Design wise, the tablets look pretty much the same as previous Samsung tablets ( a few minor changes), but one really great difference is that they are both shipping with Ice Cream Sandwich right out of the box. The 10 inch version of the tablet has 16gb of memory, but adds a microSD card slot to extend the memory. It also features an IR port to allow you to use the tablet as a remote. Weight wise, they are pretty much on par with the Galaxy Tab Plus and Galaxy Tab 10.1 (original), although not identical in thickness or weight to their previous models.
You're also given a year of Dropbox storage with 50GB storage, Remote Viewfinder software that can be used with Samsung wifi cameras,along with even more additional software.
Will these tablets be iPad and Kindle killers? Probably not, but they are definately a step in the right direction. Hopefully, we will also see Samsungs new quad core devices in the coming weeks, or perhaps the rumored 11 inch tablet as well.
Samsung to me represents the very best of Android in terms of design and marketing high end products, and I'm thrilled to see that they are aggressively trying to get their devices to the hands of mass consumers. 2012 is definetely shaping up to be a great year for Android tablets.