Samsung Galaxy A54 vs Galaxy S23: Does it Really Have to Be High-End?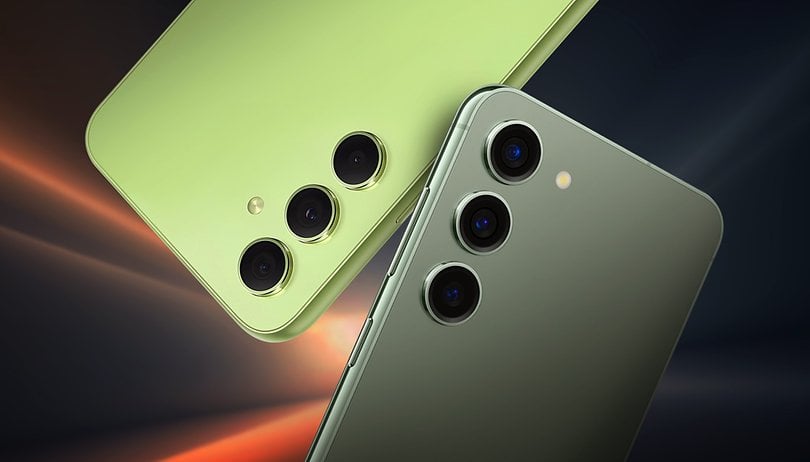 Samsung once again proved that smartphones like the Galaxy S23 and Galaxy A54 are incredibly popular worldwide with their respective sales figures. However, these models actually appeal to entirely different audiences. We compared both phones and clarified the question once and for all: is it enough to settle for a mid-range instead of a premium smartphone?
The Galaxy S23 is the base model in Samsung's flagship range, while the Galaxy A54 caters to the mid-range market. You can tell that from their price difference, with Galaxy S23's MSRP being nearly double that of the A54. However, is the high-end smartphone twice as good based on its price? Do you get so much more bang for your buck with the Galaxy A54, proving that the mid-range smartphone is completely sufficient for all your needs?
Galaxy A54 and Galaxy S23 compared: Technical specifications
Samsung Galaxy A54 vs Galaxy S23
Device
Image

MSRP
from $449.99
from $799
Display
6.4" Super AMOLED
6.1" Dynamic AMOLED
2,340 x 1,080 pixels
2,340 x 1,080 pixels
120 Hz refresh rate
120 Hz refresh rate
SoC
Samsung Exynos 1380
Snapdragon 8 Gen 2 for Galaxy
Working memory
8 GB RAM
Storage
128 / 256 GB
Expandable memory
Yes, expandable up to 1 TB
No
OS
One UI 5.1 based on Android 13
Camera
Main camera: 50 MP, f/1.8 aperture, OIS
Ultra-wide angle: 12 MP, f/2.2 aperture
Macro: 5 MP, f/2.4 aperture
Main camera: 50 MP, f/1.8 aperture, OIS
Ultra-wide angle camera: 12 MP, f/2.2 aperture
Telephoto camera: 10 MP, f/2.4 aperture
Selfie camera
32 MP, f/2.2 aperture
12 MP, aperture f/2.2
Battery
5,000 mAh
Fast charging with 25 W
3,900 mAh
Fast charging with 25 W
Connectivity
5G / LTE / Wi-Fi 6 / Wi-Fi Direct / Bluetooth 5.3 / NFC
5G / LTE / Wi-Fi 6E / Wi-Fi Direct / Bluetooth 5.3 / NFC
IP Certification
IP67
IP68
Colors
Awesome Lime, Awesome Graphite, Awesome Violet, Awesome White.
Green, Phantom Black, Lavender, Cream.
Only for Samsung: Graphite, Lime
Dimensions and weight
158.2 x 76.7 x 8.2 mm, approx. 202 g
146.3 x 70.9 x 7.6 mm, approx. 168 g
Pros

Great AMOLED screen (as usual)
Excellent battery life
Good performance in apps and games
The best update policy on its price range
Fewer bloatware than its Chinese rivals

Compact and good haptic feedback
Outstanding display
Excellent performance
Excellent picture quality
Larger battery (compared to its predecessor)
More earth-friendly inclusions

Cons

No headphone jack
Slow wired charging
Lags behind the Pixels in camera performance

No LTPO display
Charging speed is archaic
No UWB
No microSD support
No 3.5 mm audio port

Rating

Samsung Galaxy A54 review

Samsung Galaxy S23 review
Check offer*
By taking a look at the technical specifications, you already have a first impression of both devices, but it is insufficient to form a viable conclusion. Hence, let's take a more thorough look across the various categories. Let's go!
Display and design
If we had compared the Galaxy S22 (for review) and the Galaxy A53 (for review), we would have noticed right off the bat which is the more expensive model. It is definitely more difficult with the current two smartphones because Samsung adapted the design of the A-series to resemble its flagships.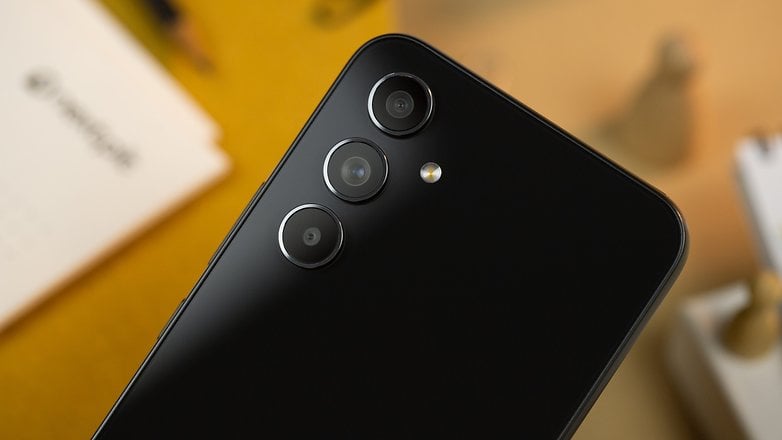 This means there is no longer a camera island behind both devices, but each camera sensor is individually elevated. This clearly enhances the Galaxy A54's looks as a more premium device. At the same time, we noticed that the Galaxy S23 feels more premium to the touch, which can be attributed to the metal frame instead of the plastic frame used in the mid-range model.
Furthermore, both devices use glass at the front and back. The Galaxy S23 measures 146.3 x 70.9 x 7.6 mm and is IP68 certified, while the Galaxy A54 (158.2 x 76.7 x 8.2 mm) is IP67 certified.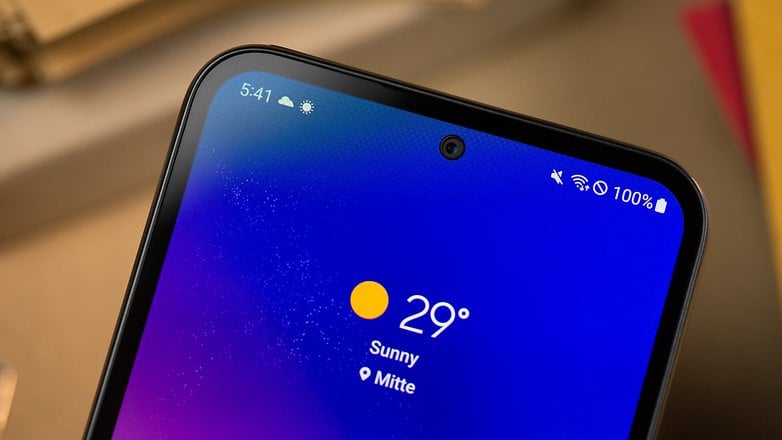 The compact form factor of the Galaxy S23 is also evident from its display, measuring 6.1-inches and is significantly smaller than the 6.4-inch panel found in the Galaxy A54. Apart from that, both displays are very similar: Both have a 2,340 x 1,080 pixel resolution, offer a 120 Hz refresh rate, and above-average performance.
While this is to be expected from the Galaxy S23 that costs a shade under $800, it is not par for the course for the mid-range, half-as-expensive A54.
A closer look reveals minor differences: The S23 is equipped with Gorilla Glass Victus, while the A54 has to make do with Gorilla Glass 5. The premium smartphone also relies on a newer AMOLED technology (Dynamic AMOLED 2X), which offers additional brightness and contrast levels.
Performance and connectivity
While we could still place the two devices on par in terms of display and design, performance-wise, they are poles apart. The Snapdragon 8 Gen 2 For Galaxy SoC literally runs circles around the much slower Exynos 1380 in the Galaxy A54. This is also evident in the benchmark tests, as you can see below:
Samsung Galaxy A54
(Exynos 1380)
Samsung Galaxy S23
(Snapdragon 8 Gen 2 for Galaxy)
3DMark Wild Life
3DMark Wild Life stress test

Best Loop: 2,840
Worst Loop: 2,804

Best Loop: 11,049
Worst Loop: 6,169

Geekbench 6

Single: 1,022
Multi: 2,889

Single: 1,537
Multi: 4,807
Don't panic if you decide to go for the new mid-range model: The Exynos 1380 performs well in virtually all situations. You won't encounter any problems in everyday use, and even stutter-free gaming is possible without any issues, even if you have to tone down the graphics in the settings. Performance has also increased noticeably compared to last year's SoC, which was the Exynos 1280. All these happen without any excessive heat development.
Even the Qualcomm Snapdragon 7+ Gen 2 that powers the current mid-range clearly outperformed the Exynos 1380—not to mention the Snapdragon 8 Gen 2 in Samsung's Galaxy S23. If you are looking for a performance monster, you will not get past the Galaxy S23 in this duel, that much is certain.
Apart from the processor, there is the same amount of working memory (8 GB) and the internal storage with 128 and 256 GB options remains the same. The advantage of the A54 lies in the presence of a microSD card slot!
On the other hand, both models are on par when it comes to connectivity options: They both support 5G networks and offer NFC, and play nice with Bluetooth 5.3. There is a very tiny difference: The Galaxy A54 supports Wi-Fi 6, while the Galaxy S23 goes one step further with Wi-Fi 6E support.
Cameras
Both smartphones rely on a camera configuration that consists of three sensors behind. However, it is almost self-explanatory that there are major differences between the two devices despite their camera count similarity (a 50 MP primary camera and a 12 MP ultra-wide angle sensor). The A54 has a 5 MP macro camera as the third sensor which is usable, but not by a mile.
The Galaxy S23, on the other hand, has a 10 MP telephoto sensor that offers triple optical zoom and optical image stabilization. The A series phone with its digital zoom simply cannot compete on the same level.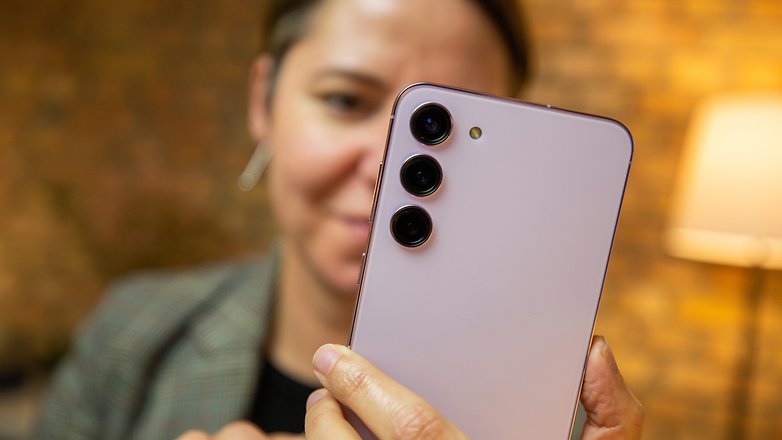 One thing you would want to take note: Really good photos can be shot using the Galaxy A54, especially in bright daylight. Just like the main camera of the Galaxy S23, the main camera also features optical image stabilization and support for the "Nightography" technology, which ensures better night photos.
Yes, night photos have improved in the A54, but the S23 is also much better in this respect. By the way, Samsung relies on a 32 MP camera in front of the Galaxy A54, while a 12 MP sensor does its job on the Galaxy S23.
To get a clearer picture (pardon the pun) of what am I talking about, take a look at the photo galleries of both smartphones and decide for yourself:
Samsung Galaxy A54 sample photos
Samsung Galaxy S23 sample photos
Software
When it comes to software, the flagship smartphone basically has no advantage over the mid-range at first glance. Both phones enjoy strong software support that cannot be found in other smartphones. This translates to four years of major Android updates and up to five years of security updates. In addition, you will be less annoyed due to minimal bloatware, as opposed to what many competitors from China offer.
Concerning updates, Samsung naturally wants us to use their devices for a longer period. There is a problem with that, though. You might not want to use a Galaxy A54 for four or five years down the road if the processor itself already lags behind other mid-range SoCs within the device's launch year.
Apart from that, Samsung does a lot right in terms of software, because the One UI which is based on Android 13, is one of the most popular around.
Battery life and quick charging
There is a clear winner in terms of battery life: The Galaxy A54 offers a 5,000 mAh battery, while the smaller Galaxy S23 came with a 3,900 mAh battery. Both batteries are not outstanding in reality, but they are decent enough. The S23 still managed 13 hours and 44 minutes in the "Work 3.0 Battery life" test, while the mid-range model was unable to keep up, lasting just 12 hours and 31 minutes.
Both devices are also virtually on par when it concerns fast charging, since you are unable to charge it at more than 25 watts. It comes as no surprise that both devices require almost two hours of charging time until they are fully juiced up.
Their competition laughs at this figure, as unlike Samsung, they even include the charger in the box. While the Galaxy S23 can be charged wirelessly at 15 watts, this feature is missing in the Galaxy A54. Reverse wireless charging is also reserved for the S23.
Price and availability
When the Galaxy A54 was officially launched, Samsung slapped a $449.99 price tag on the 128 GB model. This makes the Galaxy S23, which was launched at the beginning of the year, almost twice as expensive with a starting price of $799. Samsung has priced its flagship device significantly higher for those who want superior performance and better cameras.
In the meantime, prices have dropped: Currently, the cheapest Galaxy A54 is available for less than $320 while the Galaxy S23 hovers at around$700. In other words, you will still pay twice as much for the flagship phone, but at a lower price.
S23 vs A54: Price overview
| Device | Memory | Price | Market price (as of June 2023) |
| --- | --- | --- | --- |
| Samsung Galaxy S23 | 128 GB | $799 | $700 |
| Samsung Galaxy S23 | 256 GB | $859.99 | $759 |
| Samsung Galaxy A54 | 128 GB | $449.99 | $380 |
Conclusion: Is the significant price difference worth it?
Well, is the higher price worth paying? Only you can answer this question because it depends on your own needs. In general, I think many smartphone owners never use their high-end smartphones to their fullest potential. From that point of view, a $450 phone, which is currently even available for less than $350, is undoubtedly sufficient.
The Galaxy A54 looks great, performs reliably, has enough storage plus a microSD slot in case you need more space, takes decent pictures, has a nice display, and has a satisfactory battery life.
However, the Galaxy S23 shows why Samsung charges a totally different price for its camera and performance. Other advantages, such as inductive charging, superior display, and higher quality material, are part of the package.
Sometimes, the differences are minimal yet enough to make the S23 more powerful. If you love taking plenty of photos or want to play mobile games on the highest possible settings, the more expensive model is a justifiable purchase. For almost everyone else, the A54 is more than sufficient.
However, excellent software support, of all things, could be a drawback for the cheaper phone: The technical specifications of the Galaxy S23 are good enough that I imagine you will still be able to use this smartphone running buttery smooth in five years' time. However, I am rather skeptical about the Galaxy A54 and whether the processor will still be able to keep up then.
More importantly, what do you think? Do we still need a smartphone that costs almost $1,000 in 2023, or does Samsung prove that a phone half the price is enough? Share your opinion with us in the comments.