Samsung Galaxy A54 Review: Heated Competition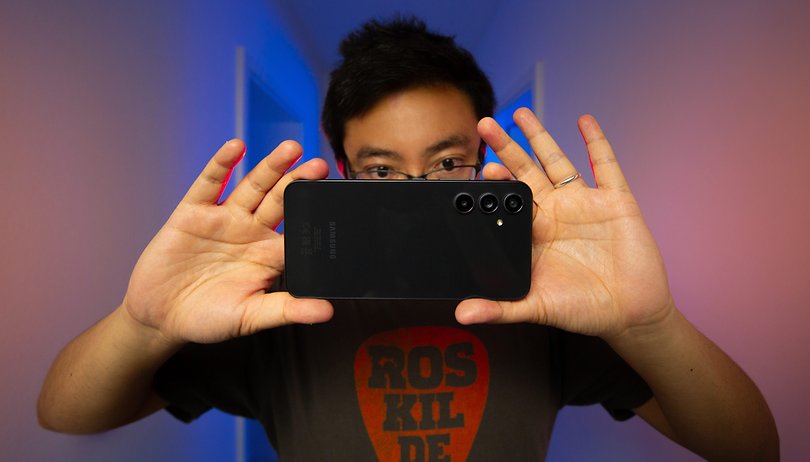 Samsung yearly updates on its mainstream Galaxy A line thread a careful balance between new features and price, while keeping an eye on the competition. For 2023, it is time for us to review the Galaxy A54, which despite plenty of strong points, has a different battlefield: Not only competing against the Redmi Note family but also from the Android flagbearers, see how it performs in nextpit's full review.
Good
Great AMOLED screen (as usual)

Excellent battery life

Good performance in apps and games

The best update policy on its price range

Fewer bloatware than its Chinese rivals
Bad
No headphone jack

Slow wired charging

Lags behind the Pixels in camera performance
Samsung Galaxy A54: All deals
Samsung Galaxy A54 in a nutshell
As one of Samsung's best-selling product lines—usually beating the S23 flagships—, the Galaxy A5 models tend to play it safe when it comes to its updates, trying to strike a balance between what is familiar and a sprinkle of new features. The Galaxy A54, however, not only brought a new design but also new hardware specs in camera and processing. The question is: Is it enough?
With more high-performance CPU cores, a new main camera sensor with bigger pixels (but a lower resolution), and very similar looks to the Galaxy S23 family, the mid-range Galaxy A54 has the same $450 MSRP as its predecessors.
A faster processor, a different camera configuration, faster Wi-Fi and Bluetooth standards, and a slightly smaller screen present a big change than the differences seen between the A52 and A53 generations. The competition, however, didn't stay still, with impressive new launches in 2023 from both Xiaomi and Google.
Galaxy A54: Design and display
After reusing the 2021's A52 design on 2022's A53, Samsung gave the Galaxy A54 a new visual style... That is almost indistinguishable from the Galaxy S23. It took some months for the mid-range to arrive at nextpit's offices, so it would be easy to forget this point, but it is still remarkable how the A54 and A34 we reviewed more than two months ago look like the Galaxy S23+ which got 4-stars way back in February.
---
Pros:
Like it or not, a flagship design.
IP67 certification.
Bright and fast AMOLED display.
Cons:
No 3.5 mm headphone jack.
Slippery back.
The A34 has a better-looking back finish.
---
While in the past the Galaxy A3 used to be smaller than the A5 models from the same generation, Samsung turned the tables in 2023, giving the Galaxy A54 a smaller screen than its predecessor and the A34. The reasoning is apparently the fact that the A34 targets emerging markets, which according to Samsung, tend to prefer bigger displays.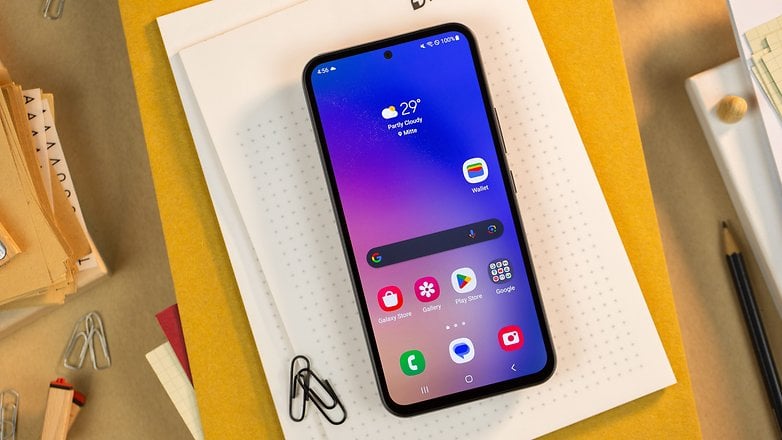 The characteristics of the 6.4-inch AMOLED panel are a known quantity at this point, with bright punchy colors, excellent contrast, and enough brightness for outdoor usage. The 120 Hz refresh rate is also back, with smooth animations and scrolling on the interface and web pages, just don't expect a fine-grained variable refresh rate, which remains exclusive to flagship models with LTPO panels.
Despite a smaller screen compared to the 6.5-inch A53, the Galaxy A54 features similar dimensions, being a little bit shorter, while wider and imperceptibly thicker. On the hand, the differences are not really noticeable, including the slight extra weight, with a similar grip for both models.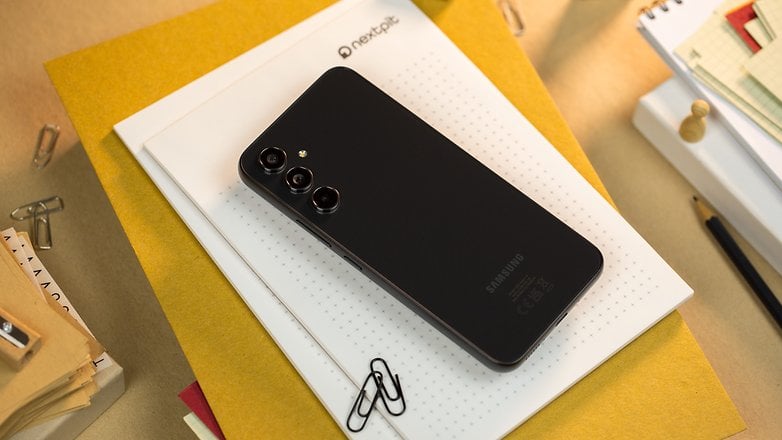 We have already mentioned that the Galaxy A54 features a similar look to the Galaxy S23 family (and the cheaper A34), with a flat back replacing the raised camera island, and mimicking the triple sensor setup of the flagship phones with each camera placed on its own circular bump.
Curiously, however, Samsung chose to give the A54 a more discreet look, without the color-changing finish that we liked on the Galaxy A34. Of course, that point is worthless if you intend to use the phone with a case...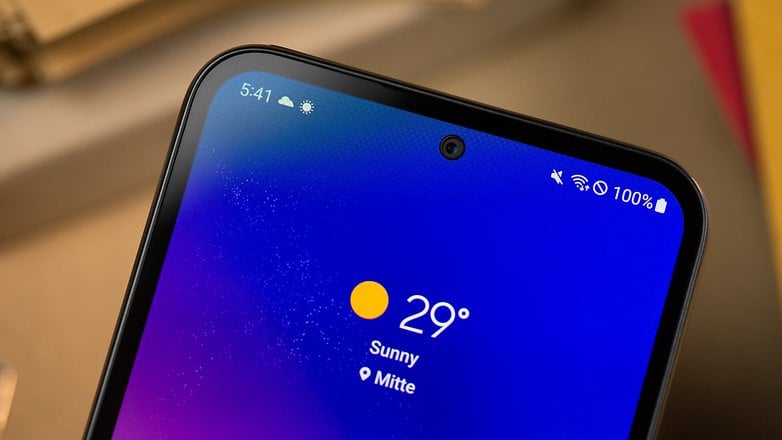 Galaxy A54: Software and performance
The performance section on the yearly Galaxy A50s is starting to feel stale. Not that Samsung is not improving its bespoke Exynos chips, but the small and steady improvements can be easily bested by rivals Qualcomm and MediaTek. The Galaxy A54 is noticeably faster than the A53 but it lags behind Xiaomi, Motorola, and Google 2023 models in the same price range.
---
Pros:
Good and stable performance in games and apps.
Improved performance against 2022 processors.
The best software update policy in the category.
Cons:
Rival 2023 chips obliterate the Exynos 1380 in games.
---
Performance in daily usage with the Galaxy A54 is more than enough, just like on its predecessors, thanks in part to its upgraded CPU configuration with two performance cores (Cortex-A78) replacing a pair of efficiency cores (Cortex-A55) when compared to the Exynos 1280 used in the Galaxy A53 and A33. The change can be easily spotted on the Geekbench test, with a 40% jump in the multithreaded score.
Samsung Galaxy A54
(Exynos 1380)
Samsung Galaxy A53
(Exynos 1280)
Xiaomi Poco F5
(Snapdragon 7+ Gen 2)
Redmi Note 12 Pro+
(Dimensity 1080)
Galaxy XCover 6 Pro
(Snapdragon 778)
Moto Edge 40/Edge (2023)
(Dimensity 8020)
3DMark Wild Life
3DMark Wild Life Stress Test

Best loop: 2840
Worst loop: 2804

Best loop: 2324
Worst loop: 2312

Best loop: 7632
Worst loop: 7582

Best loop: 2281
Worst loop: 2268

Best loop: 2465
Worst loop: 2434

Best loop: 4480
Worst loop: 4411

Geekbench 6
Gaming performance is similarly good, with plenty of performance to play games such as Call of Duty Mobile. Synthetic benchmarks show that the Exynos 1380 performs on par with the Snapdragon 778G, which was since 2021 the most balanced mid-range SoC. And all that without issues with overheating, as the 3DMark stress test showed a consistent performance level across 20 runs.
Unfortunately for Samsung, Qualcomm took a brave approach when designing the Snapdragon 7+ Gen 2, leveraging TSMC's advanced N4 (4 nm) process to use flagship-level CPU & GPU cores. The result is a 45% better multithreaded CPU performance and an embarrassing 2.7x jump in graphics power as we found out during nextpit's review of the Xiaomi Poco F5.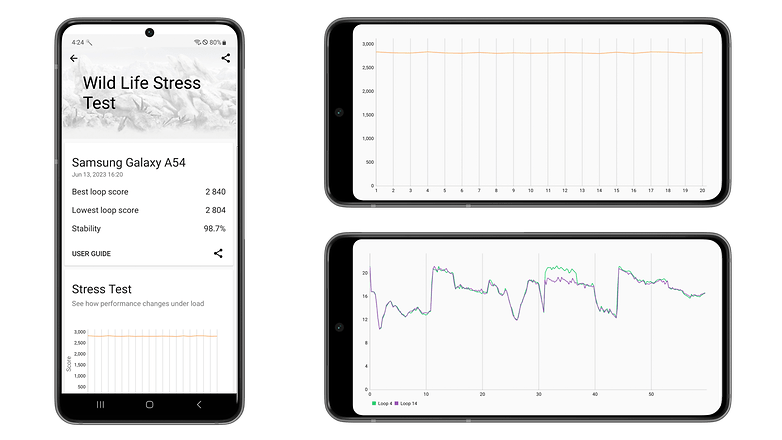 Looking outside the Exynos vs Snapdragon debate, the MediaTek chip found on the Motorola Edge (2023) also beat the Exynos 1380 without breaking a sweat, albeit with a smaller margin.
Software
Samsung's strongest point as in the previous generations is its software update policy, bested only by Apple. The South Koreans promise double the number (4) of Android upgrades than Xiaomi or Motorola for their mid-rangers.
Not only that, the Galaxy A54 is scheduled to receive security updates for five years, and for the past two years, Samsung updated its Galaxy A52 & A53 to the latest Android versions before the other two companies even began distributing the same release to its flagships.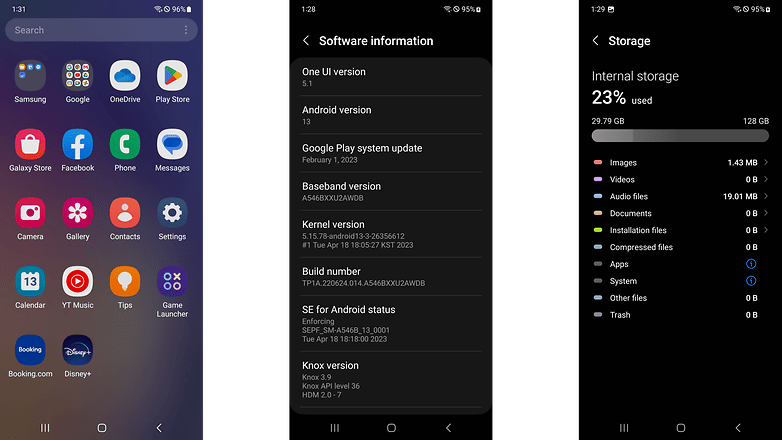 Another advantage can be noticed as soon as you finish the initial setup: While we counted eight third-party apps on the Galaxy A34, five on the Galaxy A53, and a staggering 17 (seventeen) on the Poco F5, the Galaxy A54 had four 3rd-party apps preinstalled. Just make sure to uncheck a couple of boxes during setup to avoid a dozen other apps.
Samsung Galaxy A54 camera
On the camera department, Samsung finally ditched the questionable depth sensor, adopting a triple camera layout for the Galaxy A54. The main sensor also changed, with a smaller 50-megapixel resolution compensated by the fact that the undisclosed sensor features bigger pixels, which performed well in our tests.
---
Pros:
Excellent looking photos in daylight conditions.
Good performance in dark scenes.
Ok macros.
Cons:
Don't expect Pixel-level results (unless Samsung drops a surprise software update),
---
Daytime pictures were pleasing, and subjectively better than the A53's, with more true-to-life contrast and saturation. Not only that but the shots from the ultra-wide-angle lens (0.5x, 12 megapixels) were also nice, with a similar color balance to the main camera, and without excessive distortions.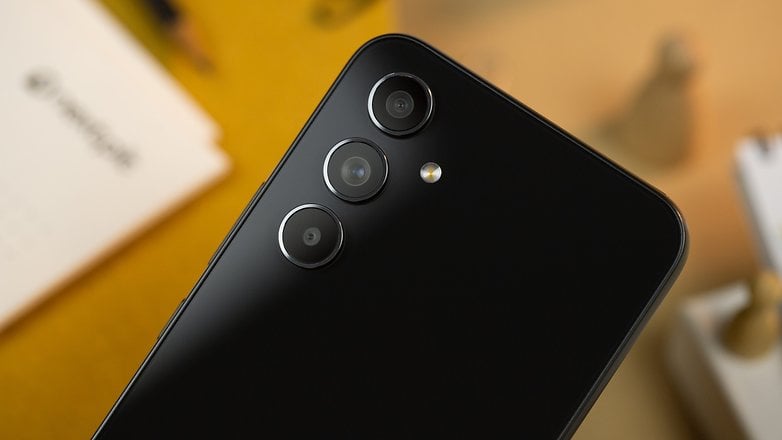 As expected from a mid-range phone, you won't find a telephoto lens on the A54, even so, depending on the situation, 2x digital zoom shots can return nice photos. And if you have a tripod—or really steady hands—you may get good results even from the 4x zoom, just don't bother with zooming all the way to the maximum 10x magnification...
After a couple of years adding a questionable depth sensor on its mid-range phones, Samsung finally ditched the fourth camera on the Galaxy A54 (and A34 as well). So the wide + ultra-wide combo is completed with a 5 MP macro camera. Far from being a must-have camera, the third lens gave fun results, but shots looked better on the phone's preview than on the resulting file you can see on the gallery below:
Nighttime photos when taken with a little bit of light were surprisingly good with the main 50 MP camera, while ultra-wide shots in the dark suffered a bit in terms of colors and level of detail.
Finally, selfies turned out fine, without smoothing skin tones excessively, and with realistic colors. Portrait mode in both normal and wide-angle modes worked well, with good separation between subject and background, with the usual strands of hair posing a little bit of a challenge for the effect.
Samsung Galaxy A54 battery
The noticeable improvements in performance using the same production process as the Exynos 1280 on the Galaxy A53 raise an important question: Has the battery life decreased in the A54? The answer is not quite. The 2023's Samsung mid-ranger offers solid energy efficiency, on par to its predecessor, but under the threat of a new generation of intermediate processors.
---
Pros:
A full charge can last two days of regular use.
Cons:
25-watt charging is not fast.
No charger in the box.
No wireless charging.
The Snapdragon 7+ Gen 2 once again beats the Exynos 1380.
---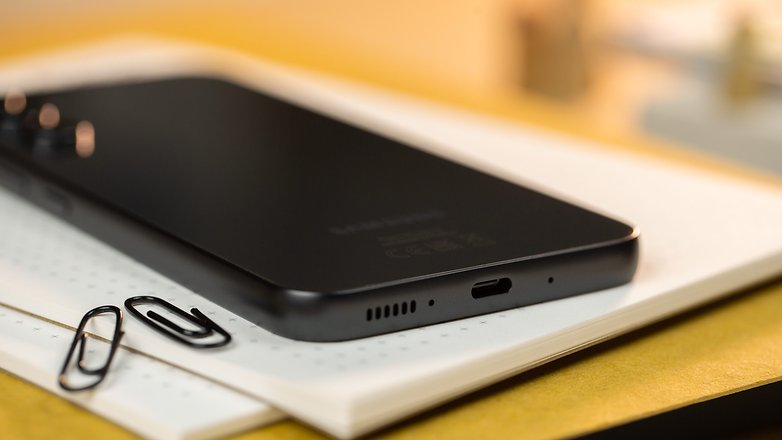 In the synthetic PCMark test, the Galaxy A54 was beaten by the recently retested Galaxy A53 by a noticeable 48 minutes margin. Despite the difference, however, it is important to consider the better performance in Samsung's 2023 mid-ranger.
| | | | | | |
| --- | --- | --- | --- | --- | --- |
| | Galaxy A54 | Poco F5 | Galaxy A53 | Redmi 12 Pro+ | Galaxy A34 |
| 5 minutes | | | | | |
| 10 minutes | | | | | |
| 20 minutes | | | | | |
| 30 minutes | | | | | |
| 1 hour | | | | | |
| Full charge | | | | | |
| PC Mark Battery test | | | | | |
Charging times, on the other hand, were pretty much the same as in the Galaxy A53, which is not a surprise considering the similar battery capacity and maximum 25 W charging on the A54. When compared to its Chinese rivals, there is no deying that Samsung has a lot of catch up to do, not only because of their faster charging times but also on the improved efficiency on Qualcomm's and MediaTek's 2023 SoCs.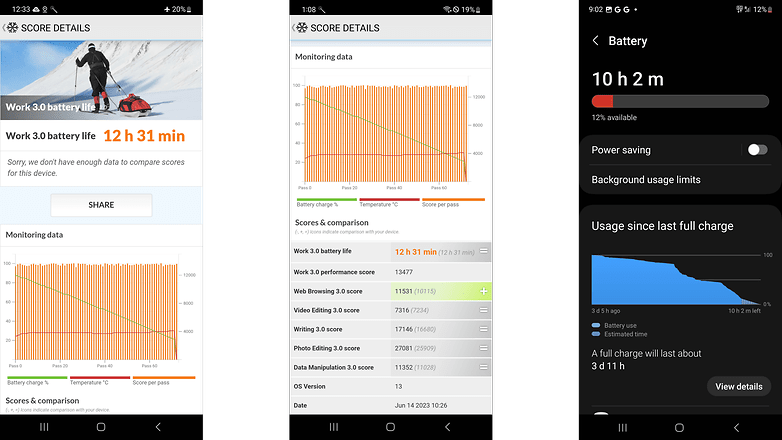 In practice, during a short weekend trip, the Galaxy A54 managed to offer a solid two-day battery life, with some GPS, messages, lots of photos, and light social media and streaming consumption. For better endurance, you can always reduce power consumption by turning off 5G and high refresh rates.
Samsung Galaxy A54 technical specifications
Samsung Galaxy A54
Display
6.4 inches AMOLED
1080 x 2400 pixels
120 Hz refresh rate
Dimensions
6.22 x 30.19 x 0.32 in
158.2 X 76.7 X 8.2 mm
Weight
7.13 oz | 202 g
Processor
Samsung Exynos 1380
Memory
6/8 GB RAM
128/256 GB storage
Software
OneUI 5.1 based on Android 13
microSD
✔️
Dual-SIM
✔️
eSIM
✔️
Câmera
Main: 50 MP | f/1.8 | OIS
Ultra-wide: 12 MP | f/2.2
Macro: 5 MP | f/2.4
Selfie
32 MP | f/2.2
Audio
Stereo speakers
no headphone jack
Battery
5000 mAh
Charging
Wired: 25 W
IP certification
IP67
Connectivity
Wi-Fi 6 | Wi-Fi Direct | Bluetooth 5.3 | NFC

Other points that may interest the nextpit community:

The Galaxy A54 includes NFC support and is compatible with Google Pay for contactless payments.
The review unit packaging included a USB-A to USB-C charging cable and a SIM card tray tool.
The software version during the test was A546BXXU2AWDB (May 2023 security patch).
After resetting the updated handset, the operating system indicated 29.80 GB of used space.
Final verdict
We were quick to criticize Samsung when the company seemed to be resting on its laurels with the Galaxy A53 with small changes over the A52 family. Despite the more significant changes brought by the next model in the family, it is hard to ignore the fact that the competition not only came with their own improvements, some models offered truly flagship-level performance for the same price as the Galaxy A54.
And it is not only the usual criticisms against slower charging speeds. 2023 brought impressive performance levels to the mid-range market with new Snapdragon and Dimensity chips, and Google's commitment to the Pixel line pose a tempting triple threat to anyone considering the Galaxy A54: Similar pricing on the Pixel 7a, unbeatable bang for the buck on the Pixel 6a, and frequent discounts on the Pixel 7.
This new competitive landscape makes it harder to recommend a Galaxy A54 purchase, not because the Samsung phone is a bad product, which it is not, it is actually a good upgrade over its predecessors. But you can find better camera performance or sheer speed in competing products.
Having said that, the Samsung Galaxy A54 offers a good balance all around, especially when you consider that it offers a relatively bloat-free experience, with the best software support in the Android market.
Another unavoidable point is the frequent deals on Samsung phones. We have already seen the Galaxy A54 a good $75 cheaper than the MSRP, so depending on local deals and contract offers, the new South Korean mid-ranger may turn out to be a better option depending on your priorities.