Nokia reveals 5 new phones, and a nice surprise for fans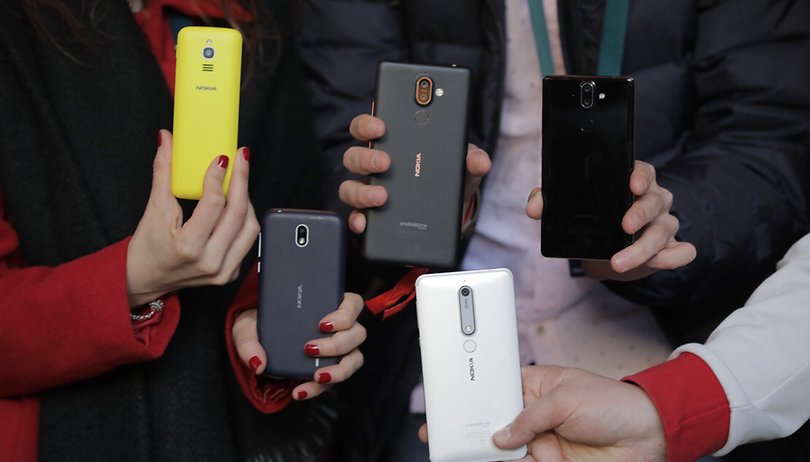 HMD Global promised a fantastic MWC and we weren't disappointed. A whole range of smartphones has been announced by the brand: high-end, mid-range and budget. Aka the Nokia 8 Sirocco, the Nokia 7 Plus, the new Nokia 6, the Nokia 1 and even a revisited version of the old Nokia 8110 will expand the brand's portfolio. Here's a summary of what's new.
We currently have no images of the devices, only the tweets below, but we will be uploading our photos from the event shortly
Surprise! We got the Nokia 8 Sirocco, not the Nokia 9
Firstly, let's talk about the Finnish manufacturer's new high-end smartphone. While rumors leading up to the event were all about the Nokia 9, it was actually the Nokia 8 Sirocco that was announced. To Nokia fans, the name won't be unfamiliar as it is partially taken from the Nokia 8800 Sirocco Edition. It takes its name from the powerful wind that forms in the Sahara desert when a mass of warm, dry air meets the cooler sea air of the Mediterranean.
The Nokia 8 Sirocco combines an elegant design with two glass plates glued to a stainless steel metal frame. With only 2mm thickness on the sides, the Nokia 8 Sirocco offers a 5.5-inch curved 2K polished screen with thin bezels and noticeable outer curves to create an ultra-compact body. The result is great, but somehow reminds us of the Samsung devices.
Von günstig bis teuer: das Line Up von @HMDGlobal. Das Nokia 8810 wird 79 Euro kosten, das Nokia 8 Sirocco 749 Euro #mwc #nokia pic.twitter.com/au0rrVCV0b

— Marco Engelien (@MarcoEngelien) February 25, 2018
On the specs side, the Nokia 8 Sirocco also has a dual camera, made in partnership with the German manufacturer Zeiss. There is an wide-angle camera ideal for low light conditions and a 13MP camera capable of x2 optical zoom. The Camera Pro mode allows full manual control over each captured image. Of course, Android Oreo is on the agenda.
As for price and availability, the Nokia 8 Sirocco will be available in April for €749 (approximately $920).
Nokia 7 Plus, Nokia 6 and Nokia 1 to be released
Nokia's first 18:9 inch display smartphone
"Designed for creative people", the Nokia 7 Plus is a fairly premium mid-range phone that will arrive for sale in April for €399 (around $490). Here again, the focus was on photography, with two sensors and Zeiss lenses, including a wide-angle, 13 megapixel camera with dual optical zoom. The 6-inch Full-HD+ 18:9 screen provides a compact format that photography enthusiasts will be pleased with. Two colors will be available including black/copper and white/copper, and all devices will have Android Oreo.
Preis fürs Nokia 7 Plus. Einen Eindruck davon, ob der gerechtfertigt ist, mache ich mir gleich im Hands-on pic.twitter.com/SCWmUnru0j

— Marco Engelien (@MarcoEngelien) February 25, 2018
Nokia 6: more powerful
Building on the success of its predecessor, the new Nokia 6 will have even more power and new features in a more compact, durable package. Nokia promises 60% faster performance than before. For other devices, there's an aluminum design, a dual camera from Zeiss, fast charging, 2.5D screen, Snapdragon 630 processor and Android Oreo.
Auch ein Upgrade des Nokia 6 wird kommen @HMDGlobal #mwc18 pic.twitter.com/5Pdf35lgT9

— Marco Engelien (@MarcoEngelien) February 25, 2018
The new Nokia 6 will be launched in three color combinations: black/copper, white/iron and blue/gold. The phone will be available on April 6 for Europe for €279 (around $340) but we'll have to wait for the US availability.
Nokia 1: the new budget smartphone
The Nokia 1 is now the brands low-end smartphone. It will feature the Android Oreo Go edition, and will be available early April for around $85, the Nokia 1 comes with Android Oreo (Go Edition), an Android version optimized for devices with 1 GB of RAM or less. The Nokia 1 is designed to provide flexible and responsive operation. Of course, the body is made out of polycarbonate which is designed to be durable. The Nokia 1 will be available in Warm Red and Dark Blue.
Das Nokia 8810 ist wieder da @HMDGlobal #mwc #mwc2018 pic.twitter.com/LHZoD63sOc

— Marco Engelien (@MarcoEngelien) February 25, 2018
The nice surprise: the revival of the Nokia 8110
Finally, let's end with what will be the favorite of many tech enthusiasts. After the Nokia 3310 last year, it is the Nokia 8810's turn to have a second youth. First launched in 1998, it now returns more than 20 years later with the name 8110. It's compatible with 4G, and based on the familiar and easy-to-use curved design of the first model. The user interface is easy-to-use and of course, features the famous Snake game. You'll be able to get your hands on two colors: black and yellow. And the price? We've yet to find out the price for the US, but in Europe, it will be available for €79 ($96).
What do you think of Nokia's new devices and features? Tell us everything in the comments!