Google Pixel 8 vs Pixel 8 Pro: When Cheaper is Better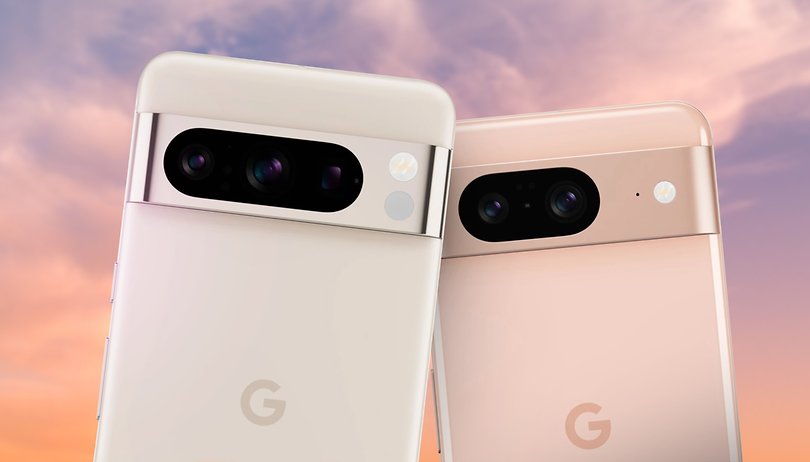 The Google Pixel 8 and the Google Pixel 8 Pro were launched after many leaks on October 4th. You may be asking what the differences are between the two Pixel phones in 2023? nextpit's editorial team has already tested both the Pixel 8 and the Google Pixel 8 Pro in detail and can answer this question in a direct comparison. We also looked into the price increase and its possible justification in our following article.
Google Pixel 8 and Pixel 8 Pro: The technical data in comparison
Pixel 8 (Shiba)
Pixel 8 Pro (Husky)
Product
MSRP
$699
$999
Image
Reviews
Display
6.2" OLED
2,400 x 1,080 px (428 PPI)
120 Hz refresh rate
6.7" LTPO OLED
2,992 x 1,344 px (489 PPI)
1-120 Hz refresh rate
SoC
Google Tensor G3
Titan M2 security chip
Google Tensor G3
Titan M2 security chip
RAM
8 GB LPDDR5x
12 GB LPDDR5x
Storage
128 GB / 256 GB UFS 3.1
128 GB / 256 GB / 512 / 1024 GB UFS 3.1
microSD
❌
Software
Android 14
7 years of system upgrades
7 years of security updates
Main camera
50 MP wide-angle camera with Octa PD
Pixel size: 1.2 μm
Aperture: ƒ/1,68
Field of view: 82°
Image sensor size: 1/1.31"
Super resolution zoom: up to 8x
50 MP wide-angle camera with octa PD
Pixel size: 1.2 μm
Aperture: ƒ/1,68
Field of view: 82°
Image sensor size: 1/1.31"

Ultra-wide angle/macro
12 MP with autofocus
Pixel size: 1.25 μm
Aperture: ƒ/2,2
Field of view: 125.8°
48-MP camera with Quad PD and autofocus
Pixel size: 0.8 μm
Aperture: ƒ/1,95
Field of view: 125.5°
Telephoto lens
❌
48 MP | Quad PD
Pixel size: 0.7 μm
Aperture: ƒ/2,8
Field of view: 21.8°
5x optical zoom
Super resolution zoom: up to 30x
Selfie
10.5MP selfie camera with dual PD
Pixel size: 1.22 μm
Aperture: ƒ/2,2
Fixed focus
Field of view: 95°
Audio
Stereo, Spatial Audio
Battery
4,575 mAh
5,050 mAh
Charging speed
27 W
30 W
Wireless charging
✔
Robustness
IP68
Connectivity
eSIM, 5G, Wi-Fi 7, NFC, Bluetooth 5.3, Google Cast
eSIM, 5G, Wi-Fi 7, NFC, Bluetooth 5.3, Google Cast, UWB
Colors
Obsidian, Hazel, Rose
Obsidian, Porcelain, Bay
Dimensions and weight
150.5 × 70.8 × 8.9 mm, 187 g
162.6 × 76.5 × 8.8 mm, 213 g
To the offer*
This overview table gives you the first differences between the two Pixel 8 phones, and we will discuss everything else in detail here. Of course, nextpit has tested both phones linked above.
Table of contents:
Google Pixel 8 vs. Google Pixel 8 Pro: design and display.
The iconic camera bar on the back is once again part of the game. However, it is noticeable that the Pro only has a single cutout for the camera sensors in contrast to last year's Google Pixel 7 Pro nextpit reviewed. Otherwise, the corners are even more rounded compared to last year and the glass edges are symmetrical. The weight and dimensions of the Pro have only changed marginally, while the Pixel 8 has shrunk more and lost ten grams.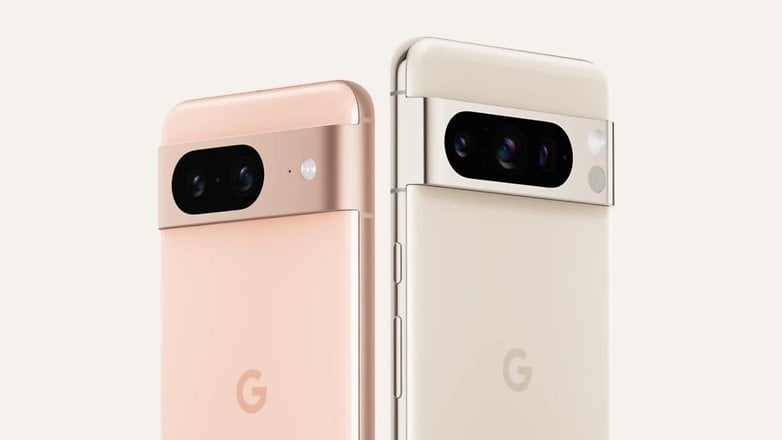 Google offers us the color options Obsidian, Porcelain, and Bay for the 6.7-inch Pixel 8 Pro. In the Pixel 8, Rose and Hazel join Obsidian. Both devices are IP68-certified and protected by Corning glass at the front and back. In contrast to the Gorilla Glass Victus, Google gives the Pro device Gorilla Glass Victus 2. The frame is made of aluminum—polished in the Pro and matte in the base model. The glass back is the other way around: Matte for the Pro, polished for the Pixel 8. Google also mentions that recycled materials account for at least 18 percent of the smartphone's weight.
Looking at the display of the Pixel 8 Pro, we notice a slightly shrunken resolution of 2,992 x 1,344 pixels compared to the predecessor, while it remains 2,400 x 1,080 pixels in the Pixel 8. Both models repeat images at 120 hertz, with LTPO variable refresh rate technology reserved for the Pro. Incidentally, the brightness of the display has been increased on both devices: 1,400 nits (2,000 nits peak brightness) on the Pixel 8 and up to 1,600 nits (peak brightness: 2,400 nits) on the Pixel 8 Pro.
Google Pixel 8 vs. Google Pixel 8 Pro: SoC and performance
Unsurprisingly, the Tensor G3 replaces the Tensor G2 in both smartphones. Google itself—logically—calls it the most powerful Pixel processor so far and refers to the expanded AI features. In summary, our tests revealed that the first nona core processor falls short of its expectations.
Despite its ARM Cortex-X3 prime core with a maximum clock rate of 3.0 GHz, four Cortex A715 performance cores (2.45 GHz), and four additional Cortex A510 efficiency cores (2.15 GHz), it roughly equals the performance of a Snapdragon 8 Gen 1 from Qualcomm. Demanding games like Genshin Impact are not quite playable on the highest graphic settings. Of course, the processor manufactured by Samsung in a 4-nm process is completely sufficient for everyday use.
This SoC is joined by 12 GB LPDDR5x RAM and up to 512 GB flash storage in the Pixel 8. The Pixel 8 has 8 GB of RAM and a maximum of 256 GB of storage. In both cases, the storage is not expandable and unfortunately, it is only UFS 3.1 instead of 4.0 storage.
In terms of hardware, we should also mention the new temperature sensor in the Pro model. It is supposed to be enough to point the smartphone at the water for your tea, for example, to display the temperature precisely. Of course, we will also check that in the test. Both models support eSIM, Bluetooth 5.3, and now Wi-Fi 7 as well.
Google Pixel 8 vs. Google Pixel 8 Pro: Camera
As in the Pixel 7 series, Google installs a dual-cam in the base model and a triple-cam in the Pro variant in the current edition of the Pixel.
In the Pixel 8 Pro, we find a new main camera with 50 MP, and there is also a 48 MP shooter each for ultra-wide/macro and a telephoto zoom. The latter offers a 5x optical zoom as in the predecessor, as well as a "super resolution" zoom of up to 30x.
According to Google, the macro mode of the ultra-wide-angle sensor is noticeably better and the telezoom is significantly more sensitive to light. In the Pixel 8, there is a 12 MP ultra-wide-angle sensor in addition to the 50 MP main camera, which also functions as a macro shooter.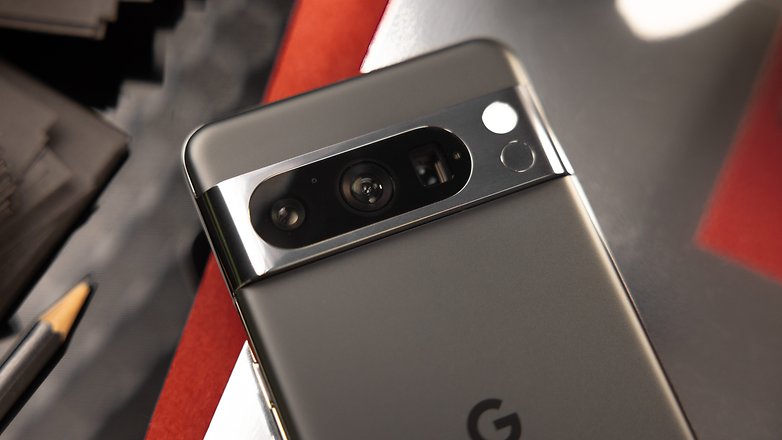 Images are optically and electronically stabilized on both devices, and the feature set is almost identical on both otherwise as well. There are differences in the autofocus (multi-zone laser autofocus sensor on the Pro instead of single-zone laser autofocus sensor) and the video night vision mode as well as the Pro mode on the more expensive of the two models.
Compared to last year's Pixels, they want to bring out heavier guns this year, especially in terms of software and AI. The "magic editor" is coming in winter, and the "best shot" function is also new. What can it do? Imagine you're taking group photos: one buddy is squinting, another has his eyes closed, and a fraction of a second later, someone else is looking down again. "Best Shot" looks for the best picture elements from a sequence and automatically assembles the best possible result.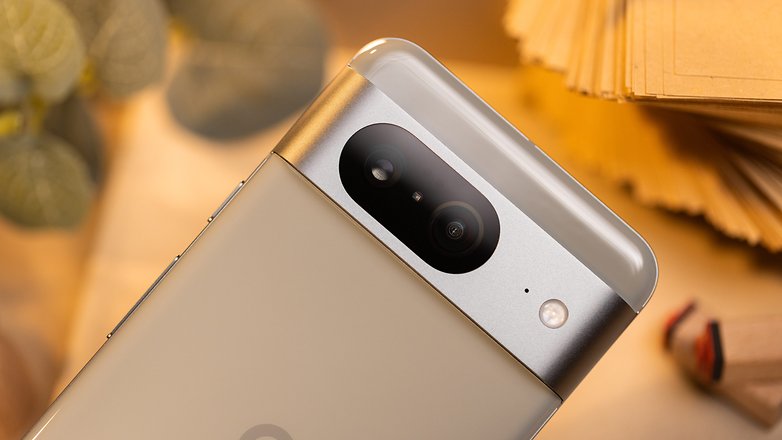 What emerged in both smartphones during the extensive test is the point that Google did not deliver all the promised camera features in time for the review. The so-called Cloud-based Video Boost, which will probably not be released until December, is only one of the many features that are coming in future updates.
While the Google Pixel 8 Pro could convince in all aspects photo-wise, the base Pixel did not please so well in wide-angle shots at night. The 8x digital zoom cannot even begin to keep up with the real telephoto zoom camera of the Pro. The latter's 30x magnified shots still pleased us even in low-light conditions (inside closed rooms).
Pixel 8 camera samples
Pixel 8 Pro camera samples
Google Pixel 8 vs. Google Pixel 8 Pro: Software
Of course - as always, Google sends its new Pixel phones into the race with a brand-new Android. In this case, it is of course Android 14, so you can see right away what you can expect on smartphones from manufacturers like OnePlus, Xiaomi, and others in the future.
Besides the already mentioned camera features, the devices in Android 14 offer many new possibilities like the call filter "CallAssist" or improved Google Assistant functions. Thanks to Googe AI in Google Chrome, you can now have Google Assistant display web pages as a summary. The catch of this last story is that it only works in English and only in the US.
The improved software support is really strong. While we always praised Samsung for its long updates so far, the Koreans are now falling behind. Google offers seven years of support for its new phones. That means you get seven years of security updates and OS updates up to Android 21 (!!). In addition, there are feature drops every few months, as usual, which add new tricks to your software.
Google Pixel 8 vs. Google Pixel 8 Pro: Battery life and fast charging
There is one constant with the battery of the new Pixel phones: Again, you have to purchase the 30 W charger separately if you want to enjoy the maximum charging speed. However, Google has moderately increased the charging power. While you could charge with a maximum of 23 W (Pixel 7 Pro) or even 20 W (Pixel 7) despite the 30-watt charger, you now have a fast 27 W (Pixel 8) or 30 W (Pixel 8 Pro).
The capacity has also increased slightly in both models. The PC Mark Work 3.0 battery test showed 12 hours and 23 minutes for the Pro and 17 hours and 49 minutes for the Google Pixel 8. Both smartphones complete the obligatory day on just one charge, even with a slightly more demanding consumption. But in the end, the base Pixel still has the edge in terms of runtime.
Google Pixel 8 vs. Google Pixel 8 Pro: Price and availability
So, it gets a bit unappetizing towards the end here now. The reason for this is that Google adds a lot to the prices compared to the Pixel devices from 2022. The Pixel 8 starts at $599, while the Pro starts at $999, in both cases, a $100 increase compared to the Pixel 7 line.
| | | |
| --- | --- | --- |
| | Google Pixel 8 | Google Pixel 8 Pro |
| 128 GB | $699 | $999 |
| 256 GB | $759 | $1059 |
| 512 GB | ❌ | $1179 |
| 1 TB | ❌ | $1399 |
Google tried to soften the price hike blow by offering a free Pixel Watch 2 for those who ordered the Pixel 8 Pro, while Pixel 8 buyers got the Pixel Buds Pro earphones. But those were limited offers that should be expiring any day now.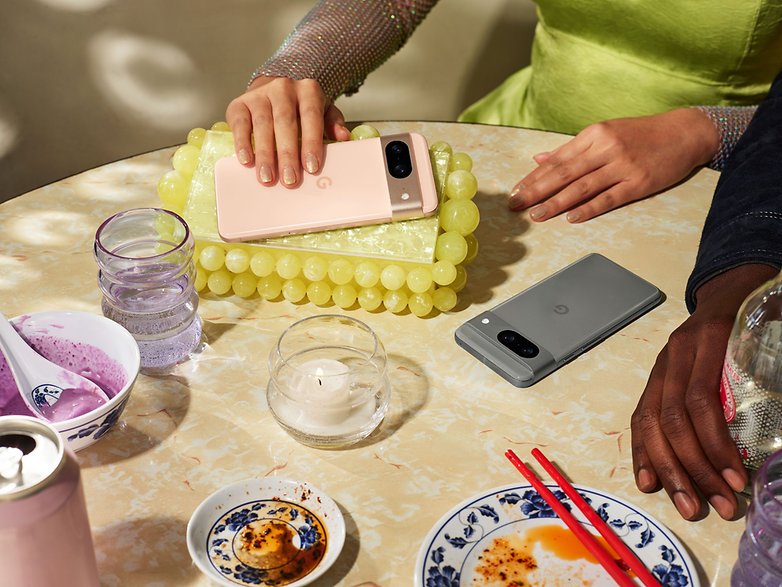 Conclusion
There is no question about it, the significant price increase is a punch in the gut at first. However, Google merely adjusts the previously very low prices to the general structure. Certainly, this is an unfavorable time, since competitors like Apple and Xiaomi are currently lowering their prices.
Google counters with seven long years of system and software updates, plus the feature drops that are popular with young and old. Whether the company will actually keep to these cannot be said with certainty given Google's past and penchant for a quick software drop. But if not Google, then who can make such promises?
A real selling point, at least for the Pro model, is the unique camera qualities including the AI performance, which Mountain View once again impressively proves, even though they have not been able to keep all promises so far. However, the Tensor G3 chip is a real disappointment. As the first mobile Nona Core processor, it could not convince all along the line. It would be better to cooperate with Qualcomm instead of Samsung in this field in the future.
What do we learn from our little Versus? Those who can do without a temperature sensor and probably the best current smartphone camera on the market and place more value on the purchase price, the better form factor, and an surprising battery runtime are better served with the Google Pixel 8.
What's your favorite between the Google Pixel 8 and Pixel 8 Pro? Or is Google's price hike eliminating it completely for you this year? Feel free to write us your opinion about the two Pixel phones in the comments below and let us discuss heartily.
---
Article updated in October 17th with full review impressions.