Developers prioritize Android over iOS but are we feeling the benefits?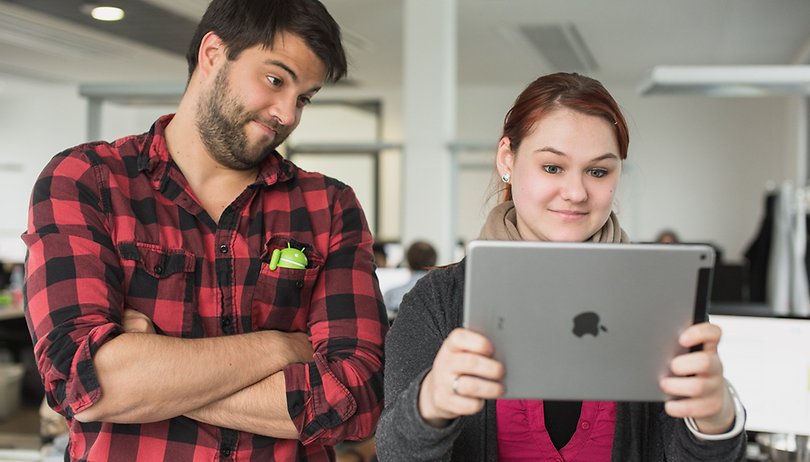 According to a study by VisionMobile, in the third quarter of 2016, developers began to invest more heavily in Android than iOS. In Latin America for example, Android is the current platform of choice for professional developers, with more than twice as many mobile devs working with Android as iOS. But despite these numbers, are we, as consumers, really feeling the benefit when it comes to quality apps on our smartphones?
The survey conducted by VisionMobile consulted 16,500 developers from around the world and revealed that Latin America, the Middle East & Africa and Southeast Asia represent the largest potential for growth and profit with regards to app development. The reasons for this are directly linked to the high penetration of Android in these markets.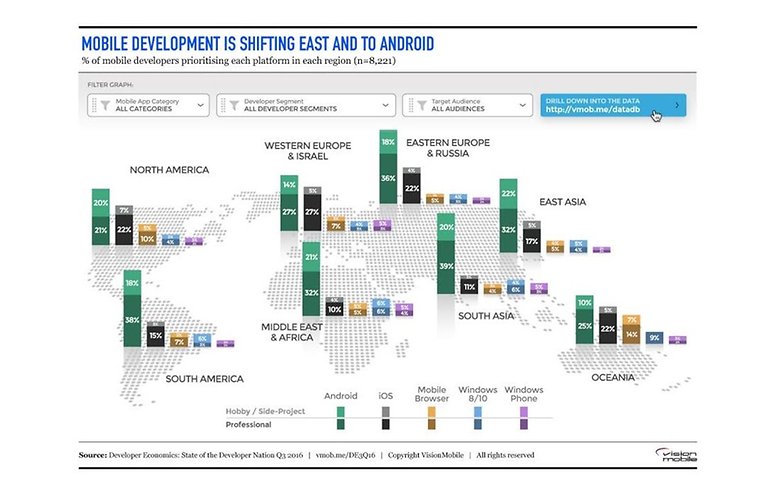 Developing markets are seeing more and more sales of smartphones compared to the use of so-called 'feature phones' (phones designed mainly for calls and SMS). The operating system that dominates these markets is Android and it's largely due to the cost of devices which run it.
If we look at the results of the recently published research from Gartner, referring to the results of smartphone sales in the third quarter of the year, it is clear that Android is dominating all other operating systems worldwide. While Google's OS has increased over the same period last year, iOS and other mobile platforms have reduced their presence in the market:
More developers investing in Android does not necessarily mean a better ecosystem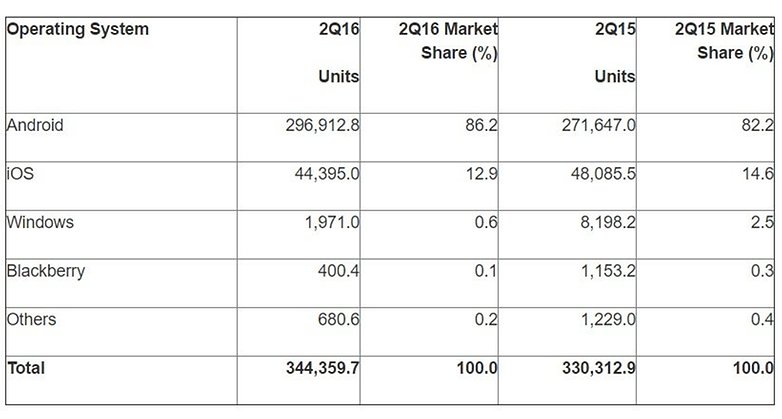 Will more developers involved in the Android ecosystem improve it?
Six years ago, app tracking website AppStore HQ created a database of developer information. After manually checking 4,500 entries in the Apple App Store, it compared the figures with data on Android developers. The result confirmed that, for every Android developer, there were four developing for iOS.
Now it's 2016 and the numbers are quite different from 2010. Android has been the most used operating system in the world since 2011 and last year, the platform began to generate more profits for developers than iOS. While the Android OS was responsible for 65.17 percent of ad impressions in apps in 2015, taking 45.77 percent of app revenue, iOS, with a share of 22.34 percent of ad views, was for the first time second with 45.44 percent.
However, compared to the income generated by direct sales of applications – the upfront fee to buy an app or game outright – the iOS App Store is still ahead of Google's Play Store.
Even with all these numbers and statistics, many apps still arrive to iPhone users first, despite the smaller userbase. Recenlty we've had Prisma and MSKRD, both of which showed up in the App Store first. Meanwhile, applications such as Clean Master and Du Speed Booster & Cleaner, which which continue to generate mistrust among, users aren't available in the App Store, but are in the Google Play Store. Because...?
Final thoughts
Perhaps to change the mentality of Android developers, Google needs to be firmer about what can and what can not be made available in the Play Store – even if it hurts profits in the short term.
The app review process conducted by Google's Play Store team is considerably faster than that of the App Store. While the team of Apple takes two or three days to analyze and upload a new app to its store, Google does the same in a matter of hours. Such haste could no doubt open up opportunities for safety and quality control to fail.
More developers investing in Android doesn't inherently mean a better ecosystem: it just means a larger ecosystem. And, unfortunately, the Play Store is already quite full of low-quality Android apps.
Do you agree with me? Let me know in the comments.