Cool iOS features that Android can do as well Coming from the Apple side of things myself, one of the biggest issues I had when I was making the jump was not really knowing whether Android could live up to the things that I had come to rely on with iOS. Thankfully, a little bit of research before making the jump made things much simpler. In fact, I found that not only did Android have features that performed the same function as many iOS features, but in many cases, Android did it better. Here's a list of a few common iOS features that Android can do.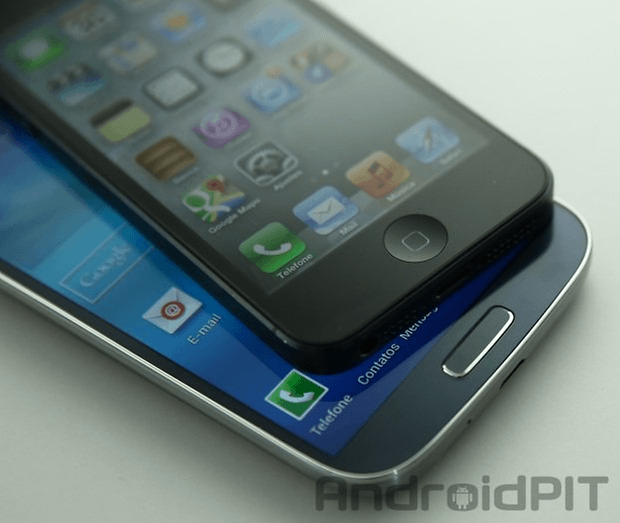 Notification Center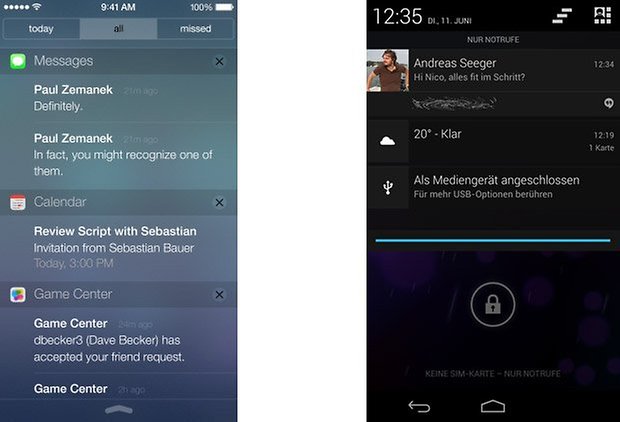 iOS: I think it's safe to say that Android got it right long before iOS decided to incorporate the Notification Center. While it was a nice addition to give users much more information at-a-glance, providing users with three tabs in which notifications could be sorted: Today, All, and Missed. Sure, it's a step forward, but still relatively clunky and encumbered.
Android: The notification shade covers most of your notifications, but misses a few items. However, with the addition of Google Now, you have access to all this information and more. Super customizable, it offers you information in regards to reminders, traffic information, sports scores (depending on what you want to see), stock prices, and many more. Plus, it's got an awesome overload of voice recognition software and the power of Google at its fingertips.
Control Center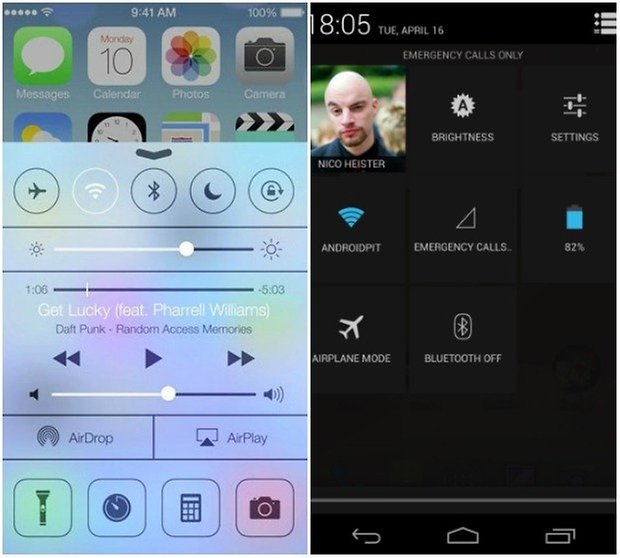 iOS: With the revamp of the Control Center is iOS 7, Apple users finally had access to a ton of quick toggle settings with a flick of their finger. Simply swiping up, you could toggle your WiFI and Bluetooth, change musical tracks, change the brightness of the display, and more.
Android: Beat iOS to the punch a long time ago with their Quick Settings. Simply swiping down from the top right corner of the screen brings up your Quick Settings notification shade that incorporates all the same settings as the iOS control center and more. Get yourself a custom ROM, such as CyanogenMod, and you can customize it even further by adding app icons/shortcuts in this space as well.
AirDrop
iOS: As long as you've got an iPhone 5 or later, you can use this "groundbreaking" feature. You can share photos and videos with other friends' devices, as long as you're close by.
Android: Available since Android 4.0, Android Beam does the exactly same thing utilizing NFC/Bluetooth. In fact, you can send maps, photos, web links, contacts, and more by just holding two NFC enabled devices back to back. As well, Samsung offers its own version of the same thing via their S Beam feature: while utilizing NFC to create the connection, it jumps over to Wi-Fi to complete the transfer.
Integrated VOIP
iOS: While many people didn't know about this update (I sure didn't), you could make audio only calls over Apple's Facetime using your 4G or Wi-Fi connection. Sure, you can save money when making phone calls and not having to use your minutes, but you needed to make sure that whoever you were calling had an compatible iOS device as well.
Android: Apps. Tons and tons of Apps. While there was no integrated service that allowed for VOIP natively on Android, you could easily get a ton of different software that would do the same thing. Skype and Viber are two of the most popular apps that come to mind when using this service, and I've all but switched over to Skype to make long distance calls. Sure, to truly take advantage of the software, you'll need to make sure that whoever you're calling has the same software installed, but at least it's cross compatible across various operating systems: Android, iOS, and Windows Mobile.
Those are some of the most apparent iOS features that Android can do. Can you think of anything else?