Are World Economic Woes Driving Android Growth?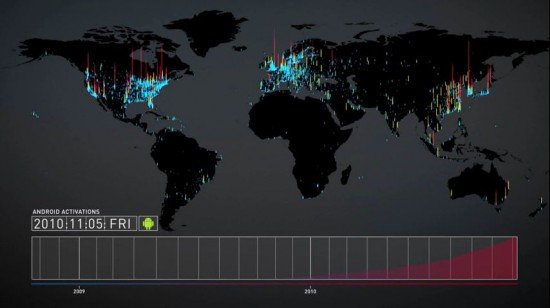 With the Mobile World Congress well under way, Google SVP Andy Rubin recently took stock of how the Android community has developed in the months since last years MWC. In a piece on the Google Mobile blog, he lauded the developers and manufactures that have helped develop the most successful mobile ecosystem world-wide, which can now claim over 850,000 new activations a day and one of the largest app pools out there. But what is fuelling Android's seller success? With economies the world-over stagnating at best, how is it that Android can continue its field march through world-wide markets, when it is faced with such stiff competition from Apple's iPhone?
In 2011, the Android ecosystem enjoyed a 250% growth rate and it might just be the world-wide economic troubles that are driving Android smartphones to the top.
The Good News: People Love Their Androids
"Each and every day, we are humbled by the trajectory of Android and our partners. "Mr. Rubin started his State Of The "Android" Union and its easy to see why. A year ago this time Google was celebrating welcoming their 150,000th app into the Android Market; in 2012 it's 450,000. 300 Million customers world-wide are using one of 800 unique Android models and each month sees the introduction of new smartphones and tablet PCs that push the boundaries of possible. With headlines like that, its no wonder that is excited what the future will bring.
While sales of Android devices in the US and Europe are still strong, it's curious to see how luxury devices like Android smartphones can still be successful in hard economic times. In his blog piece, Mr. Rubin credits the Android ecosystem with the continued success of the brand and he's right. The flexibility of Android's open ecosystem have given the community the diversity needed to thrive in a floundering economy.
Android: Diversity For the Win!
Of course, based on pure number of units shipped, the iPhone is still the best selling smartphone in the world but Android is the dominate ecosystem with more Android devices being shipped daily then iOS devices. In a piece on the Wall Street Journal's Tech Blog, Anton Troianovski argues that one of the only factors allowing the iPhone to maintain its grip on the number one spot in terms of sales is cell providers willingness to subsidise the costly iPhones. Basically, it brakes down like this: the cheapest iPhone available on the international market is the three year old iPhone 3Gs with comes in at an unsubsidised price of around $530– for many a hefty price for three year old technology. In comparison, an introductory Android smartphone can retail, unsubsidised, for as little as $106; an attractive option for those looking to test the waters with a low-end smartphone.
According to Mr. Troianovski, Apple has been able to maintain their very successfully business model by convincing cell phone providers to take deep cuts to their profits– iPhone subsidies are up to 40% more then comparable Android phones with some providers having to pay up to $400 to Apple for every unit solid– in order to ship the popular smartphones. In rich counties like the US and UK, where subsidies allow for highend iPhone and Android handsets to retail for around the same price, this helps Apple stay competitive. But on the international market, where customers are either not able, or willing to shell out $200-$300 for a contract phone up front, the iPhone is in trouble.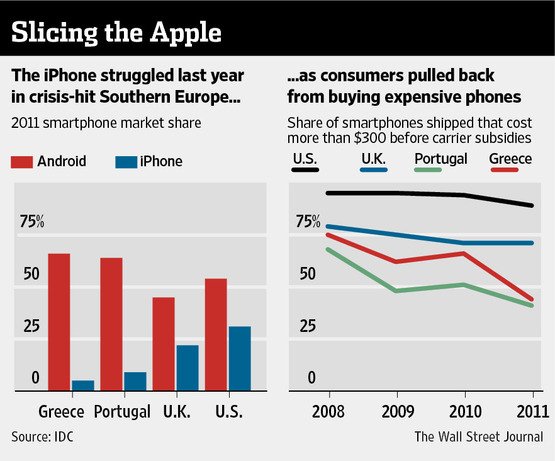 (Source: WSJ Click For Pop-up)
One of the real advantages of the Android ecosystem in the shear diversity of devices. With over 800 different handsets on the market in every price class, it is much easier for customers to find a smartphone with the right balance of hardware and price for them. If we take Europe as an example, where are flood of low and midrange handsets are driving Android growth, the iPhone is struggling to compete. In 2011, iPhone sales in Portugal and Greece were only 5% and 9% respectively. This was largely due to customers reluctance to pay the hefty upfront price of the new iPhone 4s.
A Sign Of Things To Come
Android's continued success in Europe, it seems, is due in large part to the openness of Android hardware development. With so many big name manufactures competing for the same pool of customers by slashing prices, it's easy to see how customers would be attracted to Android's high-end technology at affordable prices. Given the state of the world economy, it seems Google's approach is in many respects a much more sustainable model then Apple's. And one that is poised to continue through out 2012.
While the economic forecast in the US is improving, some authorities are predicting that the EU will slip into a slight recession during 2012/2013. If Mr. Troianovski views on the motor behind Android's success are accurate, then the continued stagnation of the world economy will further drive customers to consider buying an Android device. Ironically, the continued success of developing countries like India and China will also potentially drive customers to the Android ecosystem. While both countries are beginning to develop a moneyed middle class, the iPhone's high-cost is keeping away many potential customers. Case in point: 2011 saw China overtake the US as the première destination for smartphones with Nokia, Samsung and HTC rounding out the top 3 manufacturers.
So what does this all mean? Mr. Rubin closed his blog by saying Google was just getting started at the Mobile World Congress, but if the trends of 2011 are any indication, the success of the last years was only Android getting warmed up. I , for one, can't wait to see what next years MWC will bring.