5 Years Strong: Android's Exciting Journey to the Top Google has plenty of reason to rejoice right now: Android turned 5 years old last week, the Nexus 4 and 10 go on sale tomorrow and Android's global market share has reached an unprecedented 75%. But Android's trek to the top of the smartphone heap has not always been an easy one. For every Galaxy S3, there's been a Samsung Beam, and for every Nexus device, a few forgettable budget models. Indeed, it's been a long journey to worldwide ubiquity. In today's infographic, you can see all of the milestones Android has reached over the past five years.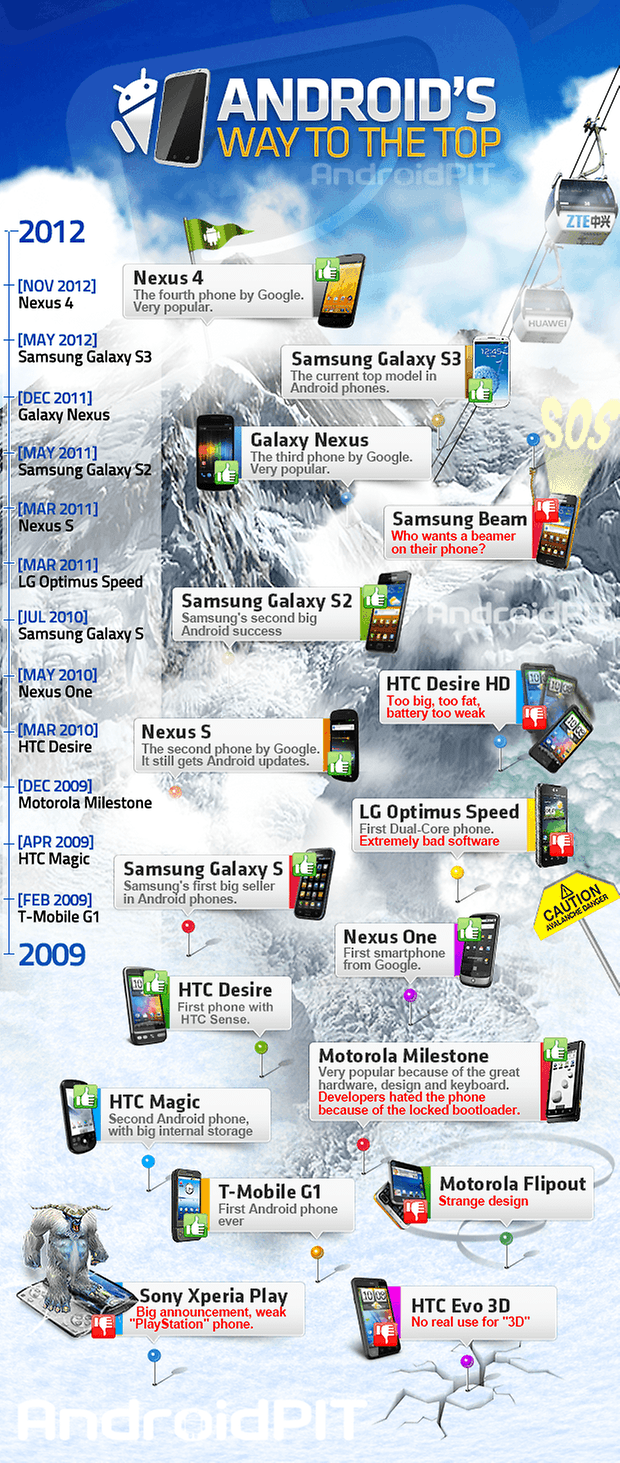 While Android, as well as the Open Handset Alliance, was first unveiled in 2007, it wasn't until two years later that the first Android device – the T-Mobile G1 – was released, in February of 2009. Nobody could have imagine what kind of long-term impact it would have on the global market. Just two months later, in April 2009, HTC Magic was released: a popular model with lots more memory onboard.
After that, we saw an avalanche of devices – including the HTC Desire and Motorola Milestone. Some, like the Motorola Flipout, flopped. In 2010, seeing that the Android market needed a new bellweather, Google introduced their first Nexus device, the Nexus One. Since then, they've collaborated with a smartphone manufacturer on one new device every year, packed with interesting features and a sleek, simple design. Even through the Nexus devices haven't always been blockbusters, they've created devotion among the Android faithful and a strong sense of loyalty to the Android brand.
It took manufacturers a while to figure out how to create an ideal Android smartphone – one with the best battery capacity, most beautiful design and popular firmware– but the HTC One Series and the Galaxy S2 and S3 touched perfection when they were first released. Others brought innovative ideas – like the Sony Xperia Play – but didn't know what to do with them (thus, Yeti bait).
Now the new Nexus series represents the culmination of this development, which is far from reaching its end. With the full support of Google's marketing team, we're sure they'll sell even better than the previous Nexus devices. As far as the mountain is concerned, Android is far from reaching its peak. We're excited to see what comes next.