[Videos] HTC Vivid - Mid-Range Dual-Core LTE Phone Impresses In Hand On Tests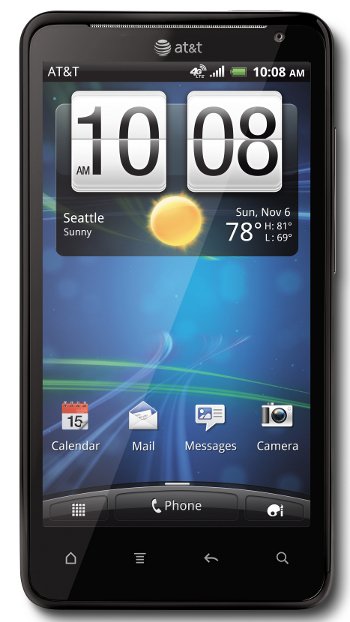 HTC has made a name for itself by releasing high quality smartphones as often as Nadya Suleman does kids. With an almost daily launch and stiff competition from the likes of the Galaxy Nexus and the Motorola Droid RAZR, it's easy to see how a device like the HTC Vivid could fly under the radar. While it my not push the technological envelope, a $199 price tag for a 1.2 Ghz dual-core device featuring a 4.5 inch screen and super fast LTE connectivity makes the HTC Vivid an attractive option for people looking for a mid-range smartphone. Still trying to figure out which phone is the right one for you? Check the link and see if the HTC Vivid is the right phone for you.
Personally, I hadn't given the HTC Vivid much thought as this seasons big three - Samsung Galaxy Nexus, HTC Rezound and the Motorola Droid RAZR- dominated reporting but the top shell isn't where most consumers do their shopping. I've always had a soft spot for HTC Sense and judging from the demos I've seen the Vivid has done away with the stuttering issue that some HTC devices were pledged with. Also the spec sheet is quite impressive for the Vivid's low $199 price tag.
The HTC Vivid features:
Android 2.3.5 with HTC Sense
4,5 inch qHD display
Resolution: 540 x 960 Pixel
1,2 GHz Dual-Core Qualcomm APQ8060 processor
16 GB internal memory
8MP and 1.3 MP cameras with dual LED flash
Video Recording with 1080p at 60 fps
GSM 850/900/1800/1900 MHz, UMTS 850/1900 Mhz, LTE 700 Mhz
HSPA, EDGE, GPRS
microUSB
microSD card slot (up to 32 GB)
As I said above a read out like that at $199 isn't to shabby and the device in general has a well polished feel to it. If you're looking for a well rounded smartphone this holiday season that won't break the bank, the HTC Vivid might just be the Android phone for you.
Related HTC News: