The TabCo Mystery: Is Motorola Behind It?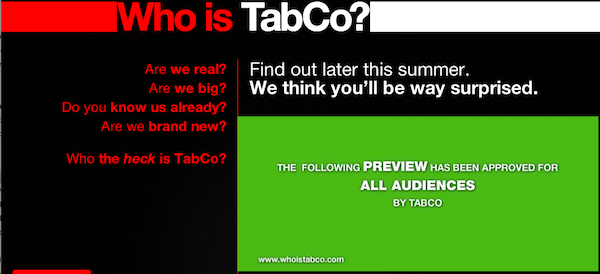 After today's bombshell about Google acquiring Motorola, the Android community is busy gossiping about the upcoming live presentation of TabCo. So who's behind this secretive ad campaign? We have some explanations to offer.
For weeks now all of us have been impatiently trying to answer the question: What is TabCo? Conspiracy theories abound and there are a bunch of diverging opinions out there. Here at AndroidPIT, we've been tracking the wild gossip on our own Twitter stream. The ad agency and creators of this viral ad campaign are known for working for such famous brands as Apple, Samsung, HP and Sony. Ever since that information was spilled, people have started asking a lot of questions. Is it a startup? A PR move by a major company? A new Android device?
Unfortunately, none of us know for sure. But here is a prediction from the AndroidPIT team:
It's definitely going to be an Android tablet. In one of the ads (the one with the focus group) one of the participants says "maybe this is the new Android". So as far as I can tell, it's gotta be Android (damn me if I'm wrong).
TabCo just recently tweeted about Motorola following their launch. Suspiciously, the tweet was almost instantly deleted after it was posted. It appears as if there is some sort of connection between Motorola and TabCo, but we won't know for sure for another half-hour.
Stay tuned for live updates and more information in the coming hours!