T-Mobile myTouch 3G Users To Receive FroYo HTC already said earlier this year that "if your phone was launched this year, we will most likely offer an upgrade for it to the Froyo version," but now TmoNews has a picture of a document detailing T-Mobile's plans to push out Android 2.2 (FroYo) onto their myTouch 3G devices.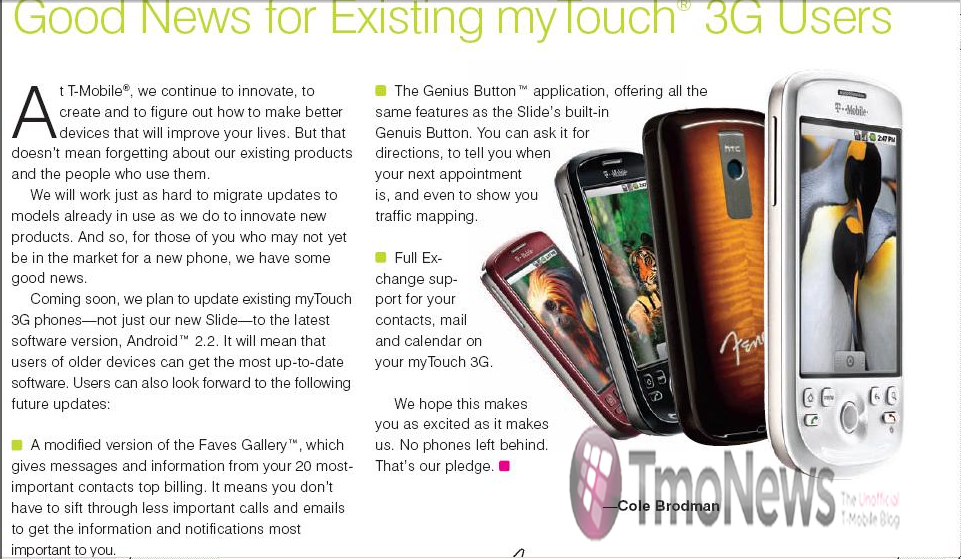 The screenshot from TmoNews says that "Coming soon, we plan to update existing myTouch 3G phones -- not just our new Slide -- to the latest Android version, 2.2. It will mean that users of older devices can get the most up-to-date software."
New features coming with the FroYo update will include the Genius Button , full Exchange support, and the Faves Gallery.
As if to remind us just how these update sagas go, BoyGeniusReport wrote that we have "No word yet on when the update will actually drop, but we imagine this update will involve at least a little bit of an agonizing wait." Additionally, AndroidCentral mentioned that "What this means for other second-generation hardware is unknown."
AndroidandMe notes the irony in T-Mobile's statement for G1 and Samsung Behold II users when they say that those "owners will love the last line of document. T-Mobile says, "We hope this makes you as excited as it makes us. No phones left behind. That's our pledge."
Other Sources: AndroidandMe, AndroidCentral, BoyGeniusReport
Image from TmoNews