RIM And Windows Phone – Are They Really Doing THAT Bad?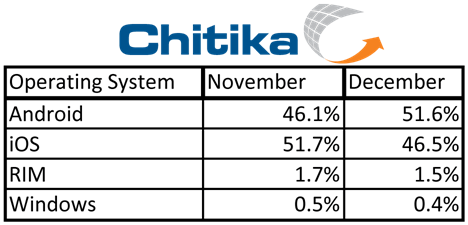 (picture from Cnet)
I think it's common knowledge that here at Androidpit, the 2 most discussed operating systems are Android (duh) and Apple (grrrrrr). And that makes sense, considering that these 2 titans of tech are literally making all other forms of mobile operating systems look damn near obsolete in terms of sales and market share. But is it really THAT bad? Are RIM and Windows phones really performing so badly, or is there some slight exaggerations going on? I can answer those questions in one sentence: Yes, it is going THAT bad, and no this isn't an exaggeration. Let me show you....
According to the ad network known as Chitika, RIM and Windows phone COMBINED failed to reach 3% of network traffic ad impressions in November and December. Do me a favor right now, and quickly look at the chart at the top of this article, and let those numbers sink in....
Wow...I mean....WOW. If these numbers are accurate, RIM and Windows phone execs must be shaking in their boots. I mean common...less than THREE PERCENT COMBINED? I don't want to make this into a bashing article, but guys...what the hell happened?
This might suprise you, but I don't even find RIM or Windows to be THAT bad when it comes to user experience. Heck, I'm even pretty impressed at some of the newer Windows phones, and am really interested to see Windows 8 running on tablets. I have used Blackberry and Windows phones, and while my heart is naturally with Android, I honestly don't see how they are generating numbers THIS low. RIM used to be a MONSTER in this industry, and I don't even have to say anything about the force that is Microsoft (luckily for them, they make more money off of Android than they do from their own mobile OS). How did they manage to lose almost ALL of their fire?
What do you guys think? Is it user experience that's killing them, or is it lack of devices? Marketing stratagy maybe, or could these numbers be inaccurate? Losing market share is one thing, but having almost...well...none is another. What do you guys think went wrong? Any chance of recovery in sight for these 2 former giants?