Live Now And Exclusive: Ice Cream Sandwich and Nexus Prime Event Direct From Hong Kong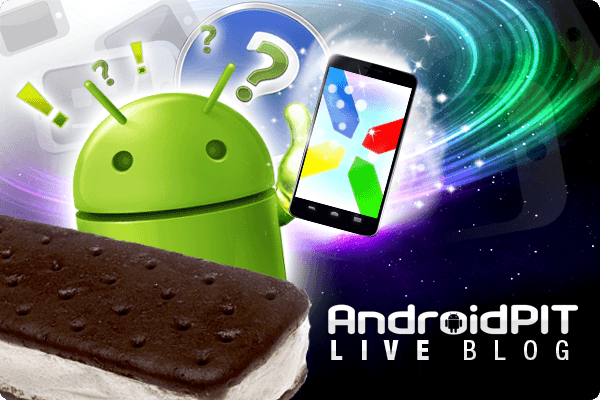 People who travel always have stories to tell and that's why we set out to Hong Kong to bring you the latest stories from the Android world. This time we're bring two new Android highlights with us in our baggage: The Galaxy Nexus, the new Android flagship and Ice Cream Sandwich, the latest and just maybe greatest Android version. Google has kept us on the edge of our seats for weeks now... and the event is finally getting under way.
It's here people, our live blog is underway. Fabien is already at the press conference in Hong Kong waiting for the curtian to raise.
07:03AM Check out our exclusive hands on video with the
Galaxy Nexus and Ice Cream Sandwich here
!
04:59AM As we expected: An OS for Smartphone and Tablets! That was the presentation for Ice Cream Sandwich. Kim Titus from Samsung USA is on stage again. That's all folks.
04:58AM Nice, if you are using an app or game you can transfer a link to the market with one touch using Android beam. That could be an attractive feature for developers who can already get APIs. The SDK for ICS is already online. Top!
04:56AM Wow Ice Cream Sandwich has so much innovation packed into it!
04:55AM Just hold two Android devices together and bam the information is loaded on the other phone!
04:55AM Last up for today: Android Beam. You can use it to beam info to other Android devices right away.
04:54AM New APIs for visual voice mails– developers can make new apps with that feature. And you can faceforward though boring maps. Nice idea!
04:53AM If you call someone their picture is displayed over the entire screen.
04:52AM Now people are on! We already saw in the press kit how important face Recognition will be. The People app will show you information about your most important people right in your menu. You can also connect with their right away over every social network from one app and the app also tracks all their updates live. The whole show is called "Quick Contacts" and developers with have access to it via API .
04:50AM 1080p videos look amazing!
04:49AM That's going to leave a bad taste in Android's competitors mouths. And speaking of mouths, mine is haning open. If my connection was better then this would be a perfect day :D Now the videos are on. I wonder how YouTube is going to be connected.
04:47AM Ah! Panorama-Shots -direct in ICS!
04:47AM The gallery has a new layout that almost looks like a print magazine... wow.
04:47AM With so many new effects and filters for the camera app. Photos are going to be fun again.
04:46AM Photos: Face recognition for improved focus and "zero shutter" meaning there is less time between photos.
04:46AM With Anroid 4.0 you can make photos faster then ever and Google+ integration makes sending photos faster then ever.
04:43AM Now the photos are on bat. Google and Samsung were working close together for the latest innovations.
04:43AM Data usage– Android 4.0 helps you control and watch your data usage. A nice feature which is sure to help. You can see what what apps use how much data.
04:42AM Looks like the design department had a lot to do! The Calender got a makeover as well. Looks nice but... a redesign for everything? One thing is clear: Everything is brighter with Roboto.
04:40AM The new Android-User interface "Roboto" has paid Gmail a visit. You can flip between emails with a swipe. Plus the emails from the last 30 days can be quickly searched even in ofline mode!
04:38AM There is also a new ICS customised user interface for Gmail.
04:38AM [04:37:51] Fabien Röhlinger: Gmail - "we want to make it to the best experience"
04:37AM You can also save online sites to read them when you are offline.
04:37AM And all book marks are synced automaticaly.
04:37AM "Request Desktop Site–with the option clicked, you get he PC version of a site right away.
04:36AM The standard browser has been reinvented. 16 tabs can be opened with live previews.
04:36AM The product manager has take the stage. The features just keep coming!
04:35AM But again the live demo doesn't work 100%. Matias takes it in stride.
04:34AM How cool is this? Face unlock? The phone only unlocks with the right face!
04:34AM The voice controls got an improvement as well. But even if the demo didn't work that well, Android fans are going to love this!
04:33AM Typing also got a work through: ICS offers better spell check, copy and paste and better word suggestion.
04:32AM The notification bar also got a new design and offers new options for controlling your phone like music control.
04:31AM Our testers are going to love this– screenshots are now native to ICS.
04:30AM Multi-tasking has also gotten a new design– well done guys!
04:29AM Hmmm looks like Android copied a bit for their new folder system. Looks a bit like Apple's iOS.
04:29AM Cool! New animations for moving between widgets and their size display can be adjusted as well!


04:28AM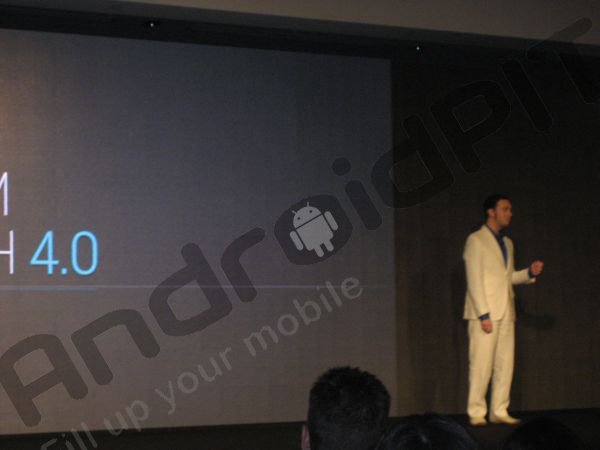 04:28AM "Widgets are Awesome"– their getting a makeover as well.
04:26AM The new look is high-class but also modern.
04:25AM The new typeface which defines the design is Roboto.
04:25AM It looks like Android has gotten a real makeover, from the ground up.
04:23AM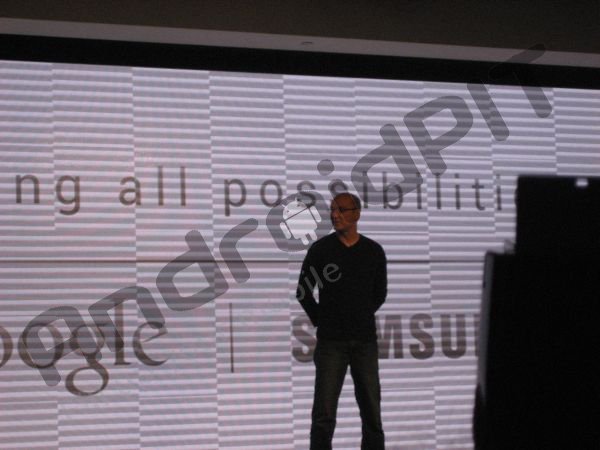 04:23AM "People need Android. But they do not love it"– Google's goal was to get people to fall back in love with Android with ICS.
04:22AM That's it for the Galaxy Nexus presentation. Now Mathias Daurte is taking the stage.He's the star of the Android design world.
04:20AM It's hiting the markets in November across the board!
04:18AM It features a "contour display"– a slight curve at only 8,94 mm thick... thats thin.
04:16AM "It's just like you have a movie projecter in your hand" I can't wait to get my hands on one.
04:16AM 4.65" inch display with true HD 1280 x720 resolution... just like a movie theater. Cool.
04:15AM Samsung is playing their strong suit: beautiful displays. The display is Super AMOLED with a 100,000:1 contrast ratio.
04:12AM LTE and HSPA+ plus version to hit the market. Meaning the US and Europe will both be getting the same tech hopefully at the sametime sans delay.
04:10AM Both presidents are displaying the phone. Even from the 3rd row, its sexy curved form is easy to see.
04:09AM Andy Rudin has now taken over as MC: The new phone is simple, enjoyable and goes beyond tradition smartphones by using cloud services to predict what you need. Sounds amazing and impressive at the sametime.
04:06AM Samsungs President has taken the stage. Credits their 'harmony' between Google and Samsung for their sucess. And Ice Cream Sandwich plus Super AMOLED tech will be featured on the phone! Plus a curved design.
04:04AM Be ready for another perfect combination, with these words Kim Titus is getting the event underway. Both Samsung and Google are presenting their stregnths for a truely new project.
03:50AM We're still waiting for the last guests to find their way into the hall. The only thing certian at this point is that Android 4.0 will be on the Galaxy Nexus and the screen dementions will be 4.65" with a HD Super AMOLED Display!
03:45AM AndroidPIT has a good place in the 3rd row. Seeing as most people have to stand, we're feeling pretty good about our seats.
03:44AM
Excitement is mounting in the convention hall
03:39AM It's starting!
03:37AM Excited atmosphere at the door. There are still 150 people waiting to be let in.
03:34AM The new features will also include a People app for improved social networking among friends, co-workersm and familes. You can quickly search for the people you want and find high resolution images of the people you care about.
03:30AM It looks like Android users will get a row of new features to play with including a new User Interface and vastly improved Near Field Communication which we here at AndroidPIT are really looking forward too.