[Infographic] Incredible Android Market Facts and Figures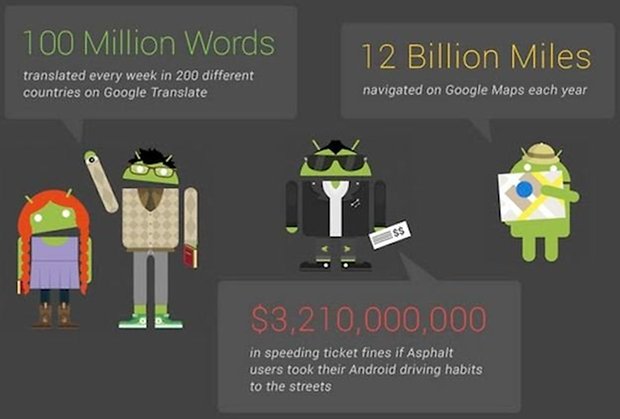 In celebration of offering deep discounts on some of the Market's most popular apps. Today the company also released a pretty cool infographic charting the history of the Android Market. There's a lot of information packed into it, but here are a few of the highlights:
South Korea is the most app-crazed country, followed by Hong Kong, Taiwan and the U.S. I find it interesting that none of the large economic players in Europe (like France or Germany) made it into the top 10 app-gobbling countries list. Instead, apps seem to be most popular in Asian and Scandanavian countries (and Israel).
190 countries download apps every day!
Games are the most popular apps to download, followed by entertainment apps (think Talking Tom).
9:00PM on Sunday evening is the most popular time to download apps.
The infographic also lists statistics on app usage, which are also quite impressive:
12 billion miles are navigated on Google Maps each year.
$3,310,000,000 in speeding tickets would be fined if Asphalt users replicated their driving habits on real streets.
4054 years have been spent playing with Talking Tom
What's your favorite piece of information shared in this infographic?