Droid RAZR Website Now Live, Reminds Us All Why We First Fell in Love with It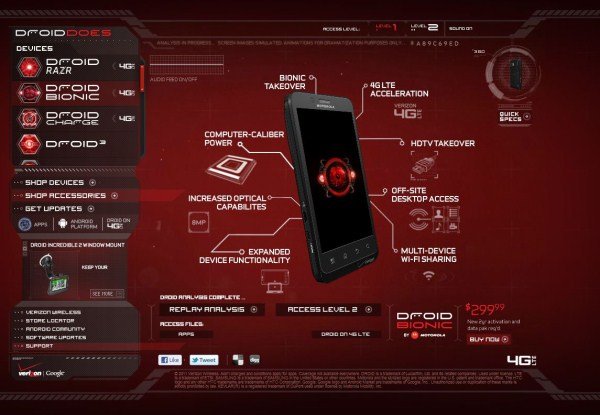 The Droid RAZR, which officially drops in just three days, now has its own page on Morotola's website. It's a big jumble of robo-jargon and images, and is thus a bit confusing to navigate, but you can learn more about the phone by going to "Access Level 1" on the menu bar near the top of the screen and then clicking on a timeline at the bottom of the page to navigate through all the specs as the phone twirls around. (Beware: clicking on "Access Level 2" just brings you to a Motorola promotional page called "Bionic Arena" which has nothing to do with the RAZR).
Just in case you forgot, the RAZR will come packing a 1.2-GHz dual core CPU, water repellent "nanocoting", a slim 7.1mm profile and a 4.3-inch Super AMOLED display. We've got a feeling that this phone is going to go big, even without Ice Cream Sandwich at launch.
Related:
Galaxy Nexus vs. Droid RAZR: Which is the Better Smartphone?

Motorola Confirms Droid RAZR Will Have a Locked Bootloader

Exclusive Hands-On Video with Droid RAZR, More Info About ACTV