Xiaomi Redmi Pad SE Review: Rethinking What an Affordable Tablet Can Offer!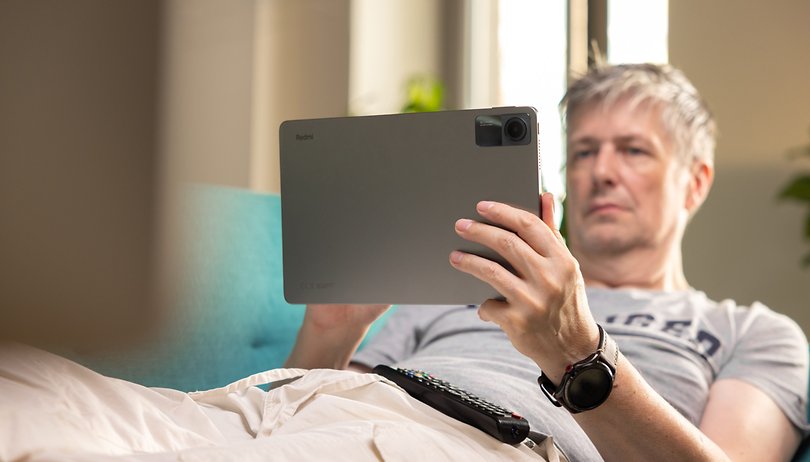 The foldable smartphone industry might suggest that tablets are becoming obsolete. However, our Redmi Pad SE review will demonstrate otherwise. The most basic version of the Xiaomi tablet costs around $200. But what exactly do you get for such a modest sum?
Good
3.5 mm audio jack connector

Robust, slim design

Battery provides long runtimes

Supports microSD card
Bad
Lacks fingerprint scanner

Weak graphics performance

Only one main camera
Xiaomi Redmi Pad SE: All deals
In a nutshell
The Redmi Pad SE is currently not available in the United States, much like many other Xiaomi smartphones. However, it ranks as one of the most affordable Android tablets on the market, priced at around $215. For this cost, Xiaomi provides an impressive overall package.
The tablet boasts an 11-inch IPS LCD display with a maximum refresh rate of 90 Hz. Its aluminum casing is both sturdy and sleek, and it pleasantly surprises with features like four built-in speakers, an option for memory expansion, and an audio jack.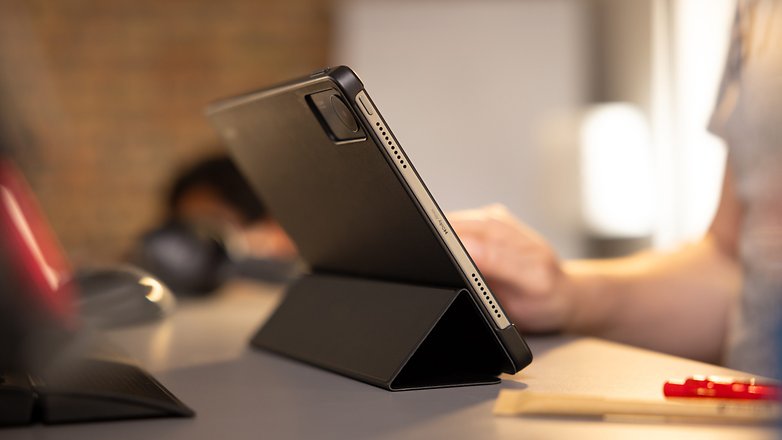 The integrated Snapdragon 680 from Qualcomm delivers adequate performance for everyday tasks. However, the GPU is not tailored for graphically intensive games.
Similarly, the 8 MP main camera isn't particularly designed for high-quality photography. In contrast, the 8,000 mAh battery ensures prolonged usage of the Android 13 tablet. In conclusion, the Redmi Pad SE presents an exceptional price-to-performance ratio.
The Redmi Pad SE comes with an optional expandable storage of 128 GB eMMC 5.1 and three distinct variations of LPDDR4X RAM, offering 4 GB, 6 GB, and 8 GB options. The device is available in Lavender Purple, Graphite Gray, and Mint Green.
Xiaomi Redmi Pad SE design and build quality
To our surprise, the Redmi Pad SE is very sturdily built with its aluminum unibody case. With dimensions of 255.5 x 167 x 7.4 mm and a weight of 478 g, it is even lighter than the Xiaomi Pad 6, which weighed 490 g. The difference could be due to the "only" 8,000 mAh compared with the 8,840 mAh battery. The build quality does not look lower than that of the Google Pixel Tablet (review) or the Samsung Galaxy Tab S8 (series compared).
---
Pros:
3.5 mm audio jack connector.
microSD card support.
Four built-in speakers.
Solid build quality due to aluminum unibody.
Just the right size and not too heavy.
Cons:
No fingerprint sensor.
No stylus or keyboard support.
---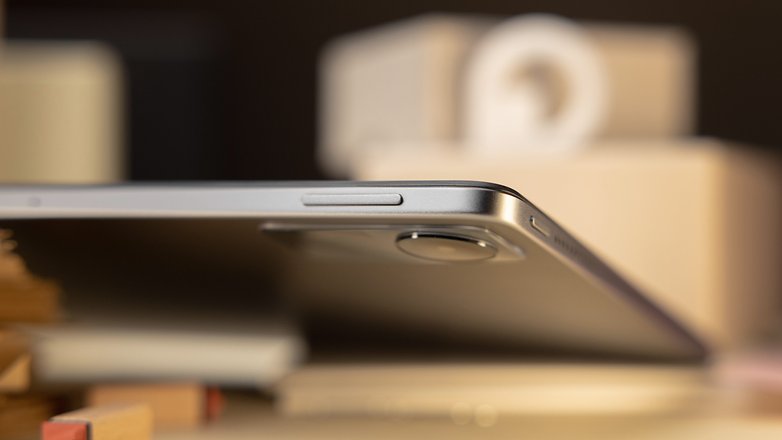 The Xiaomi Pad 6 flagship did not have a fingerprint sensor, so we are not surprised to not find one on the budget model either. The only hardware-related security feature for unlocking is the AI scan of your face via the front-facing camera. The position of the 5 MP camera, which is positioned on the upper, slightly thinner edge, is welcome.
The buttons are arranged in a typical Xiaomi fashion: The power and standby buttons are located above on the left side, and the volume rocker (in landscape mode) is located on the upper left. To our surprise, Xiaomi also installs a total of four speakers on the right and left in its inexpensive Android tablet, whose Dolby Atmos sound is perfectly okay, but not equal to a ghetto blaster.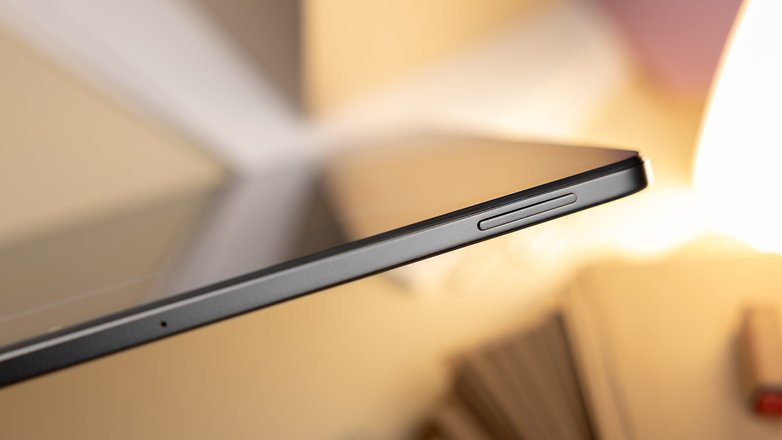 Also, now worth highlighting as a special feature is the analog audio jack and the card slot, which cannot run a nano-SIM card, but the memory can optionally be expanded up to 1 TB.
However, what we sorely miss in a tablet is the support of a pressure-sensitive pen and corresponding pogo pins for a hardware keyboard. Well, the keyboard can also take over a standard BT keyboard, but with the stylus support, I am certain that they have suppressed it on the software side. After all, certain differences to the Xiaomi Pad 6 should be preserved.
Xiaomi Redmi Pad SE display
The 11-inch display is an IPS LCD panel with a resolution of 1,920 x 1,200 px at 207 ppi. The refresh rate is a maximum of 90 Hz, which I think is a good compromise between energy efficiency, the visual lightness and usability. In automatic mode, the images to be displayed set themselves to 30/48/50/60 or said 90 Hz, while manually only 60 or 90 frames per second are accepted.
---
Pros:
Effortless to read 11-inch display.
90 Hz is completely sufficient.
Cons:
Display not usable under direct sunlight.
Viewing angle stability just okay.
---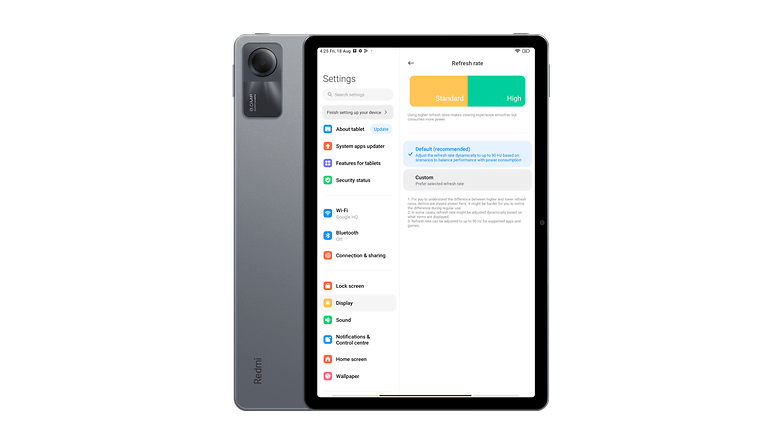 The display grants a maximum brightness of 400 nits, which is not a bad value in the land of tablets, but makes working under direct sunlight impossible—despite corresponding advertisements.
However, the screen makes a good impression under typical conditions. It offers vivid colors, a good contrast, and crisp black levels. Only the viewing angle stability could be criticized. But please, let's not forget in which price regions we are moving here.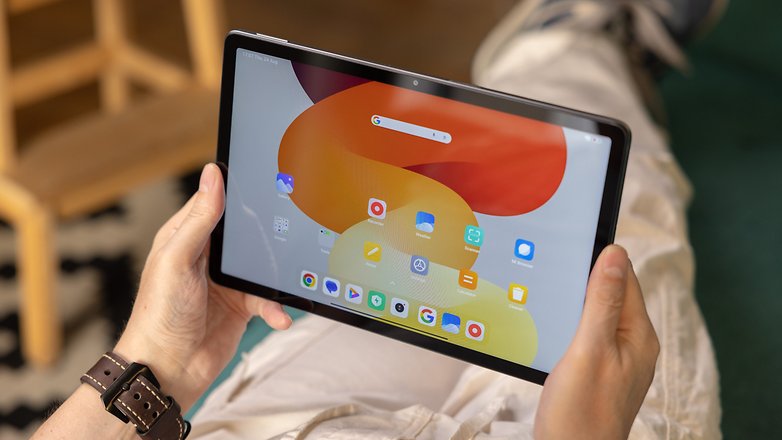 Xiaomi does not specify a special protective glass for the display, so we do not assume Corning Gorilla Glass here. We already criticized the lack of stylus support in the design and build section. Of course, the flicker-free technology certified by TÜV Rheinland is also available here. It reduces both visible and invisible flickering in the range of 0 to 3000 Hertz via DC dimming.
Xiaomi Redmi Pad SE software
The Redmi Pad SE comes with Android 13, which is the maximum possible at this point. It also comes with the in-house user interface MIUI 14 for Pad. The Google security patch is dated August 1, 2023 and thus just exemplary up-to-date. The answer to the question of what guarantees the Chinese manufacturer provides in terms of security and system updates is still pending and will be provided by the nextpit editorial team accordingly.
---
Pros:
The software is up-to-date.
No bloatware.
Cons:
Too little tablet-specific software.
---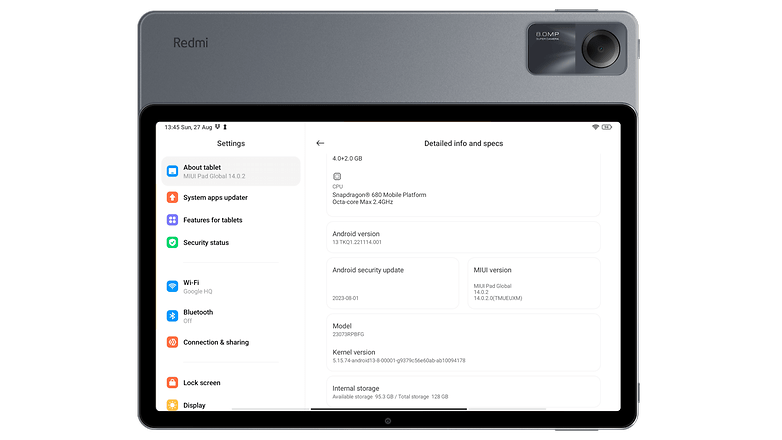 The Xiaomi Pad 6 shows itself quite tidy in our test and with few preinstalled applications. Besides the typical basic assortment of Google applications, useful Xiaomi tools such as a calculator, a file manager, an Internet browser or the Notes app are in the preinstalled convoluted.
If you really want to define one of the preinstalled applications as bloatware, I would probably include Netflix and WPS Office, which are most likely part of the Xiaomi basic equipment and were already preinstalled on the Xiaomi Pad 6.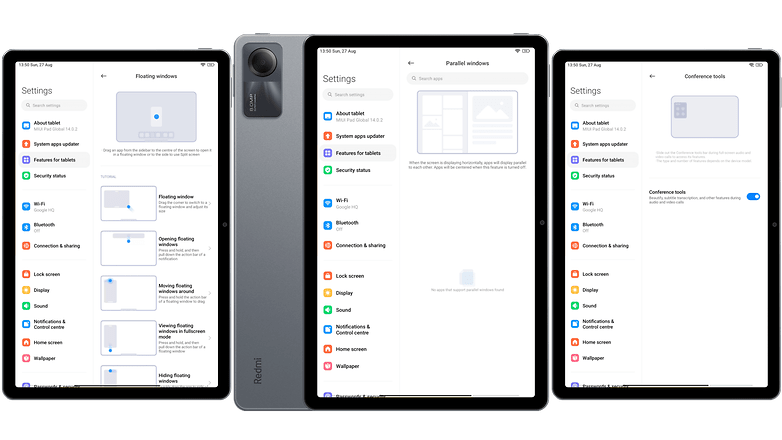 Of course, there are also the well-known floating and parallel Windows, which we also know from the smartphone. As an exception, I would perhaps mention the dynamic taskbar, which adds the last three running applications to the bottom right. But that is it for the special tablet applications, which are a bit too sparse in contrast to a Google Pixel Tablet.
Xiaomi Redmi Pad SE performance
The Redmi Pad SE comes with a Snapdragon 680 produced in the 6 nm process. You have the option of 4, 6 or 8 GB LPDDR4X RAM. The internal eMMC 5.1 memory is limited to 128 GB and can only be expanded up to 1 TB via a microSD card. Yes, you have not misread: The inexpensive Xiaomi tablet offers you microSDXC UHS-I memory card support.
---
Pros:
Smooth system performance.
MicroSD card support.
Cons:
Graphics performance leaves much to be desired.
No LTE variant available.
---
The Snapdragon 680 was first introduced at the beginning of 2022 and can happily be located in the mid-range. The weak point of the structurally smaller processor than the Snapdragon 870 of the Xiaomi Pad 6 released in 2019 is the Adreno-610 GPU.
This is because although the four Cortex-A73 performance cores (max. 2.4 GHz) and the four Cortex-A53 efficiency cores (1.8 GHz) would be ready for much bigger leaps, they are slowed down by the GPU's low graphics performance in elaborate games. This steep thesis is also confirmed by the typical benchmark tools that now follow.
Redmi Pad SE
(Snapdragon 680)
Xiaomi Pad 6
(Snapdragon 870)
Google Pixel Tablet
(Tensor G2)
3DMark Wild Life
3DMark Wild Life stress test

Best loop : 592
Worst loop : 590

Best loop : 3525
Worst Loop : 2870

Best Loop : 6624
Worst Loop : 6516

Geekbench

Geekbench 6
Single: 415
Multi : 1462

Geekbench 6
Single: 1296
Multi: 3263

Geekbench 6
Single: 1437
Multi: 3647
Admittedly, this difference is already a resounding slap in the face. Once again, it is clearly underlined that you should definitely not buy the Redmi Pad SE if you want to do some proper gaming on the couch.
This tablet feels comfortable on the sofa at home, but more for checking emails, surfing the Internet or reading the latest news. Your boss's crisp Excel spreadsheet will rather have to wait until Monday than be studied on the weekend or after work.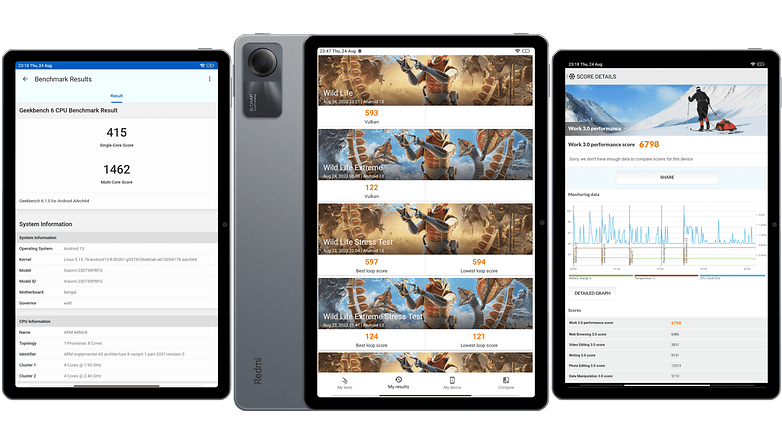 Xiaomi Redmi Pad SE camera
Xiaomi's Redmi Pad SE has been equipped with a total of two cameras. A 5 MP camera on the front, which has been integrated into the frame on the long side for general video chat enjoyment, and an 8 MP main camera, which visually suggests a larger lens to us than is actually the truth in the end.
---
Pros:
Photo and video quality is okay for an entry-level tablet.
The front camera is built into the device in landscape mode.
Cons:
---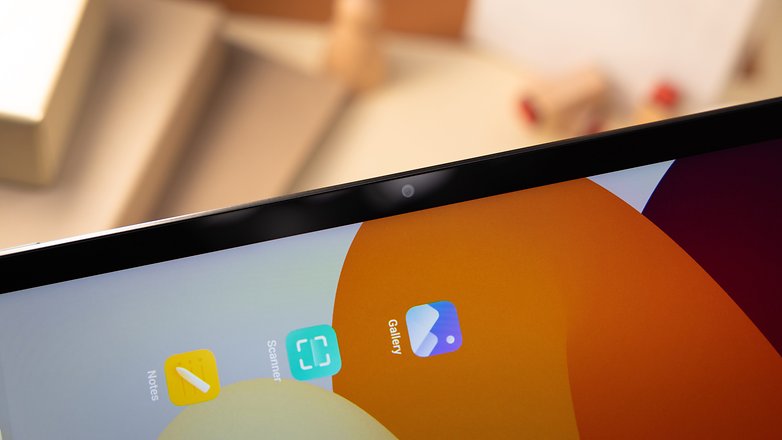 Let's not kid ourselves: The main camera should not be the number one purchase criterion when choosing a tablet. And not number two or three, either. I'll even be so bold as to claim that the front camera is used more often on a tablet than the rear main camera.
In fact, I've only once seen a fairly well-known director use his tablet to get the camera look for the later film as a preview through the pad on the film set. That still made some sense, even though our Xiaomi tablet does not realize a typical cinema format with its 16:10 aspect ratio. However, that is only on the sidelines and actually completely pointless in our review of the Redmi Pad SE.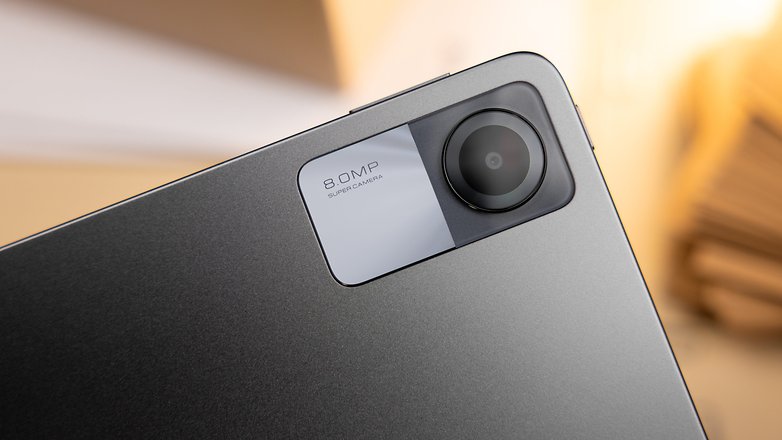 As mentioned before, this is an 8 MP camera, which digitally immortalizes images with a pixel size of 1.12 µm. The maximum aperture is f/2.0 - f/2.2 for the front camera. The maximum video resolution is 1080p at a maximum of 30 frames per second in both cases.
And what can the cameras really do?
Contrary to my expectations, our photo results are not bad at all - at least in sufficient light. The colors of the plants correspond to reality. Only the photo of the purple flower with the fir tree in the background did not want to be focused despite manual focusing. Even close-ups succeed and the photo of the fountain statue proves that even with 8 megapixels the details are stored well.
For the sake of completeness, I've also included zoom shots in the gallery, which the Redmi Pad captures at up to 5x magnification. In fact, I still find the night shots quite "usable". Or, to put it more elegantly: not much worse than what is otherwise offered in the sector.
Xiaomi Redmi Pad SE battery
Contrary to the perceived endurance, the battery of the Redmi Pad SE "only" has a capacity of 8,000 mAh. I say "only" just because the Xiaomi Pad 6 has a capacity of 8,840 mAh. And that did not last longer either. The Google Pixel Tablet, on the other hand, offers a 7,020 mAh battery, which is a whole stroke smaller .
The Redmi Pad SE is not that bad after all. The manufacturer includes a 10-W power supply in the Android tablet's scope of delivery. Not rocket science, but still. The market leader Samsung does not offer its customers anything like that.
---
Pros:
Good battery runtime.
10 W power adapter in the scope of delivery.
Cons:
No wireless charging.
No docking station available.
---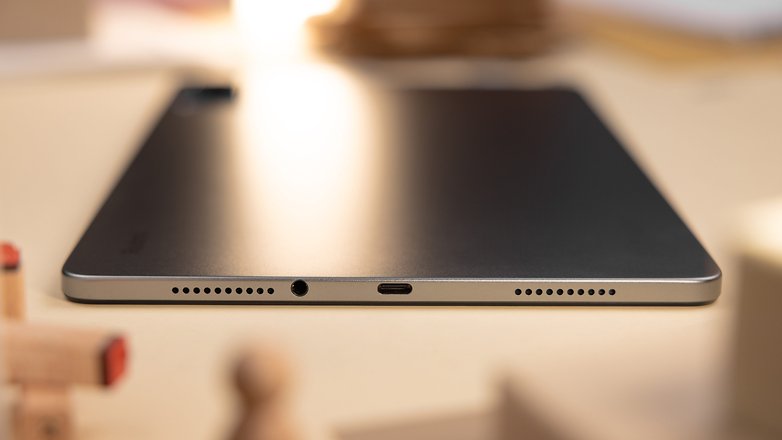 The charging process crystallizes 7% of the maximum energy to daylight after barely 5 minutes. After 30 minutes it was 27%, so one percent per minute, and we had to wait a full two hours for the full tank. I already mentioned it: modern fast charging looks different.
However, the battery test of the app "PC Mark Work 3.0" provides shocking information. With the full battery capacity, a screen brightness of 200 nits and flight mode turned on, we reached 11 hours and 36 minutes before the test ended at 20 percent of remaining energy.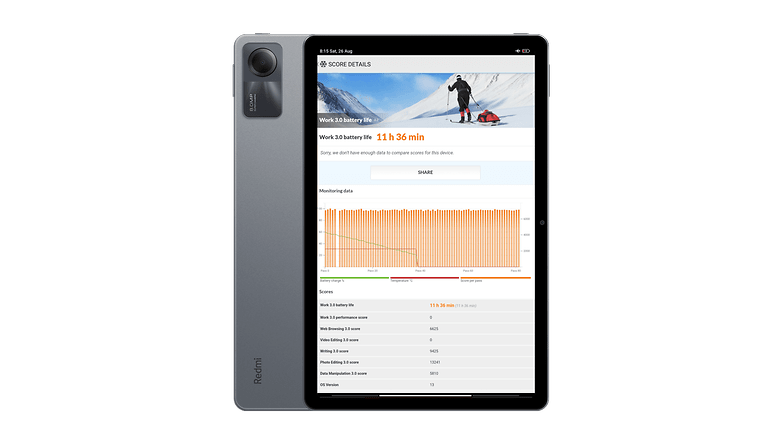 Wow! The just mentioned Google Pixel Tablet delivered a whopping 20 hours. Since the Xiaomi Pad 6 with an even bigger battery lasted just 12 hours and 15 minutes, I wonder what Xiaomi is doing wrong or Google right.
In my week-long testing, I never managed to completely drain the battery. To conduct the charging test, I had to run benchmark tests on the tablet multiple times. While the battery of the Redmi Pad SE "feels" impressive, it's important to note that these are subjective impressions, which don't necessarily fit within the objective framework of a test
Xiaomi Redmi Pad SE technical specifications
Technical data
Name
Image
Display
11-inch IPS, 1,920 x1,200 pixels (FHD+) at 207 ppi,
90 Hz refresh rate
16:10 aspect ratio
400 nits Brightness
1.500:1 Contrast ratio
SoC
Qualcomm Snapdragon 680 (6 nm)
Memory
(varies depending on region)
4/6/8 GB LPDDR4X RAM
128 GB eMMC 5.1 ROM
Software
Android 13 | MIUI 14 for Pad
Expandable memory
microSD (up to 1 TB)
Main camera
8 MP | f/2.0 | 1.12 µm pixel size
Selfie
5 MP | f/2.2 | 1.12 µm pixel size
Video
1080p at 30 fps
Audio
4 speakers Dolby Atmos
3.5 mm audio jack
Battery
8,000 mAh
Connectivity
USB Type-C
Wi-Fi 2.4 GHz | 5 GHz
Bluetooth 5.0
Charging via cable
Max. 10 W
Wireless charging (Qi)
No
Dimensions and weight
255.5 x 167 x 7.4 mm
478 g
Colors
Lavender Purple, Graphite Gray, Mint Green
Final verdict
The Redmi tablet is an absolute entry-level tablet on the spec sheet, which is also underlined by the price tag. However, the Android 13 tablet turns out to be a real premium device in the hand and in daily use on the couch at home.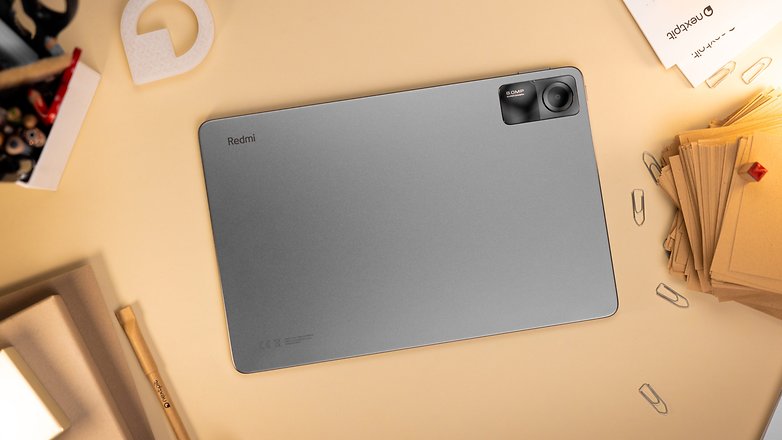 With its aluminum unibody case, it is robust and yet haptically very well manufactured, although an IP certification is missing. The display is perfectly acceptable, and the four loudspeakers also blow the sound waves around your ears quite properly.
The processor in the device is more mid-range, especially when it comes to graphics. This implies that demanding games like PUBG or Fortnite might not run optimally on the Redmi tablet. However, for all other regular activities and daily tasks, there are no limitations. The 6 nm SoC is not only compact but also quite contemporary.
Nevertheless, there is no LTE feature. Neither is stylus nor keyboard support. Too bad, Xiaomi, because you almost convinced us with the audio jack and the microSD card support and got the full score. Thus, there are still deductions in the B score in the last meters, and it is only enough for 4.5 stars—but from the heart!