Virtual Desktop app is coming to Oculus Go and Gear VR this week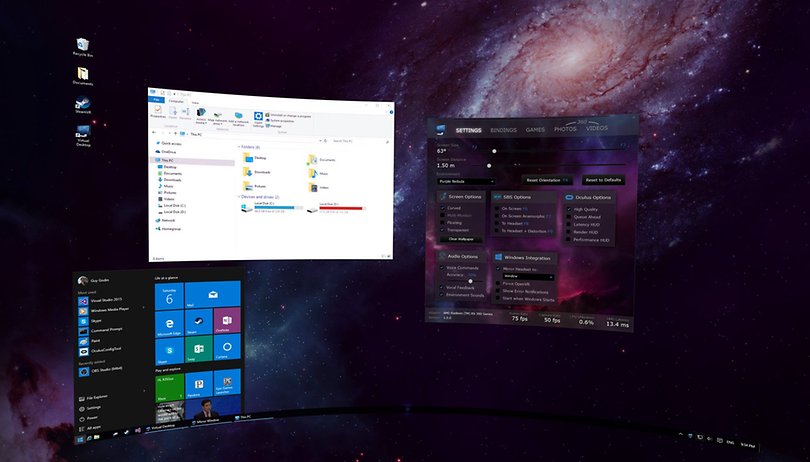 Using a virtual reality headset to simulate your PC desktop might sound ridiculous at first, especially for those who already spend their whole day staring at a computer screen in the office. However, you'd be surprised how fun the experience can be. This is why the Virtual Desktop app's arrival on newer headsets has been highly anticipated. This week, it will finally become available on the Oculus GO and Samsung Gear VR headsets.
Developed and published by Guy Godin, the Virtual Desktop app was first released for PC VR in 2016. It allows you to do pretty much anything you do on your computer, just in virtual reality. You can watch movies, browse the web and even play games.
The new mobile version of the app offers pretty much the same functionality, but it needed some changes to work with standalone headsets like the Oculus GO. Since they are not connected to your computer, the desktop view has to be streamed via Wi-FI.
In a Reddit post, the developer stated that the app's streaming latency is 20 ms plus the user's network latency. He doesn't recommend playing competitive CS:GO via the Virtual Desktop, but ensures users that everything else should work just fine. The VR controller acts as the mouse pointer and the app supports multiple other peripherals, such as Bluetooth mice and keyboards. However, their latency can be a bit higher.
Finally, the mobile version of Virtual Desktop does have some limitations at the moment, most notably lack of support for multiple monitors. The Oculus Go and Gear VR are simply not capable of rendering them at high quality. Godin, however, promised to add the ability to cycle through monitors in the future.
What do you think? Have you used Virtual Desktop before? Let us know in the comments.