If Steve Jobs Was Alive, He Would....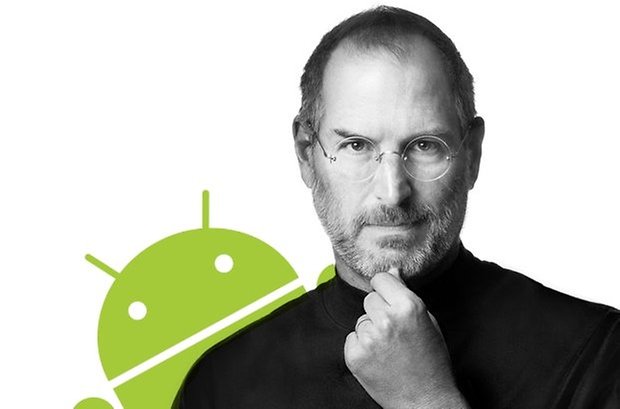 ...probably be freaking out about a lot of things right about now. This entire week while I was laid up and on antibiotics, I was reading up on all the Apple hooplah with IOS maps, scratch problems with the new iPhone 5, some interesting quotes from Google on the patent wars, ect,... and it made me think about how things might have played out if the late Steve Jobs were still with us. I don't know about you guys, but I think that if Steve Jobs were alive, he would....
Have never allowed for IOS Maps to be released in its current alpha/beta state
Sure, there were times where the iPhone/IOS had issues (antenna issue comes to mind) after being released, but Apple has never dealt with a disaster that even comes close to the current IOS Maps debacle. iPhone users are so upset about this, that many of them are calling for IOS software VP Scott Forstall to be fired. The entire incident is easily one of (if not THE), most damaging things to happen to the Apple brand in its entire history, and Steve Jobs would have never allowed its release in this state. If it would have got to a release with the same bugs it has now, he would be eating heads for breakfast lunch and dinner in Cupertino. Steve Jobs posting an "I'm sorry this happened" letter on the Apple website due to the incompetence of his engineers? I simply can't imagine it.
If Steve Jobs were alive, he would have never...
Treated a video game demo as a unique feature at the iPhone 5 live event
I mean how lame was that? I personally loved watching Steve Jobs do what he did best: Taking an existing concept with solid hardware/software, and pitch/sell it in a way that made consumers truly feel that Apple invented the entire concept. He was great at it, and I really miss watching him pull it off so elegantly. At the last iPhone event however, my jaw dropped when Rob Murray from Firemonkeys came on stage to demo Real Racing 3 on the iPhone 5.
I mean sure, the game looked great...but it's not an iPhone feature that makes it stand out in any way shape or form. Anyone who plays mobile games knows that there are tons of great games that look amazing for both IOS and Android, and I just can't imagine Steve Jobs on stage playing a freakin race car game in an attempt to impress tech journalists and consumers.
If Steve Jobs were alive, he would have...
Presented the extra row of icons "feature" alot better
This to me(and to many others) was the absolute low point of the event. While Android users are beaming data left and right to each other, paying with apps via NFC, using LTE and quad core processors with 5.5 inch screens, Apple is busy talking about how that having an extra row of icons is a "feature". Steve Jobs wasn't stupid, and would have found a way to make that sound a lot more of a big deal than it actually is.
If Steve Jobs were alive, he would have...
Most likely never agreed to an iPad mini in 2012
Steve Jobs was never a fan of 7 inch tablets, and with Android posing a very small threat (as of now) to the iPad, I doubt he would have signed off on an iPad mini. If he were to ever do it, he would have waited until next year to see if Android 7 inch tablets like the Nexus 7 posed any real threat of eating into the iPads dominant tablet market share.
If Steve Jobs were alive, he would have....
Requested to hit Samsung harder after the 1 billion dollar ruling in US courts
The day that jurors announced that Samsung was guilty of multiple patent infringements, Steve Jobs would have already started going to work on HTC as well. He would have wasted no time whatsoever in using that victory as leverage to take down any other Android OEM he could get his hands on. I don't know if it would have worked, as the "evidence" that Apple used against Samsung was quite...unique. But he damn sure would have tried. The Samsung battle would have been a big win in his eyes, but it certainly wouldn't have been "thermonuclear" enough for him to stop there.
If Steve Jobs were alive, he would not...
Have allowed one piece of LTE technology in the iPhone 5 that had the smallest chance of getting it banned
This may currently be the case, but as of yet, nobody really knows if Samsung and HTC can use LTE against the iPhone 5. Had Steve Jobs been around, he simply wouldn't have taken the chance, and would have invested even more in LTE patents that were created by Apple directly. The iPhone is too important to Apple's bottom line, and anything that had even the smallest chance of getting it banned by an Android OEM would have probably been ripped out and flushed down the toilet.
If Steve Jobs were alive...
He would have went after the Galaxy S3 HARDER
The success of the Galaxy S3 might have actually triggered that thermonuclear spark in Steve Jobs that he used to talk about. He HATED Android, and I can only imagine how he would react to see an Android phone getting so much attention (and sales) from consumers and within the tech industry. The GS3 would have been the drop of water that made the glass spill over. He would have went absolutely mental on it, and would have done even more than Apple is doing now to stop it dead in its tracks.
If Steve Jobs were alive, he might have...
Pushed Google to the point of aggressive action?
With so many Galaxy S3 devices getting shipped, and with Google buying Motorola, Steve's thermonuclear actions might have pushed Google to the point to where they might say: "Ok Steve..we've had enough of this". We are yet to see an aggressive Google when it comes to patents, and had Steve decided to go even harder on Samsung, and on top of that go after Google directly, the patent wars as we know them could have gotten even nastier with Google throwing its full might behind Android.
If Steve Jobs were alive, he might have...
Done exactly the same as Tim Cook?
Steve Jobs recommended Tim for the CEO position before his passing, and I'm sure he had his reasons. But Apple and the iPhone 5, despite strong sales, are in a bit of a pickle here, and Steve Jobs would have realized that more. But, maybe he also would have taken Apple down the exact same path? Unfortunately, we will never know. But one thing is certain: With the lower than normal hype surrounding the iPhone 5, the IOS maps issue, a Galaxy S3 breaking records, and with worldwide lawsuits going on against Android OEMs all over the world, I'm sure that Apple, their investors, consumers, and other industry leaders are certainly missing his guidance right about now.
What do you guys think? What might be different now in the mobile world if Steve Jobs were still alive?
Let me know what you think in the comments below!
Picture credits: crave.cnet.co.uk