From Skeptic to Fan? Two Galaxy Z Flip 5 Features That Won Me Over!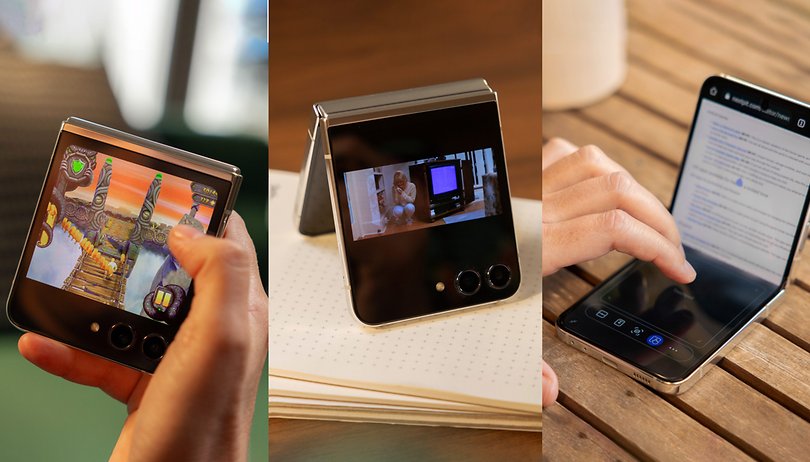 As a journalist dedicated to reviewing smart devices, I consistently focus on their unique features and ponder how a smartphone, like the Galaxy Z Flip 5, might be a great match for individuals with specific needs. I often find myself wondering what sets the device I'm testing apart. However, as time goes by, it's becoming increasingly difficult to pinpoint that uniqueness.
High-end and premium smartphones continue to improve in quality, but they aren't necessarily breaking new ground in innovation. This has led to a decline in smartphone upgrade rates. Data from Counterpoint indicates that major markets such as the US, Western Europe, and China witnessed a noticeable dip in smartphone shipments from 2022 to 2023.
Yet, despite the tepid consumer demand overall, there's a glimmer of hope in one particular smartphone category: foldables. Shipments of foldable phones are on the rise in nearly every region. This trend prompts me to question why this segment, even if growing slowly, offers a beacon of optimism for the future of the mobile market. Is this surge due to genuine innovation or merely a marketing phenomenon?
I'm testing the Galaxy Z Flip 5, and the review will be released this Saturday. Since I've had the device in my hands, I've been pondering what makes it unique aside from its form factor. For many people, the ability to fold it is already reason enough to invest in such a smartphone. However, as I mentioned earlier, it's expected that as a specialist, I should delve deeper than just the initial impressions.
So, yes, the form factor allows us to easily slip it into a pocket or a small bag. It also lets us use the main camera as the selfie camera. Moreover, it can stand at 90º on its own, eliminating the need for a support case. But beyond the hardware, what does the software offer that makes the Z Flip 5 a genuine marvel of its time?
I've been trying to figure it out, and I must say it wasn't straightforward. At first, it wasn't easy because there are very few things you can do with the new Galaxy Z Flip generation that you can't do with other devices. But determining these unique features wasn't too challenging either, as they're pretty obvious.
Let's start with the Cover Widgets function
First, I must admit that I don't fully understand the inner workings of Samsung's software division. I'm amazed that Samsung chose to adopt a lengthy and consistent software update policy. I believe One UI is one of the most mature operating systems based on the Android Open-Source Project (AOSP).
However, it remains a mystery to me why Samsung segmented its features through applications like Good Lock and advanced features such as Samsung Labs. Nevertheless, I believe these two software resources play a significant role in the Galaxy Z Flip 5.
We recently explained how to launch any app on the new Flip generation using the Samsung Good Lock toolkit, so I won't delve deeply into the details here. However, I firmly believe that the 'MultiStar' option should come pre-installed on the Z Series. The feature "I ♥️ Galaxy Foldable" allows you to maximize the use of the Z Flip 5's cover display with the Launcher and Game Widgets.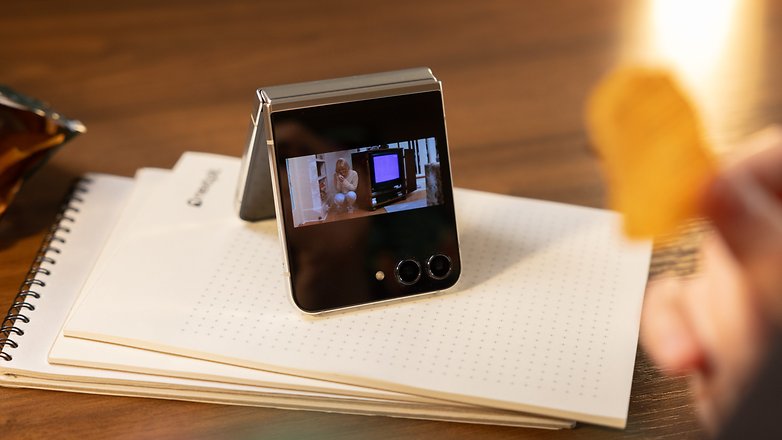 Indeed, the clamshell form factor provides a distinct experience compared to the Fold family. This is because the outer screen of the Flip isn't as functional as the one on the Galaxy Z Fold 5, primarily due to its limited size. However, that doesn't mean it can't be more functional than its factory state.
For instance, my commute from work to home takes about 20 minutes via public transport, giving me ample time to play a game or respond to messages on my phone. Before the Flip 5's release, it would have been unimaginable to do this without unfolding the device, right?
Now, thanks to Good Lock (and an expanded front display), I can play Temple Run 2 with just one hand on a phone that fits comfortably in my palm. This is something I can't achieve with my non-foldable iPhone.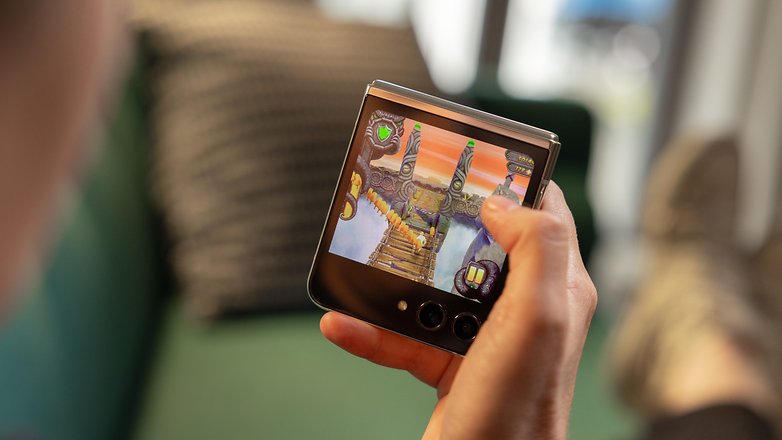 The Flex Mode is also functional in the Flip series
I've always seen Flex Mode as a more practical feature on devices like the Galaxy Z Fold 5 (review), so I was initially skeptical about its applicability on the flip variant. However, it's evident that it can be beneficial when interacting with specific applications.
For instance, when using the nextpit text editor, folding the device at a 90º angle transforms the bottom half of the screen into something resembling a computer touchpad. Flex Mode also proves handy for video editing in Google Photos. While I wouldn't deem these two Flex Mode utilities as essential, they offer alternative ways to engage with content on a smartphone.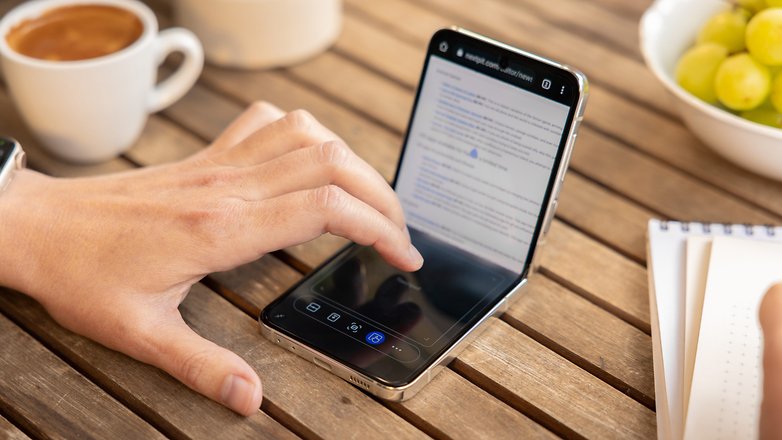 When the phone is folded upright, you can watch videos on YouTube while continuing to browse the platform, checking video comments, or selecting related videos or shorts. Additionally, with the video in full screen on the upper half of the display, on the bottom screen you have access to all the video and system controls, such as display brightness and volume. Taking screenshots is also just a click away.
From Skeptic to Fan?
Before publishing the Samsung Galaxy Z Flip 5 review, my editor-in-chief assigned me the task of detailing what I enjoyed most about the device. After all, this is the third consecutive generation I've tested for nextpit.
With that in mind, I delved deeply into what makes the Z Flip 5 stand out in terms of software. Eventually, I narrowed it down to two features that optimally leverage the foldable screen. To be honest, I'm glad I did this assessment before finalizing the device rating, which, of course, you'll have to wait until Saturday to discover.
The reality is, the device's folding capability isn't groundbreaking news anymore. And the fact that Samsung introduced a larger outer display might mainly interest Samsung aficionados. However, this recent enhancement significantly elevates the series. It became evident to me that hardware substantially influences software possibilities, rather than vice versa.
The Cover Widgets allow users to fully engage with most app experiences without having to unfold the phone for various tasks or actions. Meanwhile, Flex Mode introduces an alternative way to interact with content, transforming your phone into a sort of mini-PC. This might sound a bit geeky, but it's genuinely fantastic.
I wish I had the time to delve deeper into everything the Galaxy Z Flip 5 offers beyond the marketing "wow" effect. For now, I want to assure you that if you choose to invest in a device like the Z Flip 5, you'll also receive substantial software support to enhance your experience.
But again, this is my opinion. I'd love to hear your thoughts on the Galaxy Z Flip 5 features, especially if you're a Samsung device user.