Poco F4 GT review: This gaming smartphone blew me away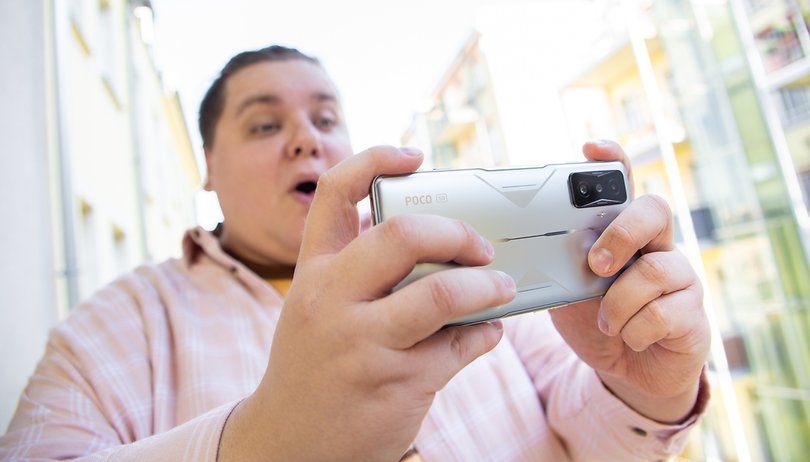 The Poco F4 GT is a gaming smartphone equipped with a 120 Hz AMOLED screen, a Snapdragon 8 Gen 1 SoC, and 120 watt fast charging capability, with an asking price of less than $600. With its price being half that of an Android flagship while sporting some pretty cool retractable triggers, will the Poco F4 GT find a niche for itself? The answer lies in this comprehensive review.
Good
Quality 120 Hz AMOLED screen

High-performance SoC

Good battery life

Very fast 120 watts charging time

Very responsive and customizable triggers

Gaming-centric design that is classy
Bad
Disappointing camera performance

Shorter software update policy

Ads in MIUI

No IP certification
Xiaomi Poco F4 GT: All deals
The Poco F4 GT in a nutshell
The Poco F4 GT has been available in selected markets since April 26, 2022. In Europe two memory configurations are available: 8/128 GB and 12/256 GB, sold for €599.90 and €699.90 respectively, which would be $640 and $750 upon conversion since this handset is not available officially in the US. Poco offers an early bird offer of €499 for the base model.
The smartphone is positioned in the mid-range high-end segment. It's not a full-fledged flagship like a Galaxy S22 or a Xiaomi 12, but it ticks all the right boxes with its spec sheet to bet everything on performance and multimedia content consumption.
Price-wise, I'd put it on par with the Xiaomi 11T Pro and the Nubia RedMagic 7. It has amazing performance at that price point, while the 120 watts charging speed is impressive. However, the camera is not all that great for a smartphone at this price point. Still, I think the Poco F4 GT has its fair share of strong points to be able to create a niche for itself.
Design: Aggressive yet classy
In terms of design, the Poco F4 GT is classy and more restrained than its gaming brethren, though that DNA is still very much in evidence. Basically, it's like wearing a pair of white sneakers to a wedding (I'm not judging, I've done it before). It's classy but still flashy.
---
What I liked:
The retractable physical triggers are cool.
Looks more sober than other gaming smartphones.
What I didn't like:
No IP certification.
Somewhat bulky design.
---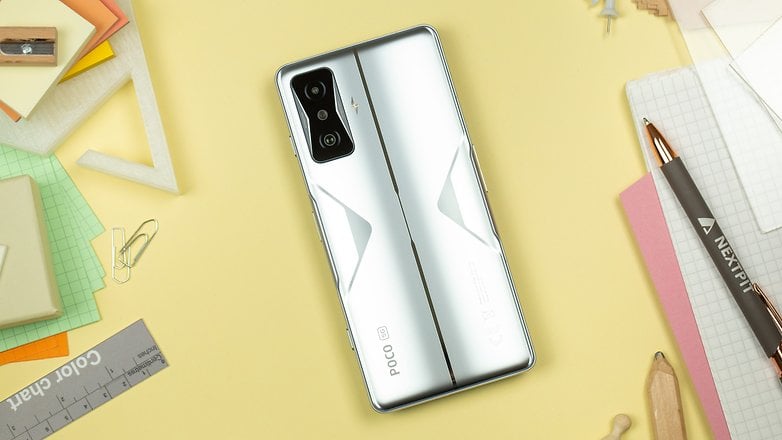 The back is made of matte glass that is covered with Corning Gorilla Glass Victus. The Poco F4 GT comes in 3 colors: Stealth Black, Knight Silver, and Cyber Yellow. I received the Knight Silver shade for this review. The slightly grainy matte back is covered with a smooth coating pattern that functions as a sort of anti-slip strip to provide a better grip in your hand.
The smartphone also features 4 Dolby Atmos speakers. In terms of dimensions, the smartphone measures 162.5 x 76.7 x 8.5 mm and tips the scales at 210g. The rectangular camera module can be quite a looker, apart from the LED flash that is shaped like a lightning bolt, literally. On the right side of the smartphone lies not only the fingerprint reader right beneath the on/off button, but also the trigger buttons.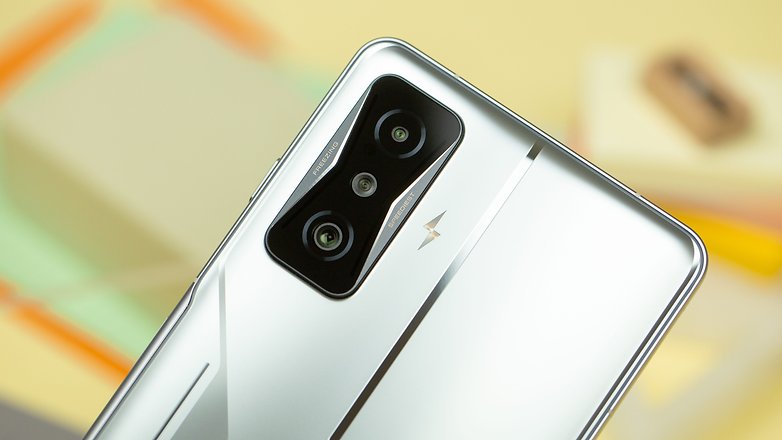 Oddly enough, I liked the fact that there are physical buttons and not haptic or tactile virtual buttons as is usually the case in recent times. The clicky feedback of the triggers when pressed is more satisfying than the vibrations provided by the haptic motor from the beginning. But we'll have to see how it performs in terms of precision, responsiveness, and also robustness.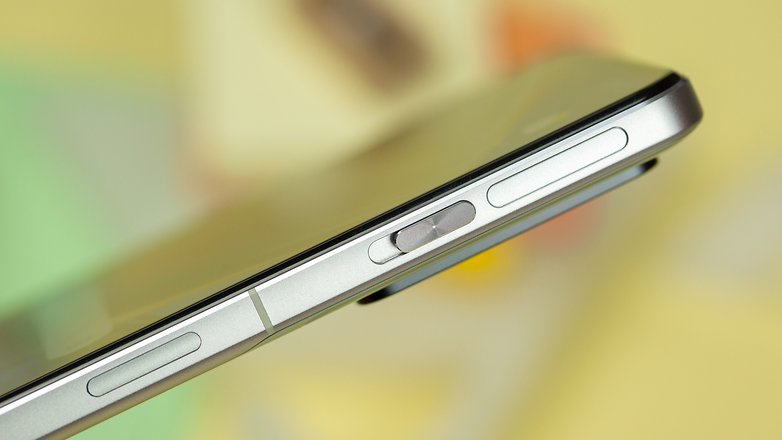 Indeed, the triggers are retractable and this is a really cool gimmick. In fact, you can even have animation and sound effects when you extend and retract the buttons. Still, even if Poco guarantees that each trigger can withstand up to 1.5 million presses, I can't help but fear that their responsiveness will degrade all too quickly.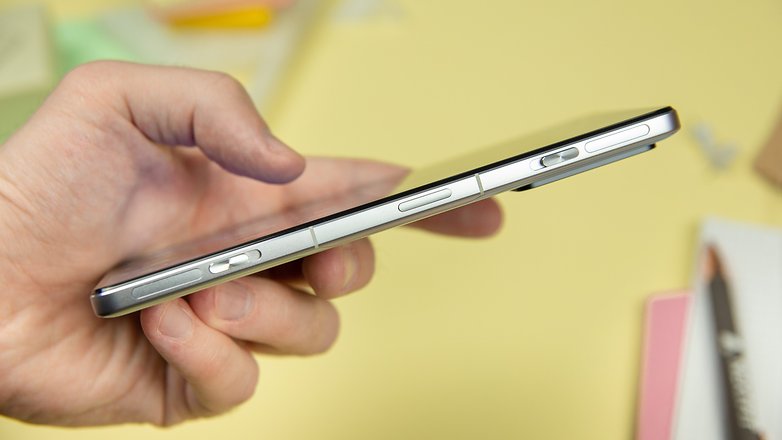 I must say that the very presence of these two physical buttons is extremely nice in terms of feel. It's more organic than the haptic feedback found in touch triggers. Re-mapping (to assign a trigger to a virtual button on your touchscreen) is also a very easy task. You can also use the triggers when you are not gaming. You can simply assign them to other features and shortcuts as you are then blessed with an additional 2 more physical buttons.
All in all, you can therefore configure up to four different actions. You can even assign them to a specific sound element (bullet, sword, engine, futuristic) and a color that is triggered with each press is also part of the offered features. I know, it's absolutely useless, but it's cool!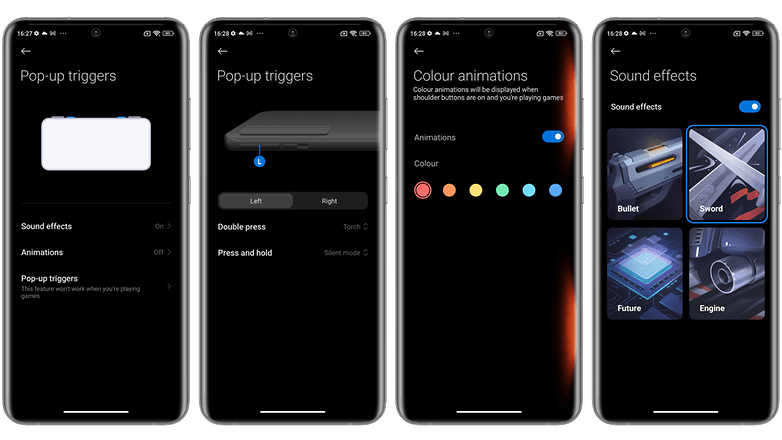 Screen: A beautiful 120 Hz AMOLED panel
The Poco F4 GT has a 6.67-inch AMOLED display with a Full HD+ resolution of 2400 x 1080 and a refresh rate of 120 Hz alongside a touch sampling rate of 480 Hz.
---
What I liked:
Good brightness level.
120 Hz refresh rate.
Flat screen is suitable for gaming (to avoid false touches).
What I didn't like:
The touch sampling rate is a bit weak.
The punch hole that is centered at the top of the screen in gaming mode.
---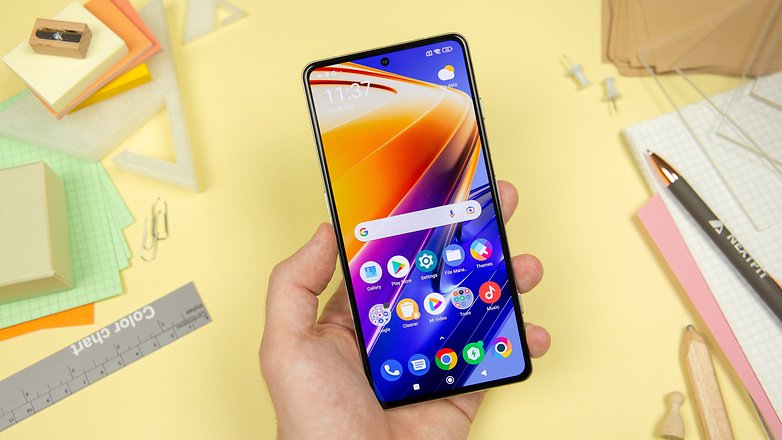 Xiaomi is always very capable at calibrating its screens, and Poco is no exception. The colorimetry is rather faithful and the measurements that I saw in several other tests showed a very good Delta E average. On the other hand, the colors, although faithfully reproduced, are a little colder than they should be and draw a little too much on the blue tones.
I found the screen to be bright enough to be legible when outdoors. The typical 800 nits of brightness as advertised is bang average for a device in this price range.
If I wanted to grumble a bit, I'd say I regret the center placement of the punch-hole camera, which removes a bit of immersion of when gaming. Gaming smartphones prefer to opt for a wider front to hide the selfie camera. The 480 Hz sampling rate is also not that great when you know that OnePlus has achieved the 1000 Hz mark on its OnePlus 10 Pro, for instance.
But the AMOLED screen is still of excellent quality, what more the fact that it is flat should please many of you gamers.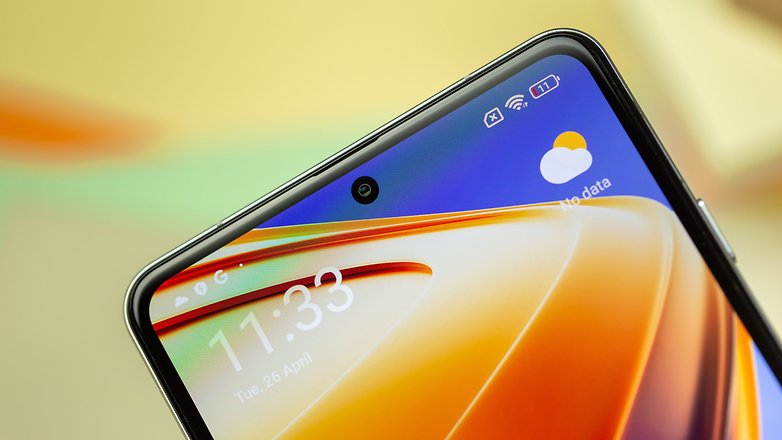 Interface: MIUI 13 made for Poco
The Poco F4 GT is powered by MIUI 13, which is based on Android 12. I'll tell you more about this Android skin in another review, but you can get a feel for it in this guide to the best MIUI features and even check whether your smartphone will receive the update.
As for the update policy, Poco didn't make any guarantees, but the manufacturer does seem to be generally content with the bare minimum. I am aware that at one point in time, Poco claimed to be in discussions with Google to guarantee up to 3 major Android versions and 4 years of security updates. Unfortunately as of today, nothing concrete has been confirmed. We can therefore expect a major update to Android 13 at most and not much else after that.
It's hard to accept the such an update policy for a smartphone that costs nearly $600. It can even be a deal-breaker for some. Also, do take note that there are a lot of pre-installed apps and ads that you can remove.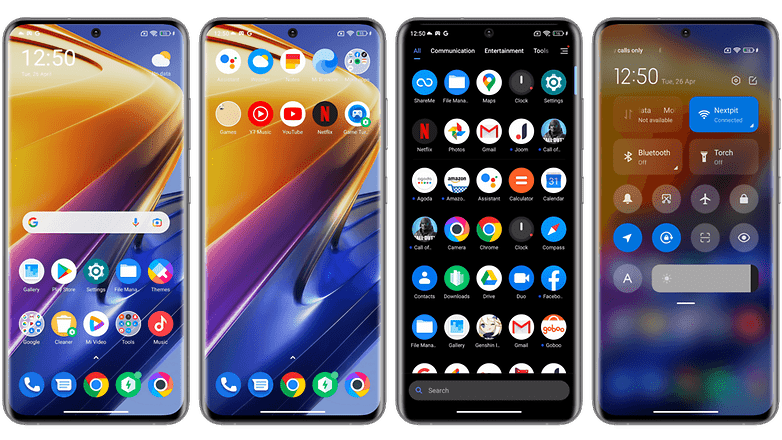 Performance: Snapdragon 8 Gen 1 and LiquidCool 3.0 technology
The Poco F4 GT features Qualcomm's high-end Snapdragon 8 Gen 1 SoC and Adreno 730 GPU, all mated to either 8 or 12 GB of LPDDR5 RAM and 128 or 256 GB of UFS 3.1 storage.
---
What I liked:
Excellent raw performance.
High-end gaming experience at 60 FPS.
No overheating issues.
What I did not like:
Some instabilities when running benchmarks.
---
I obviously didn't expect to face any issues in terms of raw processing power, and I wasn't disappointed. The Poco F4 GT performed very well in its benchmarks. We see that compared to the Xiaomi 12X , which is powered by an older SoC (Snapdragon 870), coming out in front of the CPU and GPU benchmarks with significantly better scores. Ditto for its performance when pitted against the Google Pixel 6, which is another device that falls within a similar price bracket and is powered by the SoC Tensor. The Poco F4 GT is really fast.
Poco F4 GT
Xiaomi 12X
Redmagic 7
Google Pixel 6
3DMark Wild Life

9757

4283
10.146
5461
3DMark Wild Life Stress Test
Best loop: 9813
Worst loop: 4531
Best loop: 4278
Worst loop: 2906
Best loop: 10.143
Worst loop: 8395

Best loop: 5609
Worst loop: -

Geekbench 5
Single: 1235
Multi: 3618
Single: 966
Multi: 3340
Single: 1249
Multi: 3864

Single: 1031
Multi: 2803
On paper, it behaved a bit like the Redmagic 7, a gaming smartphone with one difference: temperature control. The LiquidCool 3.0 system touted by Poco is not as efficient as Redmagic's system. Note the gap between best and worst loop in 3DMark's Wild Life Stress Test benchmark. The Poco F4 GT suffers a performance loss of almost 50%.
It is, as always, on the side of the temperature control when gaming with it. In the below curve where it illustrates a simulation of intensive gaming use for 20 minutes, we can see that the Poco F4 GT experiences occasional drops in its framerate. In everyday use, these "jolts" are not really noticeable.
Call of Duty Mobile was doing great all the way with graphics set to "very high" (setting 4 of 4), framerate set to "max" (setting 5 of 5), and all graphics options like water reflection, real-time shadows, godray (sunlight), etc., which normally make less powerful smartphones flounder.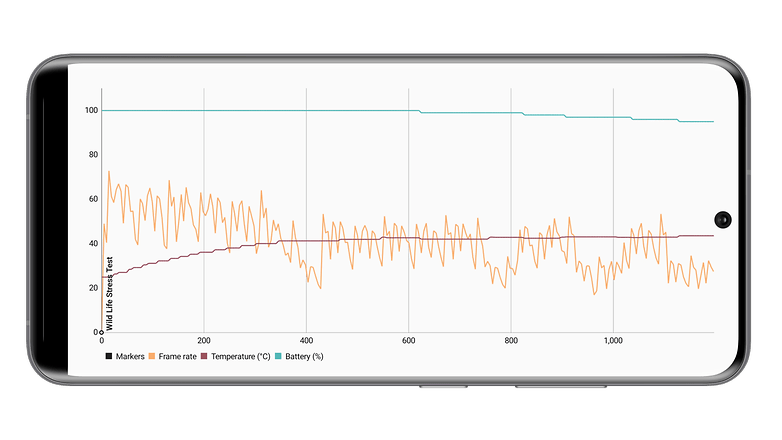 Cameras: A disappointing triple 64MP camera module
The Poco F4 GT has a triple camera module at the back, which is primarily powered by a 64 MP main lens, accompanied by an 8 MP ultra-wide angle lens, and a 2 MP macro lens. In front lies a 20 MP selfie camera.
---
What I liked:
Generally takes good daytime shots.
Good 2x zoom performance.
The Night Mode is acceptable in wide-angle shots.
What I did not like:
Too much digital noise.
Dynamic range is too low, resulting in darker photos.
Limited digital zoom performance after 2x.
---
This configuration is nothing outstanding on paper. Photo quality is clearly not the primary objective pursued by the Poco F4 GT. But I still expected better.
During the day, the primary lens does well, and can be impressive at times. Overall there is a good level of detail captured. But even in broad daylight, you can notice some bits of digital noise here and here. There is also a dynamic range problem in my opinion, as the shadows take over the rest of the image much more than I would have liked, making the photos seem darker than the scene actually was.
Even after disabling the AI ​​mode (scene recognition), the software processing places too much emphasis on foliage and other vegetation to display more detail. The digital zoom (2x, 4x, 6x, 8x, and 10x) didn't really convince me either. Portrait mode was pretty good with clean clipping. However, it still suffered from the same dynamic range issue as discussed above.
At night, ultra wide-angle photos become unusable while delivering the wide-angle flare effect which is generated by light from street lamps, which at times, burns out the image. The dedicated night mode does better though, especially for its wide-angle lens.
Here's a video in 4K at 60 FPS shot by the Poco F4 GT.
Here's a video in 1080p at 60 FPS shot by the Poco F4 GT.
Here's a selfie video shot by the Poco F4 GT in 1080p at 60 FPS.
Battery life: 120 watts with the charger included
The Poco F4 GT has a 4,700 mAh battery that accepts 120 watt HyperCharge fast charging. I still do not have a definitive opinion about fast charging, although it really does come in handy when one is short on time.
---
What I liked:
Fast charging 120 watts is extremely fast.
Good battery life.
USB-C charger is included.
What I did not like:
No wireless charging support.
USB-A to USB-C cable.
---
The 120 watts HyperCharge fast charging is always good to have, especially when you want to game but are running low on battery life. I simply regret the placement of the USB-C port which should be on the left edge for maximum ergonomics when gaming with the smartphone.
On the other hand, I would give a "Like" to Poco for having included a charger in the box of the Poco F4 GT, not to mention that this is no ordinary charger, but one that is fully compatible with the 120 watt fast charging standard!
I let the PC Mark benchmark run which simulates a rather unrealistic scenario (because it's too intense), leaving the screen on with the brightness set to 200 nits at Full HD+ resolution (which is the default and cannot be changed ), while the refresh rate stood at 90 Hz (adaptive). The Poco F4 GT took 10:46 to drop below the 20% battery life mark.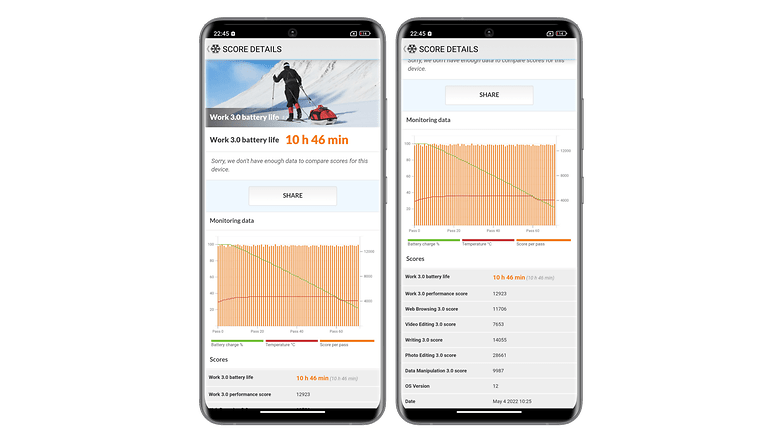 It's a good score but it's not among the best scores we've been able to obtain with this benchmark, which tends to hover around 12 to 14 hours, or even more. Still, in everyday use, you can easily spend a day and a half for a normal person and a day at most when gaming comes into the picture.
Fast charging is very efficient. After 5 minutes of charging from scratch, I achieved 35% battery on average. It took me less than 10 minutes to pass the 50% mark and only 25 minutes to reach 100% battery life (best time: 24 minutes 36 seconds).
Xiaomi Poco F4 GT technical specifications
Poco F4 GT specifications
Product
Image
Display
6.67 inch, AMOLED DotDisplay
2,400 x 1,080 pixels, 120 Hz adaptive
SoC
Qualcomm Snapdragon 8 Gen 1
Memory
128 / 256 GB ROM UFS 3.1
8 / 12 GB RAM LPDDR5
Software
MIUI 13 with Android 12
2 Android versions and 3 years of security updates
Rear camera
Main camera: 64 MP / f/1.9 aperture / 1/1.73-inch
0.8 μm 4-in-1 Super Pixel
Ultra-wide-angle: 8 MP / f/2.2 aperture / 120º FOV
Macro camera: 2 MP / f/2.4 aperture
Front camera
20 MP / f/2.4 aperture / 1.4 µm 4-in-1 Super Pixel
Audio
Symmetrical quad speakers, Dolby Atmos®, Hi-Res Audio certified, Hi-Res Audio Wireless certified
Battery
4700 mAh
Wired (90°) charging: 120 W HyperCharge
Connectivity
5G, Wi-Fi 6E, BT 5.2, NFC, Dual GPS/Galileo, GLONASS/BDS
Dimensions and weight
162.5 x 76.7 x 8.5 mm, 210 g
Price
Starts from $599
Conclusion
I'm going to start my conclusion of this review by retaining the same first sentence written at the end of my hands-on: The Poco F4 GT is very interesting in terms of its specifications/price ratio. I know that it ticks just about every box for my usage pattern, while being almost half the price of most current high-end Android smartphones.
However, I found the camera experience to be a particularly poor one for a smartphone that retails for $600. The Pixel 6, which is currently available for $599, does much (far, far more) better. The Redmagic 7, sold for $629, is more efficient in terms of performance and temperature control.
But I think that the 120 watts fast charging capability (which its two competitors mentioned above lack), the cool factor with the shoulder triggers are extremely useful. Moreover, those who are familiar with the MIUI 13 interface would find themselves to be right at home. But at this price point, it's clearly not my first choice.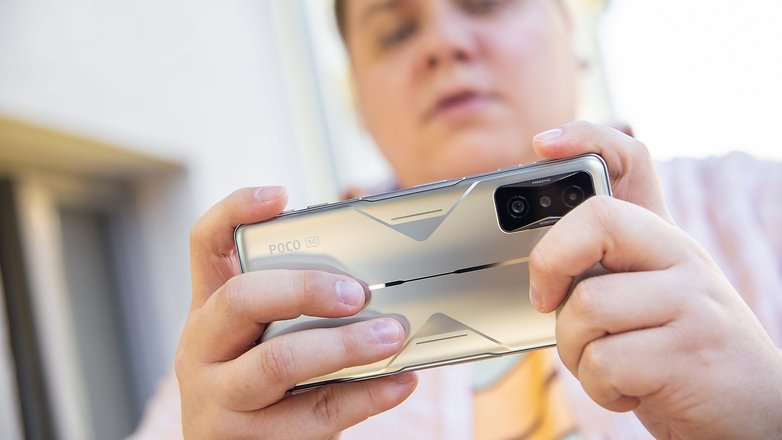 Even those who are averse to gaming smartphones could be tempted to pick this model up. It is not for nothing that the triggers of the Poco F4 GT retract or that its design is rather 'normal'. It doesn't want to shove its gaming side in your face, at least not in an obvious manner.