Google Speaks Out On Nexus Sd-Cards & The New Jelly Bean Tablet UI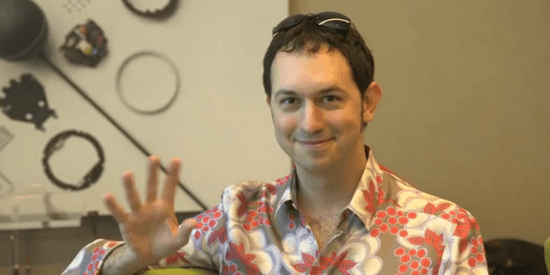 While Google's new family of Nexus devices is nothing short of impressive, there have been quite a few questions asked in regards to the lack of expandable memory in Nexus devices (microSD) and the new tablet UI used in Jelly Bean 4.2. Luckily for us, Google's own Matias Duarte took to Google+ yesterday to answer some questions, and had some rather interesting statements on those two subjects. I'm very curious to see how you guys respond to his comments.
When the Nexus 10 was first unveiled, the fact that the 10 inch tablet was running a phone UI stuck out like a sore thumb. It pretty much looked like a stretched out Nexus 7 UI running on a 10 inch tablet. Well, love it or hate it, it looks like it's not going anywhere. Here's what Matias (Android's User Interface Director) had to say (word for word quote courtesy of Droid Life) about the new Jelly Bean 4.2 tablet UI:
Why did you make the system buttons and status bar consistent across all devices in Jelly Bean?

Consistency and usability are really important to us, and that's something we strive to improve in every new version of Android. With Honeycomb we first introduced the idea of a completely onscreen navigation UI which gave us unprecedented flexibility in how that UI adapts and transforms – both when you turn the device in your hands and when the software changes and has different control needs. Now in Jelly Bean we've made the universal software navigation buttons and system bar consistent across all screen sizes.

This new configuration is based on usability research we did on all of the different form factors and screen sizes that Android runs on. What mattered most of all was muscle memory – keeping the buttons where you expect them, no matter how you hold the device.

Phones are almost always used in portrait mode, flip sideways occasionally, and never go upside down. As screen sizes get larger though, any which way goes. Imagine the frustration you'd feel if every time you picked up a tablet off the table 'the wrong way up' you found yourself reaching for a home button that wasn't where you expect it to be? That irritation adds up and over time like a tiny grain of sand in your shoe and undermines the rest of your experience.

The Jelly Bean system bar always keeps the same 3 buttons where you expect them. This happens dynamically for every screen size, up until you get to small handheld screens where stacking the bars in landscape mode would leave too little vertical space.

The second thing we discovered was that there are almost as many different ways of holding our devices as there are people. In fact people love to use their Nexus so much that they use them for such long periods of time that having a single 'correct grip' is actually counter productive and increases hand strain. The Jelly Bean navigation buttons work equally well for left handers and right handers, one handed use, or two handed use, and for devices you're carrying, resting on your knee, or putting on the table.

Last but not least, by unifying the design we are now able to put Notifications and Quick Settings right where you'd expect them, and only one swipe away.
Hmm...I understand what he's saying about consistency, and it does make sense to keep it similar across the board from a consumer perspective. I guess for me personally, it's just a matter of taste, as I personally love the tablet UI that started with Honeycomb and continued through Android 4.1 Jelly Bean. This new UI just looks a bit too stretched for my taste, but I'm guessing that anyone could get used to it.
Next up is a question that is going through the minds of MANY Android fans as well: Where the hell is my removable storage slot in the Nexus 4 and Nexus 10?
Here's Matias's answer, which literally blows my mind in a very "WTF?" kinda way:
Why don't Nexus devices have SD cards?

Everybody likes the idea of having an SD card, but in reality it's just confusing for users.

If you're saving photos, videos or music, where does it go? Is it on your phone? Or on your card? Should there be a setting? Prompt everytime? What happens to the experience when you swap out the card? It's just too complicated.

We take a different approach. Your Nexus has a fixed amount of space and your apps just seamlessly use it for you without you ever having to worry about files or volumes or any of that techy nonsense left over from the paleolithic era of computing.

With a Nexus you know exactly how much storage you get upfront and you can decide what's the right size for you. That's simple and good for users.
Umm....what?
I get what he means guys...Sd cards are damn confusing for users....brainwashed iPhone users that is. Let me go out on a limb and speak for the majority of Android users when I say that Sd cards are NOT "TOO CONFUSING" Matias. For an SD card to literally confuse someone, you've either got to be A. really really stupid or B. really really really stupid.
SD cards are "techy nonsense"? Project Glass is techy nonsense Matias (awesome techy nonsense). SD cards are an Android unique selling point, so please don't insult our intelligence by saying that SD cards are not realistic. I mean hell, even Microsoft products support SD cards (Surface Tablet). My iPhone packing friends constantly tell me how much they would love to have expandable memory, so please stop telling us there's no demand for it.
Why not just speak the truth, which might sound a bit like this: "We want you buying 16 and 32GB versions of devices, and giving you SD cards makes that harder for us to do. Our 8GB models of anything are more or less a gimmick that will act as budget high end devices to appeal to those just needing a phone for calling and email purposes. Believe you me that we want to get 32GB (and maybe 64 later) Nexus devices in your hands so that you can buy more and more apps from Google Play. You NEED more memory, as apps are getting bigger and bigger. We just need to be able to change you for it".
But hey..maybe that's just me. (I still love you Google :-D).
What do you guys think of Matias's responses here? Do his UI comments make sense to you? What about his statements on expandable memory?
Let me know what you think in the comments below!
P.S- You're still awesome Matias. Let's just agree to disagree :-)
Picture credits: www.wihastech.com