iTunes Radio: No competition for Spotify or Google Music Service In the keynote presentation at WWDC 2013 iTunes Radio was presented alongside iOS 7, Apple's answer to streaming services from Pandora to Spotify, Deezer to Google Play Music All Access. Does iTunes Radio offer more than most of the already established services? Let's take a look into it and compare it to Spotify and Google Play Music All Access.

While many believe that Apple has reinvented the wheel with their latest announcements at WWDC 2013, it simply is not the case. As with most of their things, they've borrowed inspiration from some pretty well known and popular services. Some of the biggest differences between Google Play Music is that there is no on-demand streaming provided. As well, you're unable to download tracks and listen to them offline, nor can you put together your own playlists.
Here are the key features of iTunes Radio at a glance:
How many tracks do I have access to?
iTunes Radio builds upon the iTunes store and your own iTunes library and in this regard, the number of available songs is pretty high. Apple announced that there are over "26 million songs available", including tracks from major record labels such as Universal, Warner, and Sony. According to the press information released by Apple, iTunes Radio will get over 200 radio stations.
What platforms are supported?
iTunes Radio is compatible with iTunes on Mac, PC, and Apple TV and with mobile devices running iOS 7 (iPhone, iPad, iPod).
What does iTunes Radio do?
The "program" itself is composed of three different areas. First, radio stations, which you create yourself and play music based on what you'd like to hear or by playlists, such as new songs and artists. Second, specially compiled playlists that have tracks picked out by Apple. Third, a genre-based selection of music that is tailored to your own preferences (much like their Genius match in their music library app).
You can also tag songs and place them on wish lists to purchase/buy directly though the service, even using Apple's voice assistant Siri to do the transaction. Apple also promises exclusive live streams and premiers of songs and albums of famous or exciting new artists on their service.
How can I influence the music selection of my radio stations?
Much like Google Play Music, iTunes Radio is capable of "learning" your listening habits and adapts to them. Your songs can positively or negatively be evaluated against what will be played next or down the lines. Also, iTunes Radio takes into account the music that you have and have listened to on your iTunes library. A nice additional function is that you can adjust sliders to specify whether you want to listen to top hits or discover new music or a mix of both.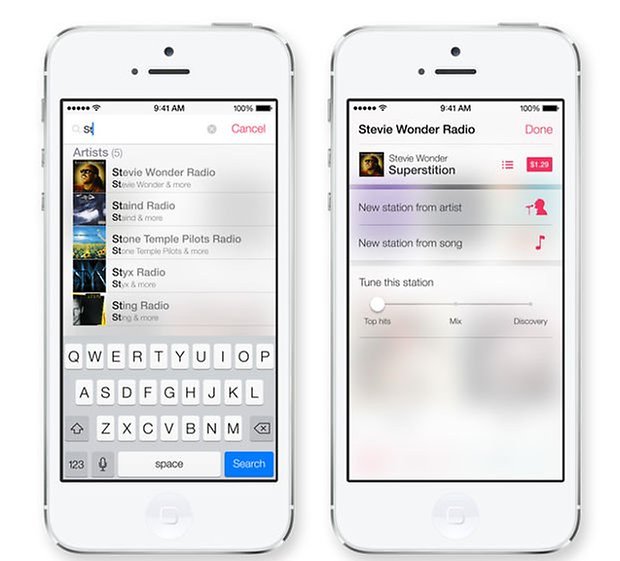 Can I hear music from iTunes Radio offline?
No. Since iTunes Radio builds on iTunes, your offline "version" is your iTunes library. The radio service itself is only available through an online stream.
What does it cost?
iTunes Radio will be free, but with advertisements displayed, similar to the way Spotify. However, along with a subscription to iTunes Match (US $27.99/year) it will come without advertisements.
When will iTunes Radio be available?
The launch is scheduled for the fall of 2013, but only in the United States. Shortly thereafter, the service should be offered in other counties. A European launch date is expected somewhere between October and December of 2013.
Does iTunes Radio offer serious competition against Spotify and Google Play Music?
When Apple introduces a new service, especially one that is so deeply integrated into an existing ecosystem such as iTunes Radio, success is almost always certain. With 575 million registered iTunes accounts, there will definitely be enough users for the service. However, the service itself is hardly new and is only an extension of iTunes, only available as a radio, and you have to purchase the music in order to download it/listen offline.
The idea behind this is obvious: iTunes Radio is vying that it's huge user base will use the service as an easier way to listen to music and then purchase it at the same time. An easy way to discover new music they might not have listened to previously and buy songs all from within the same service.
And while iTunes Radio seems to be in direct competition with Spotify in terms of services provided, it doesn't seem to be much of a threat to services such as Pandora or Last.fm. For myself, Google Play Music All Access occupies a space in the middle of all the services and provides me what I need for the moment: it integrates as a radio service with ad direct purchase option, supports on-demand streaming of your own playlists such as Spotify, and offers personalized radio stations.
iTunes Radio
Spotify
Google All Access
Price:

Free (ad-supported)

$ 24.99 a year iTunes Match

Free (ad-supported)

$4.99 a month (PC only)

$9.99 a month (PC & mobile, offline playback)

$9.99 a month (PC & mobile, offline playback)

Availability:

iOS7 (iPhone, iPad, iPod Touch)

iTunes (Mac, Windows, Apple TV)

Android, iOS, Windows Phone, etc.;

desktop (Mac & PC)

Browser

Android

Browser

Number of titles:
"More than 26 million"
"About 20 million"
"several million"
Offline Playback:
No
Yes
Yes
On-demand streaming:
No
Yes
Yes
Purchase option in the app:
Yes
No
Yes
Custom radio station:
Yes
Yes
Yes
Free version:
Yes, with advertising
Yes, with advertising
No