Google Maps vs. Nokia HERE: two great Android map apps compared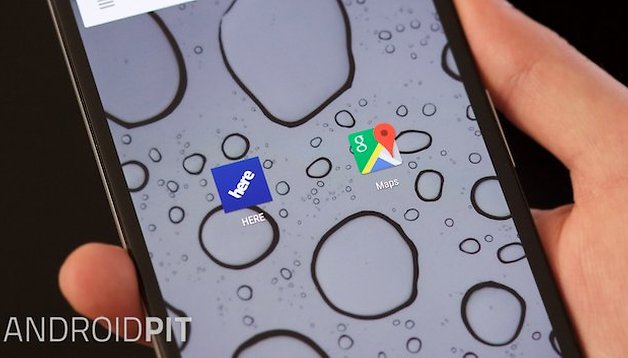 Google Maps is the undisputed leader among map services. Or is it? Not quite. Nokia HERE is getting ready to teach Google it has something to fear. Will it succeed in doing so? Take a closer look at our Google Maps vs Nokia HERE maps comparison to find out.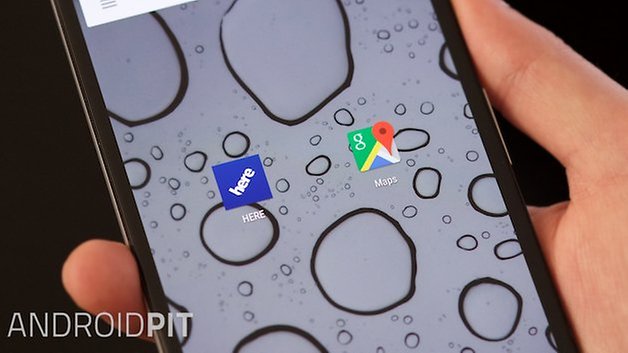 Nokia HERE is well known to users of Windows Phone and the Lumia series and it is understandably very popular within those circles. It's no wonder either, since the mapping service has quite a few strengths that makes even Google Maps look old. Meanwhile, there is now a final version of Nokia HERE for Android.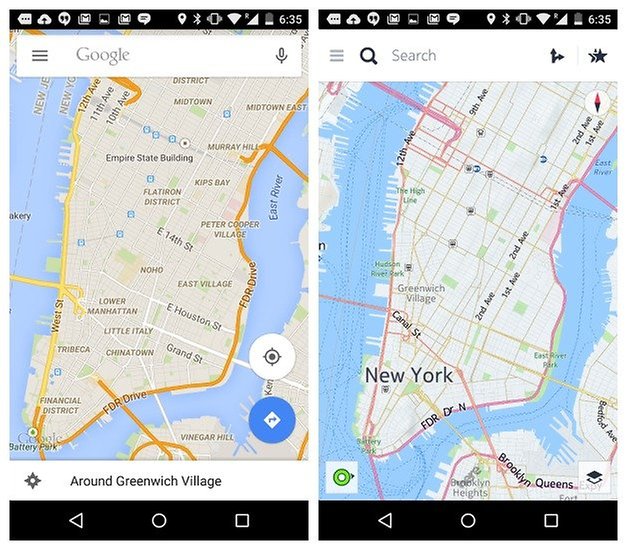 Nokia HERE vs. Google Maps: layout and options
HERE and Google Maps are pretty similar in map layout. However, Nokia's service looks a little more upbeat and fresh. Both apps have a fold-out page menu where you will find the settings.
In the settings Google Maps seems to show more fine adjustments for the information it displays (in Google Maps: traffic, transit, bike paths, satellite images, terrain. In Nokia HERE: satellite images, transport and public transportation).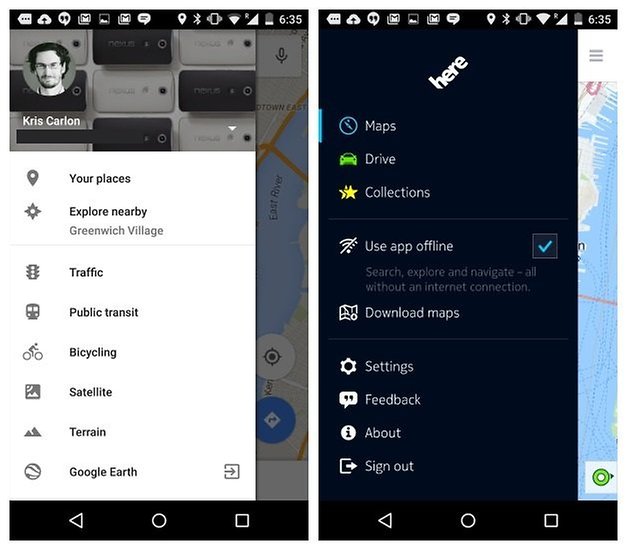 Nokia HERE vs. Google Maps: zoom level and 3D view
In my test Google Maps behaved very well, and you can zoom in much further in Maps than you can in HERE – far beyond what is actually even practical. One other advantage of Google's mapping service is the integration of the excellent Google Earth and Google Street View. The latter can be incredibly useful when you need it. This is one feature that is sadly lacking from HERE.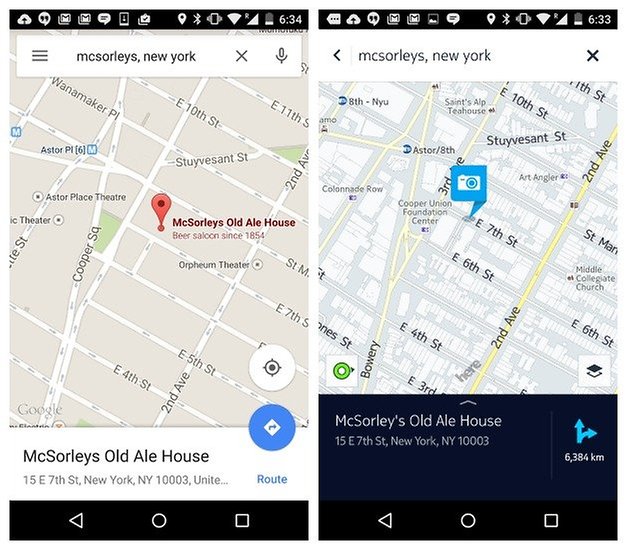 Both apps also operate similarly. Tapping on a location on the map brings up a card from the bottom of the screen on which more detailed information appears. A two-finger swipe on the screen lowers the bird's-eye-view perspective and brings everything into three dimensions for easier navigating (not in all cities though).
Again, Google Maps allows a greater immersion in the map with a much higher zoom level. On a side note too, Nokia HERE is missing a landscape mode, so the app does not auto-rotate when you turn the phone to landscape mode.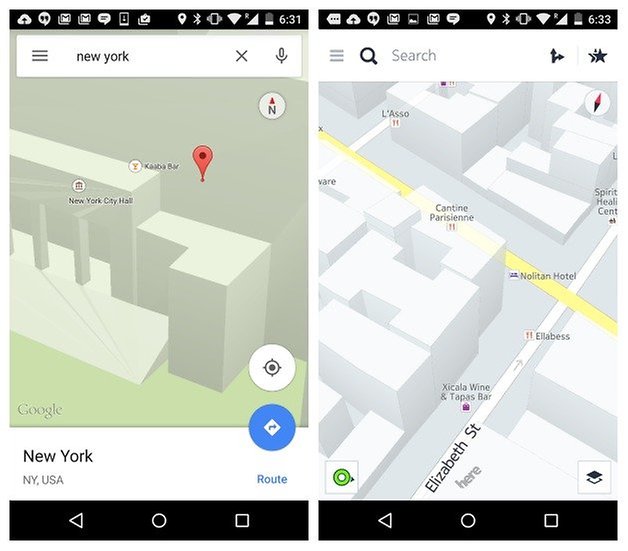 Nokia HRE vs. Google Maps: interior view
One difference in the layout shows up when you bring up places like malls or airports. In this case, HERE Maps offers a separate view where you ''enter'' a building. The app will now show you the different levels inside as well as the shops within.
Google Maps also allows zooming in (without needing to separately ''enter'' an inside view), but the interior view is not as tidy and a little bit overloaded. Not all buildings allow you inside on both maps either. Functionally, however, these features are more or less the same.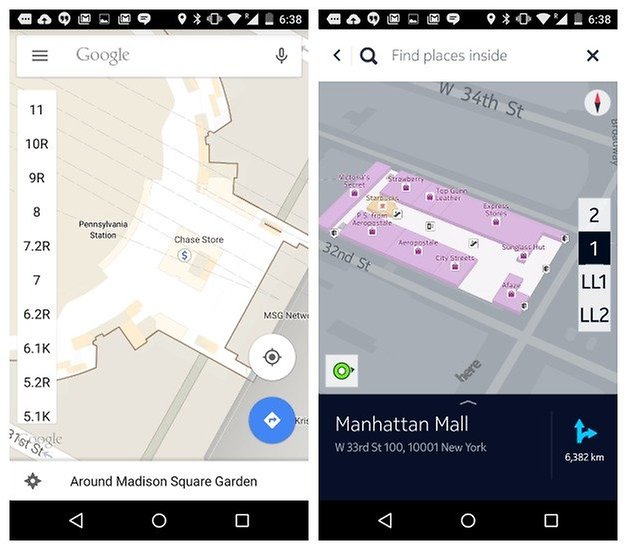 Nokia HERE vs. Google Maps: navigation and route planning
When it comes to finding a connection from one place to another, both apps are pretty similar too, at least from a functional perspective. However, in my opinion, the information that Google Maps provides is more relevant and clear. It also offers routes on foot, by car and public transport as well as options for cyclists.
Nokia HERE has the same basic options although cyclists miss out on dedicated route-planning. However, HERE offers more fine adjustments for calculating the route. For example, if motorists want to avoid unpaved roads or toll roads.
How to share directions from Google Maps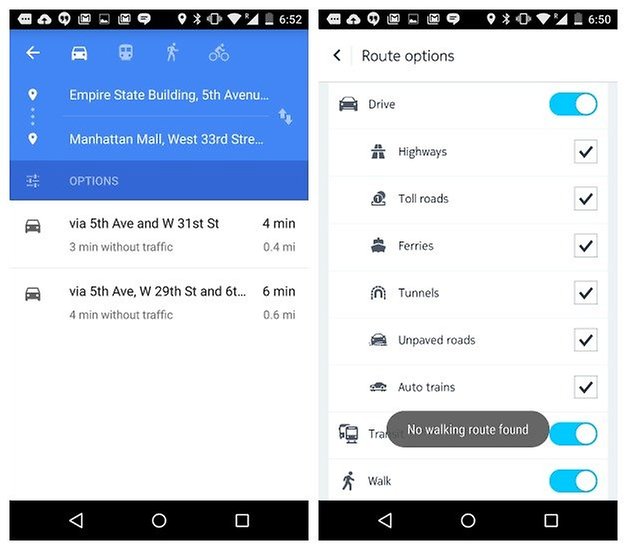 Navigation is similar in both apps too. Navigation from above is unfortunately missing in Nokia HERE, which is a shame because it provides a better overview. Google Maps on the other hand lets you navigate in traditional street-level view or from a bird's-eye-view.
One real bonus of Nokia HERE navigation though is that it can be used offline. Even voices of different languages can be downloaded for offline use. Back online again, both apps relay traffic information including congestion and road construction involved in your route, so you can expect satisfactory performance from both apps for navigation and route planning.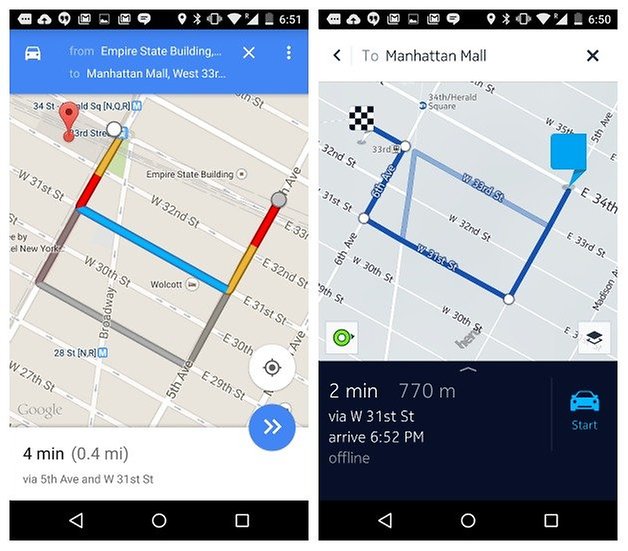 Nokia HERE vs. Google Maps: offline use
The possibility of offline navigation is invaluable for many, whether for data savings, battery life or general convenience. Nokia HERE really shines when it comes to offline usage. The maps of individual states, countries and even entire continents can be downloaded onto the phone and be taken full advantage or even without an internet connection.
This possibility is missing almost completely from Google Maps. While it is possible to save individual map areas in the cache for offline access, these are only small sections and they are cleared from memory after a month. Without an internet connection, the navigation function or route planning are also unavailable in Google Maps.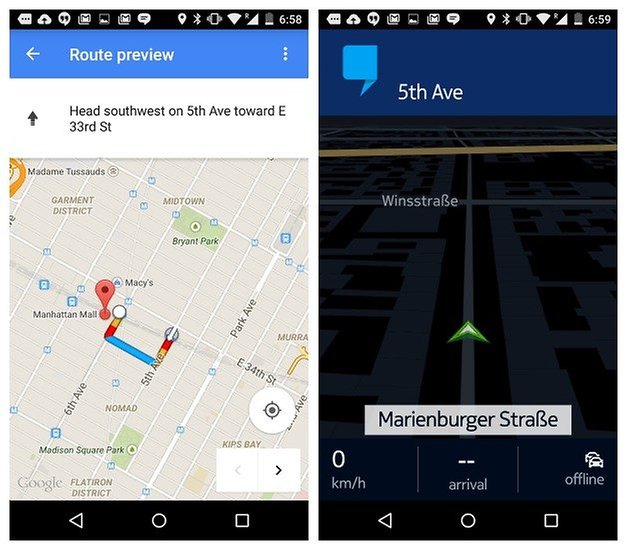 Nokia HERE vs. Google Maps: available information
This is a big difference between the two mapping services. Google Maps clearly covers more places such as shops or hotels and provides much more information, including opening times, photos, reviews and so on. As a search engine giant, Google simply has an enormous wealth of information to which Nokia has no access.
While Google Maps, for example, saw more shops in the neighborhood at just about any place in my tests, it also offered me the actual phone number of randomly selected shops pretty much everywhere. Nokia HERE however, only provided select phone numbers.
This may be nitpicking a difference in detail, but it is important (depending on how you use your maps) and it is characteristic of the different depth of information available within the two map services.
Google Maps also benefits from another function of the search engine's expertise: there is a very handy function for ''exploring'' the area. This gives the app a whole new dimension that is completely lacking in Nokia HERE. The voice command opportunities in Google Maps alone are worth it.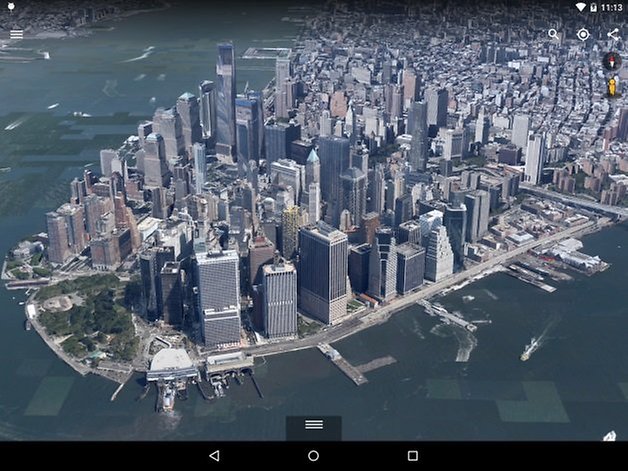 Nokia HERE vs. Google Maps: conclusion
Overall, Google Maps is the clear winner for me. The reason is that Google simply has noticeably more information and knowledge, making its maps an all-round better service. Basically, everything HERE can do Maps can do also, but Maps can do a lot more than HERE.
However, this has a major limitation: an internet connection. You'll be much better served by HERE if you're out of data or have no connection than you will be with Google Maps. Therefore, my recommendation is simply to have both services on the smartphone, depending on your map habits.
Which map app do you use? Is there anything missing in your service?
Translated from an original article by AndroidPIT.de