My Galaxy NX Hands-on Experience Android is fast becoming the go-to operating system for all kinds of technical devices. This was made even more-so apparent during the Samsung London Premiere yesterday as they announced the world's first high-end camera with interchangeable lenses, fast LTE radio built-in, and Android 4.2.2. Here are our thoughts on the device after getting a hands-on experience ourselves.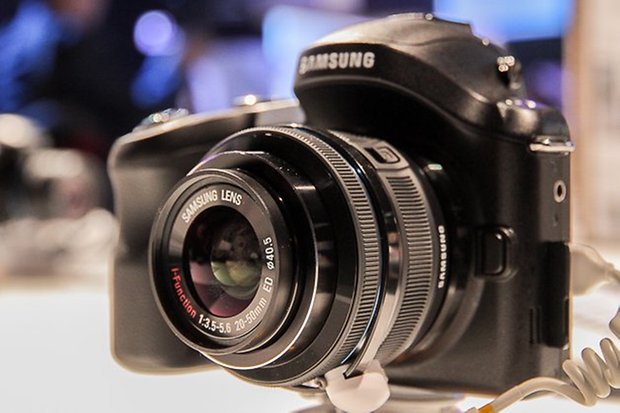 Under the NX name, Samsung has sold mirrorless cameras with APS-C Sensors and interchangeable lenses since 2010. The Galaxy NX is the next stage of development for this system, combining Samsung's know-how in the smartphone market and combining it with their camera technology. While this is somewhat treading in new waters for Samsung, they are hoping that their experimentation into new devices will pay off with the Galaxy NX. The camera itself is operated via a 4.8-inch touch screen on the back and runs on Android 4.2.2.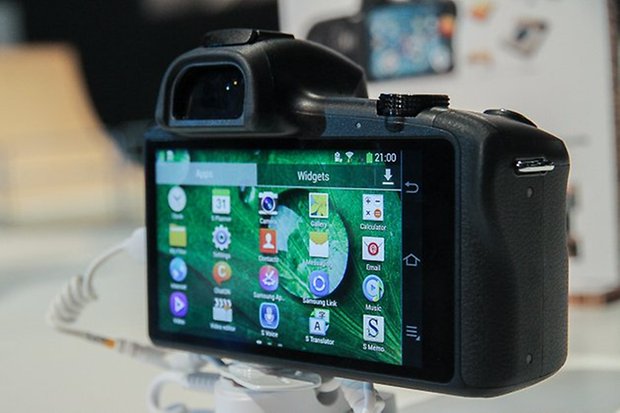 Lens options galore
In addition to just a standard high-end camera, a LTE-module is installed inside. This allows users to quickly upload larger files to, for example, social networks or to a cloud storage device. It is important to note though, that to use this service, you will need to have a data contract with a carrier. As the camera takes pictures with a resolution of 20.3 megapixels, the corresponding images will not only be large, but most data plans will most likely reach the limit of their capacity relatively soon if you're uploading a lot.
On the presentation side of things for the Galaxy NX, I had the opportunity to try our some models with different NX lenses attached. There are currently about 30 NX lenses available that are compatible with the Galaxy NX, including a small 10-millimeter fisheyes lens that snaps a stylish wide-angle image. Under the low light conditions in the exhibition hall, I couldn't really test the camera thoroughly and the pictures taken were only satisfactory. Unfortunately, the autofocus was not as fixed as one would like in a camera hovering around this price range. However, whether this was due to the setting, the camera body, or lens, I wasn't too sure.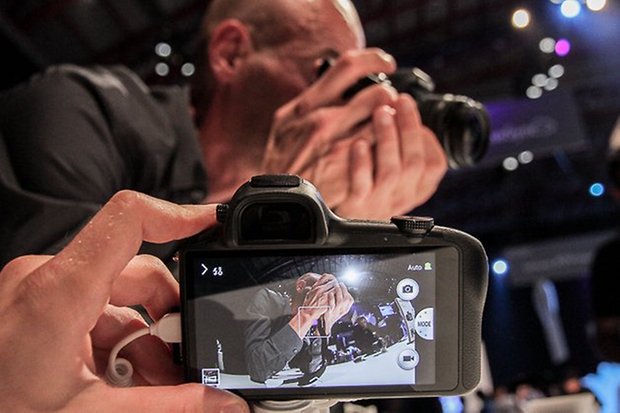 Operation
The handling is pleasant, the body fits comfortably in your hands and the operation of the camera is intuitive. But one big difference I noted, was that you should use the screen as your viewfinder. When putting the camera up to your eye and using the traditional method, the image that you see might not correspond with the lighting and color you'll get in your final image.
As for using the screen as a viewfinder, it was a good size and extremely clear and having the combination of a touch screen and manual setting on the lens was very pleasant to use. The image quality, as I stated before, did not make any splashes for me in my brief tests.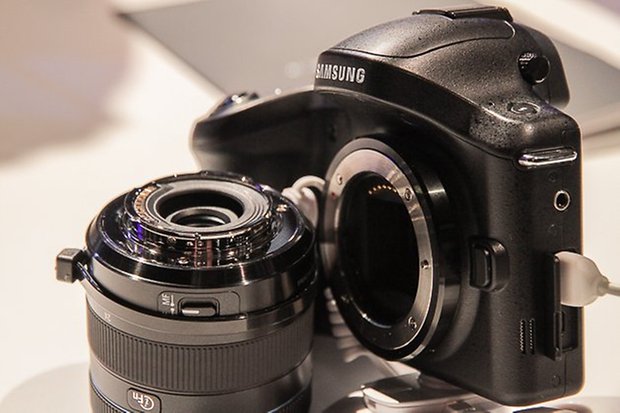 Conclusion
Truthfully, I have doubts on the Galaxy NX as a package deal. With a market price of around 1300 US Dollars (Samsung has not specifically released any information in regards to pricing), it will compete against top-tier and already established brands. Although the LTE connection and Android system within are nice touches, it seems that the average data plan will be throttled by any continual uploading of photos, especially if shooting in any of the higher resolution modes available on the Galaxy NX.
What do you think about the Galaxy NX? Is it an interesting concept only or will it be something that people will flock to want? And how much would you be willing to pay for something like this?
Specifications
| | |
| --- | --- |
| Sensor | APS-C CMOS, 20.3 Megapixel |
| ISO | Auto, 100, 200, 400, 800, 1600, 3200, 6400, 12800, 25600 |
| Display | 4.8-inches, 1.280 x 720 Pixels, LCD |
| Processor | Quad-Core, 1.6 GHz, 2 GB RAM |
| Connections | LTE Cat 3 (max. 100 MBit/s), HSPA+ (42 MBit/s), WLAN N, Bluetooth 4.0, GPS |
| Storage | 16 GB + microSD |
| Dimensions | 136.5 x 101.2 x 25.7 Millimeter |
| Weight | 495 Grams |
| Battery | 4360 mAh |
More Photos