Facebook Presents ''Home'': Customized to People, Not Apps It was only a matter of time before Facebook took a step closer in overtaking more mobile world territory and today marks a day where they are clearly making this their aim. Mark Zuckerberg says that he is really really excited about this and I think many people will be too. There were two important revelations today: Home and the HTC first. Along with HTC, who has been accumulating popularity with its other new smartphones, Facebook plans on really changing the way smartphones work, making them more centered around people and your contacts, than the apps. Their goal is to make the phone a more social, seamless and user-friendly device, where people come first and apps second.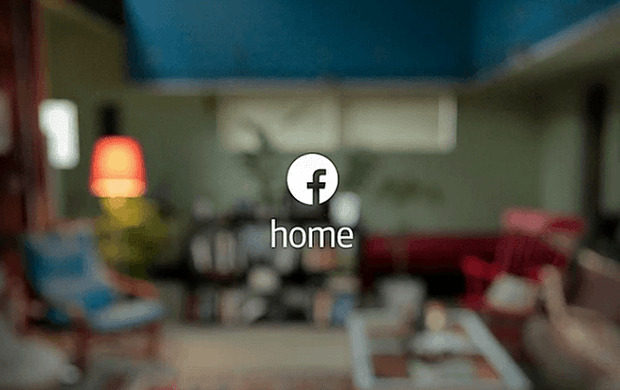 Mark started the press release with numbers. As he stated, Facebook, with Instagram included, is what people are looking at 25% of the time when they are on their mobile phones. It was only a natural step for them to go in this direction: ''instead of designing phones around apps, flip it around and design it around people and then customized the apps to that.''
Presenting Home - The Facebook ''people-focused'' Home Screen
Made of fresh content, this is something ''deeply personal'' that you can download right from the Google Play store to change your entire user interface. It will offer a much more social and enjoyable experience, says Zuckerberg. It's as simple as any app to install. On the other hand, since it will be changing the entire look of your phone, you have the option of using it ''just once''. Or if you're really into it, you can install it for good. The new people-focused user interface ''Home'' will be available on Google Play on April 12th.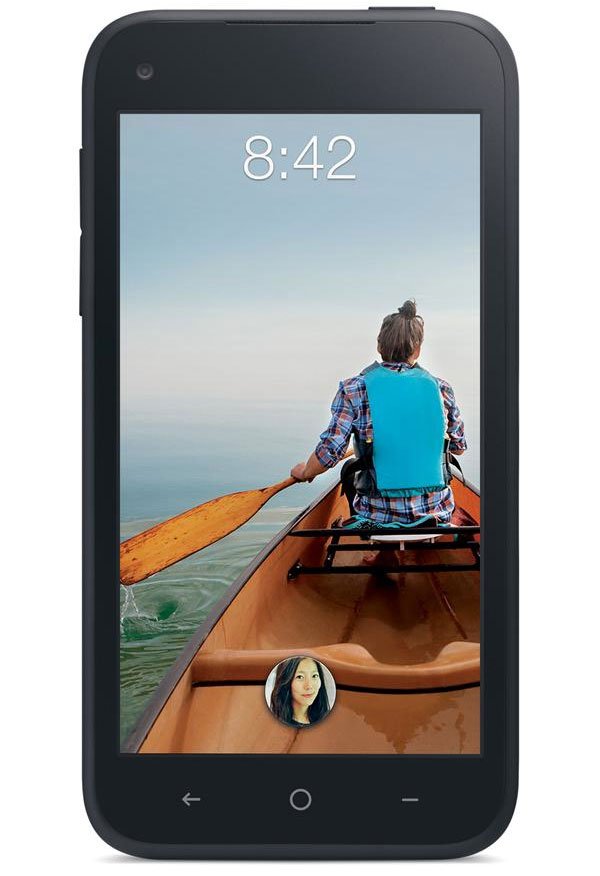 Home is a lockscreen and a homescreen, which means that there's not need to swipe to see the pictures and posts. This is what they called ''Cover Feed''. You just flip through stories, double tap to like. Commenting can even been done right from there. This is all just general feed, but you'll also have notifications for those messages and posts that are more important and directed towards you. When you tap on a notification, it brings you to the normal Facebook app.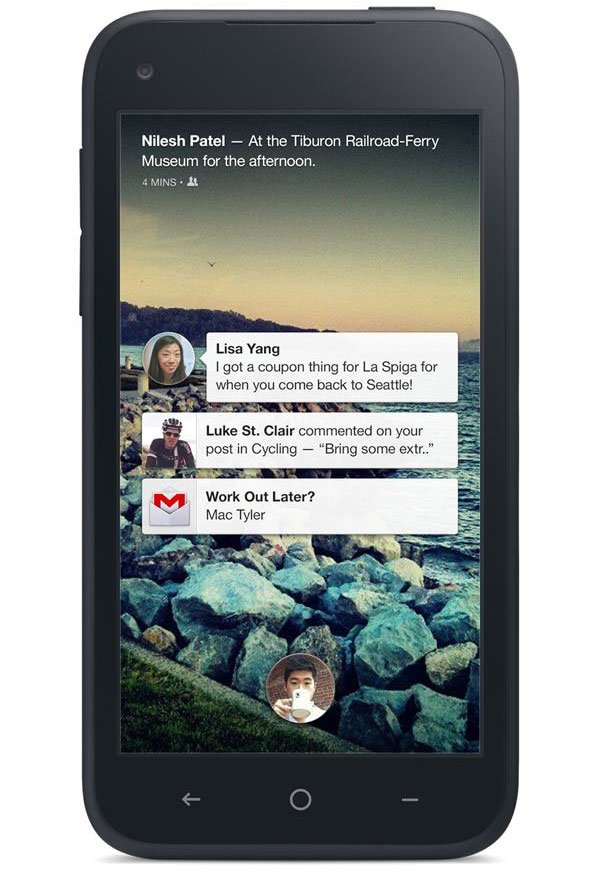 This brings us to messages. When you are reading an article, for example, a little head will pop up on your display and follow you around while you zip from app to app. This little head, dubbed ''chat heads'' by the Facebook makers, means that someone has written to you on messenger and all you do is tap on their face to access the conversation, which appears right on top of whatever you are doing. According to the presenters, now you don't have to choose between watching a movie and responding to a friend and having make mental notes. It's all made to be easy and fluid.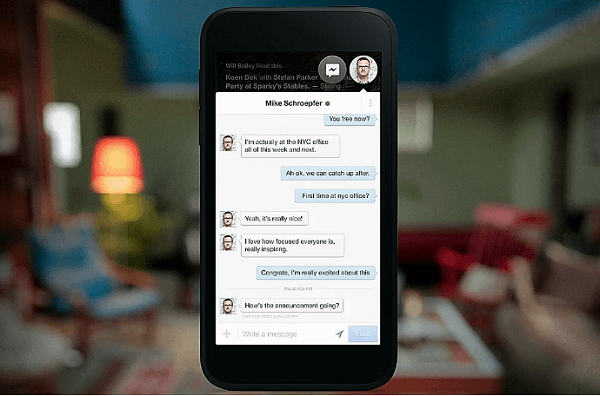 You can also see more than one message at a time, the heads will just bob around your screen or you can even manually move them around. Group messages will present more than one head. The picture in the bubble is obviously that person's profile picture. You'll also be able to see how many messages that person has written you with a message count that is added to that person's face.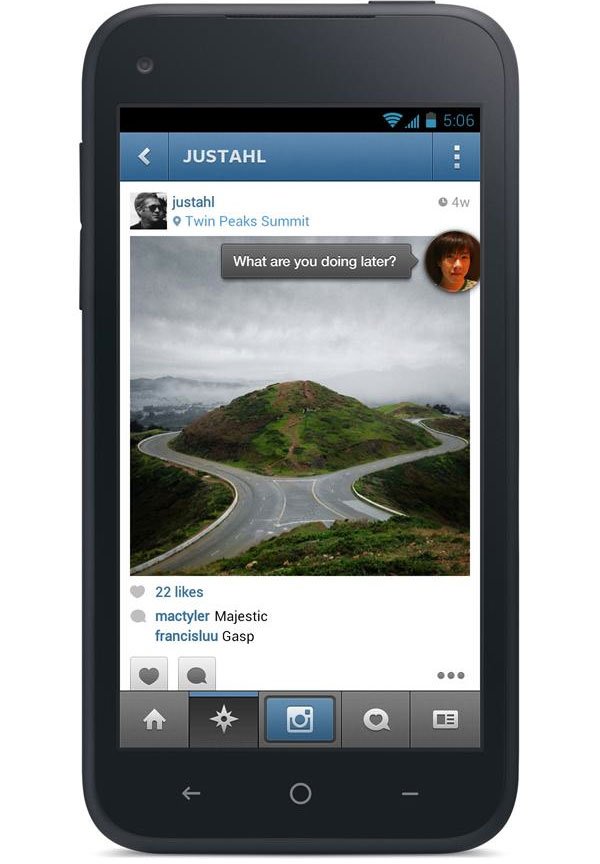 Text messages is seamlessly connected to the messenger, the only difference is that it will be in green. This is a great move because everything will all be in one, no logging-in required, no annoying backing-up.
App Launcher - Bringing you ''Home'' on your smartphone soon
The app launcher is found at the bottom of your display and has three different categories: messenger, apps and profile. With apps, by just swiping up, it will bring you to your normal apps that you easily organized in various pages and bookmarks. And on the top of the screen, there are icons to bring you back to messenger and posting.
The Facebook ''Home'' will be available on a variety of devices: HTC One, HTC One X, Samsung Galaxy S3, Samsung Galaxy S4 (in the near future) and Samsung Galaxy Note II.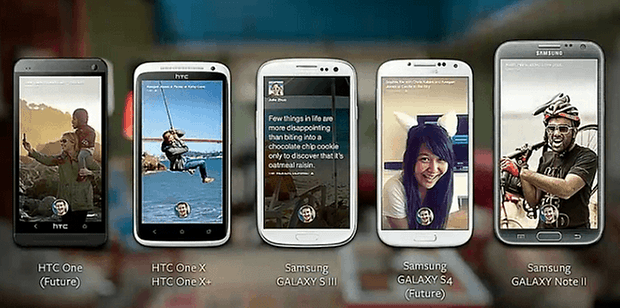 For the time being, it hasn't been launched on tablets just yet; that will come in a few months.
Updates - New features and available on more and more devices... every month!
Facebook doesn't want to be like any other normal app that gets updated once a year. No, they are planning on making an update every month for the user's enjoyment. I can see this being a problem, because people will constantly have to get used to something new on a monthly basis. I know how shocking it is when Facebook constantly changes its looks. But every month? Maybe I'm being pessimistic. I guess we will just have to wait and see. These updates will probably mean more features, as well as more devices that will carry the new ''Home''.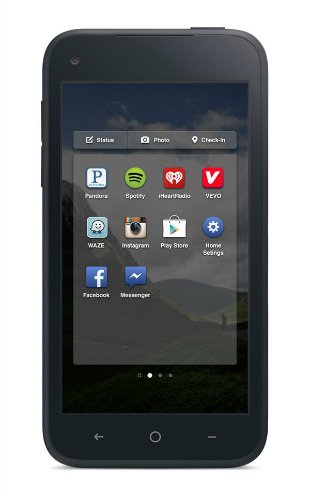 HTC First - the first smartphone ''Home'' pre-installed and optimized device
Facebook wasn't alone at the presentation, HTC and AT&T were also there and not with empty pockets either. HTC CEO Peter Chou announced the HTC First, as he pulled it out of his back pocket. It's the first device that will have the Facebook ''Home'' pre-loaded and full optimized for a headset. It's bringing ''mobile and social together''. Another exciting fact is that the phone come in more than the normal black and white, but also light ''baby'' blue and red. It's so tiring and boring for phones to always look the same.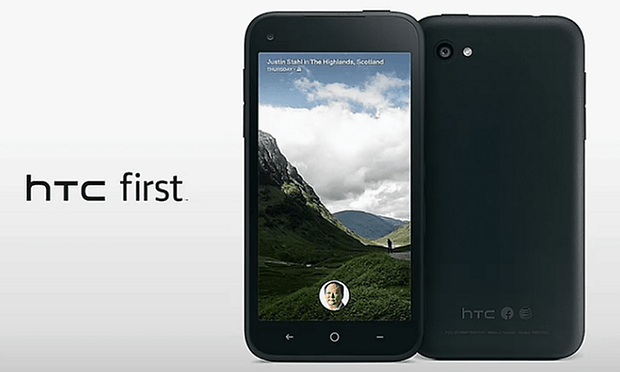 Next there was CEO Ralph de la Vega of AT&T. The network provider worked together with HTC and Facebook, in creating HTC First. He confirmed that it will be an LTE device. Most importantly, we already know the launch date and cost: it will be coming to the US as of April 12th 2013 and costing $99.99. Oh yeah, and exclusively at AT&T. Though the device will be coming out that day, you can start pre-ordering as of today.
Zuckerberg and his Facebook crew, along with HTC's Peter Chou, all seemed to believe this is not ''mobile first, but mobile best'', which gives its users content that focuses on human connections more than apps and non-fluid interactions that have created ''bad experiences in the past (…) you should be able to talk to your friends no matter what you're doing.''
I think Home and HTC First will definitely do that. I, for one, don't need half the apps on my S3 and I do agree that I spend most of my time on Facebook. I'd really like to see me and my friends in the foreground, with the apps there in the background waiting for me until I need them. We have yet to know more about the specifications of the device and I'm looking forward to see what other features get added to ''Home''.
Will you be going Home?