Asus ROG Phone US pre-orders start, impressively under $900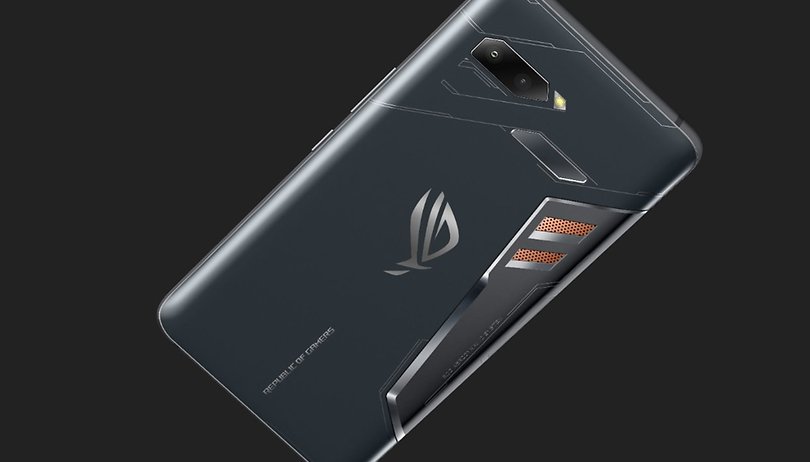 The new hardcore gaming phone from Asus' specialist Republic of Gamers brand is now available to buy in the United States. Among a new wave of gaming-oriented smartphones launched this year, the ROG Phone may be the most hardcore of all, kitted out with top specs and features that easily put it in the premium class. Yet, it won't be as expensive as the Galaxy Note 9.
Asus ROG Phone pre-orders available, with bonus for first customers
We had a chance to get our hands on the Asus ROG phone at the IFA in Berlin, where we found it to be very impressive during a short gaming session. Once we've got the device in office, we'll be able to deliver you the definitive review. While we fully expected this over-the-top gaming smartphone to break the $1,000 dollar barrier, it looks like Asus' asking price is a little more restrained than that...just about.
The ROG Phone can be pre-ordered from the ASUS Store, Amazon, and Microsoft, with a starting price tag of $899 for a version with 128GB of internal storage, but there's also a 512GB storage variant available for $1,099. Shipping starts in the last week of October, and the first 50 customers to pre-order from Amazon or Microsoft also get a free ROG Phone Case thrown into the bargain. The same offer stands for the first 25 customers who pre-order via the ASUS Store.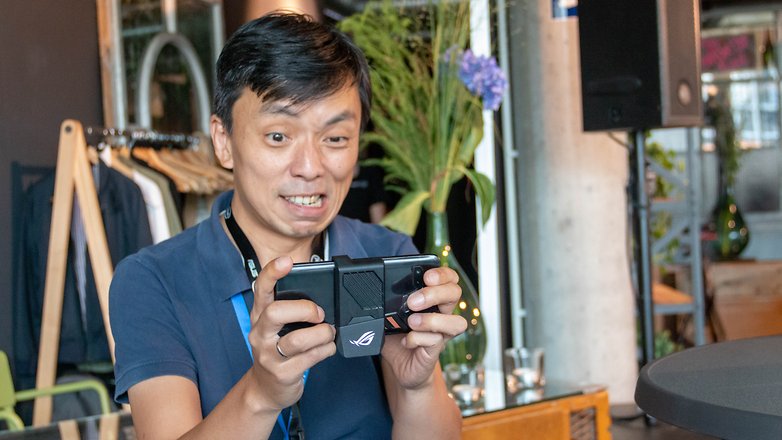 It's hard to believe we've arrived at a market state where a starting price like that is seemingly reasonable, but in theory the components of the ROG Phone put it right in the luxury tier of smartphones. Availability for the various ROG accessories for the gaming phone such as the gamepad mod and dual screen should be announced in the next few weeks.
This release pits the ROG Phone against the next generation rival from fellow gaming specialists Razer. While the ROG Phone can't boast the Razer Phone's 120hz refresh rate, its more aggressive design, bigger storage capacity and handy features like shoulder buttons and a side charging port may give ROG the edge over the competition.
Are you interested in buying the Asus ROG Phone? What about it attracts you in particular?
---
Everything we know about the Asus ROG Phone
---
Blisteringly fast thanks to a binned processor
Harsh and metallic-looking, the ROG Phone shows off its family pedigree, with visible thermal vents and even RGB lighting that can be triggered by calls or notifications. But it's the inside that really counts, and anything under the ROG brand should be no less than a powerhouse.
The ROG Phone boasts its chops with a unique selling point. Inside each model is a special "speed-binned" version of Qualcomm's Snapdragon 845 chipset. Snapdragon 845s are now the standard for a 2018 flagship, but these cherry-picked units of the ROG Phone have an unprecedented 2.96GHz clock speed, up from the usual 2.8GHz.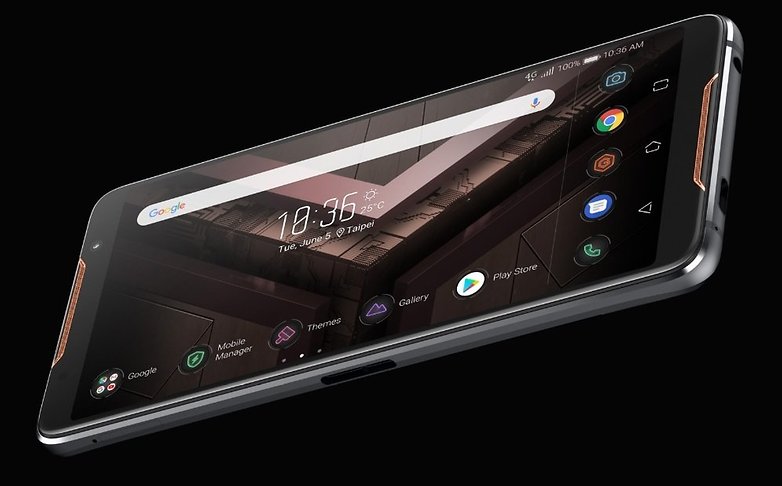 For your viewing pleasure, the ROG Phone packs a 6-inch, 18:9 display that runs at 90Hz, which means a 90 fps refresh rate. Faster than most, but not quite as smooth as Razer's 120 Hz display. However, for some, the ROG's AMOLED screen will still be preferable to Razer's IPS LCD one.
Complementing the speedy processor and AMOLED display is an Adreno 630 GPU and 8 GB RAM. The internal storage is either 128 GB or a massive 512 GB, depending on configuration, and the battery is a hefty 4,000mAh. Gamers will always keep an eye on the spec sheet when buying hardware, so Asus isn't leaving the big guns at home.
With the CPU working so intensely, a gaming phone needs to have specialized cooling to keep it running at speed. Asus' particular solution is a "3D vapor-chamber cooling system": a large copper heat radiator with some carbon cooling pads attached to the circuit board, dissipating heat around the phone's internal components.
If you're taking in those impressive numbers and wondering how you can make sure to use every iota of power, there's a special 'X Mode' for your phone that kills all background processes and uses all available resources for game performance.
It's got shoulder buttons, kind of
But the ROG phone has got more going for it than numbers. One thing that the relatively minimalist Razer Phone lacked was any extra buttons or inputs. Competitors like the Xaiomi BlackShark offer a snap-on joystick to turn the phone into a game bad, but Asus' solution here seems more elegant.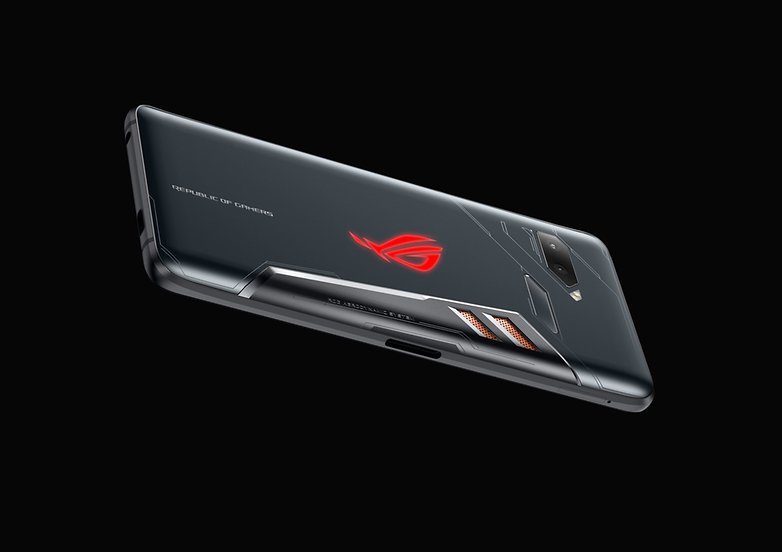 On the sides of the phone, we find what Asus calls AirTriggers—sensors that can register the touch of a finger. Each can be mapped to a function, such as reloading in a shooting game, braking in a racing game, or blocking in a fighting game, for example.
Another interesting detail is the inclusion of two charging inputs: On on the bottom, as expected, but also one on the side. The latter is intended for use while gaming, so that the power cord doesn't get in the way of your hands when you're holding the phone in landscape.
A family of fancy accessories
The ROG phone is complemented by four accessories that are designed to enhance the gaming experience in different ways. The first is a cooling solution which comes packaged with the device itself, dubbed AeroActive Cooler, which in addition to cooling duties includes RGB lighting as well as a fan, plus a USB-C port and headphone jack (yes, another one).
The other peripherals are basically docks that allow the phone to be used in different ways:
The GameVice controller and WiGiG Dock, reminiscent of the Nintendo Switch, snaps on a gamepad complete with thumbsticks and extra buttons and uses the dock to wirelessly beam to your TV.
There's the wired Mobile Desktop Dock which projects the phones' display onto a monitor and allows use of a mouse and keyboard. In theory, you could play PUBG Mobile with your mouse and keyboard this way, and wipe the floor with all the tap-and-swipers.
Finally, there's the TwinView Dock, which adds a second 6-inch (2160 x 1080) screen to the ROG Phone. Seemingly taking a cue from the Nintendo DS, it lets you view a second screen while gaming (like reactions to your Twitch stream?). ROG said that it is working with developers on optimized split-screen games. It also includes front-facing speakers, a force-feedback engine, enhanced cooling and even a 6000mAh battery pack.
Technical Specifications
Asus ROG Phone technical specifications
Dimensions:
158.83 x 76.16 x 8.65 mm
Weight:
200 g
Battery size:
4000 mAh
Screen size:
6 in
Display technology:
AMOLED
Screen:
2160 x 1080 pixels (402 ppi)
Front camera:
8 megapixels
Rear camera:
12 megapixels
Flashlight:
LED
Android version:
8.0 - Oreo
RAM:
8 GB
Internal storage:
512 GB
128 GB
Chipset:
Qualcomm Snapdragon 845
Number of cores:
8
Max. clock speed:
2.96 GHz
Connectivity:
HSPA, LTE, NFC, Dual-SIM , Bluetooth 5.0
What do you think of the Asus ROG Phone? Would you consider buying it?