Why Is Apple Suing Every Single Android OEM? Simple: The Number 68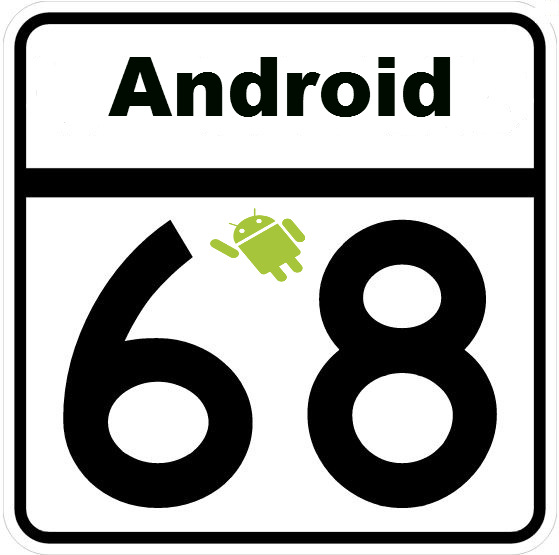 Apple sues Samsung, Apple sues Motorola, Apple bans Galaxy Nexus, Apple blocks HTC shipments, Apple blah blah lawsuit lawsuit patent patent yada yada yada. We've heard about it way too often over the past year. Many people speculate that Apple is doing this simply because they don't like competition. Others say that Apple feels everyone copies their products and that they have had enough of it. But what's the real reason that Apple is going so crazy on the lawsuits? I can tell you the reason, and it's one magic number that has them worried at Cupertino HQ: 68.
Why 68? Because that's the percentage of Android devices that were shipped in the 2nd quarter of 2012 according to a new report from IDC. Let's break that down: Of the 154 million smartphones that were shipped in the 2nd quarter of this year, 104 million of them were Android devices. What was Apple's "magic number"? 16.9%. 68% vs 16.9%. Big difference? Oh yeah. Reason for Apple to worry? You betcha.
But there was another company that had the most magic number of all: Samsung. According to the IDC report, 44% of those Android devices shipped came from Samsung, which is 20 million more than what Apple shipped, showing a 2% decline from what they shipped in quarter 2 of 2011.
Here's a chart that breaks down the market share (from the IDC report) in millions for Q2 of this year, courtesy of Readwriteweb.com: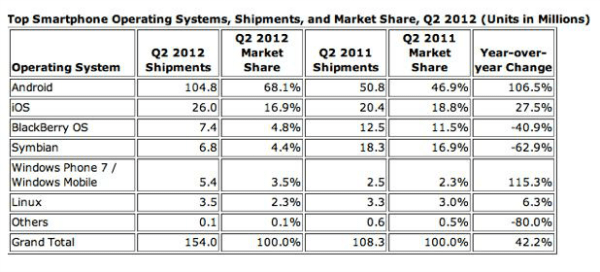 As you can see from the numbers, Apple has never been under so much pressure from Android more than it has this year, and to put it frankly, I think they may be worried that even a new iPhone release won't be sufficient enough to reverse or put a major dent in Android's growth.
Fact: Apple simply cannot match the Android ecosystem when it comes to shipment and sales. Knowing that, they turn to their legal team, in the hopes that the banning of any product from any OEM will leave a wider window open for a consumer to purchase an iPhone. Desperation move? I think so. Can it slow the Android momentum in the short term? Sure. Is it a good long term strategy? I doubt it.
Apple's biggest weapon will be the arrival of a new iPhone, which is rumored to have a slightly bigger screen, slightly modified design, and the great software/hardware that it's known for. Its success this year will be a pivotal factor for Apple, and if it doesn't hit the amazing sales numbers that it's previous models have, then Apple could really have a "siri-ous" problem on their hands.
Picture credits: Wikipedia.com and droidforums.net (merged and edited by myself)