Apple's Siri Has Limited Functionality Outside the U.S.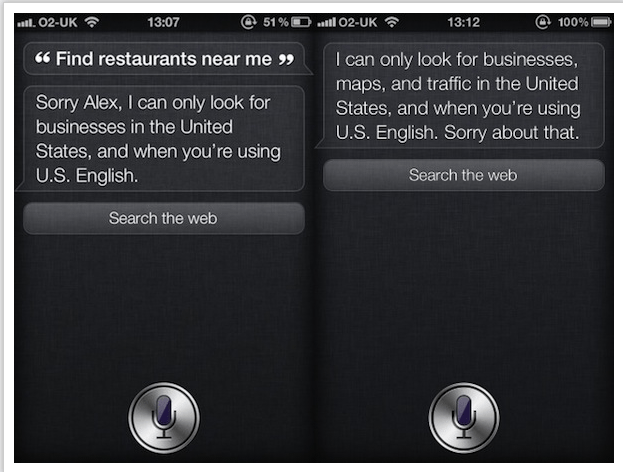 She can answer questions about the meaning of life but apparantly can't tell you how to get from your hotel to the Louvre. According to Mac Stories, Siri – one of the most talked-about new features on the iPhone 4S – won't be able to do all the amazing things Apple has told us she will do when used outside the United States. Could this lead to a decrease in worldwide sales?
On Apple's website, the Siri page reports (in a footnote): "Siri is available in Beta only on iPhone 4S and requires Internet access. Siri may not be available in all languages or in all areas, and features may vary by area. Cellular data charges may apply." According to a number of Mac websites, Siri is not able to find business information, provide traffic reports or give directions in cities outside the U.S.
While it's likely Siri will broaden her horizons in the coming weeks with support for more countries, it could certainly put a damper on initial sales if one of the iPhone 4S's most popular new features has limited functionality across all of Europe and Asia. It also bears mentioning that services like Vlingo – built into the firmware on the international version of the Samsung Galaxy S2 — does work across Europe.
When it comes to buying a new phone, I wonder which one folks outside the U.S. will choose: the one with limited functionality or the tried and true Android phones that work everywhere. It also diminishes Apple's claim that the iPhone is a truly "world phone" if it can't be used to its full effectiveness outside U.S. shores. It'll be interesting to see if there's any backlash in the coming weeks.
Related:
Does Apple's Siri Blatantly Rip-Off Vlingo?