26% Of Kindle Fire Buyers Canceled iPad Purchases For Amazon's Android Tablet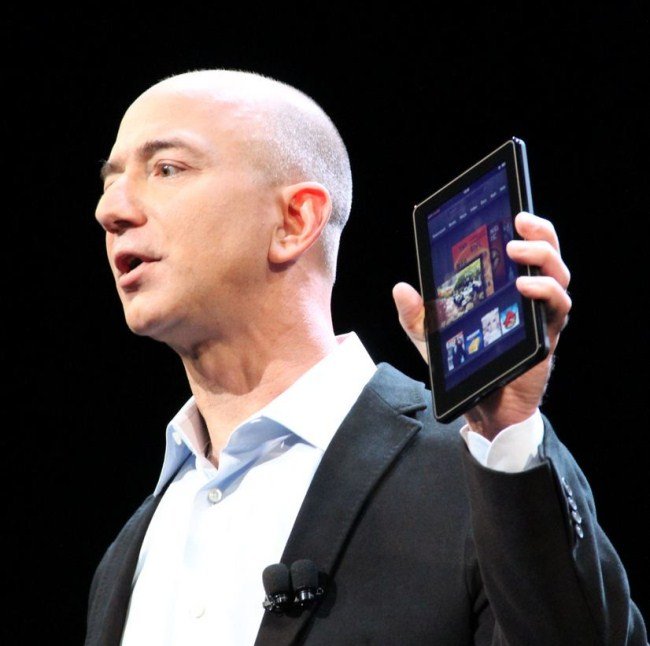 Say what you will about Amazon's low-priced pseudo-Android tablet, it's going to make Amazon a fortune and might just change the tablet game in the process. Of course, people have been claiming that every Android tablet released since the iPad's 2010 introduction would upset Apple's cash cow, but the Kindle Fire could be the tablet to do it. While the Fire does have it's detractors, all signs point to it being the right tablet at the right time, at the right price.

Kindle Fire: The right tablet at the right price
The Kindle Fire, in an of itself, is a hard tablet to pin down. It's hardware is decent but nothing to write home about. The Fire features dual-core 1 GHz processors, 512 MB of RAM, 8GB of internal memory, a 7" display and gorilla glass. With a read out like that, the Kindle sits squarely in the middle of the tablet spectrum. It's not to powerful but also not underpowered.
Where the questions really start is the operating system. While theoretically Android 2.3, Amazon has taken care to strip Google's mobile OS down to the bone and re-engineer it with an Amazon proprietary UI. The result, of course, is Android, but it is Amazon Android. All shipped Kindle Fires will be tied to the Amazon Appstore and there is some question as to if and how the Kindles will function with 3rd party apps and widgets. But, most people looking to pick up one of Amazon's new supped up media tablets aren't looking for the customization possibilities that have attracted many Android fans to the brand. The Kindle Fire is first and foremost an Amazon product and Amazon means one thing: media.
Tablets have, from day one, been about media. Tablet viewers watch more media content, for longer, and are more likely to finish their movies or clips then desktop or laptop users.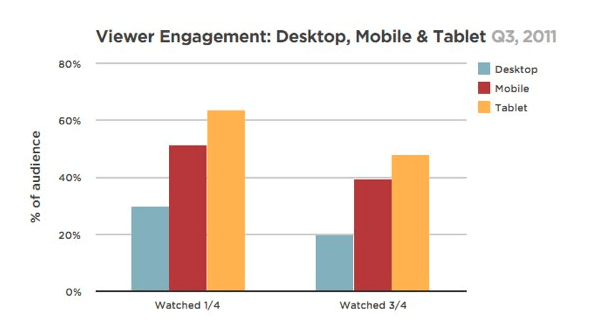 What's more, while iOS does wrack up more total plays then other mobile platforms, Android consumers watch more total hours then iOS users, tendency rising.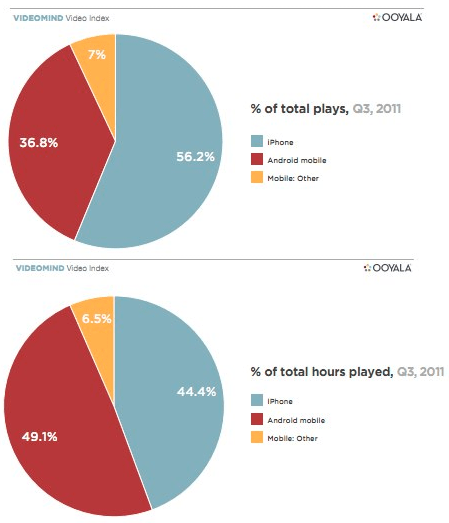 (Images:OOYLA)
It's obvious that media consumption has been one of the driving forces between all tablet sales and this is doubly true for the iPad, which with its bundled iTunes service is a convenient destination for consumers looking for an easy way to consume music and video content. Until now, there haven't been any major competitors that could stand up to the iPad/iTunes dream team. But with the support of Amazon's media empire, the Kindle is perfectly poised to snap up a substantial percent of Apple's business. It comes down to basic math, while Apple may still have a prestigious brand, with a $199 sticker price and an unlimited streaming movie subscription service the Kindle's fire sale price, it may prove difficult for Apple to win back undecided consumers.
According to Change Wave Research, this is exactly the problem that Apple find's itself confronted with. 26% of recent Kindle buyers said they were planing on buying an iPad until the Kindle debuted. Seeing as Kindle recently upped their orders to 5 million for the year this could represent almost a million fewer iPads that will be sold.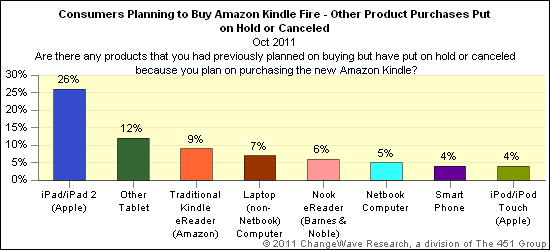 It seems to be that Kindle may just represent the challenge that will usurp the iPad as the tablet king. Of course, Amazon's Kindle wont "kill" the iPad. But you we might just see Apple radically reconsider it's pricing plan in the near future.
Related Amazon Kindle Fire News: