Hands-on with the Sony Xperia Z1 Compact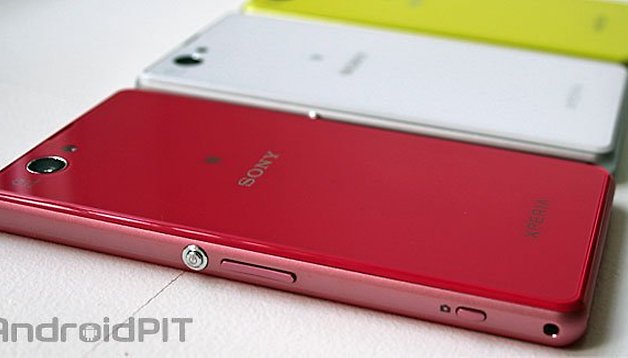 How times have changed. Once upon a time we enjoyed high-end, palm-hugging smartphones like Nokias and then iPhones. Nowadays high-end smartphones have become so large that models require epithets such as "Mini" and "Compact" just to mean that they fit in one hand. The latest addition to this trend is the Xperia Z1 Compact by Sony, which is about as compact as a large chocolate bar and yet is still one of the smallest members of its class. The Z1 Compact may just establish itself as one of the first success stories of the new year.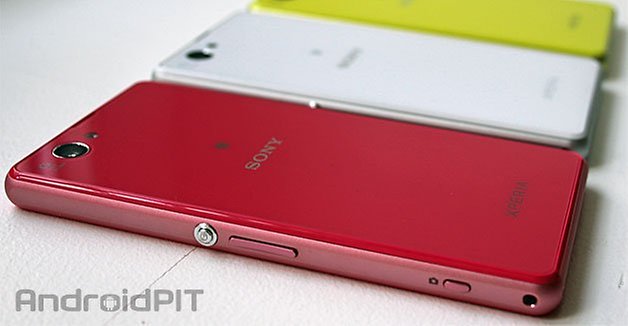 Design and workmanship at the top level
At first glance you would think Sony has just cloned the Xperia Z1. Both models are like two peas in a pod, which means nothing else than the Z1 Compact is waterproof, has excellent build quality and looks very elegant. Of course, it also means that Sony holds to the chunky-swanky design language of Omnibalance and has designed an extremely wide border around the Z1 Compact's display.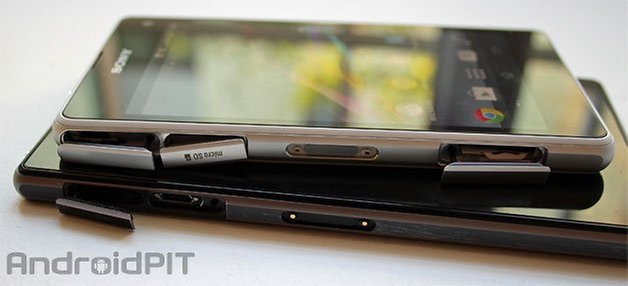 It's only on closer examination that the tiny differences are visible: the slot for the micro SIM card moves to the left side on the Z1 Compact, so that all openings in the chassis are positioned to the left when looking at the screen. Furthermore, the Compact model has become a bit thicker, a concession to the battery, as explained to me by Sony Product Manager Steffen Grosch. Had the Z1 Compact gone for the same thinness as the flagship, then a battery capacity of 2300 mAh would not have been feasible.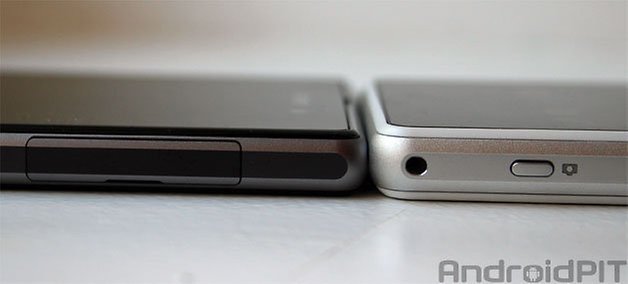 No compromise on features
Anyone who buys the-little-Sony-that-could does not have to compromise on features though. one of the best smartphone cameras around, one of the best mobile processors on offer and extensive connection possibilities like NFC and LTE .
Here is an overview and a comparison with the Z1:
| | Sony Xperia Z1 Compact | Sony Xperia Z1 |
| --- | --- | --- |
| System | Android 4.3 | Android 4.2 |
| Display | LCD, 4.3-inch, 1,280 x 720 pixels (342 ppi) | LCD, 5-inch, 1,920 x 1,080 pixels (441 dpi) |
| Processor | Quad-core Qualcomm Snapdragon 800, 2.2 GHz | Quad-core Qualcomm Snapdragon 800, 2.2 GHz |
| RAM | 2 GB | 2 GB |
| Internal Memory | 16 GB + microSD (up to 64 GB) | 16 GB + microSD (up to 64 GB) |
| Connectivity | LTE, Wi-Fi, NFC, Bluetooth 4.0, USB 2.0 | LTE, Wi-Fi, NFC, Bluetooth 4.0, USB 2.0 |
| Camera | 20.7 MP (Rear) / 2 MP (Front) | 20.7 MP (Rear) / 2 MP (Front) |
| Battery | 2,300 mAh | 3,000 mAh |
| Dimensions | 127 x 64.9 x 9.5 mm | 144.4 x 73.9 x 8.5 mm |
| Weight | 137 g | 169 g |
| Price and Availability | 499 € in Germany (TBC), available February 2014 | 488 Euro in Germany (Amazon, 08.01.2014) |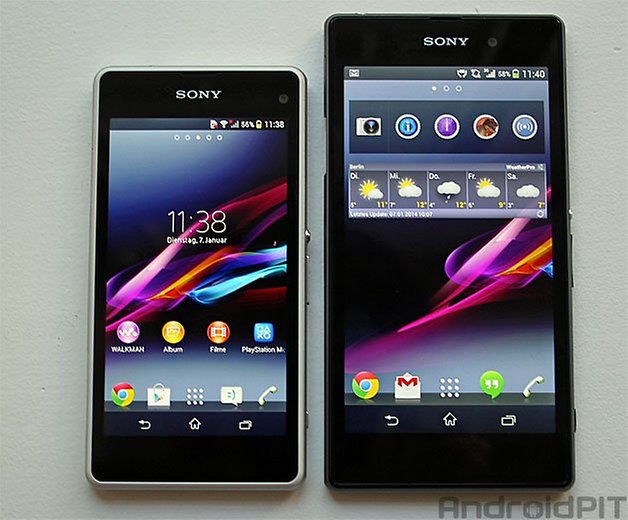 Display: sharp and good
The technical specs are all just like the Z1, completely identical except for the smaller display for which Sony reduced the resolution to 1280 x 720 pixels. There will be pixel density fanatics who claim the Z1 Compact has too low a ppi, but the fact is that a Full HD resolution of 1920 x 1080 pixels in a 4.3-inch display makes little sense . The Compact display is very good and you need not make any compromises on representation. Compared with the Z1, the user even has the advantage of being able to operate the Compact model with gloves on. This "glove" mode simply amplifies the voltage sensitivity of the capacitive screen, which, in principle can be enabled in the Display settings.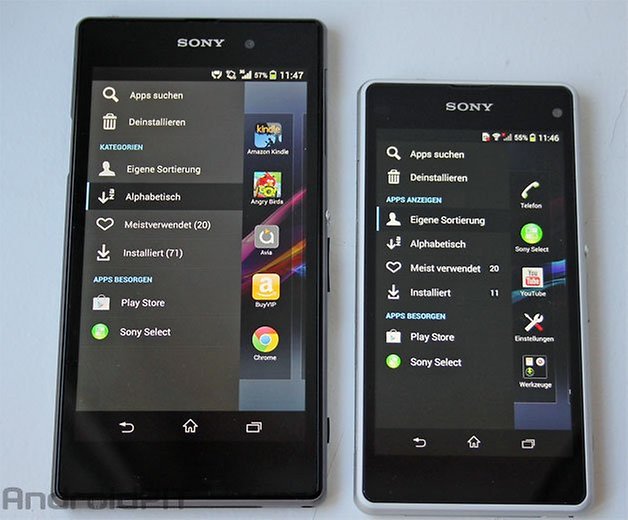 System and UI
The Xperia Z1 Compact comes with Android 4.3, which Sony has enriched with its Xperia UI. The system runs very fast and stable, and I observed no stuttering or dropouts. I like the Xperia UI very much, especially because Sony combines it with its own movie and music services, and because it's generally very well presented compared to many others, just think of the picture gallery.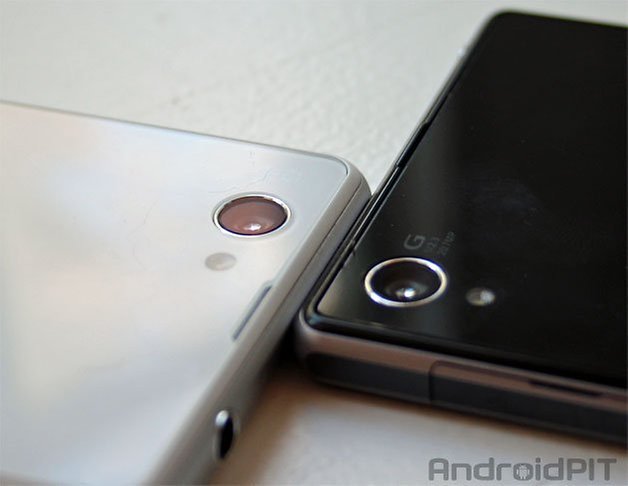 Conclusion
I can just imagine the steaming heads of the marketing experts at Sony when it came to choosing a suitable name for the smaller Z1. "Mini" was obviously to be avoided because of its association with technical trimmings on other manufacturers' mini devices. "Compact," however, hits the nail on the head: everything is the same, just smaller. The Z1 Compact is, next to the iPhone and the Japan-only Z1f, the only smartphone that offers maximum features and at the same time fits comfortably in one hand. Do we see here the first tangible trend this year? I would welcome it, if so. Without a doubt, it is clear now that Sony has, with this third spin-off of the Z1 series, found itself a winner.
The Z1 Compact will come to the market around late February, but there is no exact date or price yet. Will you be picking one up?