Xiaomi Poco F5 Pro Review: Taste of Flagship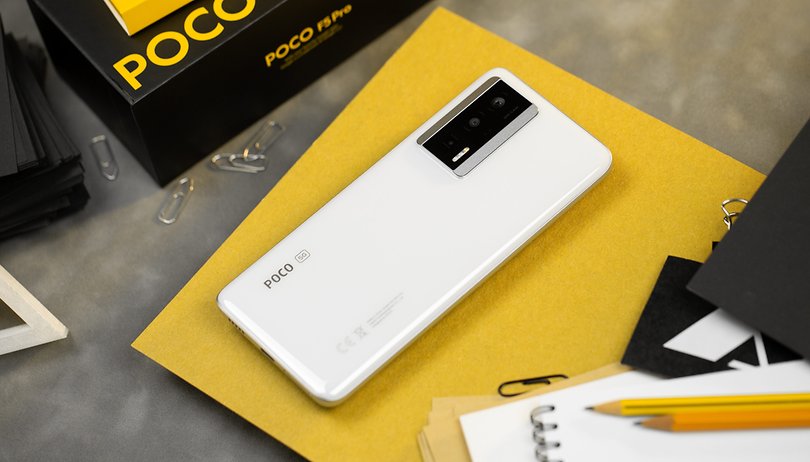 The brand-new Poco F5 aims to conquer the mid-range and the hearts of smartphone fans in Asia and Europe. Can it succeed with its technical prowess? Let's find out—right now, here in this in depth review!
Good
Affordable all-rounder

Great display with 1440p resolution

Strong performance thanks to Snapdragon 8+ Gen 1

Decent main camera

Fat battery including wireless charging with 30 watts

Stereo speakers and Dolby Atmos
Bad
Unnecessary 2 MP macro cam

Bloatware
Xiaomi Poco F5 Pro in a nutshell
Do you remember back then™ when there was constant talk about the "flagship killer"? I think the Poco F5 Pro is pretty much exactly what they meant back then: Really strong SoC, crisp 2K display with 120 Hz, fat battery with 67-watt quick charging (30 watts wirelessly), and a great main camera with 64 MP including optical image stabilization and 8K video.
In addition, there is up to 12 GB of RAM and up to 512 GB of storage, an in-screen fingerprint sensor, stereo speakers, and Dolby Atmos, as well as an IP53 certification.
However, there is no room for a memory card and a headphone jack, and yes, I am also annoyed that the triple cam includes a 2 MP macro filler. As usual for Xiaomi, there is again a lot of bloatware, and the glossy and slippery back attracts fingerprints.
Nevertheless, this is a real powerhouse that is priced at 579 Euros. While you might still consider waiting for a Pixel 7a or buying a flagship from last year at that price, the short-term early-bird price of 479 Euros (or 499 Euros for the 12/256 GB version) makes it a real no-brainer. The Poco F5 Pro should be available immediately.
Poco F5 Pro 8/256 GB: €579.90.
Poco F5 Pro 12/256 GB: €629.90.
Poco F5 Pro 12/512 GB: €649.90.
Design and build quality
As we have come to expect from Xiaomi, the Poco F5 is a well-made device that also feels good in the hand. Another positive: The redesigned camera island looks much more appealing.
---
Pros:
Good build quality.
Easily accessible buttons.
Less bulky camera island than usual.
IP53 certified,
Cons:
Very smooth back.
Fingerprint magnet.
Neither 3.5 mm port nor a microSD slot.
---
I already mentioned it above: Apparently, the bulky camera elevations on Poco phones were a bit too much for Xiaomi itself. Anyway, the new camera layout of the Poco F5 Pro, which is 8.6 mm thin at its thinnest point, catches my eye directly. The system still protrudes by two millimeters, but it is beveled at the sides. It looks and feels much better to me.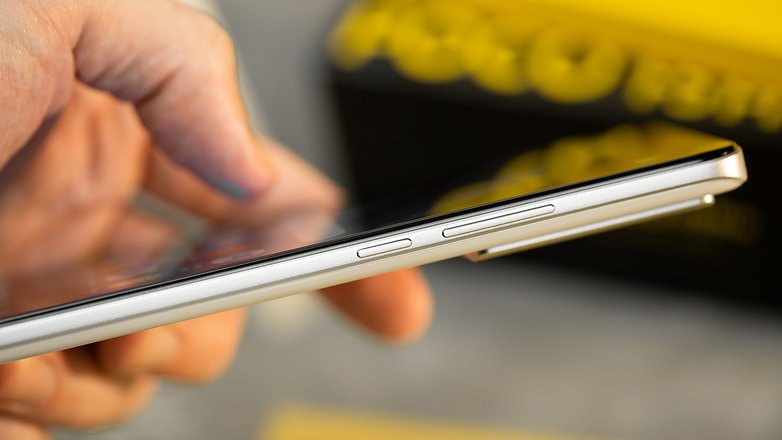 Apart from that, the device feels comfortable in the hand with the rounded back and the flat display. I can easily reach the well-made keys on the right side, but they have a tiny bit of play. The SIM card slot, one of the two speakers, and of course the USB-C port are at the bottom. Opposite is the infrared blaster and another speaker. There is nothing to see on the left side.
You can already see that there is no port for a headphone plug, and Xiaomi has also saved space by ditching memory expansion. That doesn't bother me personally in 2023, though, to be honest. But since I know that many—including you—are looking at it, I'll note it on the "meh" side.
I find the smooth back much more annoying, which looks a bit cheap, at least in the white version available to me—and also proves itself as a fingerprint collector. By the way, the smooth back does not bother me at all in terms of haptics. But if you put it on a surface that is not completely horizontal, for example on a closed notebook, it behaves like a wet bar of soap.
What else? Oh yes, there is an IP53 certification, which means that at least splashing water cannot harm the Poco F5. I also find the placement of the upper speaker a bit annoying. I couldn't avoid blocking it with my sausage fingers while gaming and watching videos.
Xiaomi Poco F5 Pro display
But, the display is convincing: 6.67" OLED panel with 120 Hz refresh rate and high resolution of 3200 x 1440 pixels. It is really bright, supports Dolby Vision and HDR 10, which is quite impressive in the truest sense of the word.
---
Pros:
2K resolution.
Up to 1,400 nits bright.
120 Hz.
Fast in-screen fingerprint sensor.
Cons:
---
Somehow, good OLED panels with refresh rates of 120 hertz have become popular even in the cheaper price ranges, right? However, the display of the Poco F5 Pro is better than what we see on average in this price segment and does not have to hide behind the flagship celebrities in any way.
Thus, we find a WQHD+ display with a resolution of 3200 x 1440 pixels here. The DCI-P3 color space is covered by 100%, HDR10+ support and Dolby Vision are included, and the colors are rich, the whole display very contrasty. Bright? Yes, the Poco F5 can do that as well: Up to 1,400 nits are possible at peak brightness.
In addition, there is a fingerprint sensor in the center of the lower part of the display—and it responds very quickly and reliably. It could have been placed a bit higher for me, but that is complaining on a high level.
Xiaomi Poco F5 Pro software
Android 13 is available here in the MIUI 14 "flavor"—thus with the usual many customization options, but unfortunately also the usual amount of bloatware.
---
Pros:
Versatile and attractive overlay
Usual many useful features under MIUI 14
Cons:
---
Would you actually notice if I were to cheekily copy the software part from the review of the Xiaomi 13 Pro or the Poco X5 5G test here? Hmm, okay—you are smart, so you would surely notice it. But it is also basically just so that you know what to expect when you take your first look at the Poco F5 Pro if you are up to date in the MIUI cosmos.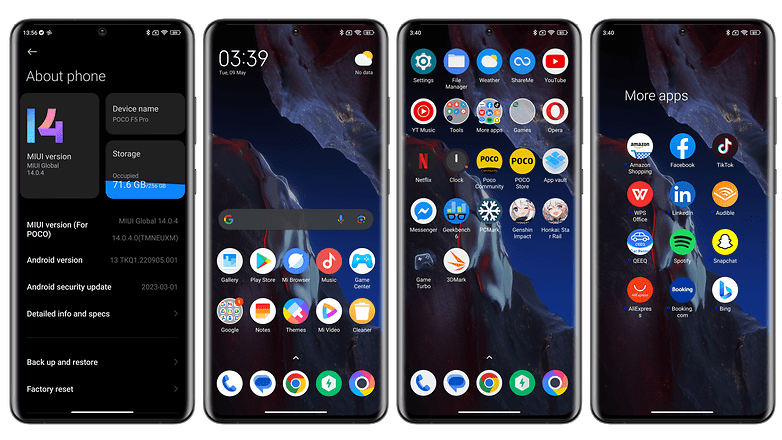 Okay, the comparison to the Poco X5 5G is a bit lame, because Xiaomi still shipped it with Android 12 and MIUI 13. Like the best Xiaomi smartphones, the Poco F5 Pro also runs Android 13, so if you are already an MIUI user, you can expect a familiar collection of countless design customization options and useful helpers. For example, I like the screenshot gesture (swipe from top to bottom with three fingers), which saves me the traditionally awkward combination.
I already mentioned several times that I prefer the sleek, plain vanilla Android interfaces. But regardless of that, I can very well come to terms with MIUI 14. As always, Xiaomi shoots a buttload of bloatware at us. That is annoying, but there are ways to remove ads and bloatware from Xiaomi smartphones. However, I can generally tolerate these price-cutting preinstalled applications better in a mid-priced product than in high-priced devices like the Xiaomi 13 Ultra tested a few weeks ago.
Xiaomi has recently caught up with Samsung in terms of update policy, at least in the flagships. However, we do not yet know how many Android and MIUI updates we can expect for the Poco F5 Pro. We assume that you will be provided with two major Android updates minimum.
Xiaomi Poco F5 Pro performance
The Snapdragon 8+ Gen 1 is a flagship SoC—thus, the Poco F5 Pro also delivers flagship performance with this chipset. Yes, sometimes it really is that simple.
---
Pros:
Really good performance.
No excessive heating.
Liquid Cool 2.0 cooling technology.
Cons:
---
While the Snapdragon 7+ Gen 2 is a new SoC kid on the block with the Poco F5, we have to deal with an old acquaintance in the Poco F5 Pro, namely the Snapdragon 8+ Gen 1. Annoyingly, 3DMark has failed so far, which sometimes happens with brand-new devices. Logically, I will post the result as soon as the Poco F5 Pro is unlocked for testing.
However, you can already take a look at how it compares to its smaller brother. I also compared the F5 Pro with the Xiaomi 12T Pro (review) and the Motorola Edge 30 Ultra (review), two smartphones with identical SoCs:
Poco F5 Pro
Snapdragon 8+ Gen 1
Poco F5
Snapdragon 7+ Gen 2
Xiaomi 12T Pro
Snapdragon 8+ Gen 1
Motorola Edge 30 Ultra
Snapdragon 8+ Gen 1
3DMark Wild Life
blocked
7625
too powerful
9975
3DMark Wild Life Stress Test

blocked

Best loop: 7632
Worst loop: 7582

blocked

Best loop: 10250
Worst loop: 6101

Geekbench 5/6
We can at least see that the performance according to Geekbench 6 is significantly better than that of the Xiaomi 12T Pro and slightly worse than that of the Motorola Edge 30 Ultra.
I also noticed that the Poco F5 Pro stayed as cold as a good beer in the benchmark test as well as during gaming. Thus, no excessive heat development, for which we can pat the installed LiquidCool technology 2.0 on the back. As usual, I tried Genshin Impact and Honkai: Star Rail, both of which ran smoothly.
The gamers among Xiaomi users probably know the Game Mode that Xiaomi puts on some of its devices. Game Turbo provides you with a very comprehensive menu that allows you to view a lot of smartphone data, including load, and adjust your gaming experience.
A quick word about connectivity: Yes, the Poco F5 Pro of course uses the 5G network, Bluetooth 5.3 is supported, and NFC for mobile payments is of course also available.
Xiaomi Poco F5 Pro camera
The 64 MP main camera is convincing, even at night. 16 MP selfies and 8 MP ultra-wide-angle photos are okay, but this damnable 2 MP macro camera ...
---
Pros:
Great daytime shots with the main camera.
Optical image stabilization.
Useful ultra-wide-angle cam.
Okay night photos with the main camera.
Successful selfies.
Cons:
Macro sensors should be retired.
Only mediocre ultra-wide-angle photos at night.
---
Xiaomi relies on the OV64B sensor from OmniVision for the main camera, which has a resolution of 64 MP. It sometimes delivers really good results during the day. In addition, the ultra-wide-angle camera with 8 MP is a bit weak, which is especially noticeable at night. The 2MP macro camera can be safely ignored.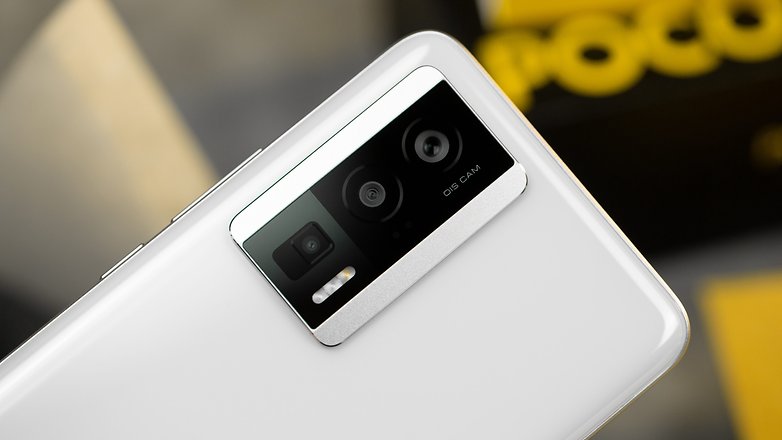 Unfortunately, the sun only appeared very timidly at the end of my photos, but you can see from the results that the photos are quite detailed. If the light plays along, we are happy about crisp, sharp pictures, even moving objects are captured precisely. I was also able to take some very cool snapshots with the ultra-wide-angle camera. However, I noticed that the richness of detail decreases significantly towards the picture's edge and the photos look a bit washed out there.
At night, the main camera makes good use of the night mode. Sometimes, however, the effect is barely noticeable. This is even more extreme with the ultra-wide-angle camera, which offers very noisy pictures depending on the lighting situation. I am already thinking about the macro sensor and getting angry again!
Let us therefore rather briefly mention that the selfie cam takes really useful photos, whereby the portrait mode also works reliably and precisely blurs the background. On the video front, we should also mention that even 8K clips are possible at 24 fps—if you need it... Zooming is possible digitally up to tenfold magnification, but you might want to refrain from much more than two or threefold magnification.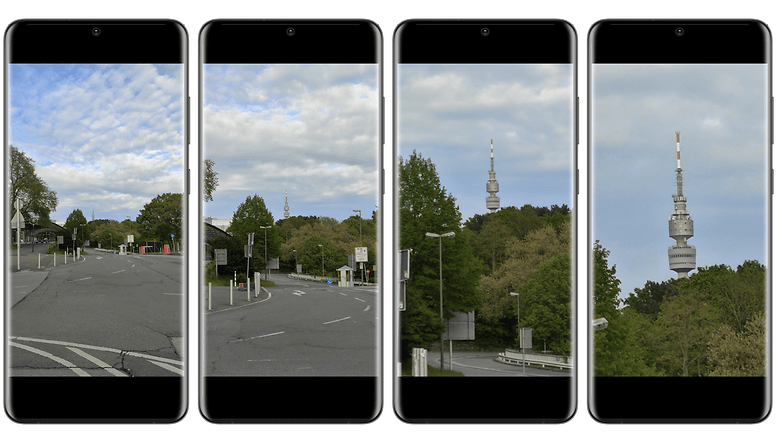 All in all, I really like the main sensor, but for a real "flagship killer" I would have liked a more versatile camera lineup. Oh, about macro again: It is better to switch directly to the portrait mode of the main camera, the results are really better.
Xiaomi Poco F5 Pro battery
The battery with a capacity of 5,160 mAh does what it is supposed to: It lasts long, charges very quickly (20 minutes to half-full), even charges wirelessly—and the charger is included in the box.
---
Pros:
Quick Charging with 67 watts.
Wireless charging with 30 watts.
Charger included in the box.
Cons: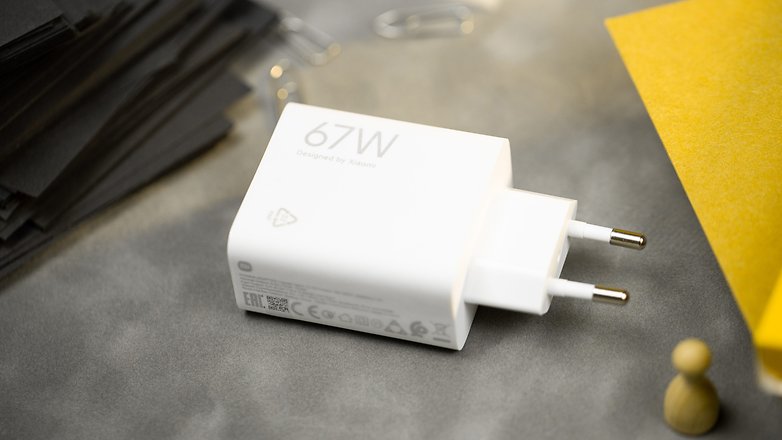 Antoine and I recently debated about quick charging. For me, quick charging doesn't play a big role, while it can't be fast enough for Antoine. I'm therefore well provided for with the 67 W offered. Even wireless charging—still a rare feature in this price range—is available with a full 30 W.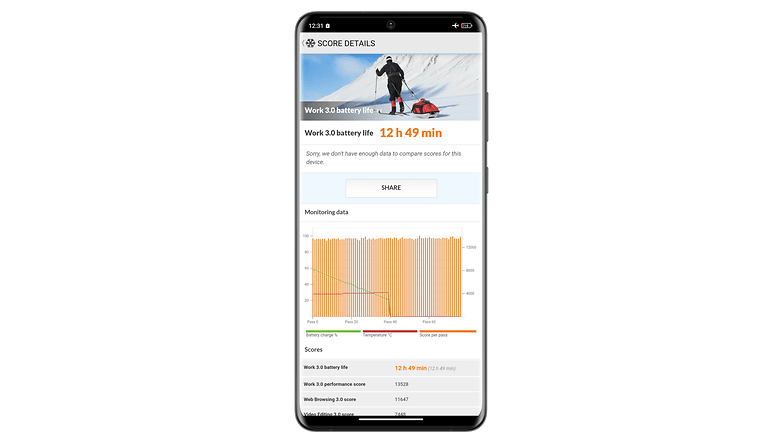 With the help of the included charger, I brought it up to ...:
4 minutes to 10 percent
12 minutes to 30 percent
20 minutes to 50 percent
31 minutes to 75 percent
53 minutes to 100 percent
I find less than an hour for 5,160 mAh absolutely okay, a good half hour for 75 percent anyway. Thus, I have nothing to complain about at all. The battery benchmark test from PCMark brought it to twelve hours and 49 minutes—that is also absolutely okay, although it is not a top value.
Xiaomi Poco F5 Pro technical specifications
Technical data
Product
Image
Display
6.67" OLED
3,200 x 1,440 px
120 Hz refresh rate
SoC
Qualcomm Snapdragon 8+ Gen 1
Working memory
8 / 12 GB LPDDR5X RAM
Memory
256 / 512 GB UFS 3.1
Memory expansion?
❌
OS
Android 13 / MIUI14
Camera
Main (OV64B): 64 MP, f/1.79 aperture, OIS
Ultra wide angle: 8 MP, f/2.2
Macro: 2 MP, f/2.4
Selfie camera
16 MP, aperture f/2.45
Battery
5,160 mAh
67 W wired charging, charger included
30 W wireless charging
Connectivity
5G / LTE / Wi-Fi 6 / Wi-Fi Direct / Bluetooth 5.3 / NFC
IP certification
IP53
Colors
Black, White
Dimensions and weight
162.78 x 75.44 x 8.59 mm, 205 g
Conclusion
Yes, we have already had a lot of fun together, Poco F5 Pro and me. Especially at the early-bird price of less than 500 Euros (around 550 USD), you get an outrageously strong smartphone. The combination of a brilliant display and flagship SoC alone makes the device the perfect multimedia smartphone. The main camera is particularly appealing, gamers will get their money's worth, and the battery gets you through the day smoothly and charges both quickly and wirelessly.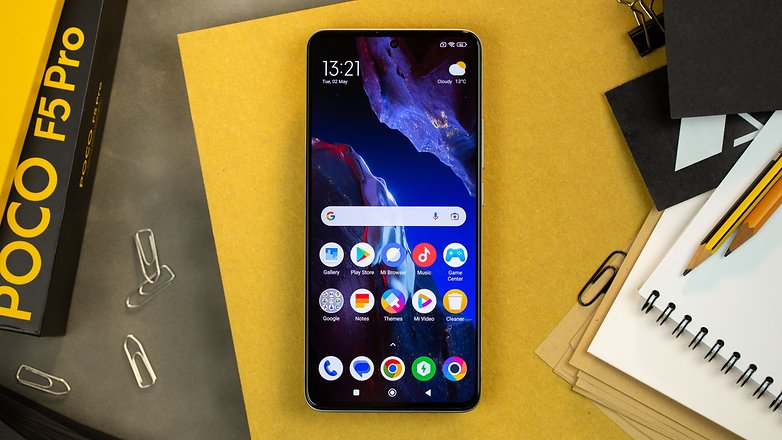 Points of criticism are the not-always-convincing ultra-wide-angle cam and especially the unnecessary macro disaster. Honestly, Xiaomi: Leave that crap out right away. Either give us a telephoto sensor or simply install a dual-cam, and that's it. I did not find any problems with the software, either, except for a few too many annoying preinstalled apps. You can enjoy stereo sound with Dolby Atmos and at least get IP53 protection against splashing water.
Considering the early-bird price of 479 or 499 Euros, I give a benevolent 4.5 stars for a phone that gives a taste of the flagship class in several disciplines. However, I do so with a somewhat admonishing undertone towards Xiaomi to please install a more versatile camera in the next model, which will then match the great display and the good performance better.