Samsung Galaxy Tab S9, S9+ & S9 Ultra: All New Tablets Compared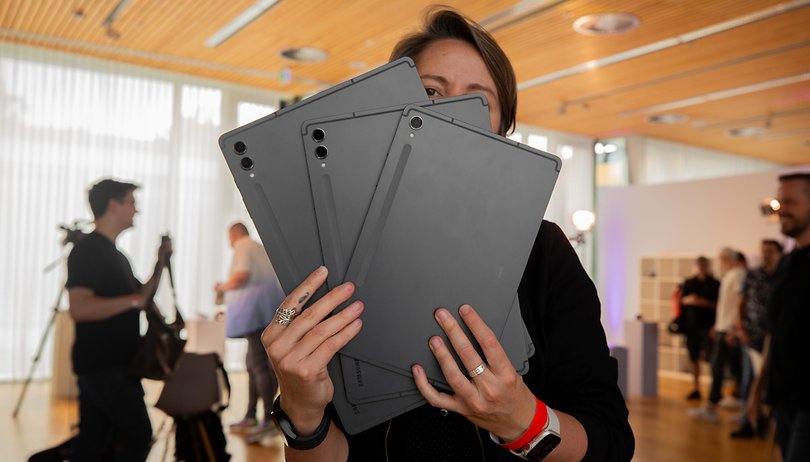 Alongside its new foldable phones, Samsung leveraged its Unpacked event in August to announce new versions of its flagship Galaxy tablets. Check out what's new in the Galaxy Tab S9 series and the primary differences between the Galaxy Tab S9, Tab S9+, and Tab S9 Ultra.
Unlike its different phone models, Samsung doesn't follow an annual update cycle for the Galaxy Tab S family. The S8 and S9 lineups launched roughly a year and a half after their predecessors. However, does that mean more upgrades for shoppers? Let's find out starting with the specifications of all three 2023 models:
Base model
Big screen flagship
Productivity workhorse
Device
Image

Display
11'' OLED
2560 x 1600 pixels (274 PPI)
120 Hz refresh rate
12.4'' OLED
2800 x 1752 pixels (266 PPI)
120 Hz refresh rate
14.6'' OLED
2960 x 1848 pixels (239 PPI)
120 Hz refresh rate
Processor
Snapdragon 8 Gen 2 for Galaxy
RAM
8 / 12 GB LPDDR5
12 GB LPDDR5
12 / 16 GB LPDDR5
Storage
128 / 256 GB
256 / 512 GB
256 / 512 / 1024 GB
microSD
✅
Rear camera
Main: 13 MP

Main: 13 MP
Ultra wide-angle: 8 MP
Front camera
12 MP

Main: 12 MP
Ultra wide-angle: 12 MP
Software
Android 13
Four major Android updates
Five years of security updates
Battery
8,400 mAh
10,090 mAh
11,200 mAh
Connectivity
Wi-Fi 6E | Wi-Fi Direct | Bluetooth 5.3
Optional: 5G | 4G LTE
Audio
Quad stereo speakers, Dolby Atmos
S Pen
✅
Security
Under-display fingerprint reader
Dimensions
165.8 x 254.3 x 5.9 mm
6.53 x 10.01 x 0.23 in
185.4 x 285.4 x 5.7 mm
7.3 x 11.24 x 0.22 in
208.6 x 326.4 x 5.5 mm
8.21 x 12.85 x 0.22 in
Weight
Wi-Fi: 498 g | 17.57 oz
5G: 500 g | 17.64 oz
Wi-Fi: 581 g | 20.49 oz
5G: 586 g | 20.67 oz
Wi-Fi: 732 g | 25.82 oz
5G: 737 g | 26 oz
IP rating
IP68
Colors
Beige, Graphite
MSRP
Wi-Fi: ? | $699
5G: ? | $1049
Wi-Fi: ? | $899
5G: ? | $1269
Wi-Fi: ? | $1,099
5G: ? | $1489
Rating

Not yet rated

Not yet rated

Not yet rated

Offers*
Samsung doesn't only differentiate its tablets by size but also by memory options and camera hardware. For the S9 family, however, the differences are smaller compared to the Galaxy Tab S8 range, which had variances in the type of display technology used as well as biometric features. We will dive deeper into the tablet's differences based on their specifications, with a future update as soon as we get to review the devices.
Samsung Galaxy Tab S8: Design and display
Spoiler alert: Not much has changed in the design department between the Tab S8 and Tab S9. Even the overall dimensions are similar, with only the regular Tab S9 getting a little bit thinner. There is one very important change, however, which is the IP68 certification that is now available on all models to offer both water and dust protection.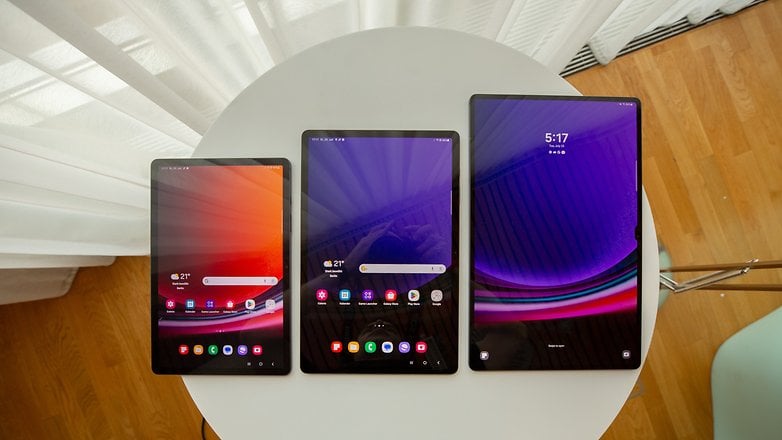 At the back is a notched display on the Ultra model, making it one of the more outstanding features of the S8 Ultra. Both the S9+ and S9 Ultra use an OLED display with the same size and resolution as their predecessors—12.4'' at 2800x1752p and 14.6'' at 2960x1848p, respectively, while the vanilla model received an upgrade from an LCD panel to an OLED screen. All models promise buttery smooth animation thanks to the 120 Hz refresh rate.
Samsung Galaxy Tab S9: Performance and connectivity
When it comes to performance and connectivity, all three models are equally capable on paper. All three Galaxy Tab S9 models are powered by the Snapdragon 8 Gen 2 processor, with the same "For Galaxy" overclocked version used in the Galaxy S23 flagship smartphones.
Based on our experience with phones that are powered by the same chip, expect top-of-the-line performance in apps and games, with snappy performance even when embarking on multitasking sessions, thanks to the equally high-end LPDDR5 RAM and UFS flash storage.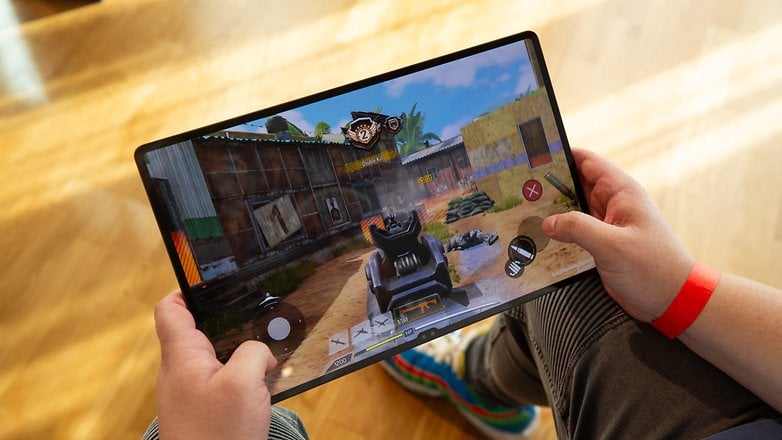 As the SoC dictates most of the connectivity options, it is no surprise that all three Galaxy Tab S9 offer the same range of wireless network compatibility: Wi-Fi 6E (2.4, 5, and 6 GHz), Wi-Fi Direct, and Bluetooth 5.3. The Tab S9 models can also be purchased with optional 5G connectivity, which is also compatible with 4G/LTE networks.
Samsung Galaxy Tab S9: Cameras
While all three Tab S8 models were equipped with a dual camera kit, the base Galaxy Tab S9 comes with a single camera setup that sports a 13 MP sensor. The other two models, however, will pair the main camera with an ultra wide-angle lens on top of an 8 MP sensor. While this is not the most exciting camera arrangement, it is par for the course when it comes to the tablet market.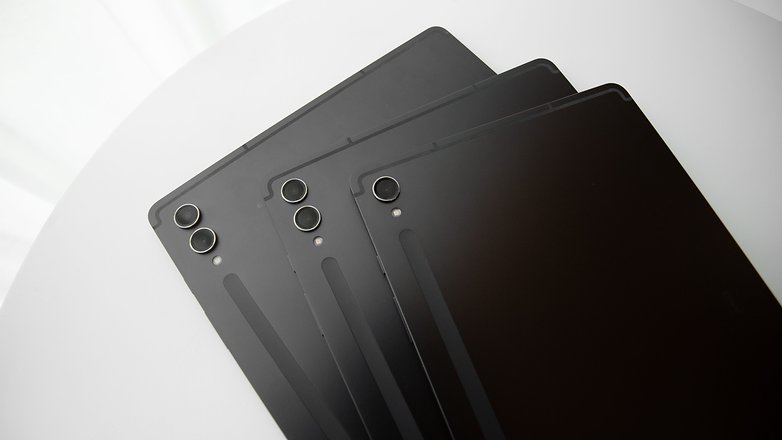 Selfie lovers are also well represented here with different specifications distributed among the Tab S9 models. The vanilla model will come equipped with a single 12 MP sensor while the other two models include an ultra wide-angle lens to accompany the primary front snapper.
Samsung Galaxy Tab S9: Software
Software-wise, all Galaxy Tab S9 models ship with Android 13 right out of the box and are powered by the One UI skin. Similar to the Galaxy S phones—and different from most Android tablets—, Samsung promises four major Android version upgrades with five years of security patches.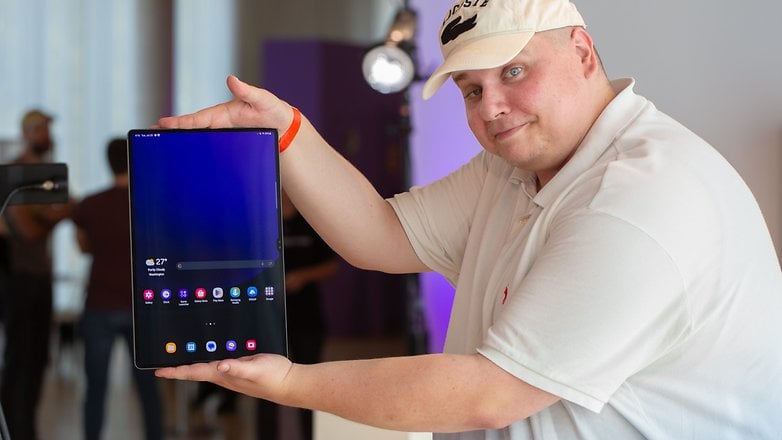 Now that Google has made a return to the Android tablet market with the Pixel Tablet that Camila reviewed, interest in adapting Android apps to the tablet form factor has started to catch up. The Galaxy Tabs are poised to receive better support as well following such developments. Samsung is also doing its part, with a number of exclusive features for multitasking and note-taking, combining both at times. One example is to have a cooking video dividing the screen with a recipe notepad containing notes and drawings using the S Pen.
Samsung Galaxy Tab S9: Battery and charging
The South Korean company is not known to be a trailblazer when it comes to charging technology, and the Galaxy Tab S9 series doesn't change that fact. Both the Galaxy Tab S9+ and the S9 Ultra use the same capacity batteries as their predecessors, 10,090 and 11,200 mAh, respectively, while the vanilla Tab S9 received an upgrade to a 8,400 mAh capacity (from 8,000) battery despite having reduced its thickness.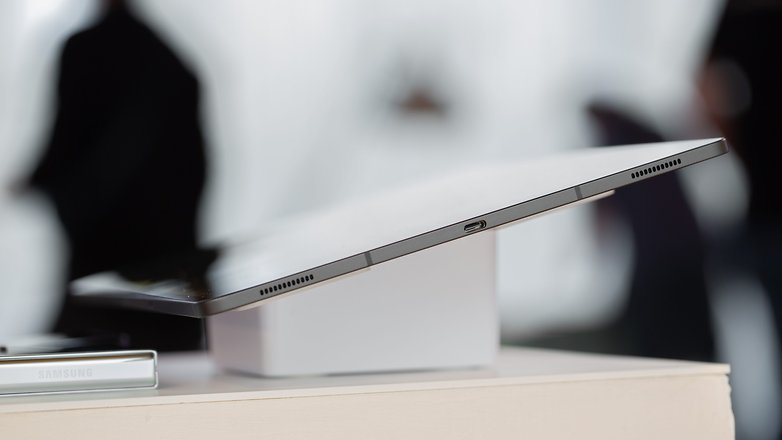 As for charging, expect to see similar numbers from the Tab S8 family, with a maximum charging speed of 45 W using a compatible adapter. By the way, a power supply is not included in the box.
Samsung Galaxy Tab S9: Price and availability
Pre-orders for the Galaxy Tab S9 are already available on Samsung's online store, with shipping times depending on each region. As at press time, US pricing details remained unconfirmed, but we already have base prices for the European market:
| | | | |
| --- | --- | --- | --- |
| | Samsung Galaxy Tab S9 | Samsung Galaxy Tab S9+ | Samsung Galaxy Tab S9 Ultra |
| 8 + 128 GB - WIFI | $799 | €899 | - | - |
| 8 + 128 GB - 5G | tbc | €1,049 | - | - |
| 12 + 256 GB - WIFI | $919 | $999 | €1,119 | $1199 | €1,339 |
| 12 + 256 GB - 5G | tbc | $1149 | €1,269 | tbc | €1,489 |
| 12 + 512 GB - WIFI | - | $1199 | $1319 |
| 12 + 512 GB - 5G | - | tbc | tbc |
| 16 + 1024 GB - WIFI | - | - | $1619 |
| 16 + 1024 GB - 5G | - | - | tbc |
In the Galaxy Tab S9 box, Samsung will include a S Pen. Those hoping to see a power adapter and case will be disappointed as these are sold separately.
Samsung Galaxy Tab S9: Conclusion
After the Galaxy Tab expanded into the "Ultra" territory with the Tab S8 family, Samsung performed a smaller update to its 2023 flagship tablet line. The new Snapdragon 8 Gen 2 processor is a welcome upgrade that should not only offer better performance but also improved battery life compared to the previous generation.
Changes in the Tab S9+ and Ultra models were rather small, despite a general bump in memory options. The vanilla Galaxy Tab S9, however, offers the same 8+128 GB and 12+256 GB options as the Tab S8, while featuring a much-welcomed upgrade with an OLED screen, in-display fingerprint sensor, and improved battery capacity.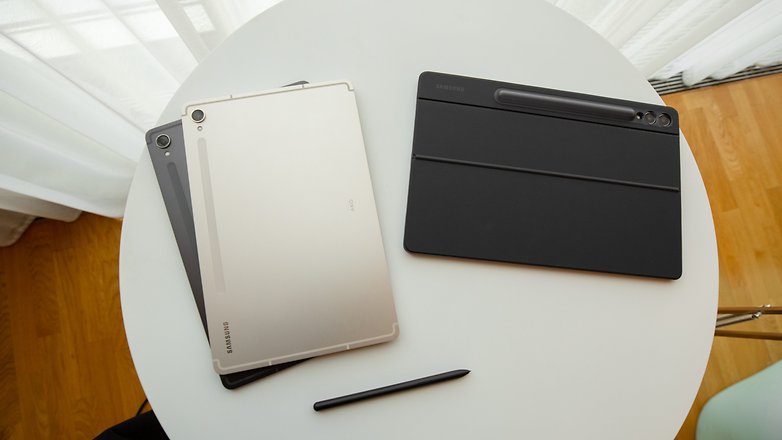 The Galaxy Tab S9 models are unquestionably the tablets to beat when it comes to sheer performance in the Android tablet market. However, their prices are too close to the equivalent iPad models, which makes them hard to recommend. Regardless, if you are a Samsung fan and are looking for the most powerful Android tablets paired with the best software support in the segment, the Galaxy Tab S9 range is your only option at the moment.
Do you think the Tab S9 prices are reasonable? Would you rather buy a tablet from another brand? Share your suggestions in the comments below!