Samsung Galaxy Tab S9 Ultra Review: The Best Android Tablet!
I spent several weeks with the Samsung Galaxy Tab S9 Ultra as my daily driver. Samsung's latest high-end Android tablet costs at least $1,199 for the Wi-Fi model. With Samsung's DeX mode, the Galaxy Tab S9 Ultra is a powerful productivity tool. Coupled with its gigantic 14.6" AMOLED 120 Hz display, it becomes the perfect device for gaming and multimedia. In this comprehensive review, I will let you know whether we've got the Android equivalent of the iPad Pro or not.
Good
Clean, uncluttered design and a slim form factor

Sublime 14.6" AMOLED 120 Hz screen

Snapdragon 8 Gen 2 SoC at its best without overheating or throttling

Excellent DeX mode in One UI

Good update policy

Impressive battery life

Accurate photos for selfies
Bad
Disappointing rear camera module

No wireless charging supported

Imposing size

Expensive
Samsung Galaxy Tab S9 Ultra: All deals
In a nutshell
The Samsung Galaxy Tab S9 Ultra has been available in major markets since July 26, 2023. The basic version which comes with Wi-Fi and 256GB storage is priced at $1,199 a pop. There is no 5G connectivity supported for the US market, although Europe and Asia markets do feature 5G support for the same tablet.
The Galaxy Tab S9 Ultra is slightly more expensive compared to the basic iPad Pro (2022), boasting a larger 14.6-inch screen compared to 12.9 inches for Apple's largest iPad Pro, which retails for $1,099 a pop. However, that is for the 128 GB model for the iPad Pro. When comparing an equivalent configuration of 256 GB and Wi-Fi connectivity, the price is the same at $1,199 apiece.
However, the Samsung Galaxy Tab S9 Ultra has one major advantage over the iPad Pro in my opinion: the inclusion of DeX mode. This mode allows you to have a PC-like interface on your Android tablet. It is precisely this Samsung feature that gives the Galaxy Tab S9 Ultra an edge in terms of productivity. The huge, excellent screen and high-quality Dolby Atmos speakers also make it an excellent display for (cloud) gaming.
| | | |
| --- | --- | --- |
| | Samsung Galaxy Tab S9 Ultra Wi-Fi | Samsung Galaxy Tab S9 Ultra 5G |
| 256 GB | $1,199.99 | n/a in US |
| 512 GB | $1319.99 | n/a in US |
| 1 TB | $1,619.99 | n/a in US |
Design
The Samsung Galaxy Tab S9 Ultra is truly a great Android tablet. Despite the large size, it is also very thin and rather light. The finish has a premium feel to it and the Galaxy Tab S9 Ultra with IP68 certification.
---
Pros:
IP68-certified.
Expandable storage via microSD (up to 1TB).
S Pen included.
Cons:
Massive form factor.
Back design is a little too neutral.
No S Pen slot within the tablet.
---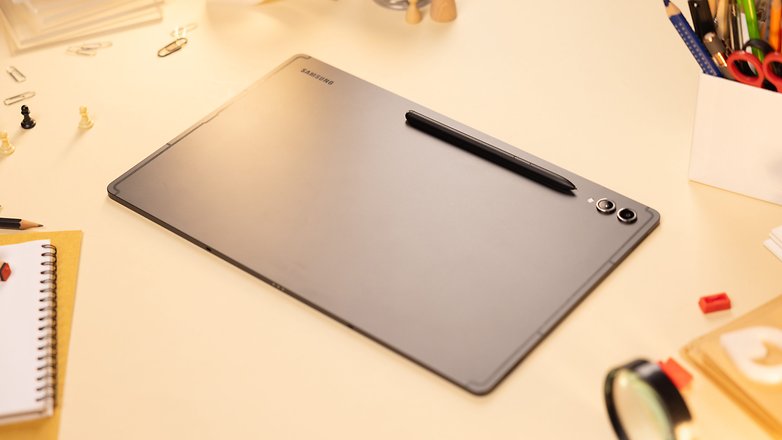 The Samsung Galaxy Tab S9 Ultra's form factor does confound the mind at first glance. The tablet itself is massive, with dimensions measuring 208.6 x 326.4 x 5.5 mm and tipping the scales at 732 g for the Wi-Fi model. Strangely enough, I found it to be very slim to carry around and not all that unpleasant to hold despite its weight.
At the same time, given the surface area available in the huge chassis, the components inevitably have more room within with better distribution due to its width. This makes the Galaxy Tab S9 Ultra considerably thinner than most high-end smartphones. The presence of rounded corners and straight edges provide it with a good grip.
The magnetic attachment of the S Pen at the back is quite reliable, although it had a nasty tendency to fall out when I remove the tablet from its protective cover. To be honest, I would have preferred a slot INSIDE the tablet to store the stylus, just like the Samsung Galaxy S23 Ultra (review).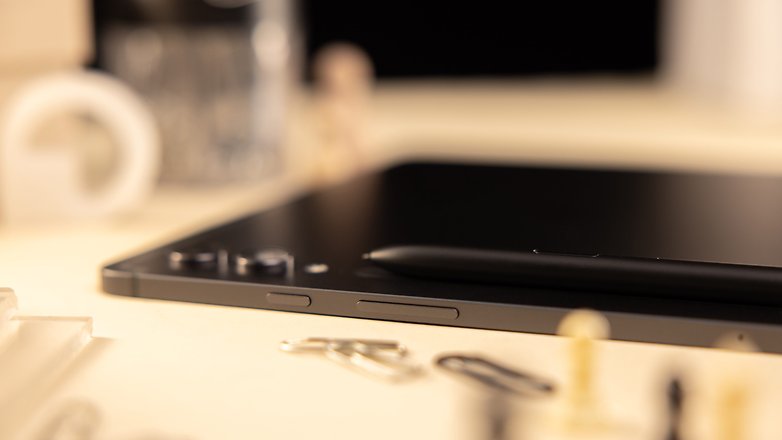 The finish of the Samsung Galaxy Tab S9 Ultra does feel premium. The aluminum frame is accompanied by a back and screen that are protected by Gorilla Glass 5. For added durability, the tablet is IP68-certified for water and dust resistance. This means you can use it outdoors, be it while raining or by your pool, without any worry at all. Considering I'm not a millionaire, I don't have a swimming pool (nor a garden, a veranda, or a balcony) and even if I did, I'd never leave a $1,200 device out in the rain. Hence, why tempt fate?
Personally, I found the matte back a little too neutral. I would have liked to see a slightly more iconic look to make it clear from the start that this is an ultra-premium Samsung tablet. However, that is a minor detail. The coating remains well-done and pleasant to the touch.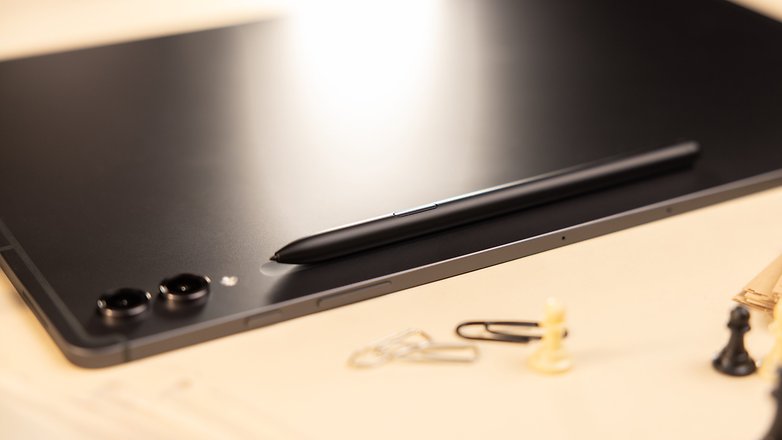 Samsung Galaxy Tab S9 Ultra display
The Samsung Galaxy Tab S9 Ultra features a 14.6-inch AMOLED display. The refresh rate can go all the way to 120 Hz with a maximum brightness of up to 1,750 nits. With its 2,960 x 1,848 resolution, the Galaxy Tab S9 Ultra's screen is perfectly suited to multitasking and gaming.
---
Pros:
A flawless Samsung screen.
HDR10+.
Refresh rates from 30 to 120 Hz.
Good brightness level even when outdoors.
The 14.6-inch screen is perfect for displaying several windows simultaneously.
Cons:
Samsung's ever-so-slightly saturated colors.
The ugly notch at the top of the screen (WHY??).
---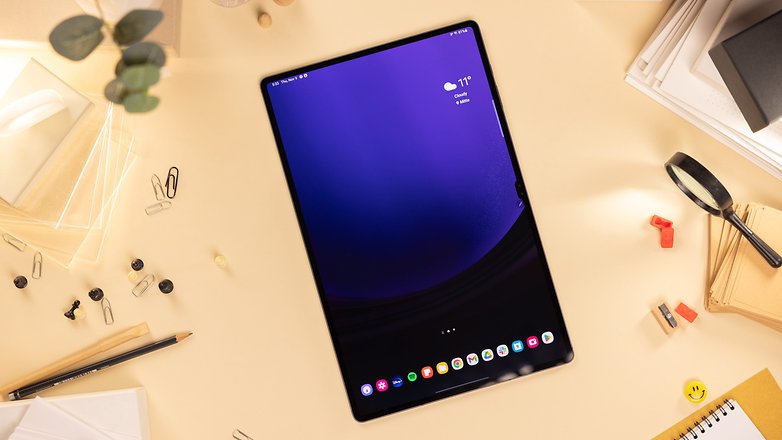 My primary use for the Samsung Galaxy Tab S9 Ultra is for work, ditching my laptop in the progress. Oh yes, it also doubles up as a screen for cloud gaming.
In both cases, the enormous 14.6-inch surface area is optimal for taking full advantage of both use cases. There is plenty of room to look at. You can display several applications in windowed mode when multitasking and with DeX mode which I'll talk about below, you can be really productive in your work without feeling restricted by the virtual workspace.
I spent a few dozen hours playing Starfield on the Samsung Galaxy Tab S9 Ultra via Xbox Cloud Gaming. The tablet is fully capable of displaying the 1080p resolution at 60 FPS as offered by Xbox Game Pass. Everything ran fluidly and the screen is large enough that you don't need to peer closely at the tablet to view every detail of the game.
I didn't have much opportunity to use the tablet outdoors. Firstly, I'm an underpaid journalist who spends his time in the office or in his 14m2 bedroom. The other reason is, I still have a modicum of self-respect and I'm not going to embarrass myself by going out with my tablet under my arm like a college professor or a boomer at a Kid Rock concert.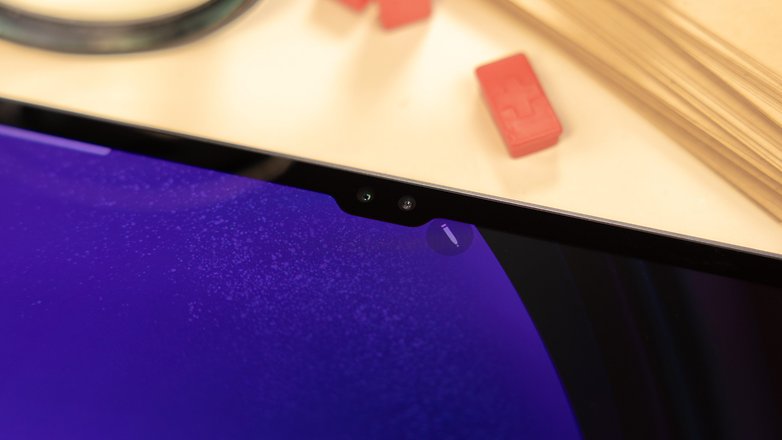 However, the adaptive brightness of the Samsung Galaxy Tab 9 Ultra ensures good legibility under all circumstances, even when one is under direct sunlight with the Vision Booster mode enabled.
The only flaw in the Samsung Galaxy Tab S9 Ultra's screen, in my opinion, is the notch. What's wrong with it? A few years ago, Samsung literally spent millions of dollars on an advertising campaign to mock Apple and its iPhones with their ugly notch. Fast forward to 2023, on Samsung's most expensive tablet, there is a notch that sticks out in the middle of the screen like a sore thumb.
It is really the most rotten idea of the year. Why ruin the immersion of this superb screen with a notch that could very well have been just a punch hidden behind a black bar? Samsung was one of the main manufacturers to adopt the punch-hole camera in its smartphones, making this notch an incomprehensible choice.
This becomes especially pronounced as the dual selfie camera housed in this notch could have been a simple camera, given the mediocre quality of the additional ultra-wide angle lens. There is no Face ID-style facial recognition technology here either, of which would have justified this design choice somewhat.
Interface/OS
The Samsung Galaxy Tab S9 Ultra runs under One UI 5.1, Samsung's Android 13-based skin. It will receive four Android updates and five years of security updates.
---
Pros:
4 Android updates and 5 years of security updates.
Comprehensive multitasking functions.
Intuitive S Pen.
More applications are available in the tablet format.
DeX mode is simply brilliant.
Cons:
No monthly security patch.
Totally useless Link to Windows mode.
---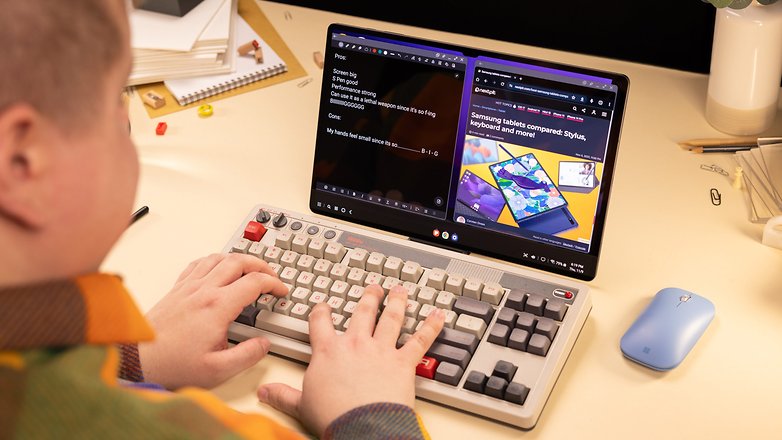 A quick word about updates. I'm currently stuck on the August 2023 security patch. In terms of frequency and punctuality, we've seen Samsung do better. I think it's a shame that Samsung only offers quarterly updates on its tablets, even more so with the most expensive models.
Back to the user interface: With the Samsung Galaxy Tab S9 Ultra, you have two choices, classic tablet mode and DeX mode (no, not the other DeX mode that lets you connect your Samsung smartphone to an external screen and keyboard/mouse).
In classic tablet mode, the default interface is the familiar One UI 5.1 interface. If you'd like to find out more, check out our full One UI 5 review. Widgets, pop-ups, split screen—if you've got a Samsung smartphone, especially a foldable one, you won't be disappointed with this.
DeX mode is the major advantage of the Samsung Galaxy Tab S9 Ultra. It is also this mode that you'll be using most often. It adapts the tablet's interface to create a more PC-like experience. You will automatically switch to landscape mode (it's impossible to remain in portrait mode) and your home screen tries to emulate what you might find on a Windows desktop.
DeX mode makes the tablet format and large screen of the Samsung Galaxy Tab S9 Ultra all the more relevant. The taskbar at the bottom of the screen contains all your shortcuts, all your open apps, and a quick access menu. You will also be able to find the calendar, among others, there. If you were to connect a wireless mouse to the Galaxy Tab S9 Ultra in DeX mode, it will be able to support right-click actions.
This may sound silly to you, but it's a really big, big plus. On the iPad, for instance, you have to tinker around to get the right mouse click. Even then, it remains contextual and reserved for certain situations. In any case, as far as I know, I'll let you insult me in the comments if I'm wrong.
With DeX mode, multitasking is also much more intuitive with the mouse. You can manage the size and layout of floating windows more easily, especially those you want to display in the foreground or background and those you want to pin. Navigation also becomes much more intuitive than using the touch screen.
Most applications will also launch in desktop mode, so you don't have to worry too much about the functional limitations of mobile versions. This is especially useful if you work with spreadsheets regularly.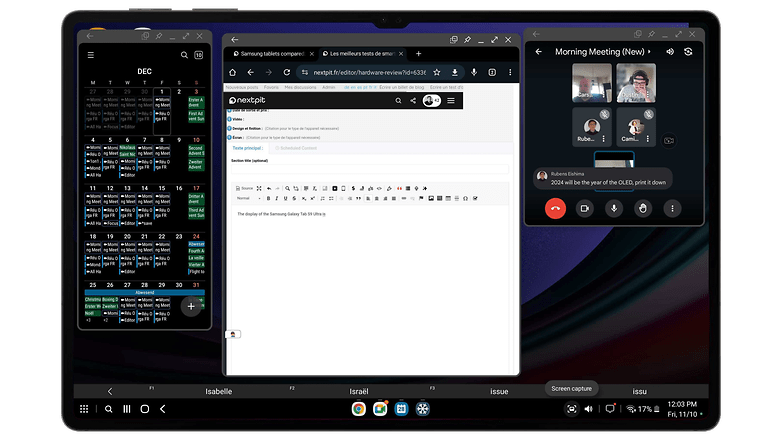 I've been working on the Samsung Galaxy Tab S9 Ultra on a daily basis, and frankly, the experience impressed me. I'll let you know if you'd be interested in a full review of DeX mode, even though most of the time you ignore me when I make such suggestions.
There is one really lame function on the Samsung Galaxy Tab S9 Ultra is Link to Windows. This function, which isn't new, lets you cast your tablet's content onto your PC and "control" the Galaxy Tab S9 Ultra from your Windows PC. The connection is made easily by scanning a QR code.
The problem with this function is how useless it is. You can launch applications from your tablet on your PC screen. However, it's so slow that it's frustrating. Worst of all, the photo/video management is a pain. You can access media on your Samsung tablet but if you want to import photos, for instance, you have to do it one by one. This is totally inane. I never used this function again after my first attempt for review purposes.
A final word in this never-ending section about the S Pen. Nothing has changed as we have exactly the same range of functions. I really like the fact that you can transfer files between two applications with it. It's ultra-convenient.
The ability to scribble shapes or lines and format them for clean-up is also very handy. A zigzag line becomes a perfectly straight line, a rough circle becomes perfectly smooth. This is handy for annotating your note-taking or creating simple infographics on the fly.
Handwriting recognition leaves a little to be desired, however. My results were very inconsistent, and sometimes totally off the mark. It's a pity, because sometimes it's much more convenient to scribble a note than to type, especially on the virtual keyboard.
The Samsung Galaxy Tab S9 Ultra is sold with the S Pen included. This is also the case for the Tab S9 and S9+. This is a very good thing, especially as Apple takes the opposite route, charging $129 for its Apple Pencil 2.
Samsung also sells a Book Cover keyboard separately for... $349.99!!! If your budget is more limited, you can also opt for the Slim version of this keyboard known as the Book Cover Keyboard Slim which retails for $199.99.
Performance & SoC
The Samsung Galaxy Tab S9 Ultra features a Snapdragon 8 Gen 2 SoC from Qualcomm. The chip is mated to either 12 or 16 GB of RAM and 256 GB, 512 GB or even 1 TB of storage. Storage is expandable via microSD up to 1TB.
---
Pros:
Top performance.
Zero overheating and zero thermal throttling.
Gaming at a constant 60 FPS easily.
Cons:
---
For 3D or 2D mobile games, you won't have any performance worries with the Samsung Galaxy Tab S9 Ultra. Samsung's tablet can run anything at a constant 60 FPS, with graphics pushed to the max. In both tablet and DeX modes, I experienced no slowdowns when multitasking.
Samsung Galaxy Tab S9 Ultra
SoC
Snapdragon 8 Gen 2
3DMark Wild Life
Too powerful
3DMark Wild Life Extreme
3,904
3DMark Wild Life Stress Test

Best loop: 13,721
Worst loop: 11,261

| | |
| --- | --- |
| 3DMark Wild Life Extreme Stress Test | |

Best loop: 3,896
Worst loop: 3,353

Geekbench 6

Single: 2,046
Multi: 5,518
It's a real pleasure to play on the Samsung Galaxy Tab S9 Ultra. However, you'll have to invest in a wireless controller because the tablet's form factor is clearly not suitable for touch controls.
This happens when you hold the tablet as I'm doing in the photo below. Do take note that on some competitive FPS titles, professional gamers will lay the tablet flat on their table and literally glue their eyes to the screen, using all their fingers to play with the touch controls. There are even silicon thumb covers that claim to provide a better grip when swiping across the screen as you aim or move.
However, I digress and have just lost the remaining 10 readers who had the patience to read the "Interface/OS" section aboveha and who must already have skipped to the end.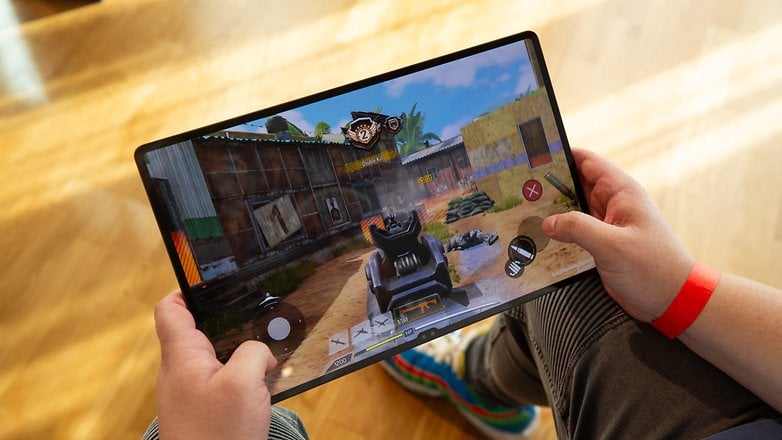 The Samsung Galaxy Tab S9 Ultra's performance stability is also exemplary. In the 20-minute 3DMark Wild Life Stress Test benchmark, the tablet achieved a stability rate of 82.1%. That's a very good score.
The temperature never exceeded 25°C, even on the even more demanding 3DMark Wild Life Extreme Stress Test. A smartphone usually reaches 40 or even 45°C easily, even on a gaming smartphone. The Samsung Galaxy Tab S9 Ultra's temperature control is exceptional, and Samsung has taken full advantage of the distribution of components made possible by the tablet's large form factor.
If you're looking for gaming without any thermal restrictions, this is the tablet for you.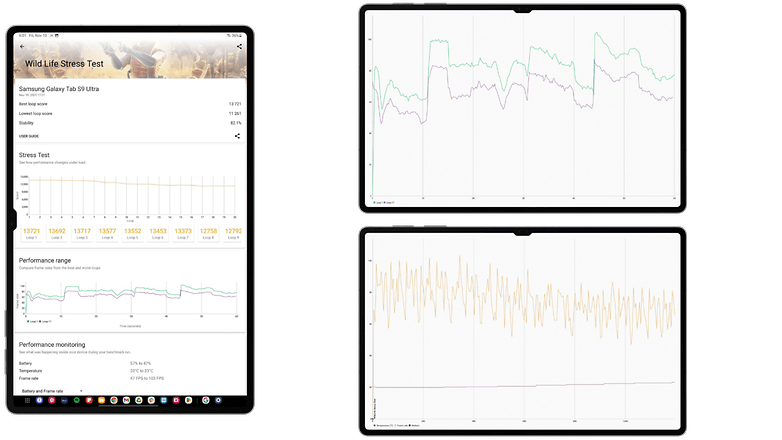 Camera & video quality
The Samsung Galaxy Tab S9 Ultra features two dual camera modules, one in front and the other at the back. Both feature a main lens and an ultra-wide angle lens.
---
Pros:
Good selfie quality with the main front camera.
Good quality with the main wide-angle lens on the back.
Good video quality for video calls.
Correct selfie portrait mode.
Cons:
Poor front and rear ultra-wide angle lenses.
Digital zoom is useless.
---
I'm going to pass over this section very quickly. I still haven't fully recovered from the shame of going out and taking photos with a tablet in public. Who does that?!?!?
The rear camera module incorporates a 13 MP main lens with autofocus and an 8 MP ultra-wide angle lens. The resolutions aren't great at all, and you cannot expect exceptional rendering.
The front camera module features a main lens and a 12 MP ultra-wide angle lens. The ultra-wide angle lens is handy for group video calls.
In any case, who is really going to actively use the rear camera module on their Samsung Galaxy Tab S9 Ultra? It will be the front module that you'll primarily use for video calls.
The quality of selfies or videos with the main front camera is pretty good, I think. There's a nice degree of detail, and you can make out the insignificant hairs on my prepubescent mustache. I also found the colorimetry to be rather accurate. The ultra-wide angle selfie camera, on the other hand, offers mediocre performance. There's far too much distortion at the edges of the image, which becomes blurred, not to mention extremely low exposure as the sensor is unable to capture enough light.
Portrait mode offers rather clean shots in selfie mode, and the cropping and sharpness of the subject in the foreground are just right, in my opinion.
Finally, the rear camera module performs well at wide-angle with the main lens. The ultra-wide angle suffers from the same problems as the front camera of the Samsung Galaxy Tab S9 Ultra.
As for digital zoom which goes up to 8x magnification, it is too limited. Details become lost beyond 2x.
Battery life & recharging
The Samsung Galaxy Tab S9 Ultra features a large 11,200 mAh battery. This accepts 45W wired charging but not wireless charging, which is a shame. You can, however, use the tablet as an external battery and recharge your smartphone via USB-C via reverse wired charging.
---
Pros:
Adequate battery life of a day and a half.
Reverse wired charging supported.
Cons:
Slow charging speed.
No wireless charging supported.
No charger unit included.
---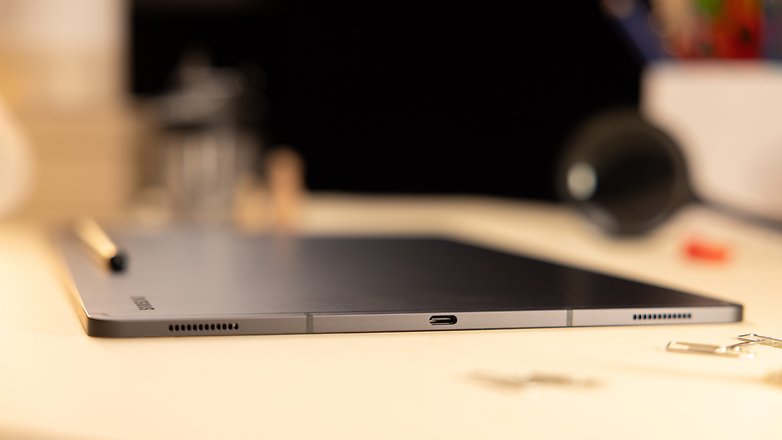 On paper, the battery capacity of Samsung's flagship tablet is huge. In our PC Mark benchmark, the Samsung Galaxy Ta S9 Ultra lasted a whopping 10 hours 42 minutes before dropping to below 20% battery life.
In real-world use, you can easily last a day and a half with regular office or multimedia use. With intense gaming use, don't expect it to last for more than a day.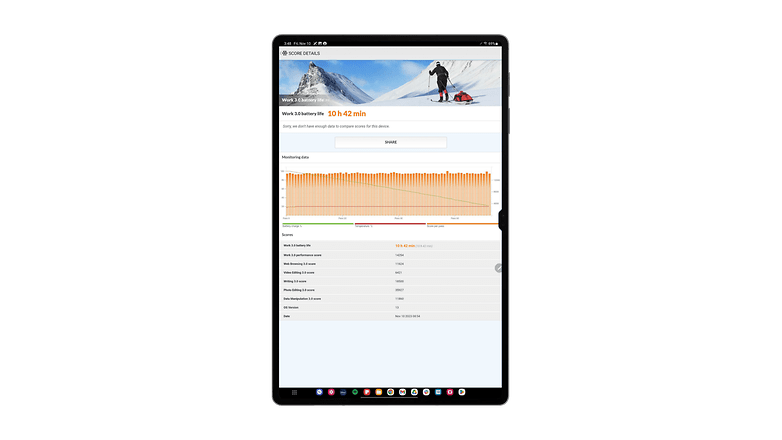 If we were to compare this performance with much more affordable Android tablets, the Galaxy Tab S9 Ultra clearly doesn't offer the best battery life. However, the huge 14.6-inch AMOLED display and powerful Snapdragon 8 Gen 2 SoC aren't exactly skimping on energy.
Still, if you're sticking to a mixed usage pattern, essentially including working and watching a few movies, I think it's more than enough. This is good, if not a little better (but not by much) than the iPad Pro 12 M2 (review).
Samsung Galaxy Tab S9 Ultra technical specifications
Technical Specifications
Device
Samsung Galaxy Tab S9 Ultra
Image
Dimensions & Weight
208.6 x 326.4 x 5.5 mm | 732 g (Wi-Fi) / 737 g (5G)
Screen
14.6-inch | AMOLED | 2960 x 1848 p | 60-120 Hz
SoC
Qualcomm Snapdragon 8 Gen 2
Memory
12 GB RAM | 256/ 512 GB storage
16 GB RAM | 1 TB storage
Expandable storage?
✔️
OS
One UI 5.1 | Android 13
Main photo lens
13 MP | AF
Ultra-wide angle lens
8 MP
Selfie lens
12 MP | wide angle
12 MP | ultra-wide angle
Battery
11,200 mAh
Audio
4 stereo speakers | Dolby Atmos
Connectivity
Wi-Fi 6E | Bluetooth 5.3
IP rating
IP68
Colors
Beige, Graphite
Price
$1,199
Conclusion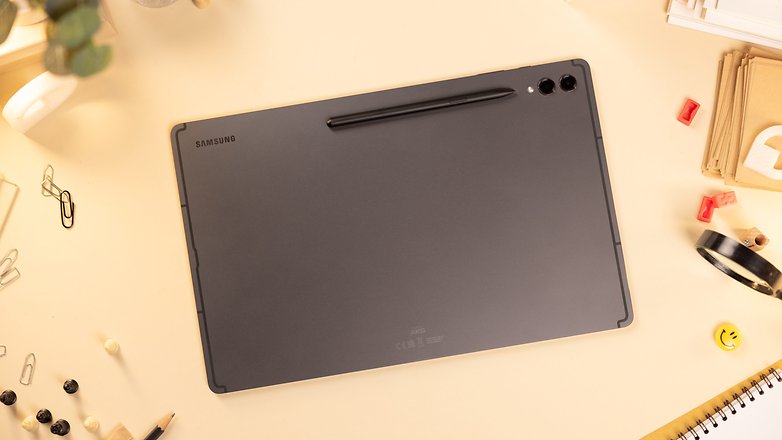 The Samsung Galaxy Tab S9 Ultra impressed me by the end of the review. The design is minimalist and uncluttered, if not a little too sober for my taste. The screen is simply sublime, and it's a real pleasure to play on this tablet. Samsung has also taken full advantage of its flagship tablet's large screen diagonal to optimize multitasking.
What really won me over was Samsung's DeX mode. It is really one of the most successful attempts to date on the Android platform to transform a tablet into a genuine laptop replacement.
But at $1,199 a pop for the basic model without 5G, is it really that good an investment? At that price, you can get a fairly decent laptop for office use or a "light" multimedia (no heavy gaming, obviously) device.
Personally, I think I'd be hard-pressed to live without a good old laptop. I also cannot see myself spending over $1,000 on a tablet that I'd use as a back-up for work purposes or while I am on the move. However, if my budget allowed it, perhaps I'd change my mind.
In any case, I think the Samsung Galaxy Tab S9 Ultra is the best Android tablet on the market. My experience with Apple goes all the way back to the iPad 8, so my opinion isn't worth that much. However, I do think Samsung's Galaxy Tab S9 Ultra is a more than serious competitor to Apple's latest iPad Pro.
What do you think of the Samsung Galaxy Tab S9 Ultra after reading this comprehensive review from nextpit? Do you plan to buy one of Samsung's new Android tablets? Would you consider replacing your laptop or old iPad with the Galaxy Tab S9 Ultra?
To find out more, take a look at our Samsung Galaxy Tab S9 FE and S9 FE+ reviews as well as our comparison of the best Android tablets you can buy in 2023.