Samsung Galaxy Tab S9 FE+ Review: S-Class Looks Meet A-Class Performance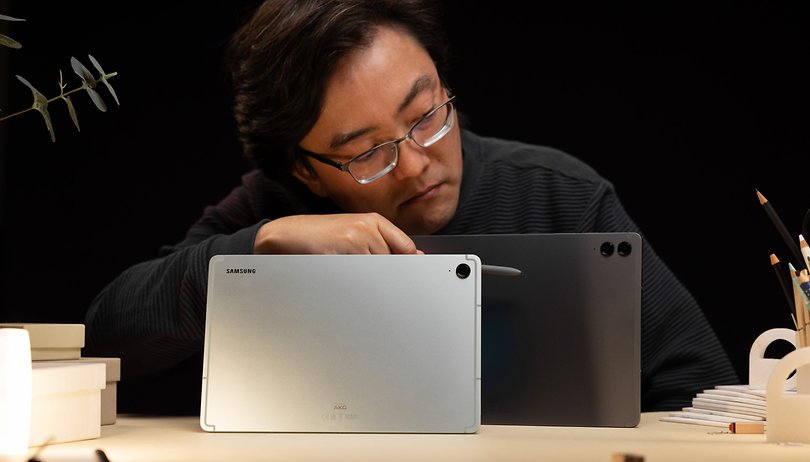 Samsung's fans are spoiled for choice in 2023. Not only is there (in some countries) the S23 FE premium smartphone, but the South Korean company also sells the new Galaxy Buds FE earbuds and today's highlight: The Galaxy Tab S9 FE duo. We tested both the standard and plus models, and tell you if the tablets really deserve the "Fan Edition" tag.
Good
Nice design

IP68 water and dust resistance

Bright 90 Hz LCD screen

Excellent (S9 FE+) or Good (S9 FE) battery life

Good (and loud!) dual stereo speaker

S Pen included in the box

45 W wired charging
Bad
Average performance level

Disappointing camera results

Relatively expensive
Samsung Galaxy Tab S9 FE+: All deals
In a nutshell
Both Galaxy Tab S9 FE models were announced during the "Fan Edition" extravaganza in October 2023 together with the Galaxy Buds FE and the rather uninspiring Galaxy S23 FE. Both the Tab S9 FE and Tab S9+ FE inherit the premium look from the flagship Tab S9 line of tablets but at a lower price point, starting at $449.
| | Galaxy Tab S9+ FE | Galaxy Tab S9 FE |
| --- | --- | --- |
| Memory options and prices | | |
Depending on the retailer, it is possible to get bundles with accessories, including covers, and even discounts with carrier plans on the 5G option, which for the US is exclusive to the base model on its lowest storage option (MSRP: $549.99).
New for the Galaxy Tab S9 FE models is the IP68 rating for water and dust resistance, just like the flagship Tab S9 models. Compared to the previous generation Tab S7 FE (there was no fan edition for the Tab S8 generation) there is also an upgrade in the display's refresh rate, which now updates at 90 Hz.
For added convenience, Samsung includes the S Pen in the box with the Tab S9 FE models, just like in the previous models. But the charger you will need to buy separately, especially if you want to use the full 45 W maximum input power.
Design and display
The Galaxy Tab S9 FE tablets offer a premium look with an aluminum back that matches the flagship Tab S9 models. On the front lies the first main difference, with the base model sporting a 10.9-inch display, while the FE+ model offers a 12.4-inch screen, both with 90 Hz IPS LCD panels underneath.
---
Pros:
Premium design with aluminum frame and back.
IP68 water and dust resistance.
Bright display with 90 Hz refresh rate.
Cons:
---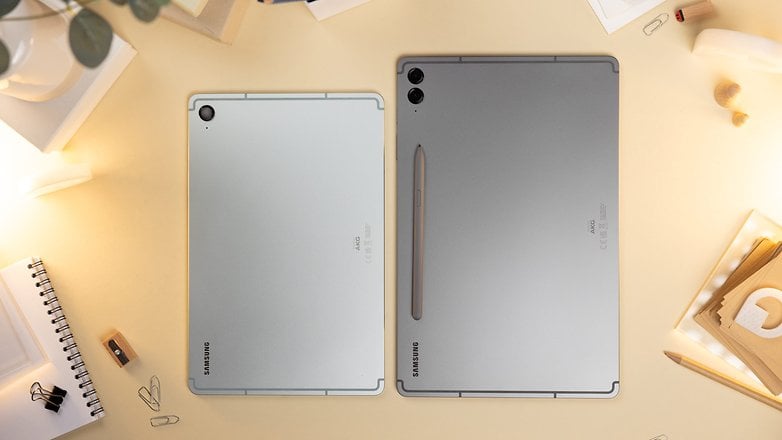 The overall design and build quality of the Galaxy Tab S9 FE models not only matches the more expensive models in the family, but also the rival iPad models in the same price range. What the Apple tablets don't offer, however, is the IP68 rating found in the Samsung tablet, which can resist even some brief dips in water.
While flagship tablets (and laptops) started to adopt OLED screens recently, the Galaxy Tab S9 FE is equipped with excellent IPS LCD panels. The display is bright, with the usual good viewing angles and colors of IPS panels, and the refresh rate is a smooth 90 Hz, which can be set down to 60 Hz if you prioritize battery life.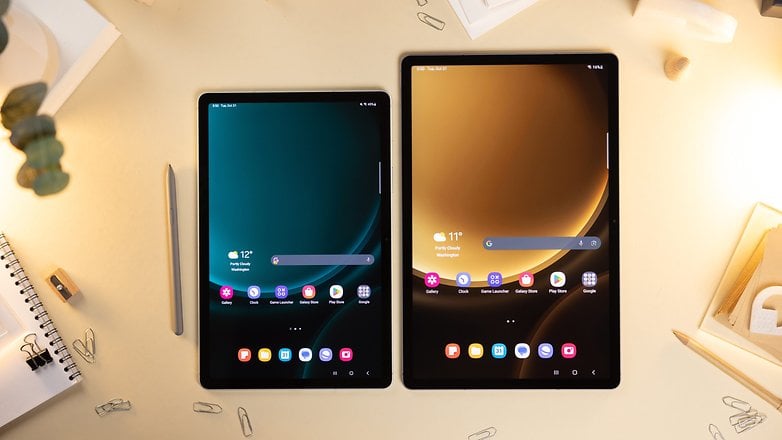 Performance and software
While the design of the Galaxy Tab S9 FE comes straight from the flagship family, the processor is a clear step-down. The Exynos 1380 powering the Tab S9 FE duo is the same one found on the Galaxy A54 smartphone, which while good, does offer a noticeable drop in performance compared to the Snapdragon 8 Gen 2 on flagship tablets, or even competing chips on equivalent-priced iPad models.
---
Pros:
Good performance in daily tasks.
microSD card reader.
Included S Pen.
Support for multiple users, with biometric login.
Cons:
Gaming performance leaves to be desired.
Bundled apps with pen features are trial only.
---
In daily tasks like browsing the web, social media, or talking over messaging apps, the Exynos performance is more than sufficient, even with the 90 Hz refresh rate, animations and scrolling are fluid. Opening apps and loading game stages are fast enough, thanks to the UFS storage and RAM.
Galaxy Tab S9 FE+
Exynos 1380
Galaxy Tab S9 FE
Exynos 1380
iPad 10
Apple A14
Pixel Tablet
Tensor G2
Galaxy Tab S9 Ultra
Snapdragon 8 gen 2
Fire HD 10 (2023)
MediaTek MT8186
3DMark Wild Life Stress Test

Worst loop: 2926
Best loop: 2951

Worst loop: 2954
Best loop: 2981

Worst loop: 6957
Best loop: 7614

Worst loop: 6516
Best loop: 6624

Worst loop: 714
Best loop: 722

Geekbench
Gaming performance, however, reveals the limitations of the Exynos chip, betraying its mid-range origins. In synthetic benchmarks, the Galaxy Tab S9 FE delivers less than half the performance of comparably priced devices like the iPad 10 and Pixel Tablet.
It offers only about a third to a quarter of the gaming prowess found in the flagship Tab S9 Ultra, for which we expect to have final scores shortly.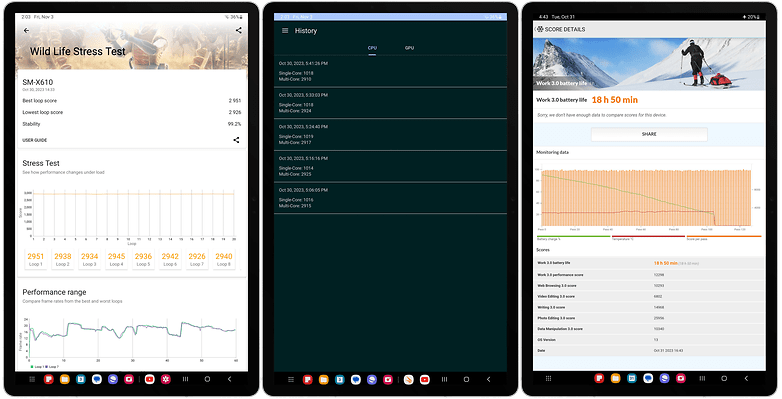 In practice, the Galaxy Tab S9 FE could still run games, obviously, but with a much lower graphical setting. Genshin Impact, for example, was playable, but the game had to be set with all options down, resulting in a very pixelated gaming experience, particularly on the FE+ big 12-inch screen with a 2560x1600 native resolution.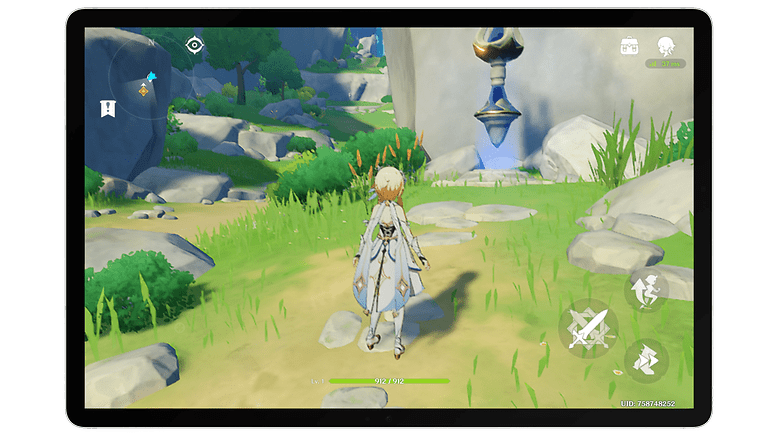 Media playback
On the media playback front, the Galaxy Tab S9 FE tablets performed really well, especially the 1600p FE+ model with its bigger and higher-resolution display. The Exynos chip is more than capable of rendering media from the most popular streaming services, and the dual stereo speakers surprised with their performance.
Audio separation was nice, and despite being side-firing speakers, they managed to create a decent soundstage. Of course, as soon as you watch videos in portrait orientation (you monster!) the limitations of a dual speaker system versus a quad setup become evident.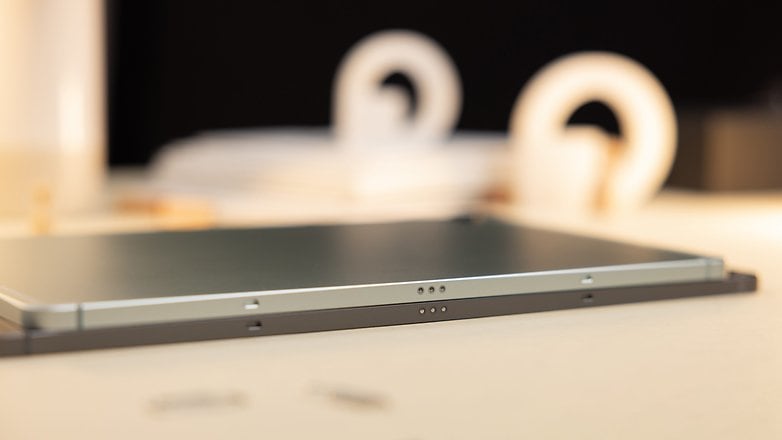 Software
One area in which the Galaxy Tab S9 FE tablets are on the same page as their flagship alternatives is the software support. They come with Android 13 running One UI 5.1 and are promised four system upgrades and five years of security updates like the premium models.
Samsung includes a bunch of third-party apps by default on its mid-range tablets, including the usual Microsoft bundle, Netflix, Spotify, and the "Galaxy Picks": Optional apps for painting and note-taking with a free trial. In an ideal world, they would be free and with no account requirements, but we don't get that option.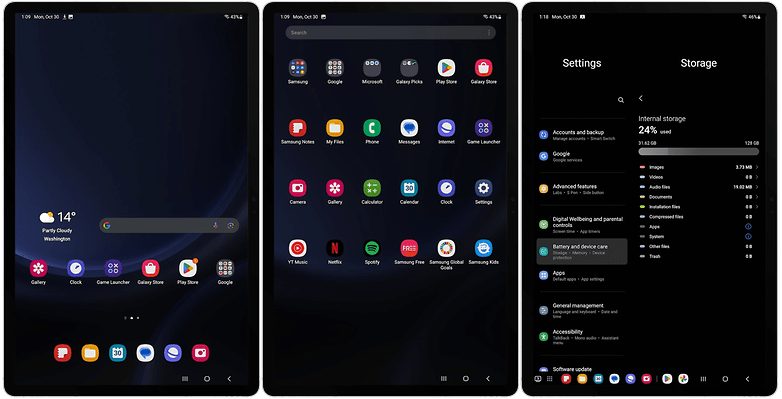 Two apps, Clip Studio Paint and Goodnotes are a nice way to put the included S Pen to use, but you can also take notes quickly on the Samsung Notes app, which also offers the option to convert your handwriting to readable text with OK results in our tests.
There is also Dex mode, with a traditional PC-like desktop, including windows management options, and support for external displays. On the other direction, you can also use the Galaxy Tab S9 FE as a Miracast/Wireless Display screen, but in our tests, the latency was too high to be properly used as a secondary PC display (static text worked fine, however).
Additionally, Samsung includes the Flow app to integrate contents on the tablet with a connected phone or PC. On supported Windows computers, you can even mirror the tablet screen and notifications, while also sharing photos and videos between devices.
Those features can also be achieved using Microsoft's Link to Windows app. Flow also allows you to quickly enable the hotspot function on a Galaxy phone, and if you use Samsung Pass, you can even restrict access to your PC account using the phone or tablet's biometric features.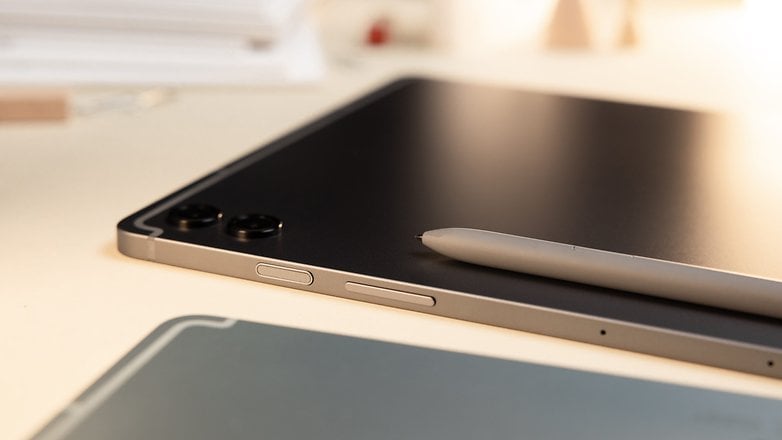 Speaking about biometrics, the Galaxy Tab S9 FE tablets include a fingerprint reader on the power button. During our tests, detection worked well for logins, which should help families with multiple accounts set up on the tablet. Each user has to go through their own initial setup, like on a factory reset system, and can have their own apps, and separate biometric logins.
One slightly annoying thing is that the user must switch to their profile on the lock screen to then try to log in with the fingerprint. If you try to log in on the tablet right after another user, the system will expect the previous user's fingerprint and will not go directly to the new user's home screen.
Samsung Galaxy Tab S9 FE+ camera
The camera hardware is one of the biggest differences between the two Tab S9 FE tablets. While both feature a 12-megapixel selfie camera and a 8 MP rear camera, only the FE+ model has a ultra-wide-angle camera, with the same 8 megapixels. As with most tablets, don't expect much from the cameras, but at least the front-facing sensor offers a good enough image for video calls.
---
Pros:
Good images on video calls.
Selfie camera in landscape orientation.
Cons:
Disappointing image quality.
---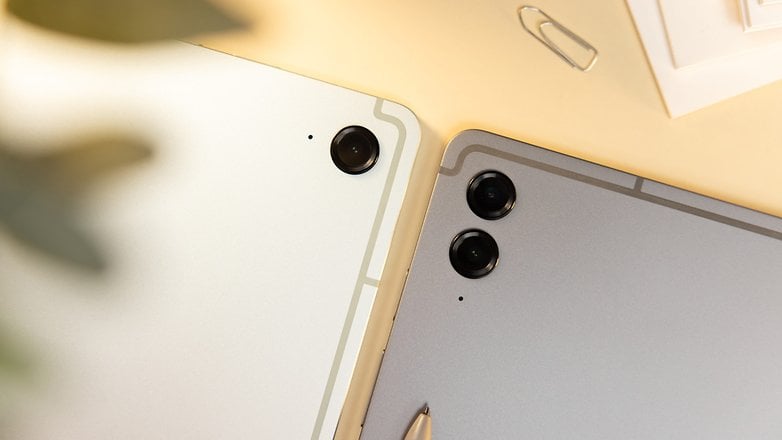 The lack of information about the camera features on the Galaxy Tab S9 FE from Samsung—which only lists the sensor resolution—helps keep expectations low, and seems to indicate how much the company expects users to take photos with the tablet. Still, they are good enough for a quick snap, scan a document, or a QR code.
In general, photos with the tablet's camera lacked definition, especially when seen on a big screen, and had muted colors. On the ultra-wide camera available on the Tab S9 FE, there were some differences in color rendering, but the results were similar to the main camera. In short, use your smartphone.
Selfie shots seemed to offer a better definition, and the front camera not only is placed in the landscape orientation ideal for video calls, video quality was good enough for company meetings, or a quick family reunion over video calls.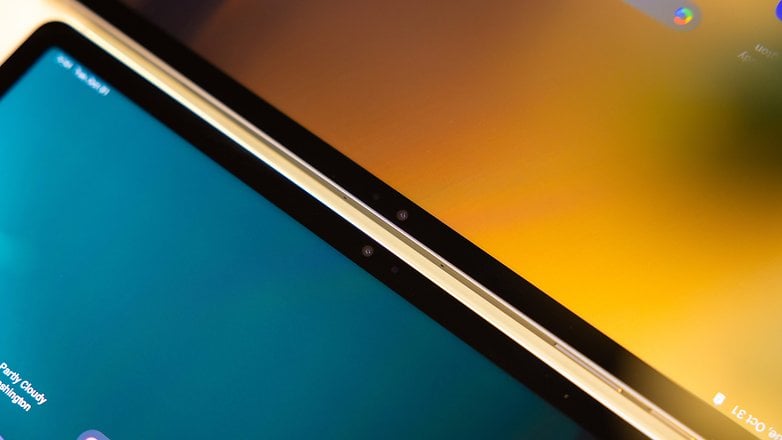 Samsung Galaxy Tab S9 FE+ battery
The Galaxy Tab S9 FE tablets are equipped with standard battery capacities for their respective sizes: 10090 mAh on the bigger Tab S9 FE+ and 8000 mAh on the Tab S9 FE. Both can be charged at up to 45 W using a compatible power adapter and offer decent battery life in general.
---
Pros:
Good battery life (excellent on the FE+).
Fast 45 W wired charging.
Cons:
No power adapter in the box.
---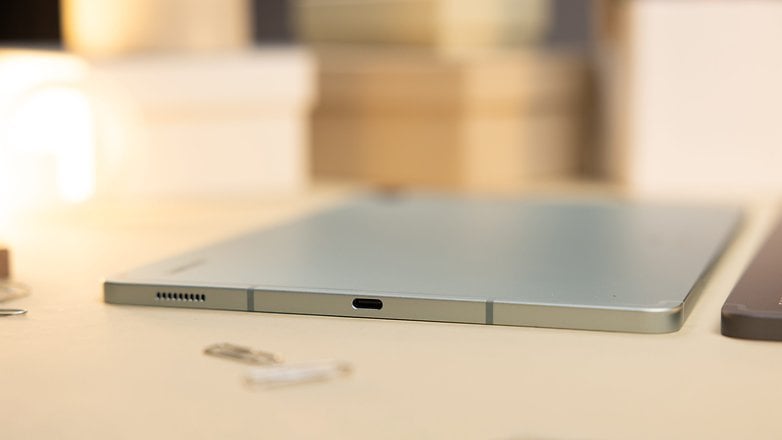 On the bigger FE+ model, the standard PC Mark battery test we use on smartphone reviews kept going stubbornly and returned a 18h50 score, which is impressive for a device that is not used as frequently as a smartphone.
When it comes to charging, Samsung doesn't include a charger, not even a low-power one like the one that was bundled with the Tab S7 FE. Charging the smaller Tab S9 FE with an adapter capable of supplying 45 W, we got very fast results, with a 73% charge in an hour, and a full charger in a little over 1h40.
Galaxy Tab S9 FE
(8000 mAh | UGreen 300W)
Galaxy Tab S9 FE+
(10090 mAh | UGreen 65W)
Pixel Tablet
(7020 mAh)
Xiaomi Pad 6
(8840 mAh | 33 W)
5 min
10 min
20 min
30 min
1 h
Full charge
PC Mark battery test

9h23 (144 Hz)
12h15 (60 Hz)

Note: The Tab S9 FE+ was tested using a lower-power charger that could not provide the full 45 W output.
Using a more standard charger, however, resulted in very long charging times, which was the case when we paired the big S9 FE+ with a Ugreen 65W that didn't offer the required amperage+voltage necessary for 45 W charging, something that Matt Zellmer investigated further comparing Samsung's 45 W charger on the Galaxy S23.
Something that would be nice to see, but is still very rare in tablets is wireless charging. Even Amazon, who offered the feature on the 2021 model of its Fire HD 10 tablet dropped it for the 2023 edition. With the new Qi 2.0 wireless standard adding support for magnetic docking, maybe we will see more tablets offering the option.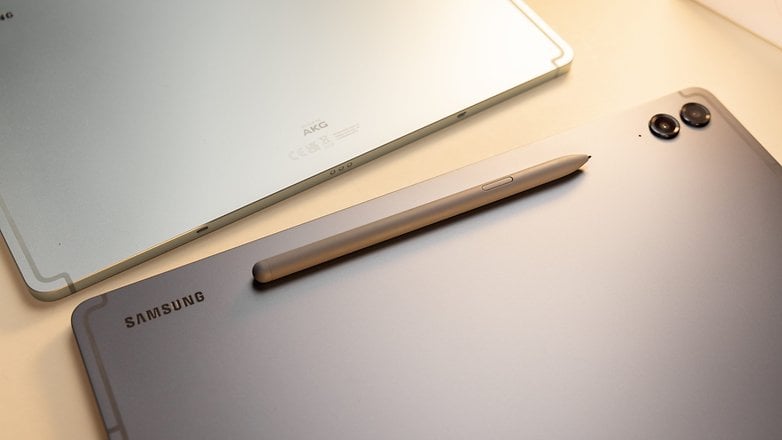 Samsung Galaxy Tab S9 FE+ technical specifications
Samsung Galaxy Tab S9 FE+
Samsung Galaxy Tab S9 FE
Picture
Display

12.4-inch LCD
2560 x 1600 pixels
90 Hz refresh rate

10.9-inch LCD
2304 x 1440 pixels
90 Hz refresh rate

SoC
Memory

8 / 12 GB RAM
128 / 256 UFS ROM

6 / 8 GB RAM
128 / 256 UFS ROM

OS

One UI 5.1.1 over Android 13
Four years of system upgrades
Five years of security updates

One UI 5.1.1 over Android 13
Four years of system upgrades
Five years of security updates

Camera

Main: 8 MP | f/1.9 | 28 mm | OIS
Ultra-wide: 8 MP | f/2.2 | 15 mm

Main: 8 MP | f/1.9 | 28 mm | OIS
-

Selfie Camera
Battery

10090 mAh
45 W wired charging

8000 mAh
45 W wired charging

Connectivity

Wi-Fi 6E | Bluetooth 5.3
Optional 5G

Wi-Fi 6E | Bluetooth 5.3
Optional 5G

IP Certification
Dimensions and weight

11.24 x 7.3 x 0.26 mm, 1.38 lb
185.4 x 285.4 x 6.5 mm, 627 g

10.01 x 6.53 x 0.26 in, 1.15 lb
165.8 x 254.3 x 6.5 mm, 523 g

Other points that may interest the nextpit community:

The Galaxy Tab S9 FE models do not have NFC, UWB, or eSIM support.
The review unit packaging included a charging cable and a microSD tray tool.
The software version during the test was One UI 5.1.1 (Android 13) with the August 2023 security patch.
After resetting the updated tablets, the operating system indicated 31.62 GB (FE+) and 31.92 GB (FE) of used space.
Final verdict
In a vacuum, the Galaxy Tab S9 FE tablets are interesting options for those looking for a premium device at an affordable price. Both models offer a nice design and excellent build quality, include the handy S Pen, productivity features, and are excellent media consumption devices.
However, while they are roughly in the same price category as the iPad 10 and the Pixel Tablet, their performance in more demanding tasks is noticeably lower. That difference can be especially noticed in graphic-intensive games, where image quality needs to be lowered significantly to offer playable frame rates.
The Galaxy Tab S9 FE generation brings welcome upgrades over the previous Tab S7 FE (12.4-inch) and Tab S6 Lite (10.4-inch), with better displays, water resistance, and improved battery life. But even considering that, it is hard to recommend the 2023 Fan Edition models over the competition, unless you are truly invested in Samsung's ecosystem.
In short, the review title may have already given away this conclusion. While the build quality and design merit the Galaxy S name and the Fan Edition suffix, the performance and camera quality fall into Galaxy A territory, or what might be called 'Lite Edition,' as my colleague noted while reviewing the previous-generation Galaxy Tab S7 FE.