Samsung Galaxy SmartTag 2 Review: Why You Should Wait Before Buying!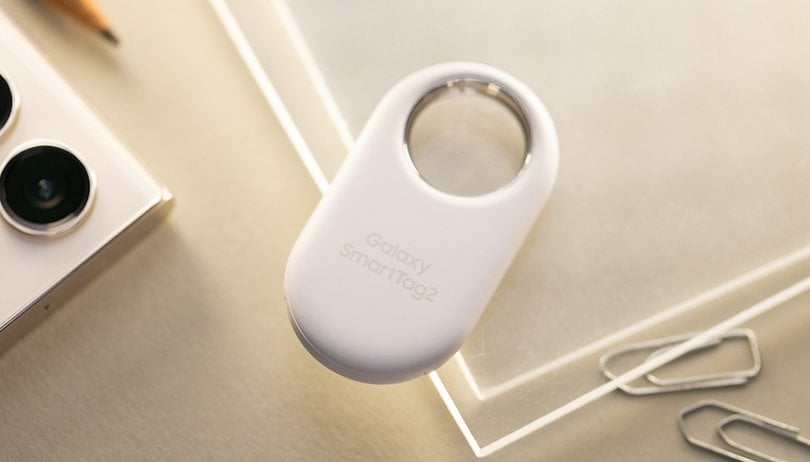 The Galaxy SmartTag 2 is the second generation of Samsung's line of smart trackers. It features some advantages when compared to rivals such as Tile, Chipolo, and even the Apple AirTag. Not even those, however, are enough for us to warrant a recommendation on the new model. Read below about the pros and cons of using the SmartTag 2 to not lose your keys, luggage, or pets, and why it is probably better to wait before purchasing one.
Good
Good coverage with the SmartThings network

Easily replaceable CR2032 battery

Does not require a case or accessories

UWB support with augmented reality finder
Bad
Smaller coverage than Apple's Find My network

Soon to be surpassed by Google's Find My network

SmartThings integration feels out of place

Requires a Samsung Galaxy device

Limited shared access
Samsung Galaxy SmartTag 2: All deals
In a nutshell
The SmartTag 2 was launched in October 2023 and was somewhat lost in the middle of many big announcements in the same time frame. The tracker features a different design from the original SmartTag, with a big metal loop that makes it easy to hook the tracker to keys, luggage, and other objects without needing a case or accessory, as the Apple AirTag requires.
The smart tracker works just like the previous generation (or its rivals AirTag, Tile, Chipolo, and many others), using Bluetooth Low Energy (BLE) to communicate with other people's Samsung Galaxy phones in public spaces and triangulate its location anonymously.
Being the largest smartphone brand in the world would, in theory, position Samsung to have the largest network. However, since the BLE (Bluetooth Low Energy) tracking feature is not enabled by default on Galaxy phones, the SmartThings network remains smaller than Apple's Find My network.
Samsung announced in March 2023 that there are more than 300 million devices in its network, a significant increase from the 200 million reported in July 2022. This number should be more than sufficient for urban areas, particularly in countries where Samsung has a substantial market share.
Samsung Galaxy SmartTag 2 design and build quality
The Galaxy SmartTag 2 (or SmartTag2) is a solidly built tracker with compact dimensions and a big metal ring to hook the tracker to a bag, keyring, or pet collar. It is also water and dust-resistant according to the IP67 rating.
---
Pros:
Does not require a case.
Easy to replace the CR2032 battery.
IP67 water resistance.
Cons:
---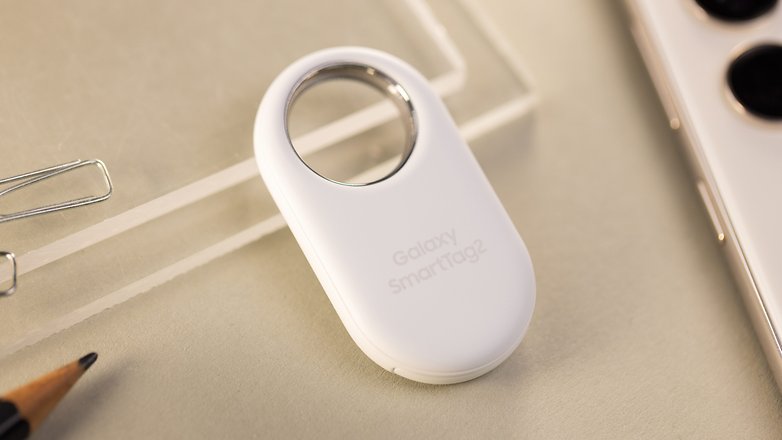 The metal ring makes the tracker look bigger than it actually is, with an overall size close to two keyrings next to each other: 28.8 x 52.44 x 8.0 mm (1.1 x 2 x 0.3 in), making it easy to carry with your keys or bag, and not weighting too much to place on a pet's collar at less than 14 grams (0.49 oz).
Another advantage of the ring is that it makes the SmartTag2 more resistant when pulling your keys out of a full bag, or when your pet scratches itself.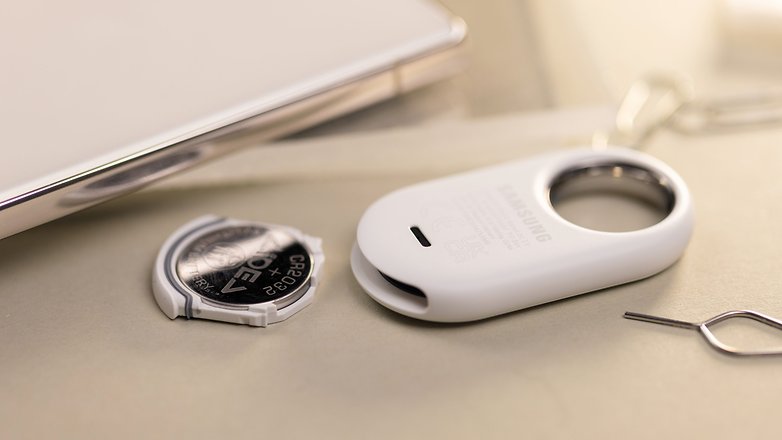 The Galaxy SmartTag2 comes with a tool similar to the ones used to open a SIM tray, but in this case, it ejects the battery tray. The tracker uses standard CR2032 batteries that are easy to find and replace. Samsung advertises up to 500 days in standard mode, which can be extended to up to 700 days with the power-saving mode available in the SmartThings app.
Setup and usage
The second-generation SmartTag comes in two color options with a single feature set, including support for both the medium-range Bluetooth Low Energy and the more precise Ultra-Wide-Band (UWB) available in the previous SmartTag+ and the rival AirTag.
---
Pros:
UWB tracking with AR features.
Cons:
Only works with Samsung phones and tablets.
No signs of being compatible with Google's Find My network.
---
For starters, the Galaxy SmartTag 2 launch timing is probably one of the worst in recent memory, with Google having already announced its own Find My Device network during Google I/O 2023. The new network will automatically become the biggest tracking network, being installed in practically billions of Android phones and tablets through a Google Play Services update.
During IFA in September, a Chipolo representative expressed some disappointment in Google's delay in launching its network beyond phones. With the company ready for some months to launch its new Point tracker family*.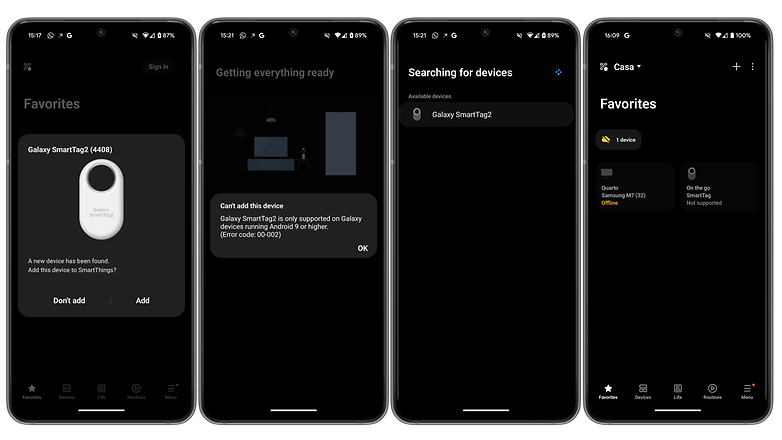 Another weak point of the Samsung Galaxy SmartTag 2 is that it only works with Galaxy phones and tablets, both for pairing and locating. Trying to pair the tracker to the SmartThings app installed on a Pixel or Apple smartphone returns an error message that cannot be bypassed. Similarly, trying to locate a SmartTag on another's brand phone displays a Not supported message (see above).
If you have a Galaxy tablet or phone, the setup is straightforward. Simply follow the standard steps to pair a device to the Samsung account on the SmartThings app. The app will detect the SmartTag 2 tracker and guide you through the required steps—including a firmware update.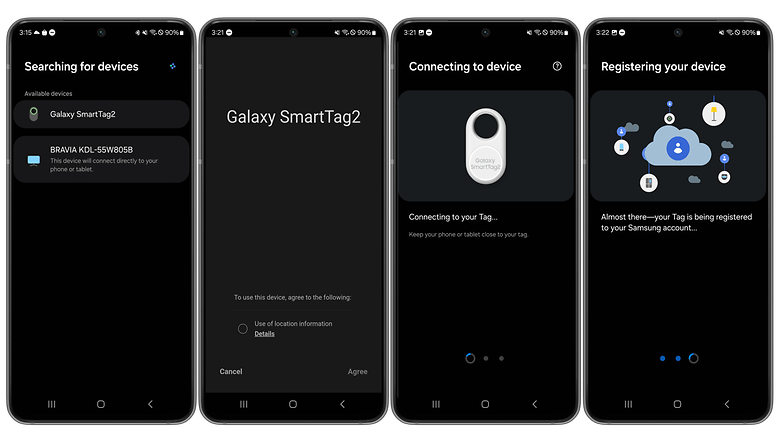 You can later rename each paired tag to something easier to remember, and associate with a location and room registered in the SmartThings app. Samsung advertises the latter feature as something that enables using the SmartTag with Bixby, but eventually, it starts to show how the SmartTag 2 is integrated into the bigger SmartThings ecosystem in an unnecessarily complicated way.
Finding the SmartThings Find section in the app is not complicated, but the tracker can be buried inside the Device tab depending on the number of Samsung devices associated with the account. Alternatively, you can go to the Life tab to reach the Find section responsible for locating not only the SmartTags associated with the account but also other Galaxy phones, tablets, and watches.
Lost and found
On the map interface, you can check the SmartTag approximate location and activate a couple of features. If you are outside its BLE range, you can set a navigation route to it, check the location history, and even the battery level. If the smartphone is near the tracker, you can play an alert sound on the SmartTag 2 that is sufficiently loud to find under the sofa.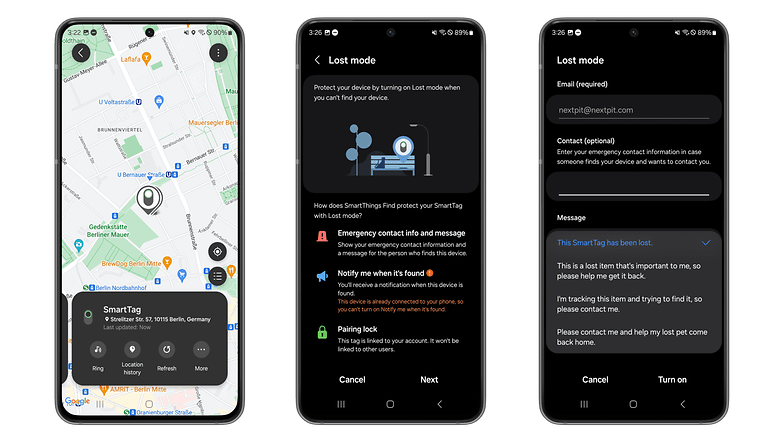 There is also Lost Mode, which sets a message to anyone who scans the SmartTag 2 using NFC, with the option of setting contact information.
Samsung claims the SmartTag 2 can exclusively be tracked by one SmartThings account at a time, regardless of the family settings on the SmartThings app.
The company claims it is a privacy feature, but it makes it harder for a couple to locate their pets, or to use your partner's phone to locate a bag if your phone runs out of battery, for example. The AirTag originally had the same limitation, but iOS 17 added the option to share a tag between profiles.
The SmartThings app has another limitation: It can locate unknown (stalking) tags around you, but only Samsung's own SmartTags. That shortcoming will be fixed with Google's Find My network, which will also offer the option to notify when an unknown AirTag is following an Android phone.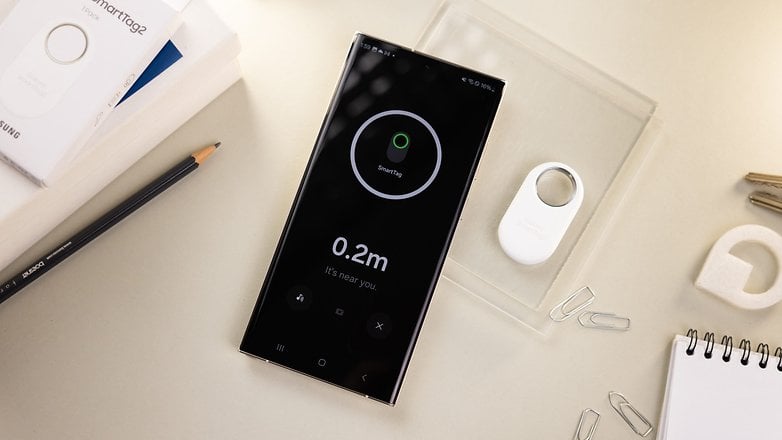 Augmented reality
But enough of negative points. For those invested in Samsung's ecosystem, the Galaxy SmartTag 2 works reliably well. Especially for those with a UWB-compatible phone. The low-power radio standard can be used to accurately find a nearby SmartTag 2, not unlike the iPhones with the AirTag, within UWB range the SmartThings app displays the approximate distance and location of the tag.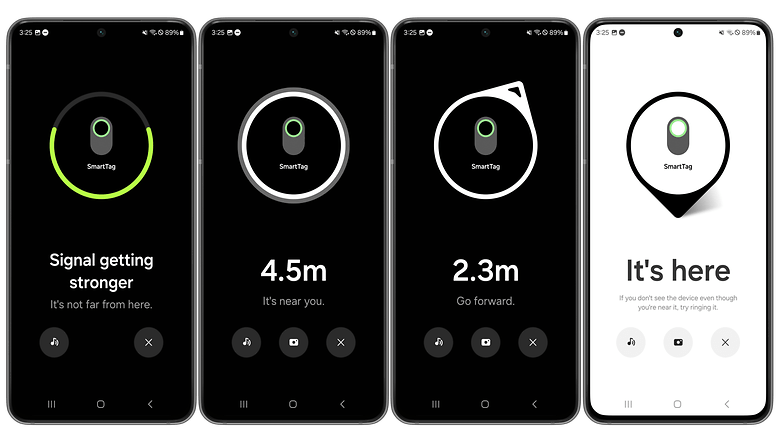 The margin of error was smaller than half a meter in our tests, even with some AirTags, Apple, and Google phones with UWB radio around. And as previously mentioned, you can trigger an alert sound to locate the SmartTag 2.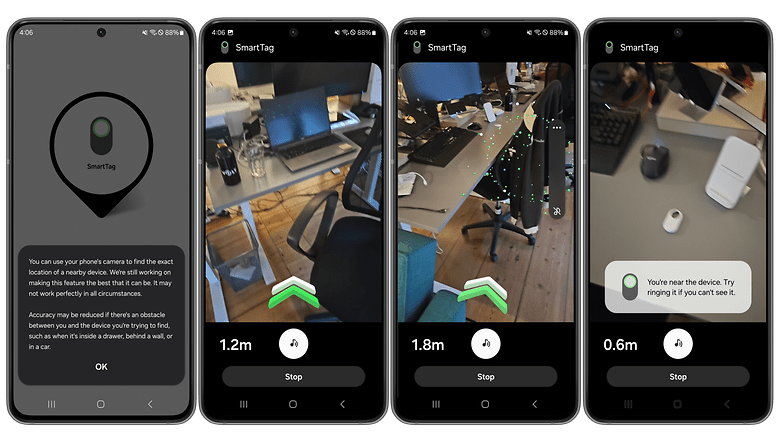 AR tracking is still labeled as a beta feature but worked equally well in our tests. It overlays an approximate location of the SmartTag 2 with a globe of dots on top of the camera capture. Truth be told, at this point it doesn't offer any advantage over the standard location feature, but we guess it can be a nice party trick for some Sammy fans.
Samsung Galaxy SmartTag 2 technical specifications
Samsung Galaxy SmartTag 2
Picture
Battery
Connectivity

Bluetooth Low Energy | UWB | NFC

IP Certification
Dimensions and weight

1.1 x 2 x 0.3 in, 0.49 oz
28.8 x 52.44 x 8.0 mm, 14 g
Final verdict
The Galaxy SmartTag 2 is a superior tracker compared to the first-generation—which has even helped relatives locate family members with early Alzheimer's, in a clear misuse of the technology, but still... With UWB support by default, IP67 water and dust resistance, longer battery life, and a metal larger loop, the SmartTag 2 is a no-brainer for anyone who already has the SmartTag 1 and needs more trackers.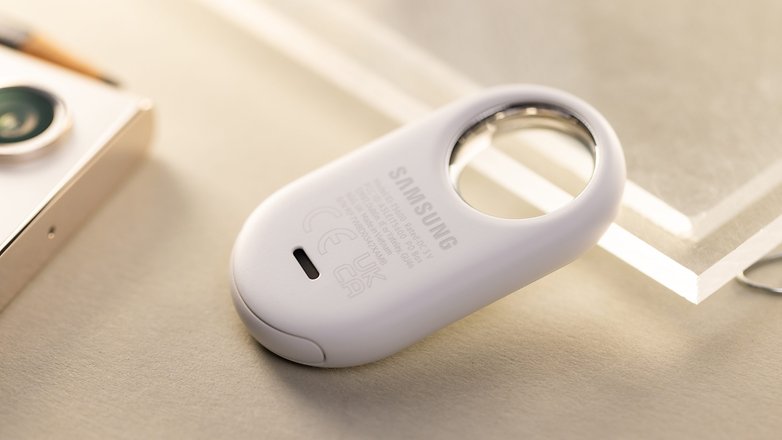 However, its launch timing is really unfortunate, with Google about to launch its own tracking network with an unbeatable number of phones to locate objects. Unless Google is trolling its partners, the network should go live in the next few months, promising better coverage and no brand restrictions when it comes to phones or tablets.
When Samsung did not present the SmartTag 2 on the Fan Edition Unpacked on October 3rd to announce it on the 5th, one day after the Pixel 8 release, it seemed as if Google would finally launch its tracking network and the Samsung SmartTag 2 would be the first device to support it, but alas, still nothing.
The SmartTag 2 works as advertised, but is still limited by the small number of compatible UWB phones available to buy (basically the Galaxy S Plusses and Ultras, Flips, and Folds, plus some old Note models), and its artificial exclusivity to Samsung devices.
If Samsung can update the SmartTag 2 firmware to support Google's network and becomes interoperable with the billions of Android phones out there, we will revisit this review and probably increase its score.
For now, here is hope that the next generation will fix those limitations and maybe add some sci-fi features like integrating object recognition from the phones' AI cores to improve accessibility with voice guidance. One can dream, right?