Samsung Galaxy S23 Ultra vs Xiaomi 13 Pro: Which is the best Android smartphone?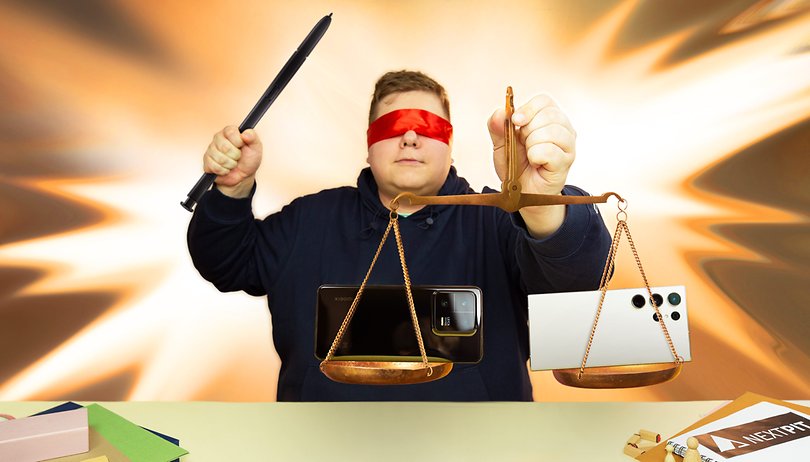 The Samsung Galaxy S23 Ultra and Xiaomi 13 Pro are the two best high-end smartphones on the Android market today in our opinion. But which model takes the best pictures? Which has the best battery life and the best performance? I reviewed both the Galaxy S23 Ultra and the Xiaomi 13 Pro and would like to share everything with you in this complete comparison.
You can check my Samsung Galaxy S23 Ultra review and my Xiaomi 13 Pro review for more details on each smartphone. You can also check out our comparison of Samsung vs Xiaomi smartphones for an overview of what both manufacturers offer. In this article, I will share my opinion on the design, photo quality, SoC performance, battery life, and software interface of the Galaxy S23 Ultra and Xiaomi 13 Pro.
Samsung's flagship
Xiaomi's flagship
Product
Image
Price
from $1,199 onwards
from €1,299.90 onwards
Screen
6.8" AMOLED
6.73" OLED
QHD+ 1440 × 3088 pixels
QHD+ 1440 x 3200 pixels
120 Hz LTPO refresh rate
SoC
Qualcomm Snapdragon 8 Gen 2
RAM
12 GB of LPDDR5X RAM
Storage
256 / 512 GB / 1 TB UFS 4.0
256 GB UFS 4.0
Expandable storage
No
OS
One UI 5.1 based on Android 13 / 4 Android MAJ + 5 years security MAJ
MIUI 14 based on Android 13 / 3 Android update + 5 years security update
Photo module
Main lens: 200 MP, f/1.7 aperture, OIS
Ultrawide lens: 12 MP, f/2.2 aperture, 120° FOV
Telephoto lens 1: 10 MP, f/4.9 aperture, 10x zoom, OIS
Telephoto lens 2: 10 MP, f/2.4 aperture, 3x zoom, OIS
Main lens: 50.3 MP, f/1.9 aperture, OIS
Ultrawide: 50 MP, f/2.2 aperture, 115° FOV
Telephoto lens: 50 MP, f/2.0 aperture, 3.2x zoom
Selfie lens
12 MP, f/2.2 aperture
32 MP, f/2.0 aperture
Video
8K at 24/30 FPS
8K at 24 FPS
Battery
5,000 mAh
Wired charging 45 W
Wireless charging 15 W
Reverse wireless charging 4.5 W
Charger not included
4,820 mAh
Wired charging 120 W
Wireless charging 50 W
Reverse wireless charging 10 W
Charger included
Connectivity
5G / LTE / Wifi 6 / Wifi Direct / Bluetooth 5.3 / NFC
IP Certification
IP68
Colors
Black, Cream White, Green, Lavender
Ceramic white, Ceramic black
Dimensions and weight
163.4 × 78.1 × 8.9 mm, 234 g
162.9 × 74.6 × 8.4 mm, 210 g
Offers
-
Table of content: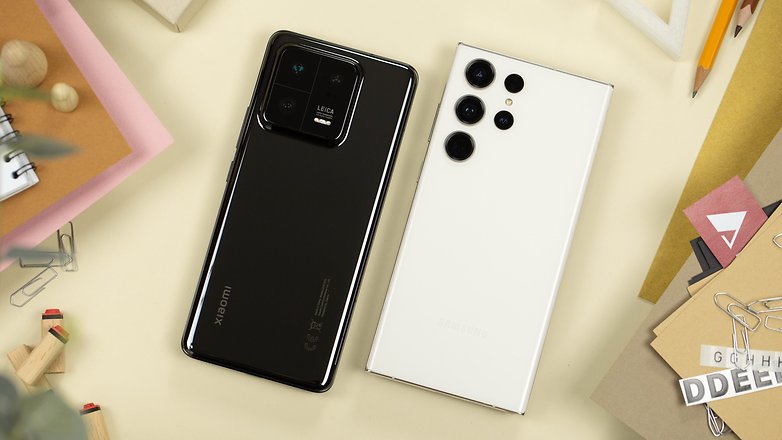 Design and screen
Both the Galaxy S23 Ultra and the Xiaomi 13 Pro have a very refined finish. They both come in an aluminum frame and are IP68 certified for water and dust resistance.
The Galaxy S23 Ultra is protected by Corning Gorilla Glass Victus 2 while the Xiaomi 13 Pro has Gorilla Glass Victus all over. The Xiaomi 13 Pro is slightly more compact than the Galaxy S23 Ultra and just a wee bit lighter, tipping the scales at 210g against the S23 Ultra's 234g.
However, I found the look of the Xiaomi 13 Pro to be a bit dated. The Galaxy S23 Ultra has a more industrial, minimalist, monolithic look that I prefer, and I also prefer the angular feel of the S23 Ultra with its straight top and bottom segments and right-angled corners versus the Xiaomi 13 Pro's more rounded corners.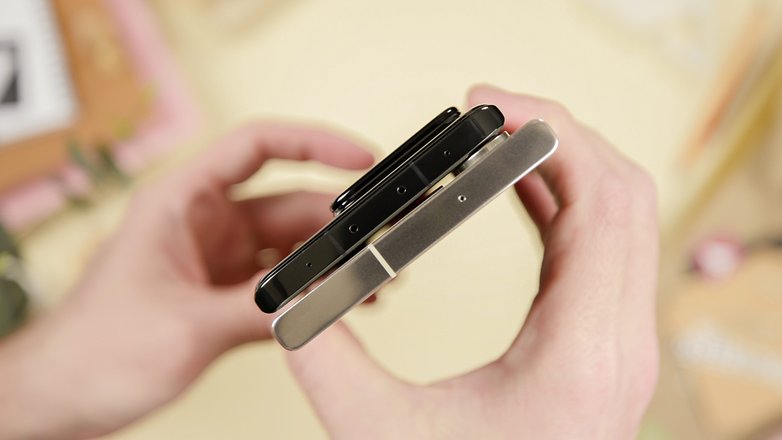 Also, the S Pen was built into Samsung's flagship and happens to be a great feature that Xiaomi does not currently offer. Samsung also offers more colors while Xiaomi is content with two variants: black and white, along with an extremely slippery glossy back that I am not a fan of.

On the other hand, I found the screen of the Xiaomi 13 Pro to be more interesting than the S23 Ultra's. The OLED panel is much brighter, where we could reach 1,900 nits in peak brightness and 1,200 nits in HBM. On the Samsung Galaxy 23 Ultra, we were "only" treated to 1,750 nits in peak brightness and 1,200 in HBM.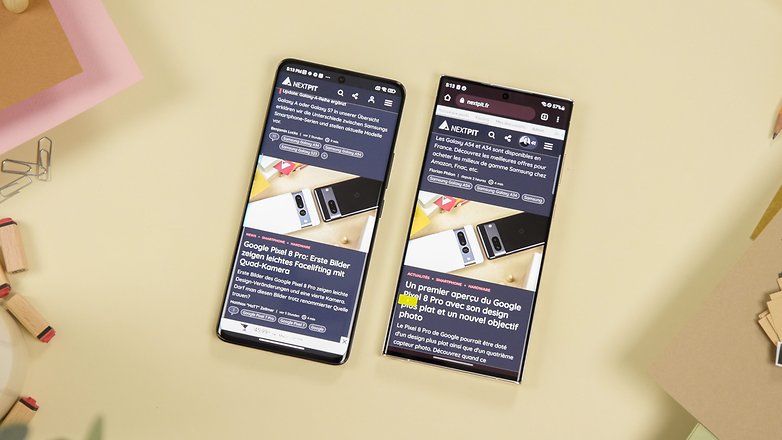 Both models have an adaptive 120 Hz refresh rate using LTPO technology. I found the colors brighter by default and the colorimetry settings are more comprehensive in Xiaomi's offering.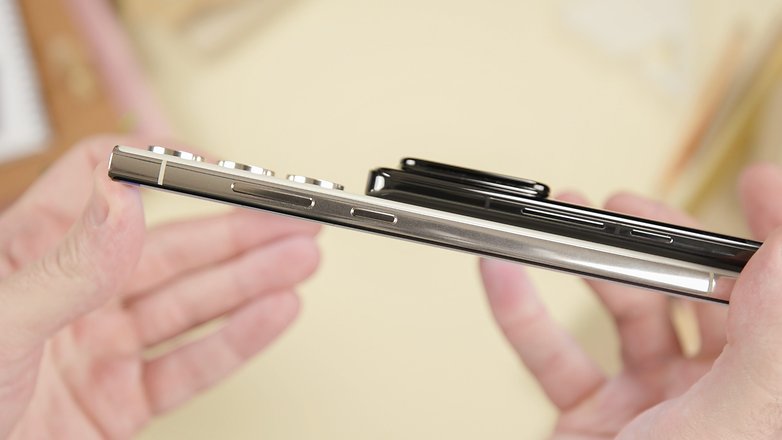 Performance
Both smartphones have the same Snapdragon 8 Gen 2 SoC running underneath the hood. The Galaxy S23 Ultra's is slightly overclocked. But on the benchmark, it does not show any major advantage. On the contrary, the Xiaomi 13 Pro provides better raw performance than the S23 Ultra.
Xiaomi 13 Pro
Samsung Galaxy S23 Ultra
3D Mark Wild Life
Too powerful
Too powerful
3D Mark Wild Life Stress Test
Best loop: 13,232
Worst loop: 10,402

Best loop: 12,278
Worst loop: 7,386

Geekbench 6
Single: 1,403
Multi: 5,106
Single: 1,170
Multi: 4,813
Xiaomi's performance is also much more stable. So why do I still prefer the Galaxy S23 Ultra? It is because of the temperature control.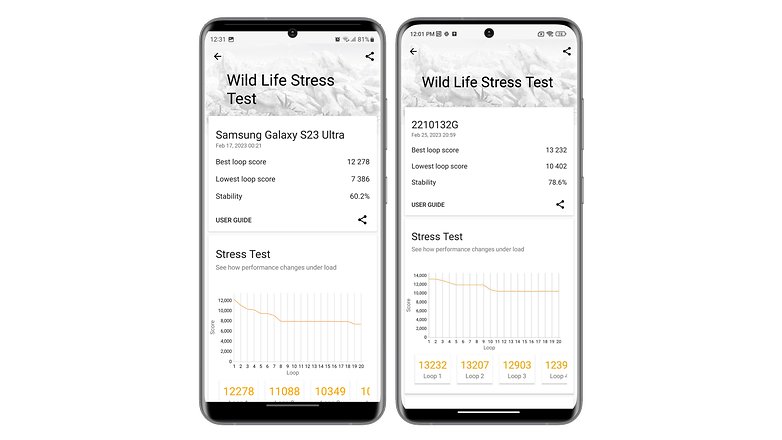 Xiaomi operates with almost no thermal throttling. Samsung applies it very early on but stabilizes it just as quickly. No throttling is good for performance but is not good for the battery and the durability of the phone.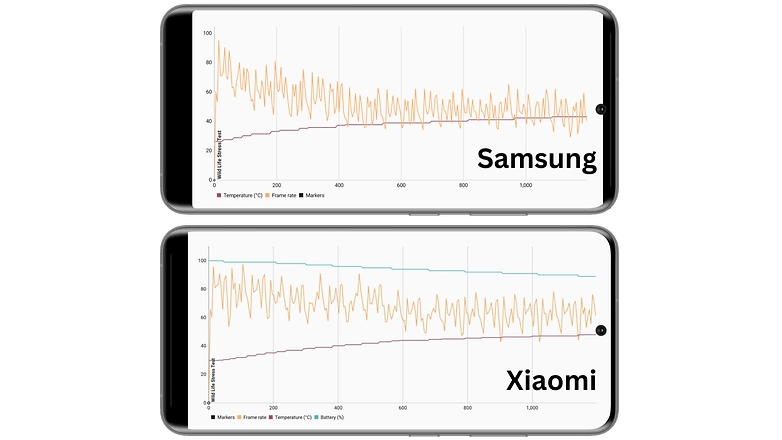 Photo quality
The Galaxy S23 Ultra has four camera lenses on the back and the Xiaomi 13 Pro has three. The Galaxy S23 Ultra packs an extra telephoto lens compared to its Xiaomi competitor.
Xiaomi 13 Pro
Samsung Galaxy S23 Ultra
Main lens
50.3 MP | aperture f/1.9 | OIS
200 MP | aperture f/1.7 | OIS
Telephoto lens
50 MP | aperture f/2.0 | zoom x3.2

10 MP | f/4.9 aperture | 10x zoom
10 MP | f/2.3 aperture | x3 zoom

50 MP | f/2.2 aperture | 115° FOV
12 MP | f/2.2 aperture | FOV 120° (120°)
Selfie
32 MP | f/2.0 aperture
12 MP | f/2.2 aperture
Personally, I preferred the performance of the Xiaomi 13 Pro's 1-inch prime lens by day. The Galaxy S23 Ultra has some dynamic range issues at times, and I prefer the level of detail of Xiaomi's rendering.
But for everything else, Samsung wins hands down in my opinion. Both the 3x and 10x telephoto lenses are clearly well-suited for zoom purposes. With Xiaomi, there is a clear loss of detail once the native magnification of 3.2x is exceeded.
The 12 MP ultra-wide angle has a smaller resolution than the 50 MP at Xiaomi, but the FOV is much wider (120° vs 115°). You need not worry about color inconsistency compared to the wide-angle rendering for both Samsung and Xiaomi devices. However, we do see more in the image on the S23 Ultra than on the Xiaomi 13 Pro.
Samsung performs better at night too, or at least this is what I found in my experience so far. Photos have less noise, especially with the automatic night mode of the scene optimizer. Overall, the Galaxy S23 Ultra has the most versatile, most complete, and therefore, most useful camera module.
When it concerns video, both smartphones can record up to 8K at 24 FPS (Samsung can go up to 30 FPS). Once again, I found that Samsung does better than Xiaomi in this depertment. The stabilization is slightly more effective on the Galaxy S23 Ultra. And the selfie camera can also shoot in 4K, which the Xiaomi 13 Pro can't.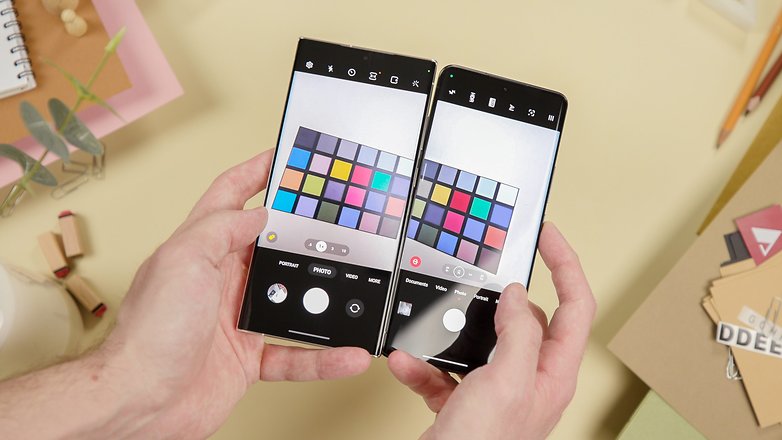 Interface/OS
Okay, Android skins are a matter of personal preference. One UI 5 and MIUI 14 both have pretty comprehensive Android 13-based interfaces. It's a far cry from stock Android, offering lots of customization options for the user.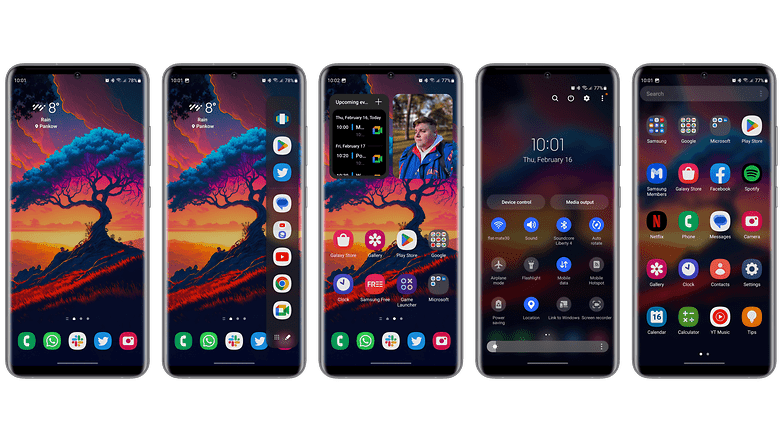 Personally, I prefer Samsung's One UI because Samsung strives to implement new Android features as fast as possible. The dynamic themes and themed icons are there, whereas you still have to go through the MIUI Themes application, which does not offer these options.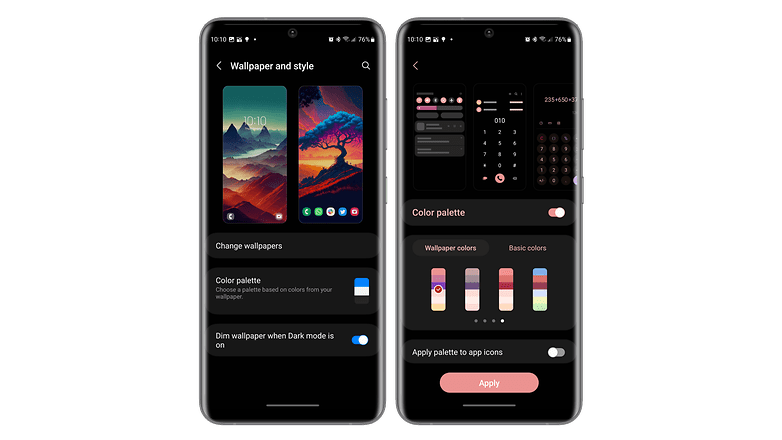 Xiaomi still has way too much bloatware even today. MIUI 14 is actually a much more incremental update than One UI 5 with fewer new features. The problem is that many features of MIUI 14 remained exclusive to the Chinese market. For starters, I'm thinking about the giant icons that are a pain to the eyes.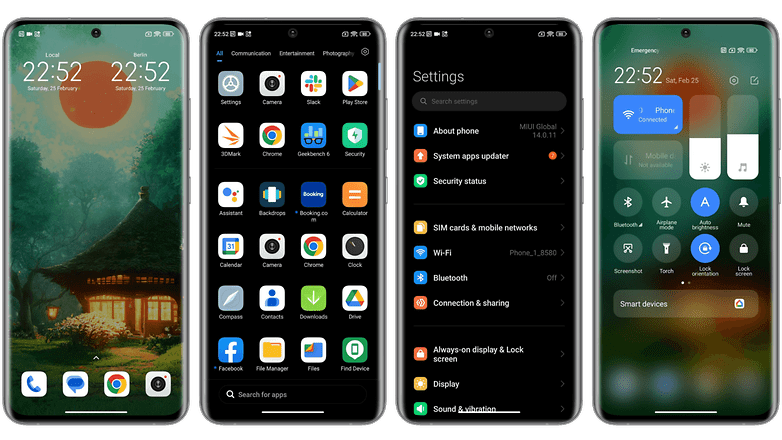 In terms of updates, Samsung beats Xiaomi with four Android versions and five years of security updates. Xiaomi only has a very unofficial update policy with three Android versions and five years of security updates. However, it must be said that the Chinese manufacturer has put a lot of effort lately to offer more consistent and longer updates.
Battery life and charging
The Galaxy S23 Ultra has a larger battery capacity of 5,000 mAh versus 4,820 mAh on the Xiaomi 13 Pro.

In everyday use, I held the S23 Ultra with more peace of mind compared to the Xiaomi 13. My usage pattern tends to run an average screen time of 5 hours normally, where you can actually last two days without recharging with Samsung. With Xiaomi, it struggles to hold a candle to Samsung's handset.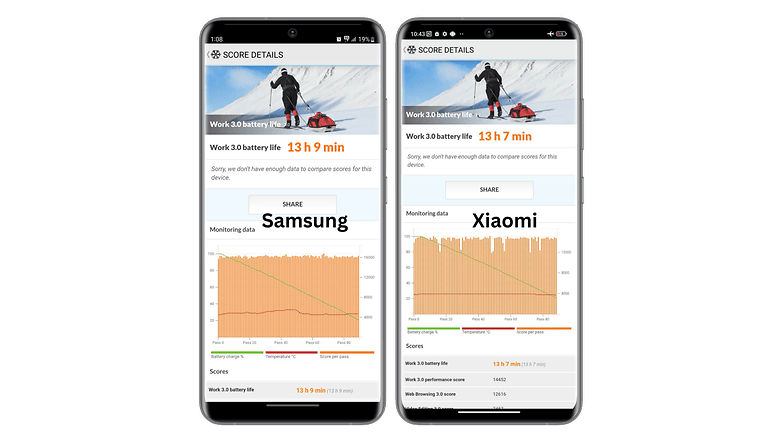 When it comes to charging, there is no contest at all. Xiaomi decimates Samsung when it comes to fast charging with its 120 watts wired and 50 watts wireless while the Galaxy S23 Ultra ambles along at 45 watts wired and 15 watts wireless charging.
It took me less than 20 minutes to go from 0 to 100% for Xiaomi. In Samsung's case, it took me almost an hour to achieve the equivalent charge. And in 20 minutes of charging, I had barely 50% of battery life in the Samsung device.
Price and availability
The Samsung Galaxy S23 Ultra and Xiaomi 13 Pro are prohibitively expensive. The Galaxy S23 Ultra starts at $1,199 in the US, while the Xiaomi 13 Pro is unavailable Stateside officially, so you will have to benchmark it at €1,299.90.
Xiaomi only offers a single configuration of 12/256 GB while Samsung allows up to 1 TB (with 12 GB of RAM for each version as well).
| | | |
| --- | --- | --- |
| | Xiaomi 13 Pro | Samsung Galaxy S23 Ultra |
| 256 GB | €1,299.90 | $1,199 |
| 512 GB | - | $1,379 |
| 1Tb | - | $1,619 |
With conversion, Samsung still beats Xiaomi when it comes to price. Do bear in mind that this is just the Xiaomi 13 Pro, what happens when the Xiaomi 13 Ultra is released? It would be difficult to see Xiaomi match Samsung's prices with its Ultra model.
In either case, I find that both manufacturers have prices that are totally out of line for the consumer. I find it to be rather insolent to sell a smartphone so expensive, especially in our economic and social context.
As a reminder, just last year, the Xiaomi 12 Pro was only sold in a 12/256 GB version for €1,099 euros. Xiaomi has therefore significantly increased its prices by €200 in selected regions worldwide.
As for Samsung, the basic versions of the Galaxy S23 (128 GB) and Galaxy S23+ (256 GB) have not seen any price hike in the US, although they are €100 more expensive than their predecessors, the Galaxy S22 and Galaxy S22+. The basic version of the Galaxy S23 Ultra (256 GB) is €60 euros more expensive than the Galaxy S22 Ultra in 2022. Of course, the price remained the same in the US as well.
Conclusion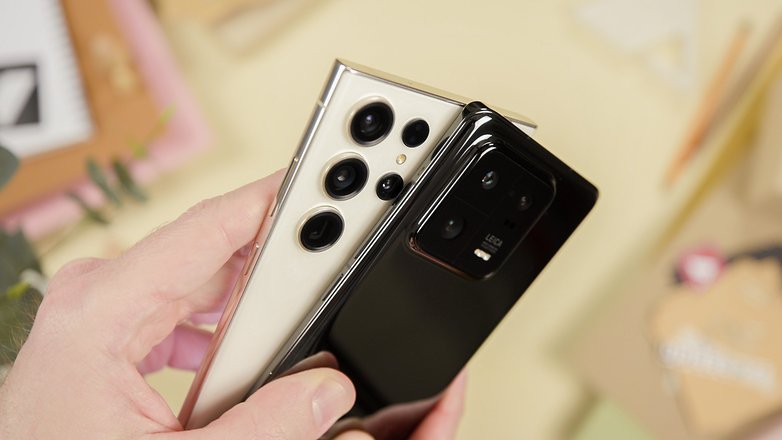 So, which smartphone should you buy if you are a high net worth individual with plenty of cash to spare?
In my opinion, the Galaxy S23 Ultra is the best choice between the two. It ticked almost everything in the right boxes except for fast charging, which is totally outdated. If your main reason for purchase is the photo quality, then the Galaxy S23 Ultra is recommended. If battery life is important to you, the Galaxy S23 Ultra wins out again.
This year, however, Xiaomi provided a really, really close fight that some might think even surpasses Samsung in terms of quality. Its 1-inch prime lens is excellent, the charging speed is lightning fast, its raw performance is better than Samsung, and its screen? Almost flawless.
If the Xiaomi 13 Pro had a built-in stylus like the S Pen, or if Xiaomi released a Xiaomi Note 13 Pro version, declaring a clear winner in this comparison would also be much more difficult.
If neither of these two models interest you, I invite you to check our selections of the best high-end smartphones, the best Xiaomi smartphones, and the best Samsung smartphones.
According to you, which smartphone is the best smartphone: the Samsung Galaxy S23 Ultra or the Xiaomi 13 Pro?