Samsung Galaxy A14 review: Approved!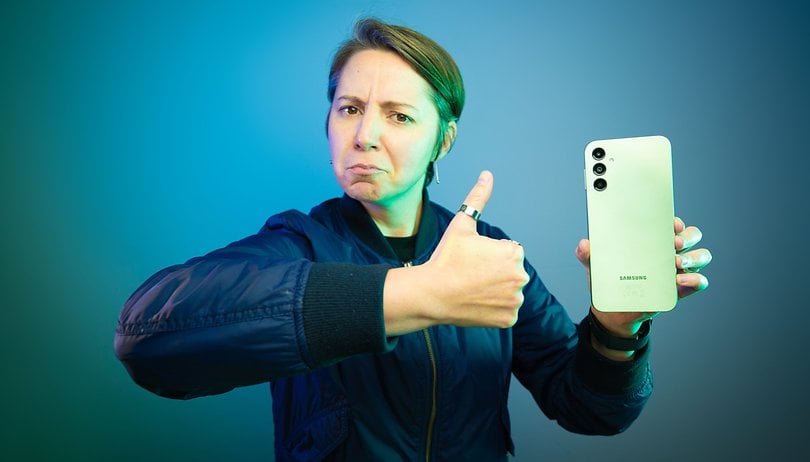 What can you expect from the successor to one of Samsung's best-selling smartphones of last year? The Galaxy A14 is an entry-level phone that boasts 5G connectivity, superior software support, and a price tag of just $199. We reviewed this budget-friendly device, and it certainly took us by surprise.
Good
Solid everyday performance

Expandable memory support

Headphone jack support

Vibrant display colors

Dependable biometric sensor

Excellent software support

Strong battery life

5G support
Bad
LCD display too dim for outdoor use

Lacks ultra-wide camera

Slow wired charging

Mono audio speaker
Galaxy A14 5G in a nutshell
According to Counterpoint Global Research, the Samsung Galaxy A13 5G secured the 4th spot on the list of the top 10 best-selling smartphones for 2022. Although available worldwide, the majority of its sales came from regions like the Caribbean, Latin America, and India. Released in January 2023, the Galaxy A14 5G aims to follow in its predecessor's footsteps in terms of popularity.
That said, we were eager to explore what this entry-level series has to offer beyond its affordable price point. On paper, the Galaxy A14 features a MediaTek Dimensity 700, a mid-range SoC, and comes in configurations with 4/6/8 GB of RAM (LPDDR4X) and 64/128 GB of storage (UFS 2.2). While not delivering outstanding performance, it does provide a satisfactory experience.
Samsung also upholds a solid operating system update policy for its One UI software. However, in terms of the camera module, Samsung made some sacrifices, such as removing the ultra-wide lens and retaining the less impressive 2-megapixel macro and depth sensors.
In summary, the Samsung Galaxy A14 5G may not have a strong wow factor, but it still stands as a reliable and affordable entry-level smartphone.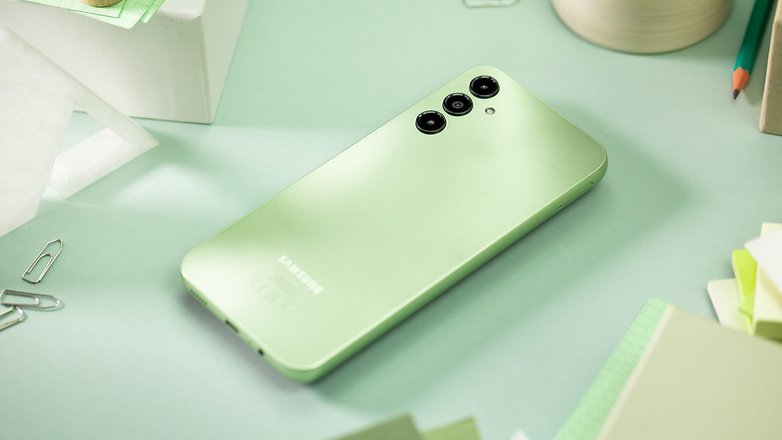 Design & display
The Galaxy A14 is a large phone, featuring a 6.6-inch LCD display and a 5,000 mAh battery. As a budget device, it's evident that Samsung's design team didn't spend extensive time refining its appearance.
However, it's also clear that the A series takes design cues from the flagship lineup in 2023, as seen with the rear cameras cut into the back case, similar to the Galaxy S23 series. But aside from that resemblance, everything else seems more modest in comparison.
---
Pros:
Design in line with the 2023 flagship lineup

.
Supports headphone jack.
Surprisingly lightweight for its size.
Vibrant screen colors.
90 Hz refresh rate option.
Reliable biometric sensor.
Cons:
The volume buttons are positioned too high.
The screen bezels are too thick.
The LCD display is too dim for outdoor use.
---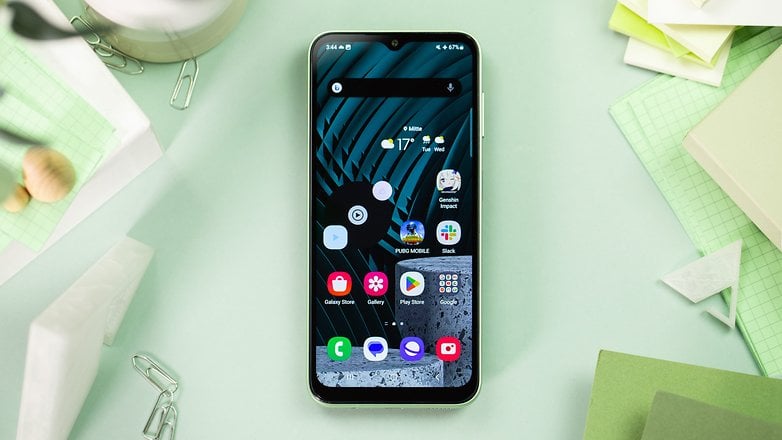 As an entry-level phone, I'm pleasantly surprised to see such a reliable fingerprint sensor integrated into the power button. Additionally, the display quality is unexpectedly impressive, although it falls short in outdoor situations when exposed to bright sunlight. On the plus side, we have 90 Hz refresh rate technology on board the device.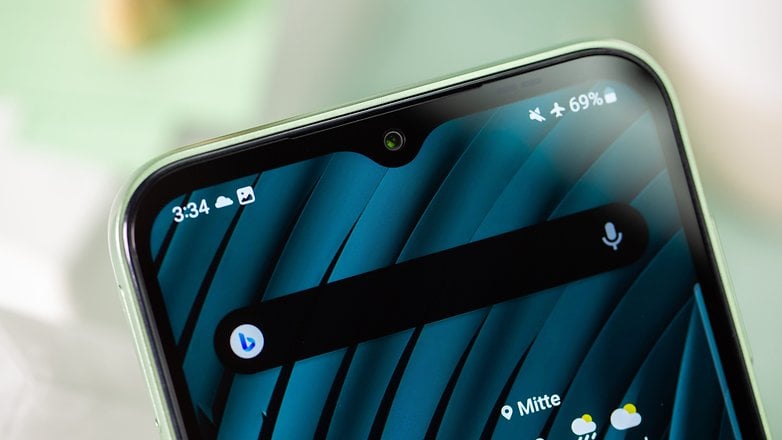 On the other hand, the A14 does present some expected limitations, such as thick display edges and oddly high-positioned volume buttons on the right side of the plastic frame. However, the support for a headphone jack, which comes with this price range, is a welcome feature, as well as the 90 Hz refresh rate option.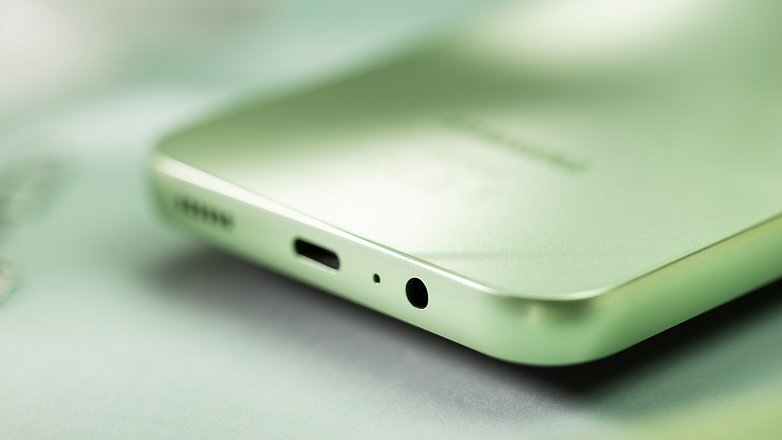 Performance & Software
Perhaps because my expectations were set low, the Galaxy A14 5G was a pleasant surprise in terms of performance. Despite being a two-year-old SoC, the MediaTek Dimensity 700 series is still impressive on entry-level devices. And as a 5G compatible smartphone, it has a significant advantage over the competition, namely Samsung's superior software support.
---
Pros:
Solid everyday performance

.
Superior software support.
Expendable memory support (microSD up to 1 TB).
5G support.
Cons:
---
The MediaTek Dimensity 700 CPU is a remarkable little chip, crafted with an energy-saving 7nm process and featuring two capable Cortex-A76 cores, which were once the stars of top-tier chips. Alongside a Mali-G57 MC2 GPU, the Dimensity 700 provides stable performance for today's devices. In our tested A14 unit, it was paired with 4 GB of RAM (LPDDR4X) and 64 GB of storage (UFS 2.2).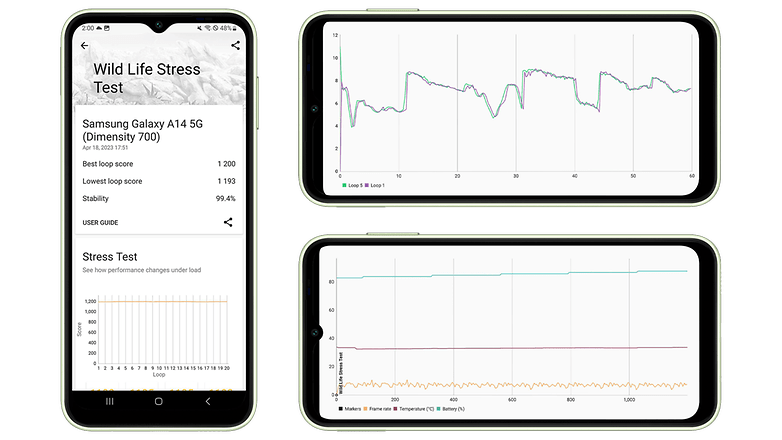 In simpler terms, the Galaxy A14 is quick when it comes to launching apps, with only minor delays. You might notice a slight lag when taking screenshots, but it's not a deal-breaker. Plus, playing games like PUBG Mobile is absolutely doable on default graphics settings, ensuring a smooth gaming experience.
Samsung Galaxy A14 5G
Mediatek 700 Dimensity
Xiaomi Redmi Note 11
Qualcomm Snapdragon 680
Realme 9 5G
Snapdragon 695
3DMark Wild Life
1,194
450
1,184
3DMark Wild Life Stress Test
Best loop: 1,200
Worst loop: 1,193
Best loop: 446
Worst loop: 442
Best loop: 1,213
Worst loop: 1,165
Geekbench
Single: 682
Multi: 1,804
(v6)
Single: 385
Multi: 1,041
(v5)
Single: 609
Multi: 1,710
(v5)
One downside to consider is the mono audio speaker, which might be disappointing if you're used to a stereo speaker experience from a previous smartphone. However, using headphones or earphones can easily remedy this.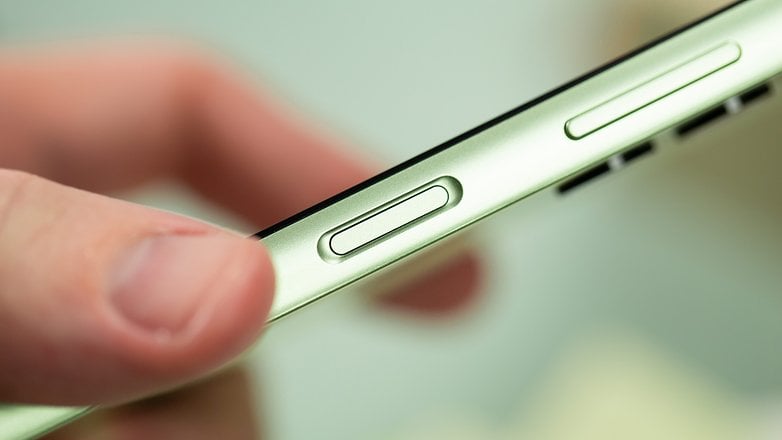 Regarding software, the Galaxy A14 runs One UI 5.1 based on Android 13 out of the box. You can expect a user-friendly interface, customizability, and an extensive app ecosystem. Features like One-handed mode, Game Launcher, Dual Messenger, Digital Well-being, and Parental Controls are available. For more on Samsung's software, take a look at our One UI tips guide.
Another top-tier service you can find on this entry-level phone is Modes and Routines, which are customized settings to match your activities and situations. Samsung also offers security improvements based on Google's operating system and a plethora of features and customization options. According to Samsung, you can expect two major Android updates and four years of security patch updates.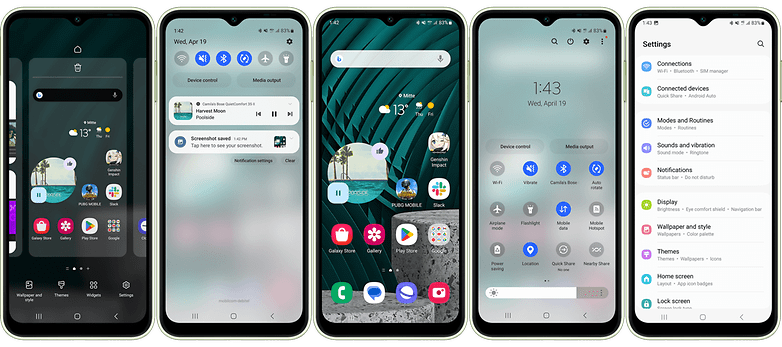 In conclusion, for only $199, this phone delivers excellent value by including 5G connectivity and a superior update policy, making it an ideal choice for budget-conscious buyers. Plus, Samsung offers a flagship software experience, so you'll enjoy many of the same features as those who purchase the Galaxy S23 series, with the exception of advanced camera capabilities.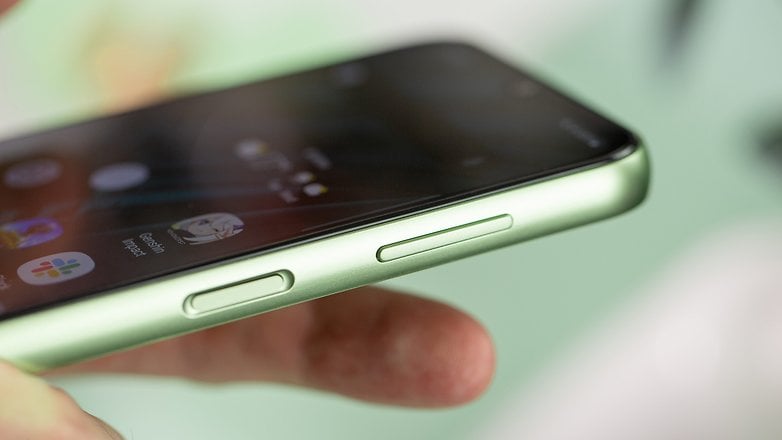 Samsung Galaxy A14 5G camera
The Galaxy A14 5G features a triple camera setup, consisting of a 50 MP main camera and two 2-MP sensors for depth of field and macro photography. However, the most significant drawback is the absence of an ultra-wide camera in this smartphone.
---
Pros:
Solid camera performance in day light

.
Clean camera app.
On-screen brightness and color controls are really useful.
Cons:
Lacks an ultra-wide camera.
Images in low light conditions are average.
---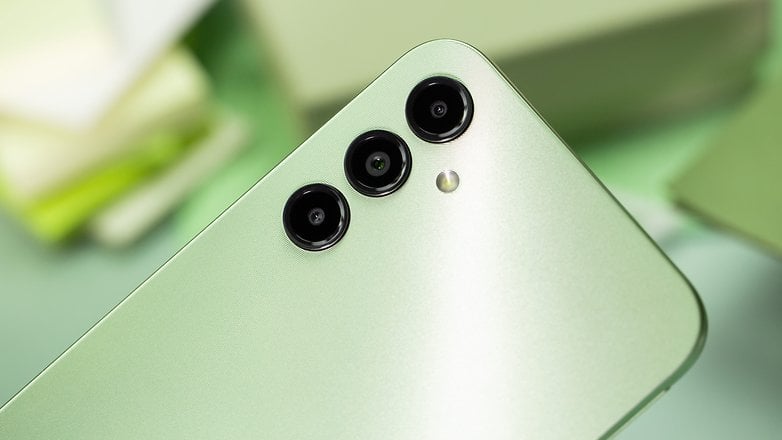 When purchasing an entry-level smartphone, it's crucial to recognize that these devices are tailored for cost-conscious buyers and usually focus on affordability rather than top-tier features. One of the primary constraints in such phones is camera quality. Budget smartphones often come with less sophisticated camera systems, which may result in lower image resolution, poorer low-light performance, and a reduced range of camera features compared to pricier models.
On that note, I have to admit, my expectations for the Galaxy A14's performance were low, and my expectations for the camera performance were even lower. However, Samsung surprised me and proved my assumptions wrong with this budget-friendly device.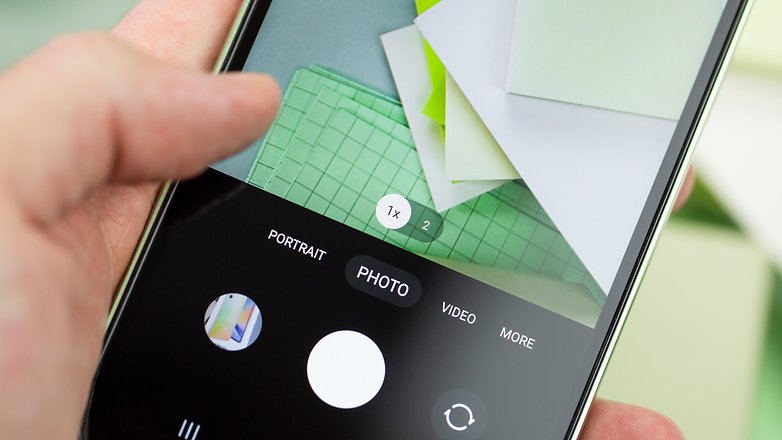 Even though this device lacks an ultra-wide-angle lens, using old habits like crossing the street to capture a wider view can compensate for it. When opening the pictures on a computer, the feeling from the preview photo in the gallery remains the same. In other words, you can rely on the quality of the image you see on the phone's display.
Daylight experience
As I mentioned earlier, the Galaxy A14 features a 50 MP main camera that cleverly uses a pixel-binning technique. Combining multiple adjacent pixels on the sensor to create a larger one, reduces noise, enhances low-light performance, and delivers higher-quality images, even if they're at a slightly lower resolution.
In daylight shots, you can expect bright images with good contrast and average dynamic range. The phone offers 2x digital zoom, and depending on the subject, you can even use a 4x digital zoom, but nothing more than that. The Portrait mode is decent; however, it may crop many details from the edges of the object in focus.
Indoor shots
Images captured indoors were surprisingly good, even at night. The phone does a great job with artificial light.
Night shots
During the night or in low light conditions, entry-level phones face their most challenging performances, and the A14's main camera is no exception. You will definitely need to activate Night mode, but the drawback is that it only works with 1x zoom, so you'll need to adjust your distance from the subject. As the light conditions worsen, the quality of your images will decrease.
Selfie camera
The selfie camera has 13 MP and heavily depends on the light conditions. However, it mostly delivers satisfactory images and an average portrait mode. What caught my attention were the indoor results; with artificial light, this lens delivers warm and pleasing colors.
Samsung Galaxy A14 5G battery
The Galaxy A14 is packed with a massive 5,000 mAh battery . Although this is great news, it also leaves us hanging while charging, as it takes 140 minutes to fully charge the device.
---
Pros:
Cons:
Slow wired charging.
No charger in the box.
---
In the "lab" tests, the Galaxy A14 delivered some of the best results we've ever seen in a device, clocking in at 17 hours and 21 minutes on the PCMark Battery benchmark. In daily use, it also performed admirably. On a particularly demanding day, I was able to use the phone throughout the entire day and still had 24% battery remaining at the end of the night.
After a full recharge, I inserted my SIM card into the review unit and embarked on a one-hour camera session over a 4G+ network connection. I also spent over three hours playing PUBG Mobile on Wi-Fi in a single day, in addition to browsing the web, listening to music, and connecting with my NextPit colleagues on Slack.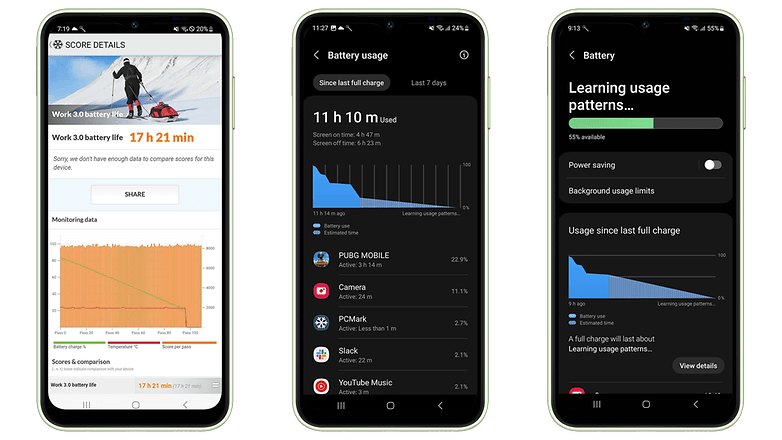 It's worth noting that the MediaTek Dimensity 700 is not a power-hungry CPU, as it's based on an efficient 7 nm manufacturing process. Therefore, the results are not entirely surprising for a smartphone equipped with a built-in 5,000 mAh battery capacity. On the other hand, the charging time proved to be a major drawback.
| | | |
| --- | --- | --- |
| Charging time | Samsung Galaxy A14 5G | Samsung Galaxy A34 |
| 5 minutes | | |
| 10 minutes | | |
| 30 minutes | | |
| 60 minutes | | |
| Full charge | | |
| PC Mark Battery test | | |
Although Samsung devices are known for their somewhat lengthy charging times, the Galaxy A14 seems to be the slowest among all the Samsung smartphone series I've ever tested. It took more than two hours to fully charge using a 45W UGreen charger.
Samsung Galaxy A14 5G technical specifications
Spec sheet
Product
Picture

Colors
Green, Purple, Black, Silver
Dimensions
167.7 x 78 x 9.1 mm | 205 g
Display
6.6-inch LCD
1080 x 2408 pixels
Processor
MediaTek Dimensity 700 (Global)
Samsung Exynos 1330 (India)
Memory
64/128 GB ROM
4/6/8 GB RAM
microSD
Yes, up to 1 TB
Software
One UI 5.1 based on Android 13
Read camera
Triple camera
Main camera: 50 MP / F1.8 / Digital zoom up to 10x
Depth camera: 2 MP / F2.4​
Macro camera: 2 MP / F2.4​​​
Front camera
13 MP / F2.0
Video recording resolution
Full HD (1,920 x 1,080 pixels) @30 fps / 120fps @HD
Battery
5,000 mAh
Release date
January 2023
Offers*
Final verdict
Alright, let's break this down: Entry-level smartphones are designed for budget-conscious consumers, offering a more affordable option with some trade-offs in performance, camera quality, build, display, software updates, and storage capacity. While these devices can handle everyday tasks like browsing, messaging, and social media, they may struggle with intensive gaming or multitasking, and may not provide the same premium feel, display quality, or camera capabilities as more expensive models.
Despite these limitations, low-end smartphones are ideal for those on a tight budget, first-time users, or individuals requiring only basic functionality from their device. By setting realistic expectations and considering your needs, you can find an affordable smartphone that fits your lifestyle without stretching your finances.
That said, the Samsung Galaxy A14 offers an outstanding budget-friendly option for just $199. With a vibrant and sizable display, extended battery life, a reliable camera, and solid performance, it's hard to go wrong. Samsung's excellent software update policy and the advanced One UI based on Android 13 further enhance the user experience. It's safe to say that with the Galaxy A14, you're truly getting the best bang for your buck.
Moreover, the Galaxy A14 5G features as the editorial choice on the best sub-$200 smartphone list for the US-market.
With a friendly reminder, just remember that by acknowledging and embracing the inherent limitations of an entry-level device, you'll be able to enjoy your experience without any regrets.