Jackery Explorer 2000 Plus launched: Get your $1 solar panel now!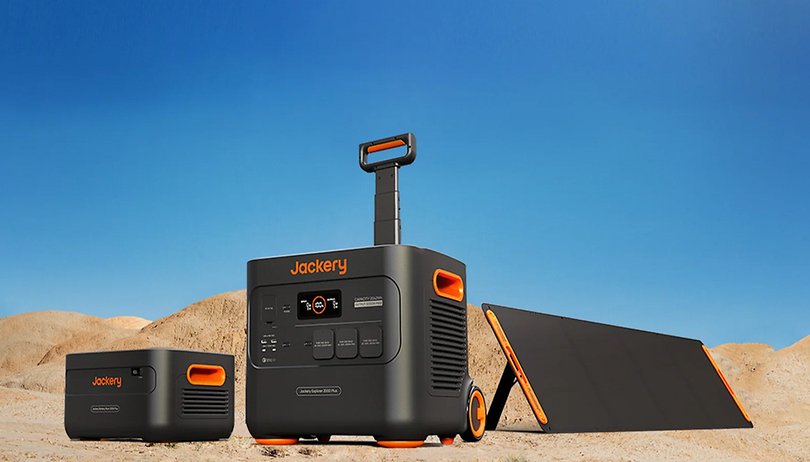 Jackery presented the Explorer 2000 Plus solar generator, the first model in a new series. The power station not only relies on modular extensions but also on an output of 3,000 watts and a capacity of 2,042 watt-hours. Until June 19, you can secure the Early Bird offer, where you not only save money but also get a solar panel worth $499 for only $1.
If you like to be outdoors for a longer period of time or if you want to power your devices at home with solar energy, the use of a solar generator is definitely advisable. Jackery has now presented a new model of the brand's most popular devices with the new Explorer 2000 Plus and the power station leaves nothing to be desired. If you order by June 20th, you can benefit from the Early Bird offer and get an additional SolarSaga solar panel with a power of 200 watts.
With an output power of 3,000 watts, the Jackery Explorer 2000 Plus powers your electrical devices for several hours without the need to recharge the generator. The lithium iron phosphate battery holds a whopping 2,042 watt-hours, which can be increased to up to 12 kWh with a total of up to five battery packs. The manufacturer promises a life cycle of up to 4,000 charges and discharges, which corresponds to a duration of about 10 years if you use the generator daily.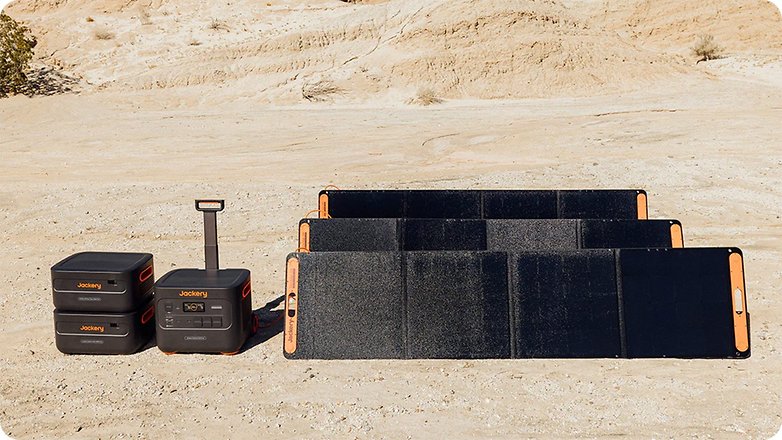 However, the recharging time is particularly exciting here, as you can juice up the generator again within 2 hours on AC power (1.7 hours if you have a 230-volt outlet nearby). Alternatively, you can also use the included solar panel for the first time, but this increases the required time significantly. The power generator can also be controlled via an app for the first time.
The Jackery Explorer 2000 Plus relies on a total of eight connections. You have access to three Schuko sockets, two USB-A, two USB-C, and one 12-volt socket. With a weight of 27.9 kilograms, the power station is not lightweight, but it can be moved easily like a trolley thanks to the attached wheels and the extendable handle. If you are interested in the Jackery Explorer 2000 Plus, you should take a look at nextpit in the next few days, because we have already had a look at the device.
The Early Bird offer from Jackery
If you want to get the Jackery Explorer 2000 Plus before everyone else, you currently have the chance to benefit from an exciting deal. Jackery has put together different packages to provide you with additional solar panels or battery packs. You can find out exactly what they look like and what you have to pay in the following overview.
Jackery overview
| Product | Number of battery packs | Number of solar panels | Price | To the store |
| --- | --- | --- | --- | --- |
| Jackery Explorer 2000 | None | $1 module only | $1,980 | Jackery* |
| Explorer Set 4000 | 1 | Only $1 module | $4,500 | Jackery* |
| Solar generator 2000 Plus + SolarSaga 200W x2 | None | 1 + $1 module | $2,970 | Jackery* |
If you order by June 19th, you will receive a free SolarSaga PV module with an output of 200 watts worth $499 for $1 with all offers. If you want to increase the power of the power station, you should take a closer look at the various set offers, as here you will receive a corresponding number of battery packs 2000 Plus, depending on how many you need.
Especially for people who spend a lot of time in nature without wanting to do without electrical devices or want to counteract an impending blackout, these offers are thus quite exciting.
What do you think of the offer? Have you already had experience with Jackery power stations? Please let us know in the comments!