The HTC One M8 is better than the Galaxy S5, just ask HTC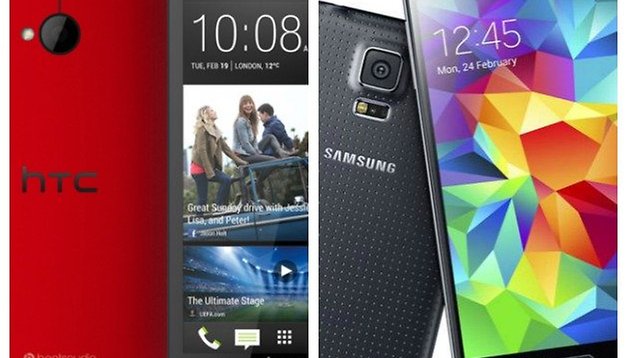 In a bit of slightly weird staff training, HTC has produced a training manual that outlines five reasons why the HTC One M8 is better than the Samsung Galaxy S5. We can probably think of half a dozen more, but the document certainly points out some pretty obvious points that any salesman should make. Still, we're getting kinda tired of all the Samsung-bashing becoming part of everyone else's training and advertising material.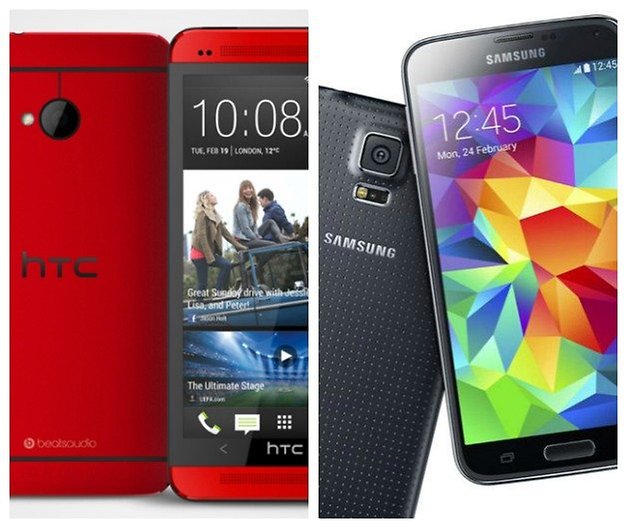 With the Galaxy S5 getting an earlier announcement but slower launch compared to the HTC One's same-day availability, the S5 was always going to be delivering up a bit of time for competitors to figure out clever ways to tear it down before it even went on sale. The M8 showed up and was pretty much perfect from day one, but that still hasn't stopped the flailing smartphone maker from slinging a little more mud at its main rival. You may remember there were even S5 digs in HTC's launch event. At the very least I can commend Samsung for simply presenting its own device.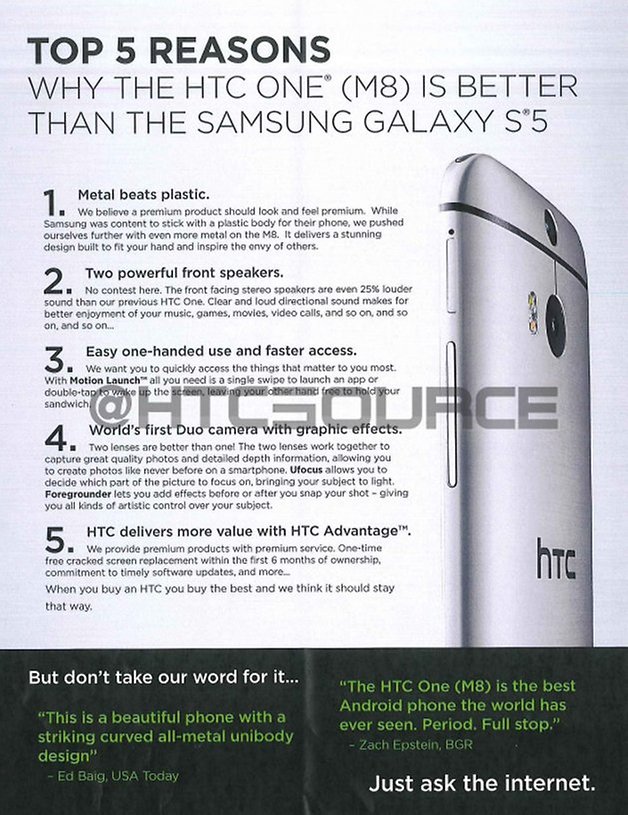 Metal beats plastic
A lot of people have always kind of believed this, but there's a lot to be said about plastic phones too. I'm not much of a fan of the cheap shiny plastic on previous Samsung models (or the Band-Aid look of the S5), but the nice rubbery feel of devices like the S5 and Nexus 5 are very nice indeed, and plastic absorbs shocks better and is much lighter than metal. Still, when it comes to showing off about premium build quality though, it's hard to ignore a metal unibody. And there's no denying that HTC have destroyed Samsung in the design stakes, even if both phones look an awful lot like their predecessors.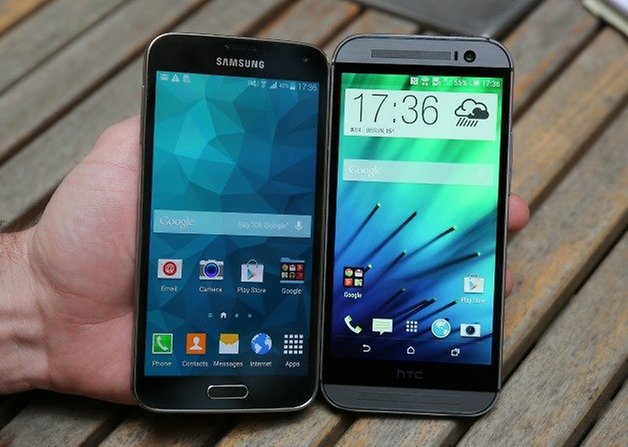 BoomSound speakers
Agreed. The Galaxy S5 has some pretty nifty speakers on board but there's very few devices in Android Land that can come close to the original One's speakers, let alone the improved ones found on the One M8. According to the training material, the new stereo speakers are 25% louder than the previous One's speakers. Plus, they're up front and they sound exceptional.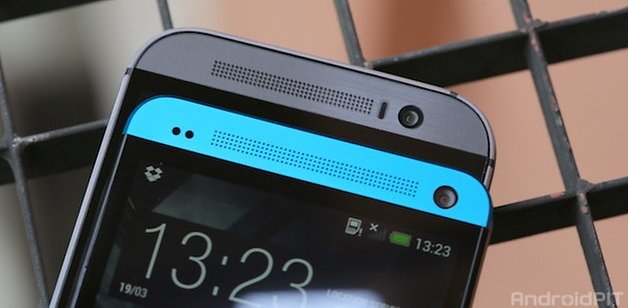 Faster access and use
Ok, I'm not much of a fan of the new TouchWiz, and I've never minded Sense as much as some have, but comparing manufacturer skins is like comparing football teams: if you don't like the other no one is going to convince you otherwise, so I'll leave that choice to personal preference. HTC at least believe that beyond UI preferences, their motion gestures for accessing the new M8 with a double tap or swipe trumps the Galaxy S5, which needs to be woken the usual way (and I agree with them).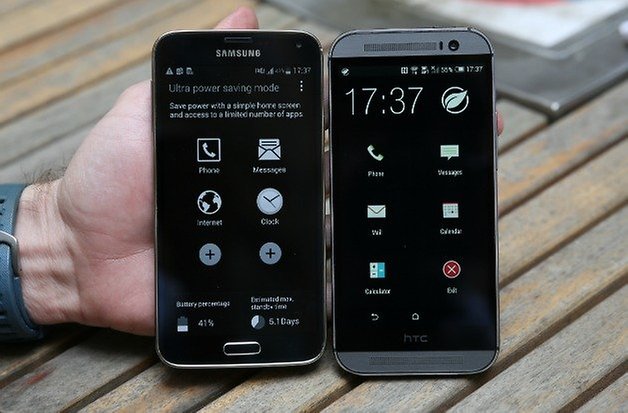 Duo Camera
Ok, the Duo Camera has a few limitations, but it's still an exceptional shooter. That being said, the Galaxy S5 is probably the better camera (in my opinion). HTC obviously push the UFocus post-focusing capabilities of the One M8 in the training material, which is indeed miles better than the selective focus found on the S5. Still, it's not perfect on the One M8 either. The M8 also has a full manual mode, real-time preview, HDR, user-saved presets and a few other gimmicks, while the Galaxy S5 has insanely fast auto-focus, 4K video, slow motion and so on. As far as post-focusing goes HTC is right, but on other fronts I'm not so sure.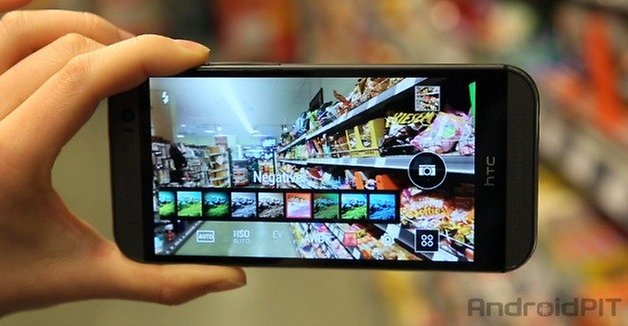 HTC Advantage
Yep, that's a clear winner too. The HTC Advantage will get you some nice premium service for your premium feeling device, so if you happen to break that lovely big screen HTC will replace that bad boy free of charge for the first six months you own it. After that you better have learned how to handle it a little more securely. Currently only supported in the US, you can expect HTC Advantage to come to Europe by year's end if the costs involved are not so astronomical it would bankrupt HTC globally. I for one, hope that this is a service very few of you ever need to use.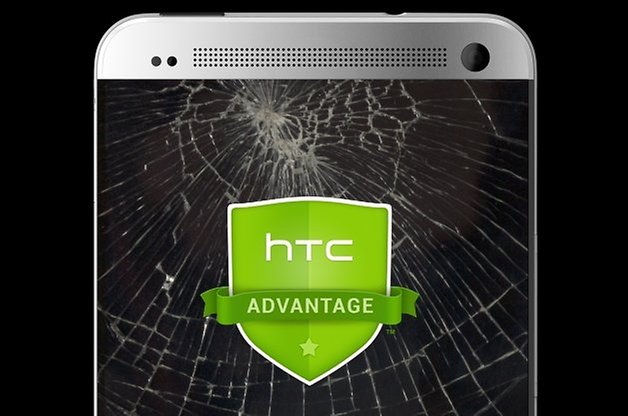 So there you have it, the five HTC-sponsored reasons the One M8 is better than the Galaxy S5. As I mentioned, I could easily come up with a few more, but on this list I only really agree with four, and that metal beats plastic one is bound to irritate fans of lighter, more resilient plastic. At least three of them though are without doubt better than the S5. Let's see how long it takes for a list of 5 reasons (or 8?) the Galaxy S5 is better than the One M8 to appear.
Which device do you prefer? What are your favorite features of each flagship?