Happy Plugs Air 1 Plus review: style over sound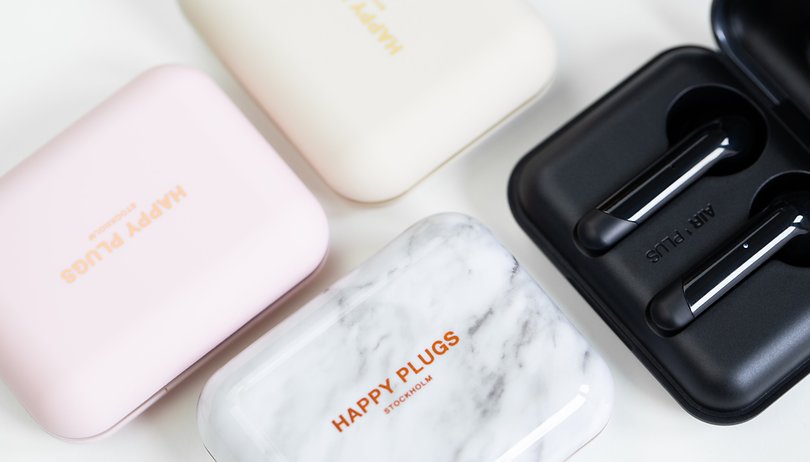 The Air 1 Plus are the fifth generation of true wireless earbuds from the Swedish audio brand, Happy Plugs. The interesting thing about these is that you can choose either an in-ear design or a classic earbud design. I gave both variants a listen to see how the Stockholm headphones stacked up against the competition.
Good
Fashionable designs

Good max volume

Quick and easy pairing
Bad
Harsh treble frequencies

Build quality not fitting of price

Sticky packaging
Air 1 Plus release date and price
The Happy Plugs Air 1 Plus costs $99.99 in the USA, €99.99 in Europe, and £89.99 in the UK. They have been available to buy online since May 2020. As I mentioned in the intro, you can have these true wireless headphones in either an in-ear design or an earbud design. The price is the same regardless of which version you choose.
For colors, there are a lot of options here. The Air 1 Plus come in either Black, White, Pink Gold, Gold, or White Marble. I was fortunate enough to be able to test both in-ear and earbud variants of the Air 1 Plus.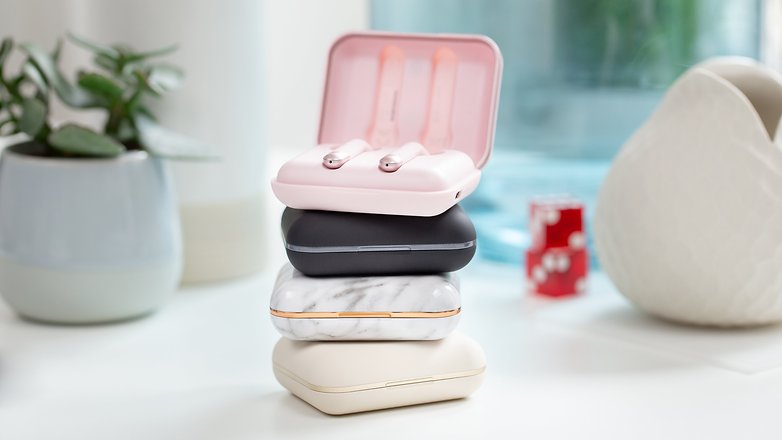 Style over durability
Happy Plugs has gone with a classic AirPods-style design here with a stem. The stem is more of an oval tube then a true cylinder. The tips of the stem feature design accents that are matched on the earbuds and the case. In black or white, this could be considered a classic, almost minimalist design, but you get the option to go a bit more bling with the marble and gold option.
The case is very compact (69x54x23mm) and can slip into any trouser or jacket pocket without any major bulges emerging. On the side is the USB-C port for charging and the four LEDs for indicating the battery percentage. I have no real complaints about the charging case. It is not as solid or well-made as some of the competition, and the lid does not have a strong, satisfying snap to it like you get on the Cambridge Audio Melomania 1, but it's fine for daily use.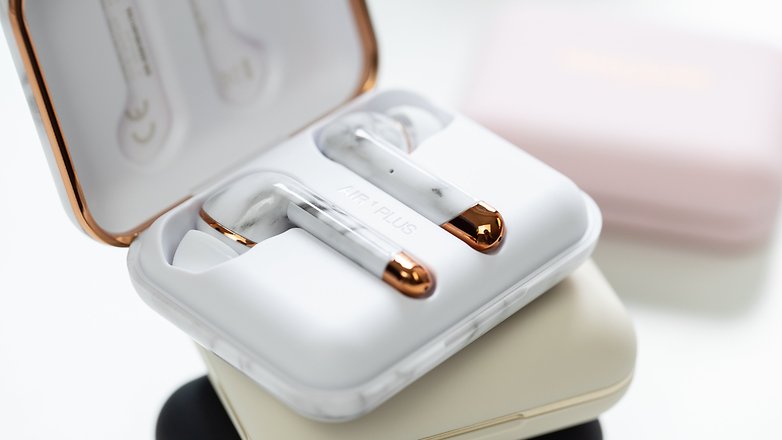 One baffling design decision regards the packaging. The Air 1 Plus come in a clear plastic box and to keep everything in place and looking smart during transportation, the case itself is held into the plastic mold with a sticky glue-like substance. It means that when you pull the case out of the box, you are left with gunk all over the back. It comes off with a bit of soap and water, but it's not exactly a nice unboxing experience when you've just paid $100 for a product.
The overall build quality is a slight disappointment at this price point too. I would expect the plastics to feel a bit higher quality for a hundred bucks. The plus side is the headphones and case are very light (3.75g for each earbud, 47g for the case), but I'd always take a more solid build over a couple of grams saved here or there.
Loud but slightly loose audio
Sound on the Happy Plugs Air 1 Plus feature comes from 12mm drivers . There is support for both Qualcomm aptX and SBC audio codecs. Both the Air 1 Plus In-Ear and Earbuds come with Qualcomm cVc noise cancellation technology for clearer calls. The tech is supposed to bring advanced audio enhancements and noise suppression to the near and far end, and provides packet loss and bit error concealment.
The pairing was quick and easy during my testing. You basically pull the earbuds out of the case and can then search for them via the Bluetooth settings on your smartphone. Once paired, reconnecting each time you get them out is quick and easy. This should be standard for every pair of true wireless earbuds, but you'd be amazed at how many manufacturers mess this up. Happy Plugs is not one of them.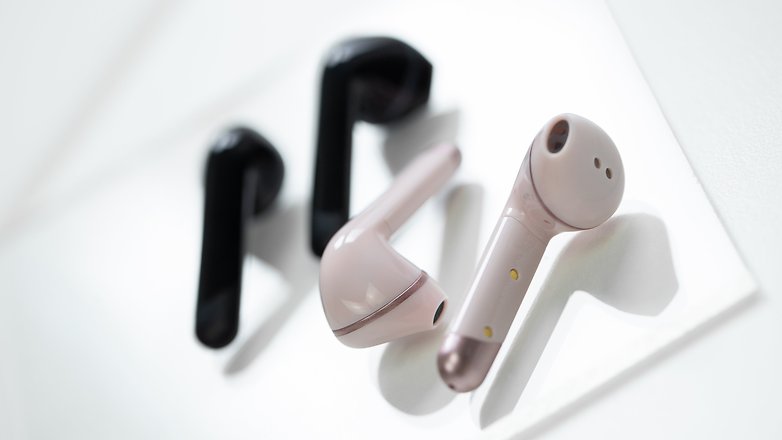 I put the Air 1 Plus through my usual playlist of tracks to test audio products. One of the most revealing is always Nite Expo by Thee Oh Sees. The track starts out with pulsating bass, drums, and synth before John Dwyer's aluminum neck guitar tears your eardrums out with a crashing splash of aggression. It's at these higher frequencies where the Air 1 Plus struggle. The sound is not bad, it's just a bit thin for the price tag. The audio was fine for calls, though, and for those who just want to listen to podcasts and WhatsApp messages on the tube, these will do the job nicely.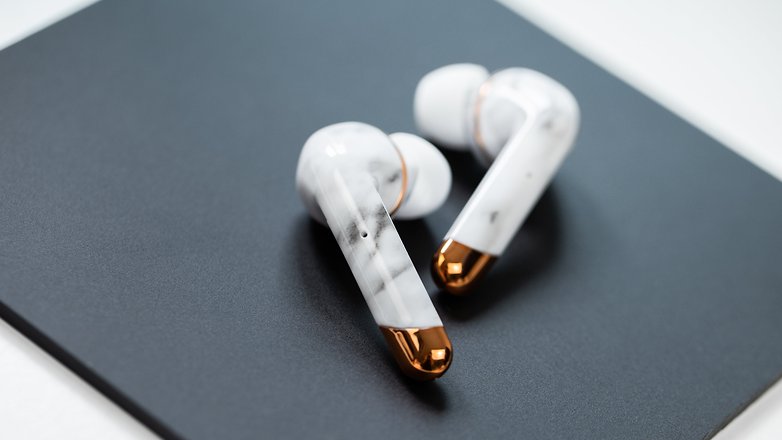 Up to 40 hours of playback
There's a 40 mAh battery in each earbud and a further 630 mAh in the charging case of the Happy Plugs Air 1 Plus. All things considered, you get around 40 hours of music playback on a full charge here. There's no active noise cancellation to drain the battery especially quickly, remember. The manufacturer also claims you can get up to 120 hours of standby time from a single charge, which is not something you see advertised often in a pair of true wireless headphones, but there it is.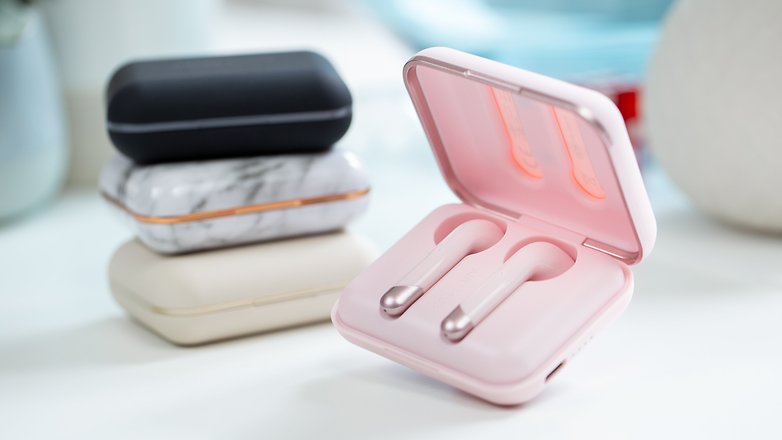 Charging is done via the USB-C port on the side of the charging case and it takes one and a half hours to go from zero to 100 percent. The numbers quoted by Happy Plugs stood up during my testing. I also did not notice any difference in battery drain between the in-ear design and the earbud version.
Final verdict
The Air 1 Plus are no doubt stylish and the range of colors and the fact that you can choose between an in-ear or earbud design will draw some to the brand. Add to that a good amount of volume, acceptable sound quality, and painless pairing, and you have a pair of true wireless earbuds that many will be able to live with here.
At $100 in the United States and €100 in Europe, however, the Air 1 Plus are competing in a market that is absolutely packed with brands. For one hundred bucks, you can get better sound quality, better build quality, active noise cancellation, a more comfortable fit, and longer battery life. Sure, you can't have all of these things at the same time for $100, but there are plenty of options out there for those that care about certain aspects of audio performance. Buy these for the design, or don't buy them at all.