Put the phone down: Google cares for our "digital well-being"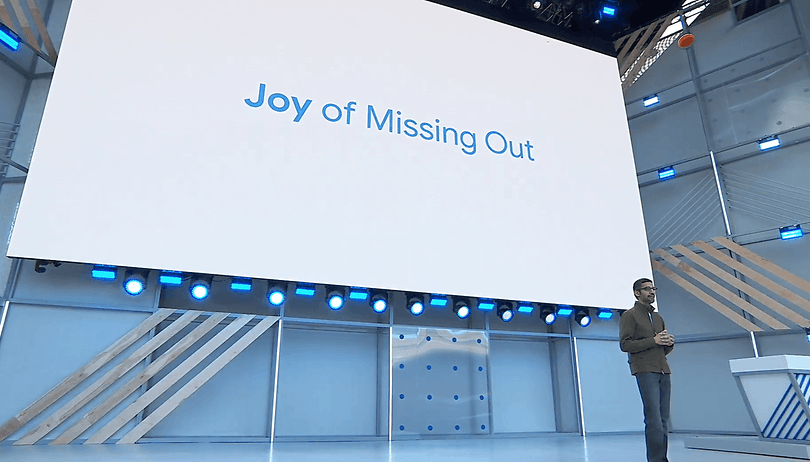 It is a creeping process, with which the smartphone fascinates us more and more. More and more notifications, more and more new services, fewer and fewer reasons not to look at the display all the time. To make sure it doesn't get to be too much, Google wants to help us take countermeasures.
In our connected world, with channels of 24-hour information all around us, "Fear of missing out," abbreviated FOMO, can be a real problem. It expresses the fear of missing something if you don't constantly keep an eye on all your news and channels.
One thing is clear: FOMO causes stress, whether consciously or subconsciously. Google wants to set a different trend, this much will become clear at Google I/O 2018, during which a new term was coined: JOMO, "Joy of missing out". According to Google, in order to increase our "digital well-being", it is necessary to take a break from all this modern stress from time to time. Just switch off, at least a little bit. And Google wants to support its users in this.
Self-knowledge is important, because first I have to know my situation in order to improve it. Important details are information about my own use: How much time do I spend with which service per day, how often do I unlock my smartphone, how many notifications do I receive and so on.
Besides Android, YouTube is the focus of attention. Notifications about news from your channels will no longer be sent in individually, but via the Daily Briefing, which will be rolled out next week. There are many small steps that Google has in mind here, which should give us back our time and attention bit by bit.
Automatic time management
But most of this topic is about Android. Android P finally features a silent mode so your phone won't bother you if you don't want it to. It works quite intuitively: Just put the smartphone with the display down on the table and it's silent. No vibration, no beeping, no LED, nothing. Lovely.
Many things that Google calls "digital well-being" happen automatically once they're activated. For example, you can set when you normally go to bed. On time, Android activates the do not disturb mode and switches the display from color to black and white to show you that it's time to put the smartphone aside.
If you have set a time limit for using a specific app in Dashboard, it will no longer work if you exceed the time limit. This is kind of a parental lock, but for yourselves. This is exactly what many people need, even if they themselves do not yet know - or do not want to know.
All this is all very well, but the question arises: what world do we live in when technology is needed to stop me from using these very technologies? I have no concrete answer to that which I could write down here, but the question is worth thinking about.
Most of these functions come with Android P, such as the dashboard. Taking the current situation with the Android updates as a benchmark, most of us will benefit from it at the end of 2019 at the earliest. Well, better late than never.
What do you think: Is it good and important that Google helps us shut down regularly and puts a stop to digital attention-grabbers?