15 Reasons Why the Galaxy S4 Destroys the iPhone 5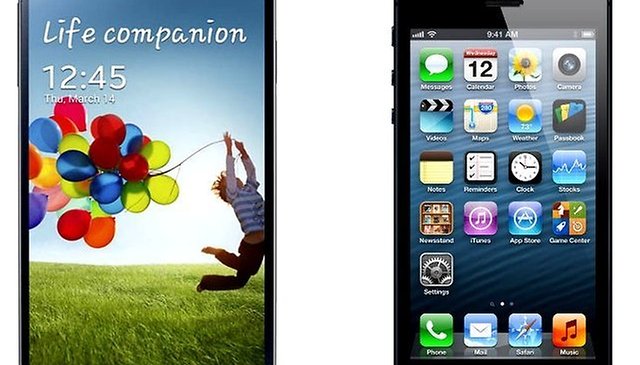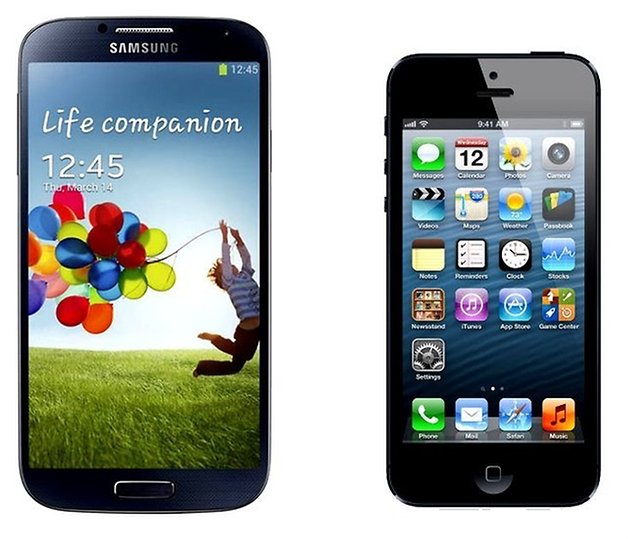 Are you afraid of new things? Then by all means, buy the iPhone 5. Its old-timey rows of icons and comforting, familiar design make you feel as if you've been sent in a time capsule back to 2007. It's retro-chic!
But if you're into the latest and greatest technology the world has to offer, I'd suggest buying a Samsung Galaxy S4. The reasons are so numerous that they're hard to fit into a single article, but I've tried. Here are 15 reasons to buy a Galaxy S4 instead of an iPhone 5.
Remember: friends don't let friends buy outdated technology, so share this post with those stubborn Apple fans you know and love so they can see the light, too.
Better Display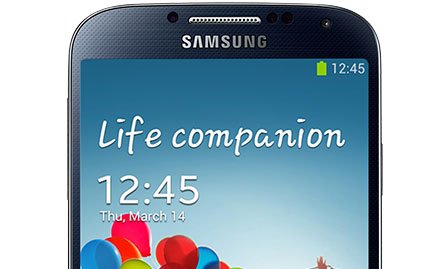 The iPhone 5 has a 1136 x 640p display with 326 pixels per square inch, which isn't too shabby – for a phone released a year ago. But since the iPhone 5 was released, manufacturers like HTC, Sony and Samsung have upped the competition with ever richer, sharper displays. The Galaxy S4 features a stunning 1920 x 1080p display with 441 pixels per square inch, far better than the iPhone 5's.
S-Health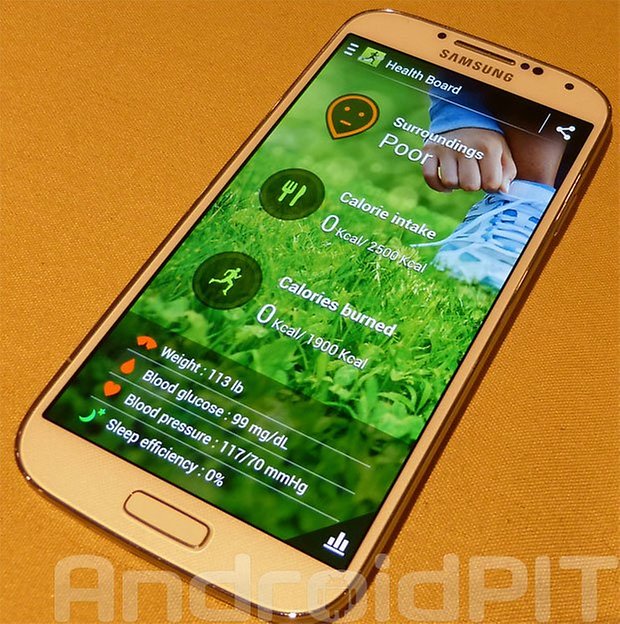 Samsung's S-Health app rivals Fitbit and FuelBand in number of features. The app can track the amount of exercise you get, your calorie consumption and heart-rate while exercising. The phone can even measure temperature and humidity to help you prepare for your next workout. The iPhone doesn't offer anything like it.
13MP Camera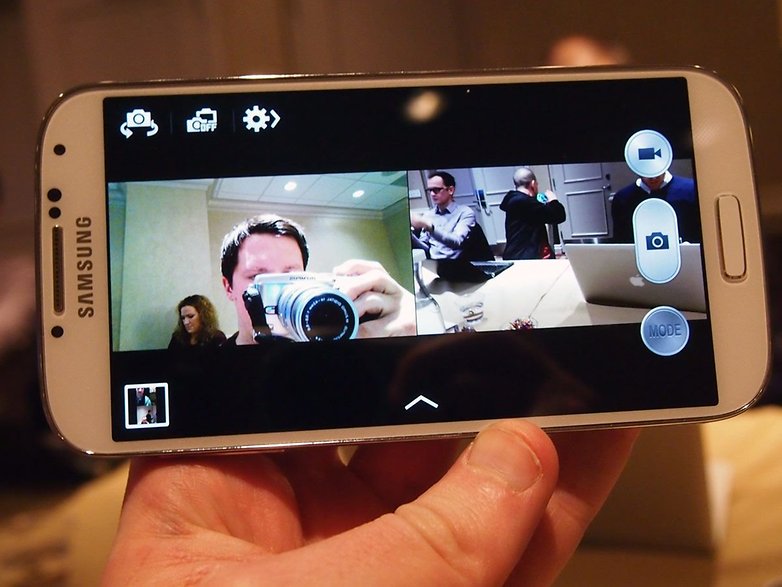 Not only does the Galaxy S4's 13MP camera beat the iPhone 5's 8MP camera in number of pixels, it also packs an array of unique features. You can take pictures using both the front and back lenses at the same time, for example, or erase unwanted people or objects from photos automatically.
Bigger Display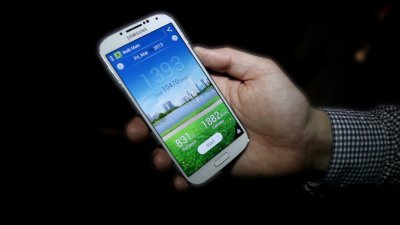 Apple was pretty proud of themselves when they finally released an iPhone with a larger (ie, 4") display. But for those who want more room to multitask, watch movies or play games, you can't beat the Galaxy S4's 5" display (unless you spring for a Note 3). The Galaxy S4's massive display makes the iPhone 5 look like ancient.
Faster Processor
The Galaxy S4 features a quad-core processor that beats the iPhone 5's dual core. It's been proven: Primate Labs already ran a benchmark test on the two devices and the results show that the Galaxy S4 is almost two times faster than the iPhone 5.
Customizable Homescreen
Like all Androids, the Galaxy S4 is completely customizable, meaning you can transform your homescreen into anything you want. Download Holo Launcher for a pure Android feel and drag and drop widgets from Google, Flipboard, Twitter, etc. and you'll be able to see all the relevant information you need straight from your homescreen. You can't do any of those things on an iPhone.
Google Now Clobbers Siri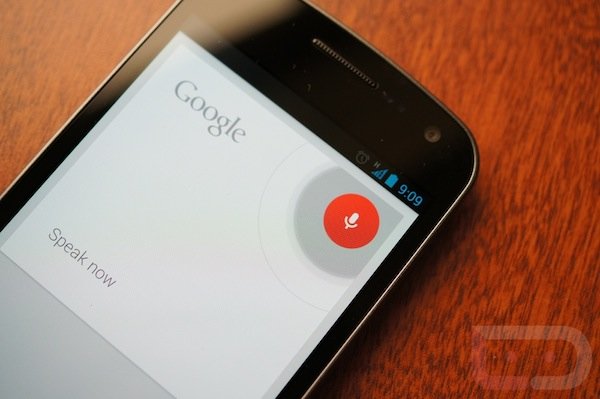 Who's Siri? Google's personal assistant is far more versatile than Apple's, allowing you to check in before a flight, see the weather in your destination city, spot deals at nearby restaurants and find the fastest way home using public transportation. All of these features – and more, like Graph Search — leave Siri in the dust.
More Memory
The Galaxy S4 has 2GB of RAM, which allows you to run multiple programs at once. The iPhone 5 has only half the memory, and far less advanced multi-tasking abilities that rely on memory.
A Removable Battery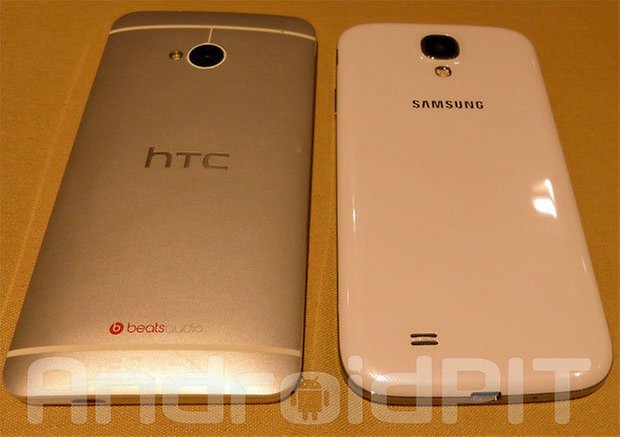 Samsung's always been great about including removable batteries in their smartphones and the Galaxy S4 is no exception. You can carry along a fully-charged battery with you and simply swap it in if your battery's running low, giving you double (or triple, or quadruple) the battery life of the iPhone 5.
Expandable Storage
Another thing Samsung is great with is ensuring you have an expandable memory port. The Galaxy S4 is expandable to 128GB. All you have to do is buy a microSD card at the local electronics store. It's far cheaper to do so than to pay an extra $100 for double memory on the iPhone.
Gesture and Eye Control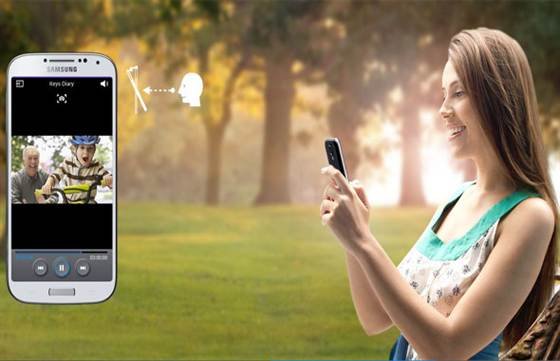 Wave your hand over the Galaxy S4's screen to take a call, switch songs or change tabs in your browser. Smart pause will stop any video you're watching the second you look away. Apple can't touch these features.
Better Multitasking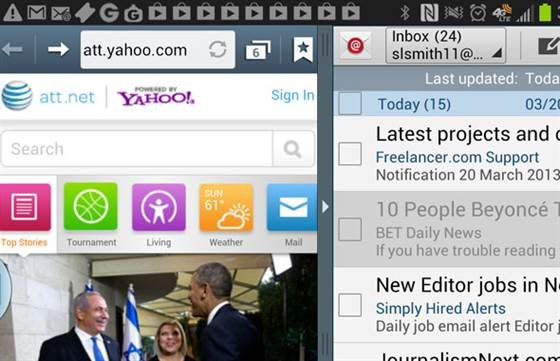 On the iPhone 5, multitasking involves simply switching tasks and hoping your memory is good enough to recall what you've just been reading. Samsung allows you to have a desktop experience, with a dual-view screen that lets you run two apps side-by-side. You can write an email while looking at a website, for example. Pop-up play lets you watch a video on YouTube while working on a presentation.
NFC Support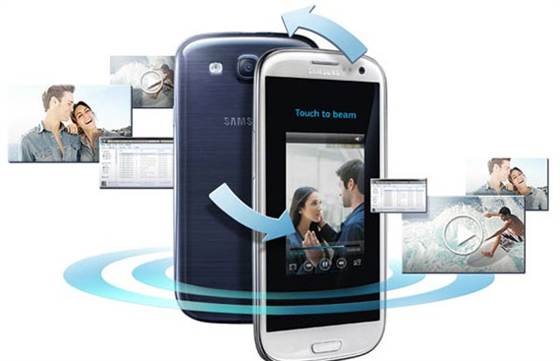 NFC is arguably the fastest way to share data as it immediately establishes a WiFi connection between devices. But you won't find any feature like it on the iPhone, as Apple has apparently eschewed this new technology in favor of...well...nothing. With NFC, the Galaxy S4 can connect to your NFC-connected stereo or headphones and magically begin playing whatever song is on your device. You can also take advantage of mobile payment services like ISIS and Google Wallet.
Story Album Feature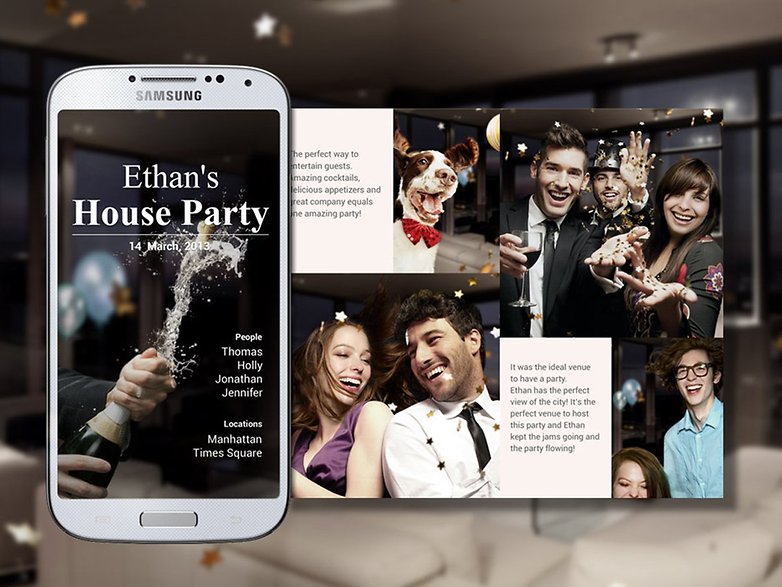 If you've ever wanted an aesthetically-pleasing way to show of your latest pix, Story Album takes the cake. It organizes your photo albums based on themes like location or subjects. You have to create your own albums on the iPhone 5.
Oh, and It's Also a Remote Control
How often have you lost your remote? Well, it might not matter anymore, since you can use your phone instead. Call it gimmicky, but I love the fact that the Galaxy S4 (as well as the HTC One) can easily be transformed into a remote control. The iPhone 5 offers no such feature.