Eve Thermo Review: Premium Radiator Thermostat for Apple Fans?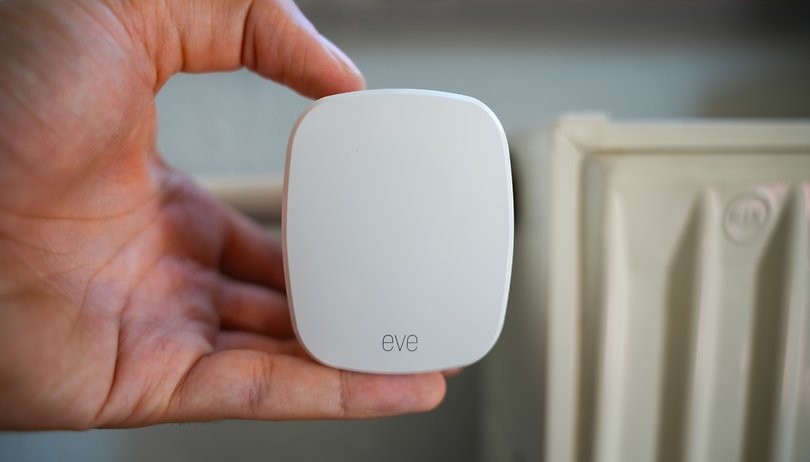 With an easy installation process, support for both Thread and Matter, and a company that is headquartered in Germany, the Eve Thermo looks enticing at first glance. The smart radiator thermostat also works without a bridge and is compatible with Apple's Siri voice control. Whether the proximity to the tech giant from Cupertino is detrimental to the Eve Thermo and how the smart home device performs in everyday life is revealed in this nextpit review!
Good
Can be used without a bridge or other accessories

Unobtrusive, appealing design

Very nice smartphone app
Bad
Many features are missing without the HomeKit control center

Touch operation is very cumbersome

Currently only compatible with Apple devices
The Eve Thermo in a nutshell
The Eve Thermo is only recommended for Apple users, since Matter support is still missing as of September 2023. In this review, the pretty app and the simple setup were particularly impressive. The limited functions without a HomeKit control center and the rather cumbersome operation of the device itself are somewhat disappointing.
If that doesn't scare you, you'll have to live with an MSRP of €79.95 for the Eve Thermo. The device is not available for sale in the US just yet, hence the retail currency in €. Likewise, the Eve Thermo is designed for hot-water radiator heaters—usually more popular in Europe than the US.
Design & Installation
The Eve Thermo is a particularly inconspicuous radiator thermostat that operates without any moving parts. Instead, there are just two touch-sensitive surfaces for control purposes. Installation is a breeze and it works with four different radiator valves.
---
Pros:
Simple, unobtrusive design.
Display is easy to read even during the day.
Installation is very simple and via a smartphone.
Cons:
Operation is done only via touch-sensitive buttons.
---
For many people, tinkering with their heating systems at home is probably a non-starter. This is why it is nice that you can install Eve's radiator thermostats just like most other appliances in a very easy manner and, above all, safely. Basically, you only replace the control element of the radiator valve. The valve itself remains untouched.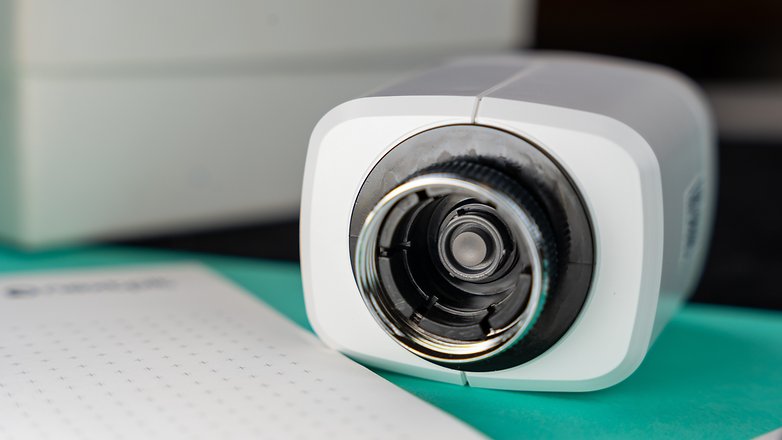 Speaking of which, the Eve Thermo was designed for Danfoss RAVL valves. However, the manufacturer included adapters for the "Danfoss RA", "Danfoss RAV" and a "RAV Pin" types. Over the Internet, I could find user experience reports, where the purchase of an additional adapter was necessary.
However, in my case, I did not even have to unscrew any of the adapters in the package. Instead, I unscrewed the old valve by hand and replaced it with the Eve Thermo. However, in the quick start guide, the manufacturer did request the user to install it on your smartphone first during setup.
This allows the Eve Thermo to calibrate itself when it is screwed on. By doing so, the radiator thermostat recognizes how far it has to open and close the valve in order to effect a change in temperature. The whole thing is fully automatic, where you just have to wait for the confirmation in the app. Overall, the installation of the Eve Thermo is a snap, partly due to the excellent instructions over the smartphone.
Once you are done, you do not have much to do with the Eve Thermo itself. If you do not have your phone with you, you can also set the desired temperature directly on the heater. To do this, tap the two touch-sensitive buttons and set the desired temperature. Since this is done in increments of 0.5, it can sometimes take a while until you reach the desired temperature.
Pressing and holding the surfaces doesn't help, so you need to tap your heater 20 times when you want to switch from 10 to 20 degrees. This could have been solved in a more elegant manner. Does anyone with electric cars feel the same when to perform a simple function, you need to go through so many taps on the touchscreen?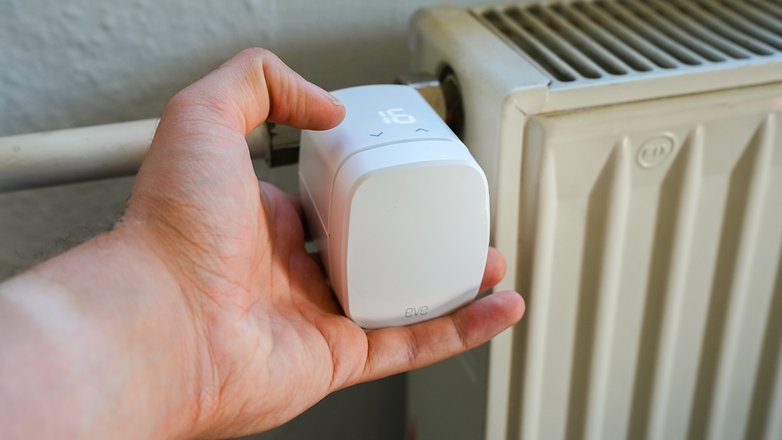 Once you have achieved the desired temperature, the thermostat regulates heating up or down all by itself. You can hear the Eve Thermo work by the slight whirring of the electric motor inside the thermostat. The device also confirms any touch input with a rather quiet audio feedback.
As you can see, while the Eve Thermo's setup is impressive enough, its operation is a bit awkward. A rotary wheel would have made everything easier, but I'm not a fan of touch-sensitive surfaces in general. We'll take a look at how good the operation via smartphone is below.
Smartphone app
Thanks to the Eve app, your phone becomes the digital heating control center. Through the app, you can look through statistics, update the firmware of the Eve Thermo, and also program automated tasks. Since the smart thermostat is also compatible with Apple's HomeKit, you won't need to use the app too often, though.
---
Pros:
Companion app is well-designed.
Native functions for smart home automation.
No location sharing required.
Cons:
Only available for iOS.
No ambient temperature display in the app.
It can be a bit confusing at times.
---
Alternative to controls on the device itself, you can control the Eve Thermo remotely via the Eve app. This is only available for iOS. If you use an Android phone, you cannot use the Eve thermostats. At the same time, you're missing out on a really nice application that is divided into four categories. My Home" shows you all available Eve devices, "Rooms" divides them by room, "Automation" provides access to scenes, timers, and rules, and the "Settings" menu item is pretty much self-explanatory.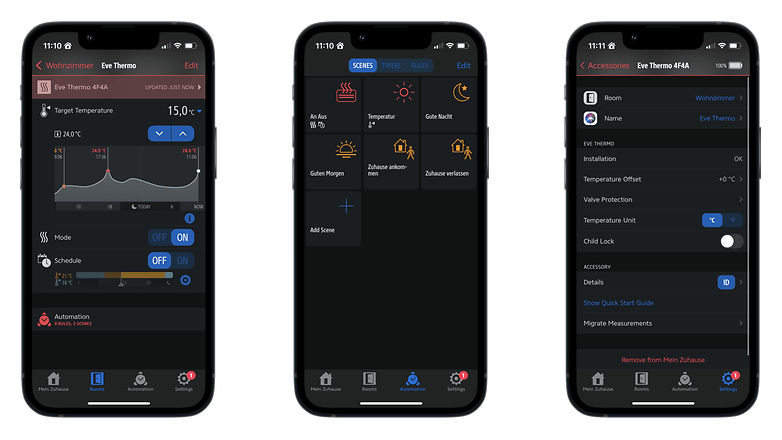 What struck me very positively about the Eve app is this: You do not have to share your location during setup or operation. Location-based scenes, such as turning off the heaters when you leave your home, are controlled by the Eve app via the connection to the HomeKit control center. This is welcome in terms of data protection, but unfortunately, you need at least a HomePod or an AppleTV if you want to take advantage of all the functions of the Eve Thermo.
Without HomeKit, you only have scenes at your disposal, which you can then turn on and off manually. There is also no workaround via Apple's shortcuts, which is really annoying. This is because created scenes do not appear in the Shortcuts app. Instead, you see them in the Apple Home app, where you will be reminded once again that you need additional Apple hardware when trying to automate tasks.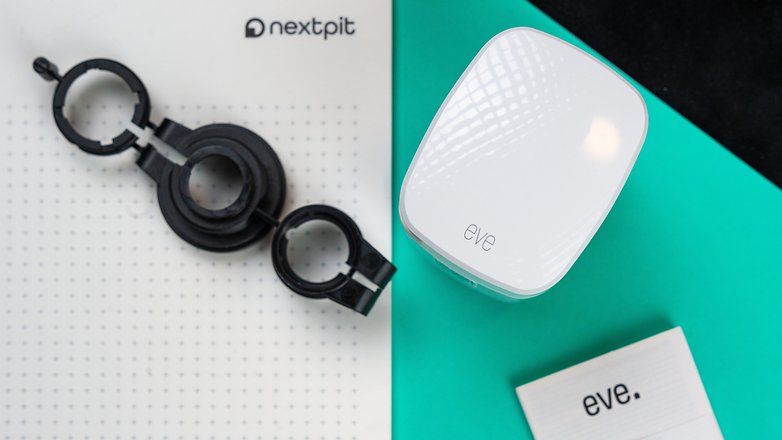 So this point of criticism involves the use of the Eve Thermo, where Apple artificially limits its ecosystem. Looking at it on its own, I noticed whenever the Eve app is used, it doesn't display the current ambient temperature. However, this information is available in Apple's Home app.
Performance and smart home
In addition to temperature controls, the Eve Thermo can protect your heaters from calcification. There is no integrated detection for open windows, so you will have to purchase additional accessories for that. In terms of smart home technology, support for Matter and Thread looks great but a lot depends on the presence of a HomeKit control center.
---
Pros:
Support for Thread and Matter.
Protects heaters from calcification.
Cons:
No integrated detection for open windows.
Severely limited without HomeKit control center.
No remote control without a control center.
---
The Eve Thermo made headlines at its release primarily because it supports Matter. The new smart home standard makes devices compatible with each other across manufacturers, which theoretically means the Eve Thermo should work with Google Home and Amazon Alexa in the future. At the time of this review, however, that was not yet possible.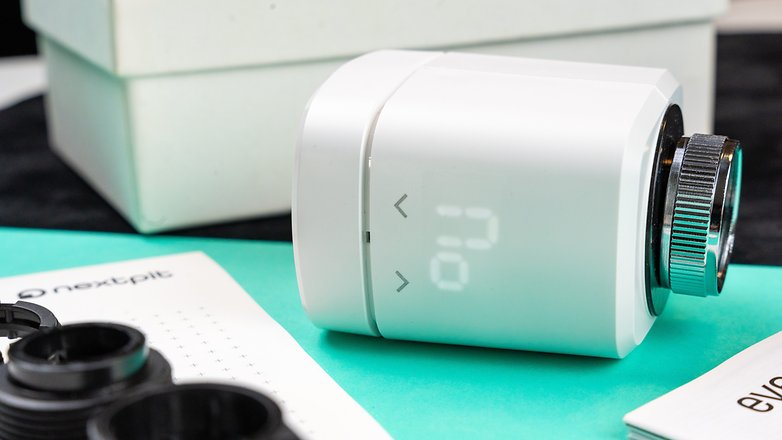 Thus, the Eve Thermo is currently still a HomeKit exclusive but already supports Thread. Thread is basically a mesh network built between smart home devices. This means the devices communicate with each other instead of individually with the HomeKit control center. This allows for better connectivity in larger buildings. It is a practical move, but you won't notice it too much when using the device.
Eve also advertised on its homepage that the devices can be used without a hub. That is also true, but the range of functions is severely limited. Not even schedules can be set in the Eve app, and there is no geofencing or other automation. Technically, this would be possible via Apple's shortcuts, but Eve restricts this function artificially. Turning it on and off or setting a certain temperature is not available as a scene in the shortcuts app. Another thing that was missing: You cannot control the heating on the go, since remote control is not possible without a control center.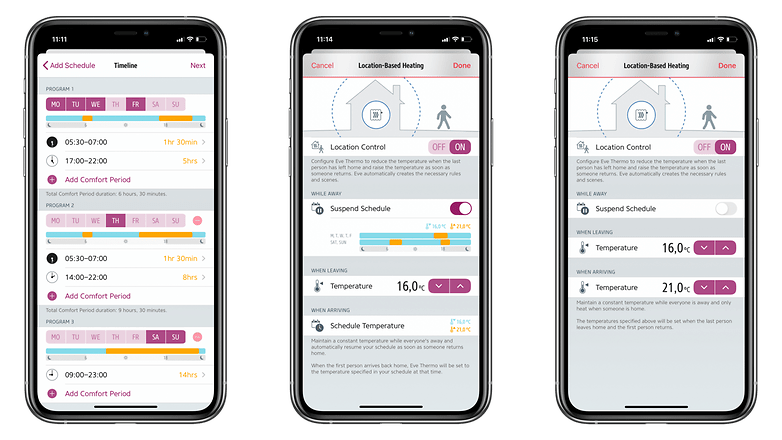 Apart from the smart home functions, Eve also integrates a protection function for heaters into its thermostat. If you do not use your heaters for too long, the Eve Thermo regularly flushes the pipes as a form of limescale protection. Another practical feature is how temperature deviations can be set. This is useful, for instance, if the temperature at the window sill differs from the temperature in the middle of the room. Since you are rarely by the window, you can compensate for inaccuracies in the app.
Finally, the Eve Thermo is powered by two AA batteries. Unfortunately, the manufacturer does not disclose how long they last on its homepage.
Final conclusion
The Eve Thermo is an exciting radiator thermostat for HomeKit users. We say so because both setup and smart home control are just as simple and well-integrated as you'd expect from Apple's own devices. With temperature protocols and the necessary features available for smart home automation, the given equipment is also on a good level. The fact that measurement inaccuracies are compensated for, with the thermostat also working without a bridge, and Eve not having a cloud connection are strong plus points for the Eve Thermo.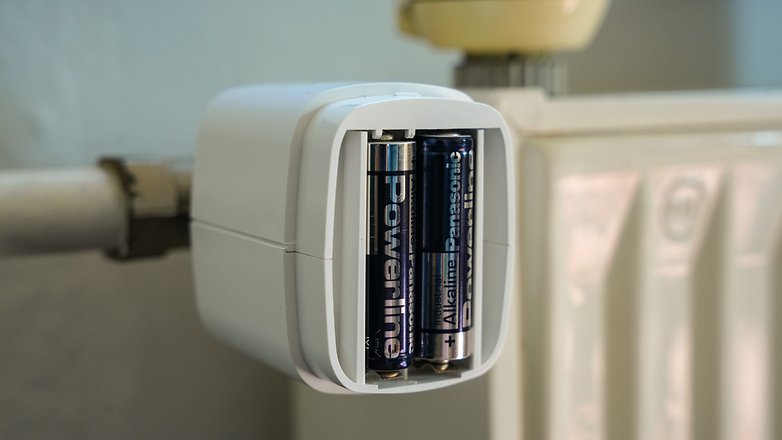 Without a control center, this means you do need a bridge in the end, making the smart home functions severely limited. Schedules and even geofencing could certainly be implemented via Bluetooth. Instead, you need an Apple TV or a HomePod mini (review) as the control center. Moving on to the device itself, the operation is a bit awkward. The touch-sensitive surfaces are responsive, but changes are made in 0.5 increments, which makes altering the settings a bit tedious.
What does this mean? We cannot recommend the Eve Thermo even if it is less than €70. There are more powerful and above all, more open systems at this price point. Apple users who place a lot of value on comfort and seamless integration and already use a HomeKit control center can, however, purchase it without any doubt.