EcoFlow Glacier Review: This Portable Refrigerator Has an Ice Maker!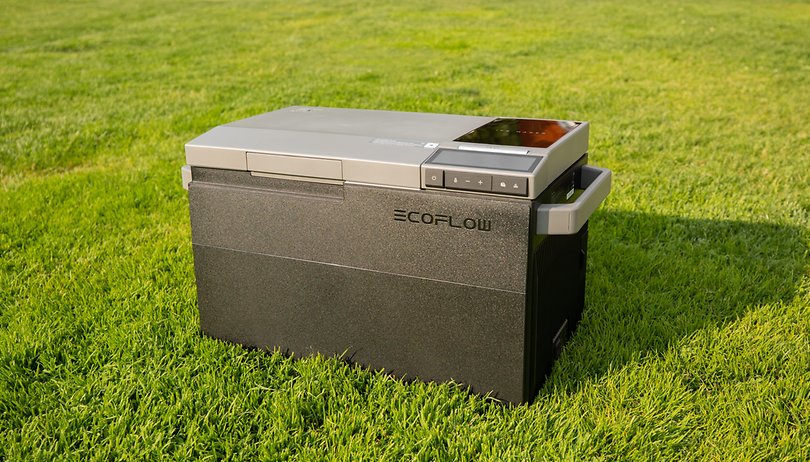 The EcoFlow Glacier is a smart portable refrigerator that sells for $999 currently. Yes, it is expensive. However, it is a full-featured portable refrigerator that comes with a freezer compartment and even an integrated ice maker. I will share my honest opinion on the EcoFlow Glacier in this full review.
Good
Premium, water-resistant design (IPX4)

From 30°C to O°C in 15 minutes

Freezer function + ice maker

Comprehensive Android and iOS application

Wireless and solar-panel operation

Up to 40 hours of battery life
Bad
Weighs 23 kg and is rather bulky

Battery is sold separately

Wheels and carrying handle are sold separately

Expensive
EcoFlow Glacier: All deals
The EcoFlow Glacier in a nutshell
Just to make things clear, I am not a smart portable refrigerator conaisseur. When I go to the beach, I place my water bottles in a cold pack and buy an ice cream (or two, or three) from a street vendor.
But EcoFlow came up with a cool idea (pardon the pun), and I was invited to try the famous EcoFlow Glacier. It is a niche product that sees action only at certain times of the year and the concept looks cool on paper. Why not? But this review won't be as in-depth as our usual smartphone reviews. Instead, it's more of a hands-on/discovery experience.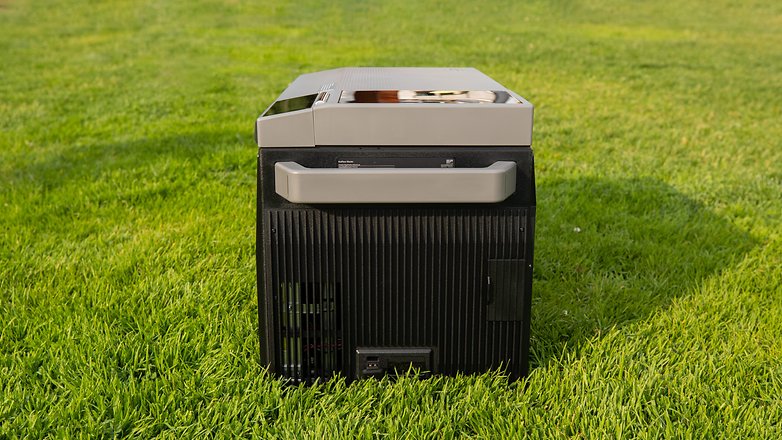 Not everyone shares the same thoughts and ideas. If you fantasize about walking on the beach in slow motion, with silky hair blowing in the wind while onlookers stare in fascination and admiration (or perhaps with a hint of jealousy), then the EcoFlow Glacier is for you.
This smart portable refrigerator costs $999 now if you want one. Yes, that's more than you'd pay for a week's vacation in the French Coast in the middle of July in an AirBnB.
However, we're not talking about a simple plastic tub with a bit of foam, where you let your bottles of San Pellegrino soak in lots of ice cubes. No, no, no! Over here at nextpit, we know how to remain dignified. The EcoFlow has two compartments that allow you to refrigerate AND freeze your poison of choice simultaneously.
And if you feel like pouring yourself a Mojito or a Sex on the Beach while the kids are out in the water, the EcoFlow Glacier can make ice cubes within minutes!
The EcoFlow is available in several configurations from the manufacturer's official store:
Design
The EcoFlow Glacier is a smart portable refrigerator, but in terms of portability, one does raise one's eyebrows due to the rather massive size. On the other hand, the finish is extremely meticulous and the design has been generally well thought out to optimize both refrigeration and power consumption.
---
What I liked:
Large 36 L storage volume.
Integrated ice maker (18 ice cubes in 12 minutes).
2 compartments: fridge and freezer.
Simple, elegant design.
What I disliked:
Rather massive and heavy form factor.
Handle and wheels are sold separately.
298 Wh external battery is sold separately.
---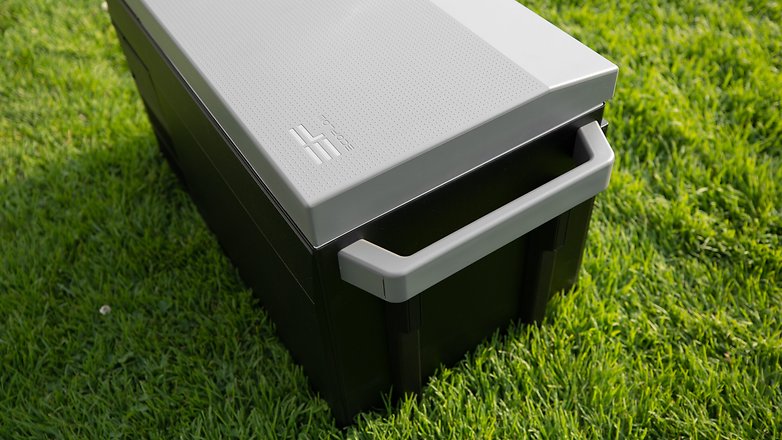 Let's begin with what's inside the box:
The smart portable refrigerator itself
1 AC adapter and power cable
1 cable with cigarette-lighter plug for in-vehicle use
1 tray to divide the cooler's storage volume into two
1 small plastic ice scoop
The dimensions: 776 × 385 × 445 mm. Its net weight: 23 kg. The cooler can store a volume of up to 36 liters. Yes, it's heavy. Personally, I could carry it when empty using two hands without too much difficulty, thanks to its sturdy handles. But I can't see myself walking more than a few dozen meters with it in the middle of a hot summer day with a dozen bottles of beer inside.
EcoFlow offers a kit with two wheels and an attachable handle to make the cooler way more transportable. It would have been nice to see the detachable wheels and lever to be included right from the get-go, considering the initial asking price. The asking price of $99 for the accessories is almost on Apple's level.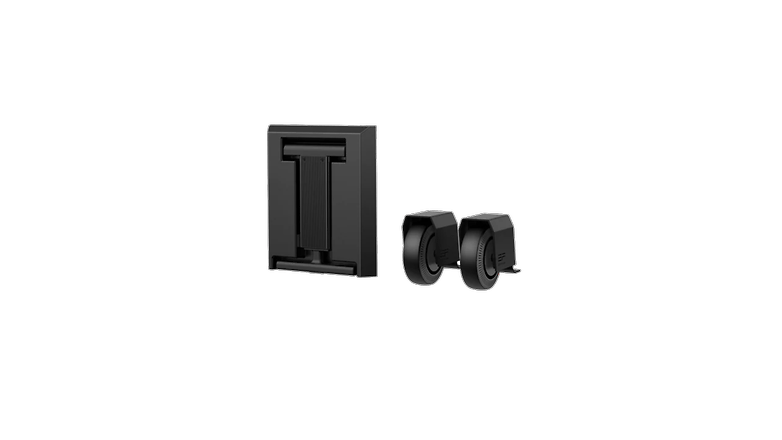 The Glacier is equipped with vacuum insulation panels (VIP). Thanks to their low thermal conductivity, these panels help optimize energy efficiency, reduce energy consumption, carbon footprint, and the environmental impact of refrigerant production and disposal.
Another thing to bear in mind is how the Glacier has a freezer function. In other words, you don't need to fill it with ice or other cold packs. This further saves on both weight and storage volume.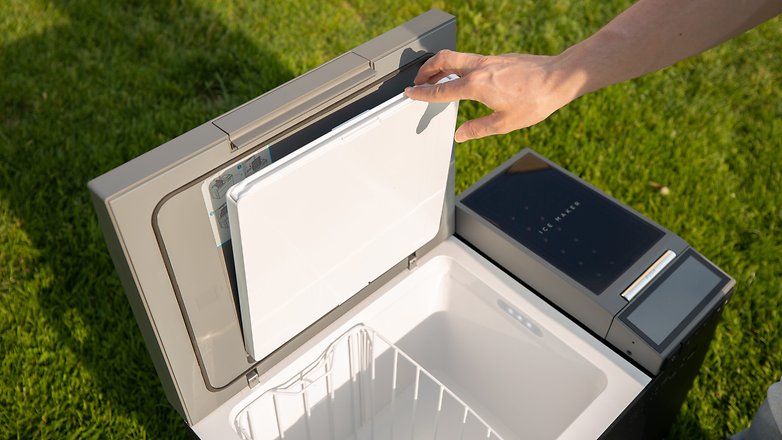 On the far right of the cooler is the ice maker. It can produce 18 ice cubes within 8 to 12 minutes. The cooler is also IPX4 certified against water resistance. Hence, it is not totally waterproof and cannot be submerged, but you can leave it out in the rain or have minor water splashes on it without too much risk.
The EcoFlow Glacier can be operated from a normal mains socket if you so desire. You can also plug it into a cigarette-lighter socket in your vehicle, with the option of having it powered via a solar panel. All these are done through the same socket, but you'll need an adapter for the solar panel.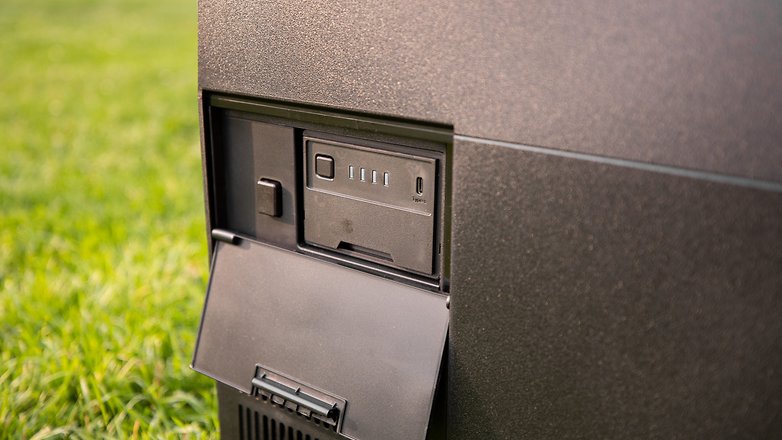 Performance and features
The EcoFlow Glacier is a really easy-to-use smart appliance. Even if you're a complete novice like me, the experience is pretty much plug & play. Not only that, the refrigeration and freezing performance is well worth the price.
---
What I liked:
From 30 to 0°C in 15 minutes.
The freezer function worked like a charm.
Practical, functional ice maker.
Intuitive EcoFlow application.
What I disliked:
---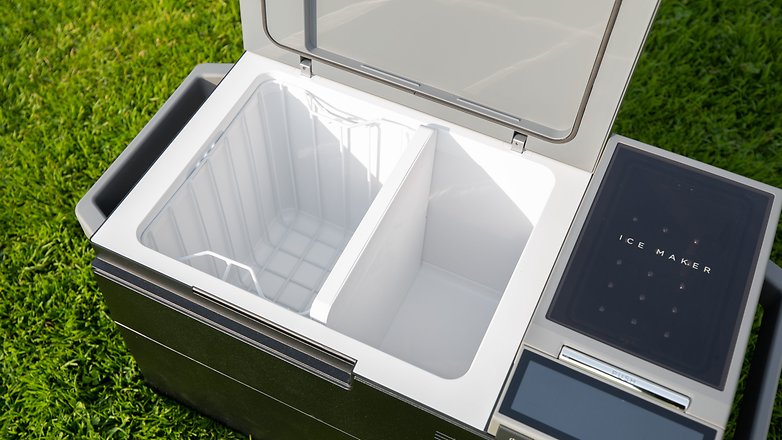 You will need to do almost nothing to install the EcoFlow Glacier. Simply slide the external battery (not included) into its dedicated compartment in the box, plug it into the mains or your solar panel, or even your portable/balcony power station, and you're good to go.
In front of the cooler, you'll find physical buttons for the start and temperature controls. You can set everything manually here, but EcoFlow offers a free app for Android and iOS.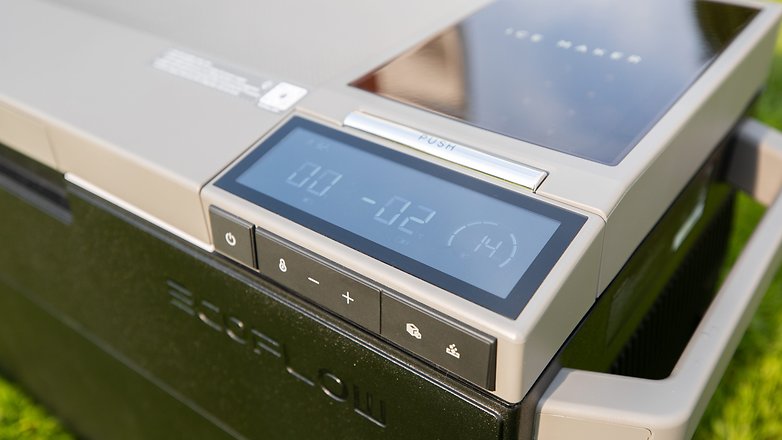 In the app, you can set and check the temperature of each of the two compartments (fridge/freezer) individually. The app even gives you recommendations according to the type of products/food that you want to store. It's very practical, and the temperature range can go from 10 to -25°C.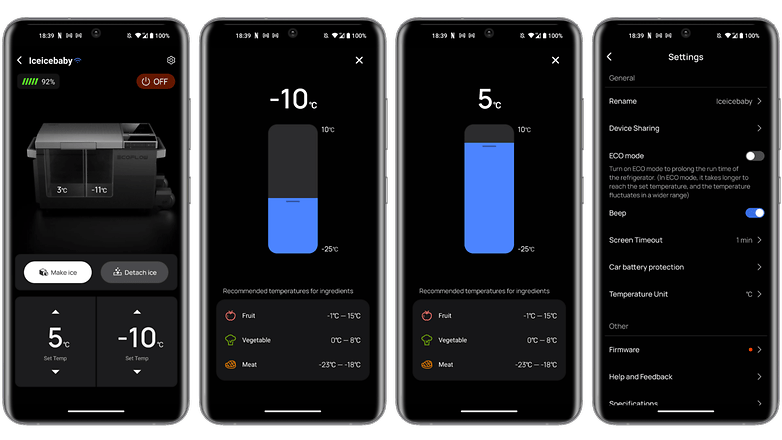 According to EcoFlow, when operating at an external temperature of 25°C, the Glacier is able to reduce the internal temperature from 30 to 0°C in 15 minutes. This means your vanilla and chocolate chip Cornetto will not even have the luxury of time to melt.
Personally, when I turned on the EcoFlow Glacier for the very first time, both compartments were already at 20°C. After around twenty minutes, the refrigerator compartment's temperature stood at 6°C and the freezer at -2°C.
The ice maker also worked very well during my review. It took 12 minutes to make the first batch and 8 minutes to make the next. The system is ingenious.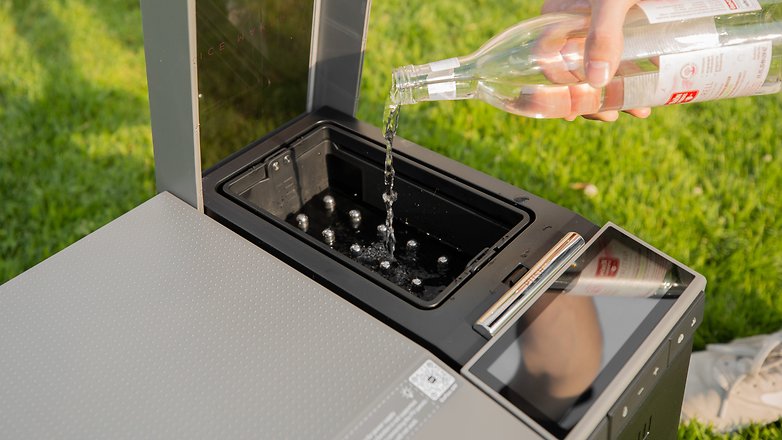 Small metal spikes are installed at the bottom of the water-filled ice cube tray. They freeze the water to form the ice cubes around them. In order to separate them later, they heat up for a very short time so that the ice cubes can "peel off." You can choose between two sizes, S and L, and the ice cubes will all have the same shape.
The only thing to consider when you use the cooler only with the cigarette lighter socket and without the battery, the ice maker will not be functional.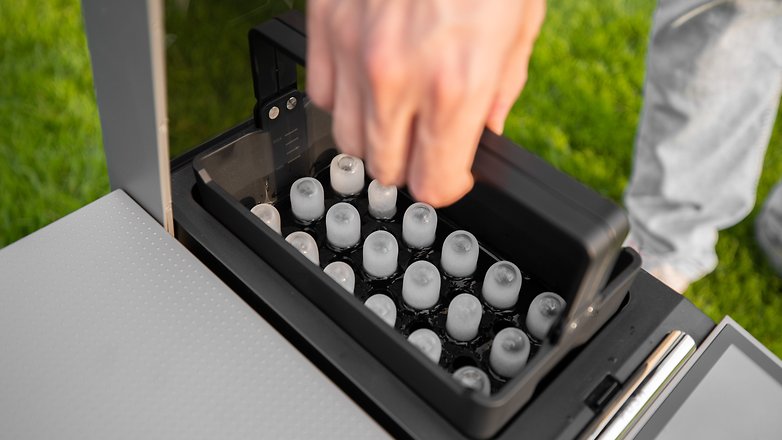 Battery life and power supply
The other great thing about the EcoFlow Glacier is that you can use it wirelessly, even when connected to solar panels. The battery is capable of powering the cooler for up to 40 hours. That's a pretty big deal!
---
What I liked:
Can be used wirelessly and with a solar panel.
Easy, intuitive connection to the solar panel.
Up to 40 hours of wireless battery life.
What I disliked:
External battery is not included in the basic package.
---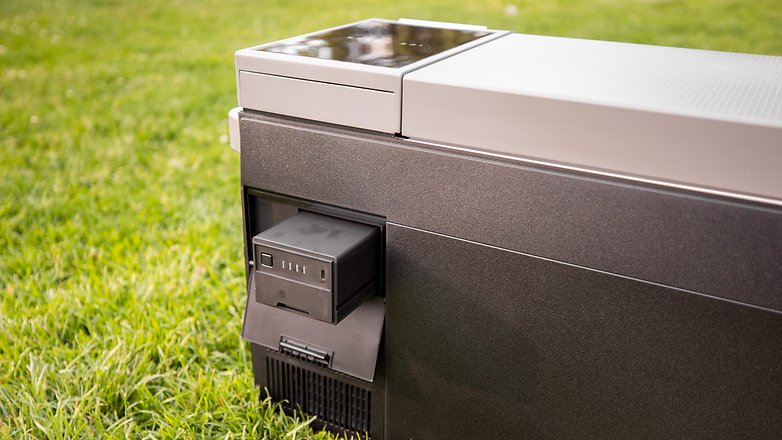 You can plug the EcoFlow Glacier into the mains just like any other electronic device. Voltage is between 100 and 240 volts and power is 180 W at maximum.
But you can also use it wirelessly. To do so, you will need a built-in battery which EcoFlow did not include in the basic package. This is a real shame, since that's the whole point of this product: for it to be portable.
If you have the 298 Wh battery, it can power your EcoFlow Glacier for up to 40 hours. Of course, this battery life varies according to the internal temperature you've selected, but that is already a long time to begin with.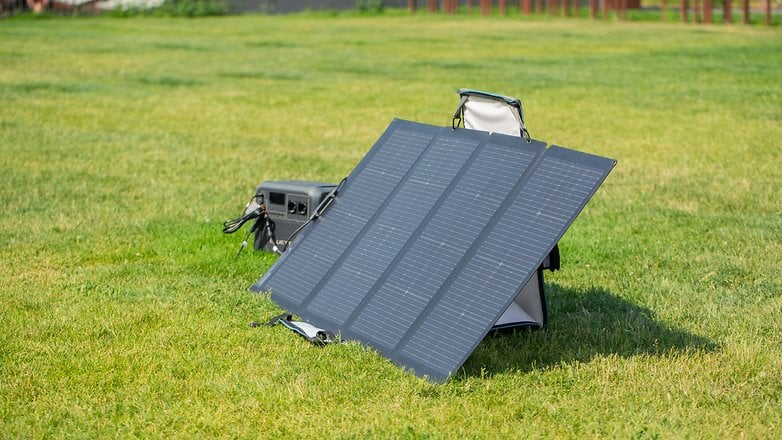 Unfortunately, I haven't used the EcoFlow Glacier non-stop long enough to verify this figure. Hence, I cannot comment on its claimed battery life in actual use. I did, however, connect the cooler to one of our EcoFlow solar panels on our office balcony.
The battery was powered continuously without any issues then. The problem is, it uses the entire solar panel to capture energy that you could also store in a power station for use later. Ah well, you win some and you lose some.
I would advise this: if you have the external battery AND a portable power station, use it to connect your solar panel to the Glacier to charge it to 100%. After that, disconnect the solar panel and connect it to your power station so that you can store the excess energy collected.
Conclusion
The EcoFlow Glacier is the kind of appliance you don't necessarily need, but soon find almost indispensable once you've used it. However, that's my opinion as a reviewer who didn't have to fork out $999 for a portable refrigerator.
$999 does not include a battery, lever, or wheels. It's a choice that I understand from a strategic point of view. However, I found it pointless to market a smart portable refrigerator that was designed for nomadic, wireless use, and sell the required accessories separately.
All in all, if you want the portable refrigerator and the battery, you'll have to fork out $1,199. For the lever and wheels, you'll need to throw in another $99. Do you host enough outdoor barbecues, go on camping trips, or spend enough weekends at the beach throughout the year to make it all worthwhile?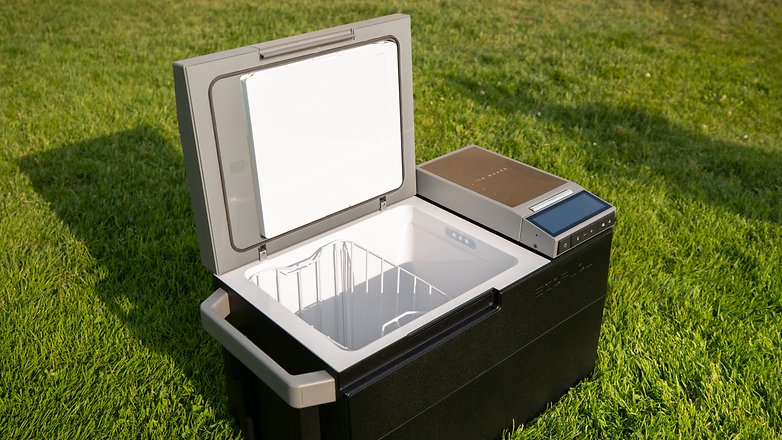 If so, then the EcoFlow Glacier is an excellent choice. The appliance is extremely easy to use, with the freezer and ice maker functions being super-convenient and working very well.
So if the price doesn't put you off, the EcoFlow Glacier is a pretty cool appliance to have for the summer (I'll let you mark that masterful double pun out of 5). In any case, this review has made me want to buy a Ford F150 pickup and head off to a soccer stadium parking lot to have a wild barbecue and drink cold beers with my EcoFlow Glacier in my trunk.