Buying Guide: Find the Best Foldable Solar Panel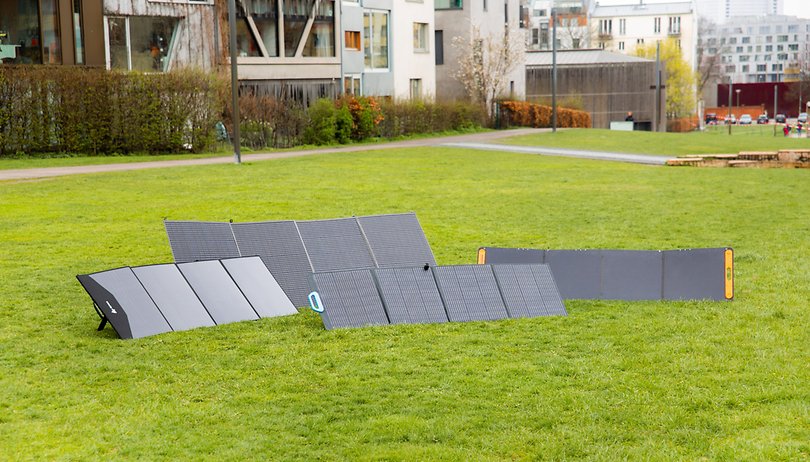 Whether it is used for camping or as a source of emergency power, a foldable solar panel ensures that each portable power station becomes independent from a nearby power outlet! The question is, which is the right solar panel? We selected four solar panels and share their differences as well as certain points that you need to pay attention to.
Four foldable solar panels compared
| | | | | |
| --- | --- | --- | --- | --- |
| Product | | | | |
| Image | | | | |
| Price | $699.00 | $499.00 | $459.00 | $649.00 |
| Rated power | 200 W | 200 W | 200 W | 220 W |
| Conversion rate | 24,3 % | 23,4 % | 22 % | 23 % |
| Solar cells | ETFE | Monocrystalline silicon | Monocrystalline silicon | Monocrystalline Silicon |
| IP Certification | IP67 | IP65 | IP65 | IP68 |
| Weight | 8 Kg | 7,3 Kg | 8,2 Kg | 9,5 Kg |
| Dimensions | 54 × 232 cm | 59 × 226.5 cm | 68.9 × 230 cm | 82 × 183 cm |
| Rating | Not yet rated | Not yet rated | Not yet rated | Not yet rated |
| Check offer* | | | | |
Over the past few months, we at NextPit have dealt with power stations on a more frequent basis. We tried the associated solar panels over the winter months from time to time, but due to a lack of strong sunlight, we have not yet been able to test them out in detail. We will make up for this over the coming weeks and then update this "Best Of" for you.
One more note: These solar panel candidates are normally from a particular series. This means that you can purchase the panels with more or less power—for more or less money and of course, in larger or smaller sizes. For this comparison, we focused on the models with a 200 W solar power rating.
Jump to:
Four popular foldable solar panels in detail
Buying advice: Important things to note about foldable solar panels
There are several things to consider when choosing the right foldable solar panel. Here's what you should look out for when buying a portable solar panel.
Size and weight
First of all, you will need to know how big your solar panel can be. Do you want to take the panel with you on the train when you go camping? Or do you have plenty of space for it on the bus? Even if you want to set up the panel somewhere at home, you should pay attention to make sure it has compatible dimensions, such as being able to attach it sensibly to the balcony.
Also, another important point to note for those who are traveling with it: How convenient would it be to transport the solar panel? Many solar panels already have carrying handles and/or a bag for easy transportation. In addition, manufacturers often attach small pockets directly to the solar panel or to the pocket of the panel to store the cables.
Power and efficiency
The next point is its power rating. In short, the motto to bear in mind here is: the more, the merrier. However, power rating can be quite unpredictable with solar panels, because you depend on optimal weather conditions. The conversion rate, which we listed down as a percentage for each solar panel, tells you how much of the sunlight the solar panel can convert into solar energy. A more efficient panel obtains more energy from less light.
Second, there is the rated power. The nominal power is an indicator of how fast you can charge your connected power station with your solar panel under optimal conditions. This is especially true with more powerful solar panels, so you should make sure that your power station is able to support the corresponding solar power rating.
Connections and compatibility
Finally, compatibility with your power station is important. To be on the safe side, we recommend that you purchase the panel directly from the manufacturer of your power station. This way, you can be sure that there is no need to hunt for an adapter afterward.
If you find an absolutely amazing deal and the panel does not come from the manufacturer of your power station, then pay attention to the correct plugs. The industry standard for large solar panels is MC4 connectors, but you can also often find Anderson connectors or XT60 connectors in play. Most power stations come with appropriate adapters, otherwise, you can purchase them for a few dollars online.
Material and quality
An important point to take note of when it comes to personal use: Solar panels have different IP certifications. In our overview, we listed solar panels that are IP65, IP67, or IP68-certified. A solar panel with an IP65 certification is protected from water splashes, for instance.
Following that, we have solar panels with IP67 certification. If a solar panel is IP67 certified, you don't need to worry about the weather conditions, because rain or bad weather conditions will not bother this solar panel. You can leave it outside even when it pours. Solar panels with an IP68 rating are waterproof and dustproof, like EcoFlow's 220W bifacial solar panel.
This is especially important if you want to hang the panel on your balcony or use it in adverse conditions, where eyelets on the foldable panel are crucial. It allows you to hang the panel or secure it with pegs in the ground to prevent strong winds from blowing it away. Tipping the scales from 7 to 10 kg, the foldable solar panels in this comparison are not insanely heavy, but with the large surface area, there might be occasions where they are susceptible to wind.
Price
When comparing these rigid solar panels, they tend to see action as balcony power plants, their respective prices are not cheap at all. However, you can fold them up and always carry them with you on vacation or when you are working on the road (#vanlife).
Of course, there's nothing to stop you from setting up the panels as a mobile balcony power plant at home when your vacation is over, provided they have the appropriate IP certification. For foldable solar panels, you have to live with costs of approximately $2.50 to $3.50 per watt. For example, the 200 W PV200 from Bluetti costs $499.00.
Five popular foldable solar panels in detail
Jackery SolarSaga 200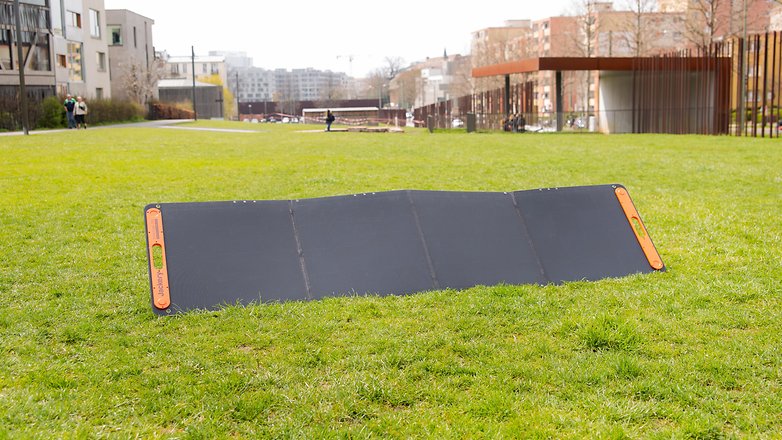 The SolarSaga 200 solar panel from Jackery impresses more than the rest with its ease of use. The solar panel tips the scales at 8 kg and has a convenient carrying handle for transportation. There is also a bag to store the panel. Necessary cables will be transported differently because a bag for additional equipment is not available.
For quick assembly, Jackery installed three side-supports for the SolarSaga 200 solar panel as well as magnetic pads to fold the solar panel back together just as quickly. Speaking of assembly: You can easily assemble the solar panel without the help of another person. When fully opened, the SolarSaga 200 can stand up in a stable manner.
With a conversion rate of 24.3%, the solar panel is not only efficient but also powerful with a peak output of 200 watts. The SolarSaga 200 is made from ETFE-laminated housing and is also IP67 certified, allowing the panel to withstand harsh and wet weather conditions. Priced at $699.00, the SolarSaga 200 is not the cheapest alternative in our review, but it is still a promising choice.
Bluetti PV200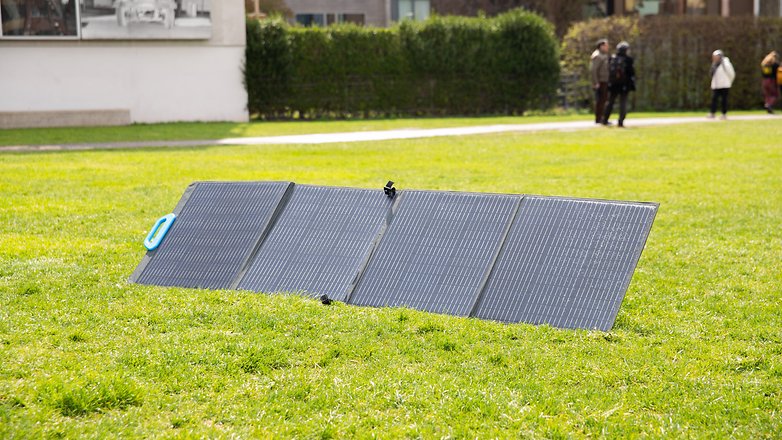 Another compact option is the Bluetti PV200. The Bluetti PV200 solar panel has a comfortable carrying handle and, with a weight of 7.3 kilograms, automatically making it one of the lighter alternatives in our opinion. It is also practical for easy transportation within its bag with the necessary cables, which are located directly on the solar panel. The PV200 can be set up quickly and easily and also stands in a stable manner.
The monocrystalline solar cells are capable of converting up to 23.4% of sunlight into solar energy. Finally, the PV200 has an IP65 certification rating. Thus, the solar panel can withstand water splashes and scratches. However, this also means you should keep the solar panel away from rain lest you ruin it. With a price of $499.00, the PV200 solar panel is one of the cheaper alternatives in our comparison.
Alpha ESS SP200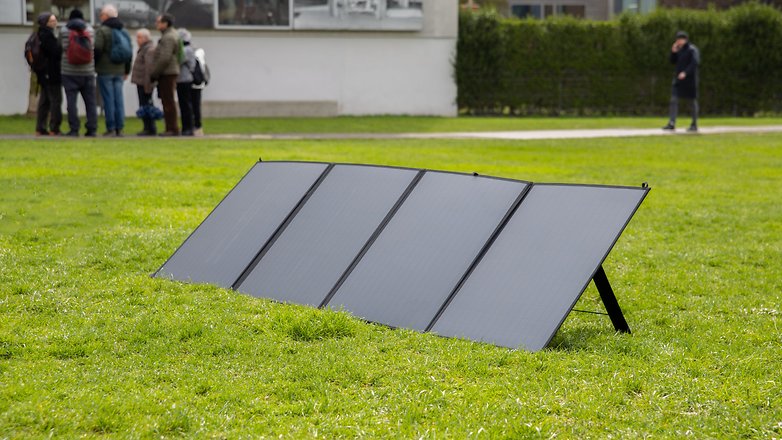 The Alpha ESS SP200 solar panel is the most affordable option in our comparison. The Alpha ESS SP200 solar panel also boasts a carrying handle with a weight of 8.2 kilograms, making it only slightly heavier than the SolarSaga 200 or the PV200. Alpha ESS has attached a small pouch to the SP200 to make its transportation easy when ferrying the necessary cables. The panel folds out very conveniently and also has four foldable feet that provide stable support.
With a conversion rate of about 22%, the SP200 ranks as average among the solar panels listed here. The solar cells of the SP200 solar panel are made of monocrystalline silicon. At its peak, the solar panel achieves an output of 200 W. Finally, the solar panel is IP65 certified. This means that the solar panel is protected from water splashes, but just like the Bluetti PV200, you should not leave it out in the rain. The solar panel SP200 costs $459.00 and is a cheap alternative.
EcoFlow 220W bifacial solar panel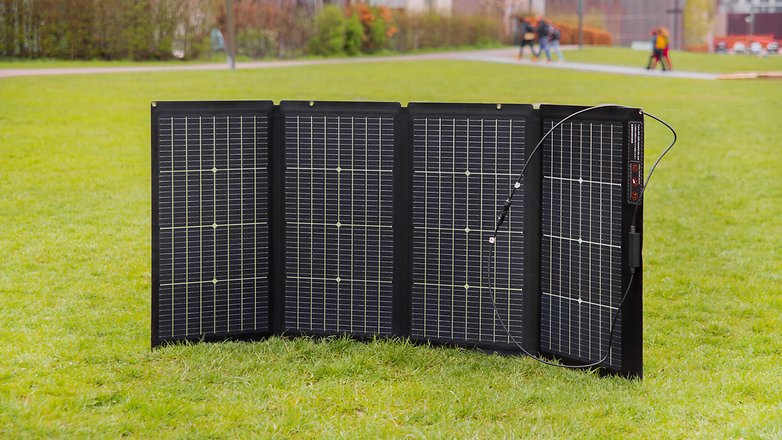 Last but not least, we come to the 220 Watt bifacial solar panel from EcoFlow. At 9.5 kilograms, EcoFlow's bifacial 220-watt solar panel is not the lightest option, but it has its fair share of special features. The cables are already firmly attached to the solar panel and the bag acts as a stand for the solar panel. The assembly process can be a challenging one, as the panel does seem to be a bit stiff. Therefore, we recommend that you get help when it comes to the setup process. Once you get the hang of it, though, it is a great addition as your traveling companion!
The solar cells on the 220 W solar panel are made from tempered glass and monocrystalline silicon. With a maximum peak power of 220 W, EcoFlow's solar panel is one of the more powerful options in our comparison. In addition, the panel has a conversion rate of up to 23 percent. What's more, the solar panel is waterproof and dustproof based on its IP68 rating. However, the slightly higher performance also comes at a price, with a $649 asking price.
We are done with our list of solar panels here. Feel free to tell us about your favorite in the comments. Do you know of any solar panels that you think should make our list? Have you ever toyed with the idea of purchasing a solar panel? We look forward to nice weather and more sunshine ahead so we can test these solar panels in detail for you.